Delhi
5 Compelling Reasons That'll Make You Wanna Dash Over To Cafe Amsterdam ASAP
You know us, we are constantly looking for new and interesting places to rediscover our vibe. Well, we've set our eyes on the Cafe Amsterdam and they have some lip-smacking food, waiting for you to get your hands on it. With all the quirky cafes that are taking up the Delhi markets, we have found a whole new hangout place for your gang. The Cafe Amsterdam in the heart of Kalkaji Market checks all the boxes to satisfy all you want from a cafe - from Insta-worthy aesthetics to soft music and of course some yummy grub, here are our reasons to visit this cozy cafe!
1. A Unique Theme That'll Give You All The Dutch Feels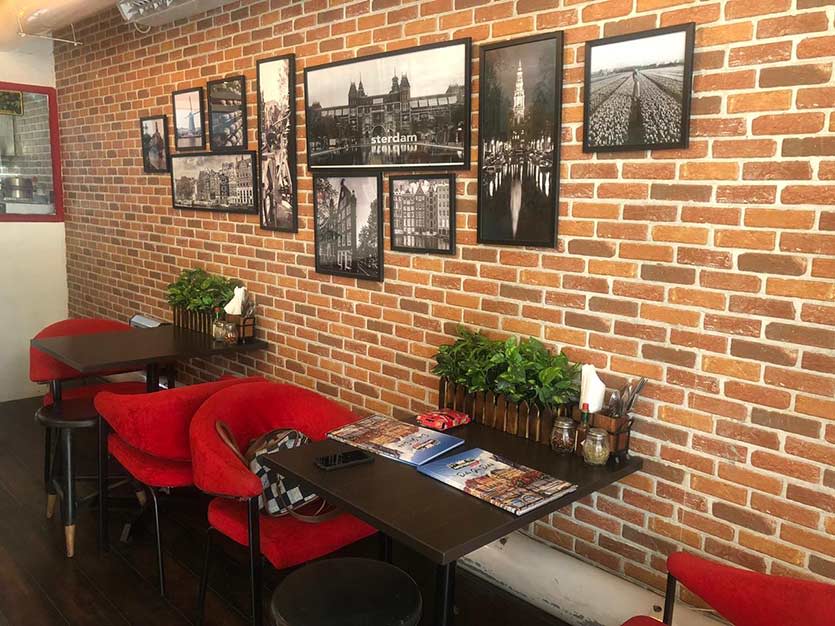 With a unique theme, the cafe itself is set to give you the true Amsterdam vibes. I mean where else have you heard of an eatery based on a geographical location? The cozy, quiet cafe transported us away from the bustle of Delhi to the serene calm of Amsterdam. The menu goes well with the aesthetic and brings us many novel options, that our usual cafes don't have. They also do justice to the theme by keeping their interiors well-matched with colours that one often expects from Europe. The best part? The interiors are soothing and the aesthetic invites you to keep returning to this place! 
2. Minimal Yet Quirky Interiors For An Aesthetically Pleasing Experience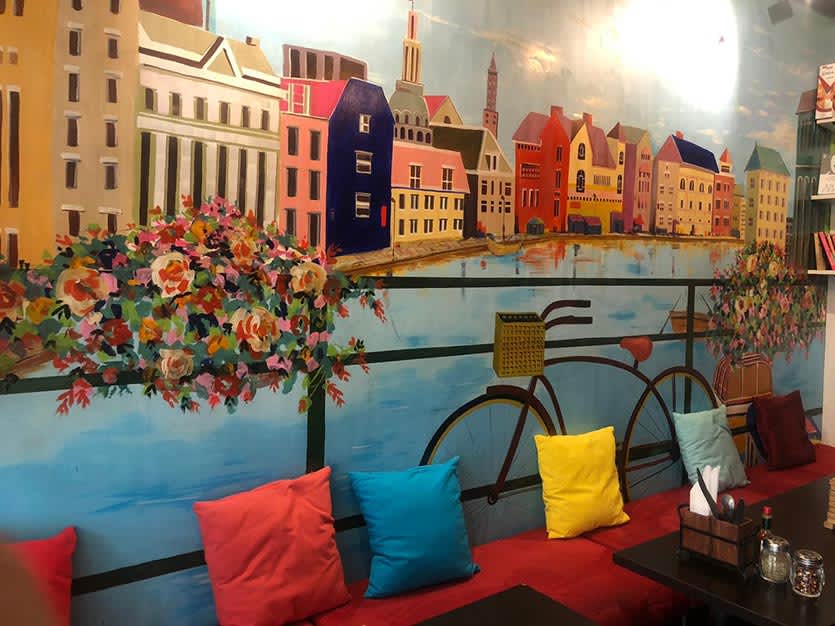 Cafe Amsterdam will give you major goals for your trip to Amsterdam, with their beautiful murals and photographs. The comfortable couches and the handy games and books were enough to make sure our experience was seamless. One of the walls is adorned with a lively and colourful image that resonates with our vision of a European vacation, it reminded us of scenes from a picturesque film! Another wall, plays on the minimal side, with black and white pictures of the best-known spots in Amsterdam. If you're a reader, do not forget to check out the collection of books here, quietly nestled on a cozy bookshelf, you might just find your perfect fit. We know one thing for sure, the cafe lives up to its name! 
3. Lip-Smacking Food That'll Take You On A Trip To Amsterdam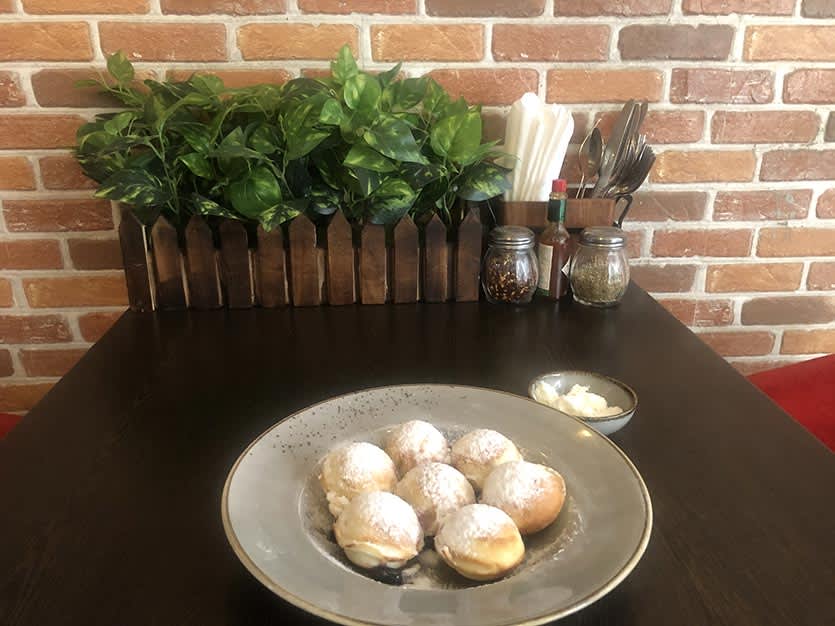 But for most of us, the quality of a cafe comes down to the yummy food they dish out! We decided to try out the quintessential local food, to make sure the cafe lived up to its hype. We chose their signature Pesto Cottage Cheese Wrap, and we are glad we did! The wrap was filled with melt-in-your-mouth cottage cheese with a nutty and smooth pesto that made our hearts jump with joy. We especially enjoyed their home-rolled tortilla, which they dyed pink, adding to the aesthetic appeal of the dish. The hearty portions and the wholesomeness of this wrap blew us away. 
For dessert, how could we not try out their poffertjes, which are mini pancakes from Amsterdam! We settled for the Classic Poffertjes. These cute mini pancakes were flavoured with vanilla and served with a side of ice cream, and topped with sugar dust. The presentation itself was beautiful, but we think the pancakes were very similar to the usual pancakes and who doesn't love some miniature pancakes?  We recommend these for their unique shape and beautiful plating!
4. An Ideal Space To Spend Some Quality Time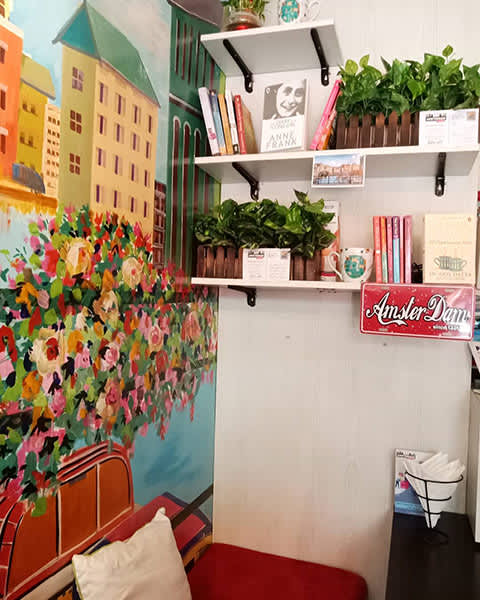 Picture Credits: baniya_punjabi.co
We all know the struggle of finding some quality time with our friends and family but worry not. The quaint aesthetic and comfortable setting of Cafe Amsterdam is enough to help you relax and unwind on the weekend, or even on a weekday after an especially challenging day at work. The convenient location of this cafe is ideal for all the South Campus college-goers to chill at after a tiring day of classes. They have interactive and fun games like Jenga and UNO, which will take you back to your childhood, and help you bond with your friends. The best part? The soothing music and calming ambience will give you a kickstart for your next chore. 
5. To Ace Your Insta Game With Gorgeous Pictures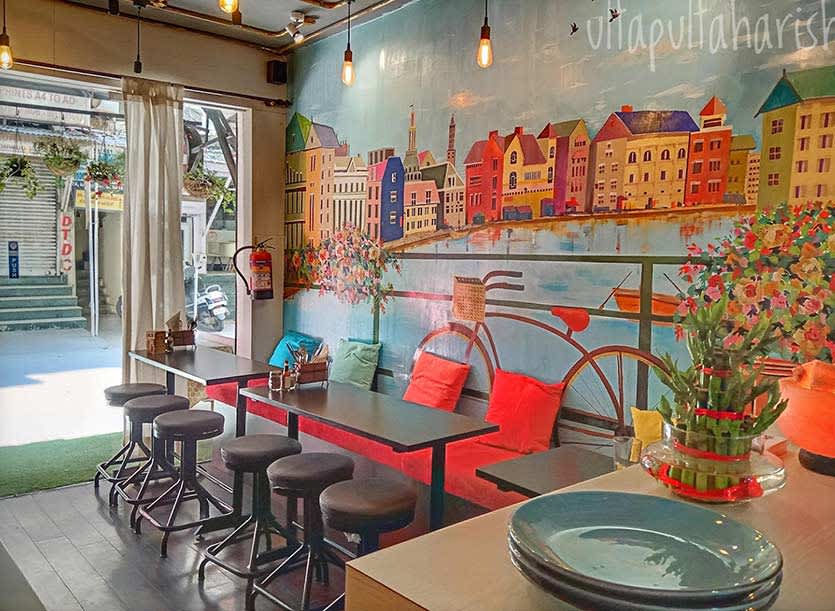 Picture Credits: Harish Patel
We all know we take our Instagram aesthetics way too seriously, and what better way to spice up your Insta game than using the beautiful murals at this cafe for your background? The interiors, paintings and even the photographs will make a colourful addition to your latest Instagram post. If you are a blogger or just a foodie, waiting to try your hand out, this new aesthetic, is sure to take your page to new heights! 
We are sure that your trip to this themed cafe will be a unique experience, and isn't that really all we're looking for? With music, lights, food and so much more, Cafe Amsterdam truly has a lot to offer. You must hit up this new cafe, and don't forget to tell us about your experience!
Where | Cafe Amsterdam - H 16 Road, B, Kalkaji
Timings | 11 AM - 12 Midnight
Call Them | +91 11 7156 5313
Meal For Two | Rs 1,200
Check Out Their FB Page | https://www.facebook.com/CafeAmsterdamDelhi/