Delhi
5 Book Cafes In Gurgaon Where You Can Curl Up With Your Fave Book & A Frothy Cup Of Coffee!
A cup of frothy coffee and a good book, isn't that all we need to unwind after a hectic week or perhaps when the midweek blues strike us with full force? If this combination makes you do a happy dance as well, then you can thank us 'cause we just picked out 5 amazing cafes in Gurgaon where you can grab a comfy spot and just unwind with a new read and that perfect coffee accompanied by mouth-watering food! 
1. Another Fine Day - Cafe & Reading Room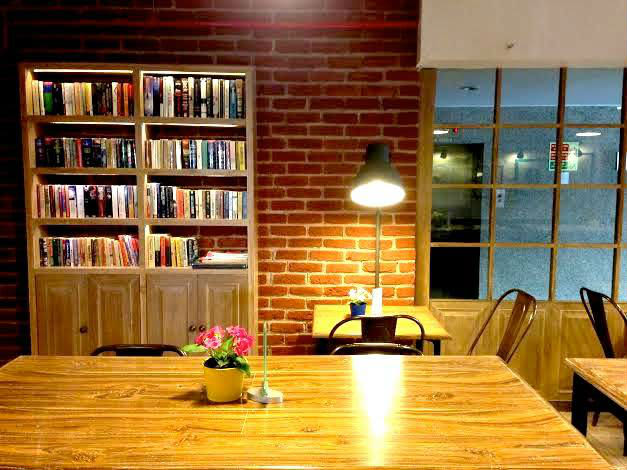 Rustic decor, a big shelf that's loaded with books and pancakes to-die-for, Another Fine Day is all this and more! Head here for a hearty Sunday brunch with your new novel and order up their American Pancakes or Waffles with a Strawberry Smoothie and you're good to go. The place is also great for a long due date with your BFF, so call him/her up and scamper over to this gorgeous book cafe!
Where | Another Fine Day - Ground Floor, MPD Towers, DLF Golf Course Road
Meal For Two | Rs 800 
Timings | 10 AM - 11 PM
Call Them | +91 124 4386 155 & +91 8510 051 515
Check Out Their FB Page | https://www.facebook.com/anotherfinedaycafe/
2. Olly Gurgaon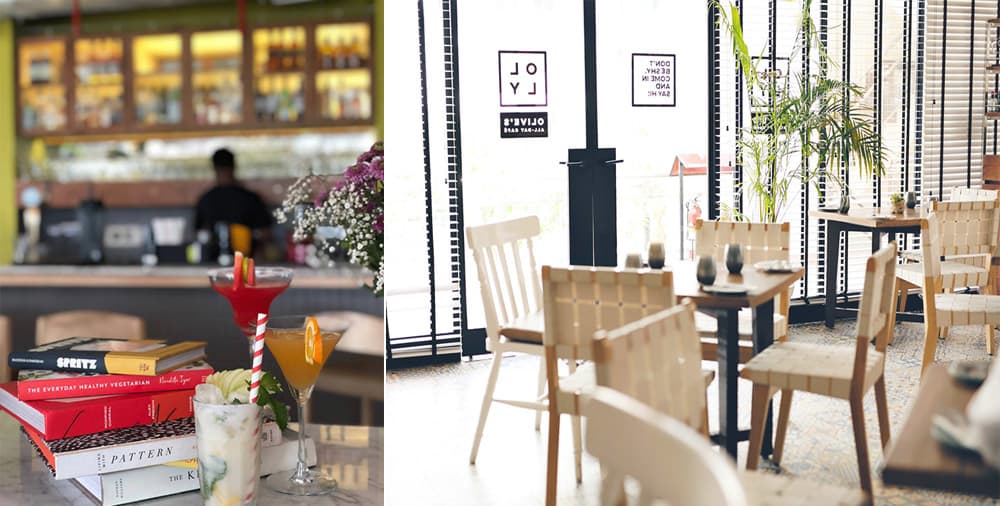 A quaint li'l cafe in the hustle and bustle of DLF Cyber Hub, Olly is a perfect place for you to curl up with your favourite book over a Salted Caramel Iced Latte! The cafe is cosy and the floods of light streaming into the place make it feel airy and cheerful. So head here with your book or pick one from their shelf and have a relaxing weekend! Add some food suggestion as well perhaps?
Where | Olly Gurgaon - DLF Cyber Hub, DLF Cyber City, Gurgaon
Meal For Two | Rs 1,400
Timings | 11:30 AM - 12 Midnight
Call Them | +91 8130 838 811 & +91 9667 726 677
Check Out Their FB Page | https://www.facebook.com/ollygurgaon/
3. Cafe Wanderlust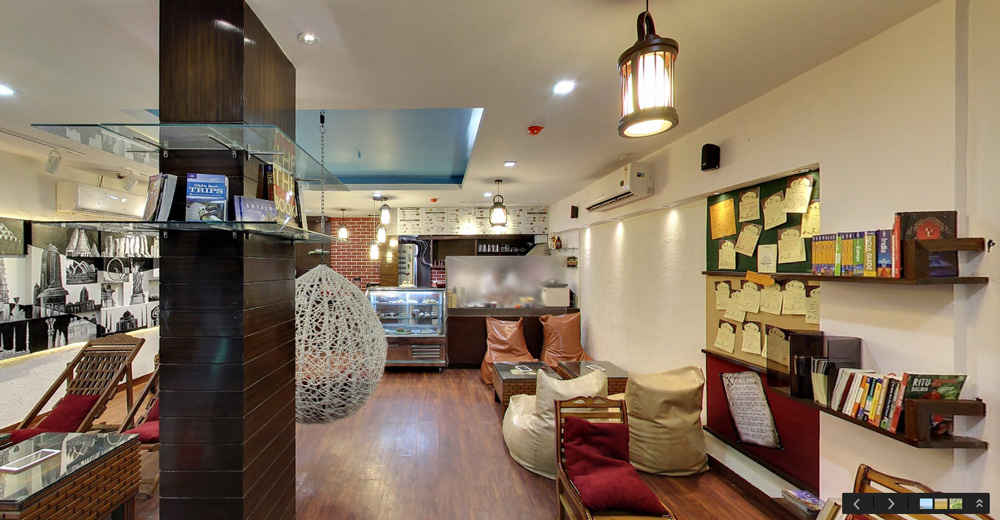 Cafe Wanderlust is a personal fave for their frothy, super amazing shakes and coffees! Grab a book here and lounge on their big, comfy swing chair or bean bags and get lost in the beautiful, magical world of Jane Austen or JK Rowling. If you're a true blue chai lover, then don't forget to try out their Kulhad Chai 'Malaai Maarke' or Kanpur's Desi Adrak Chai, you'll thank us later!
Where | Cafe Wanderlust - DLF Galleria, DLF City, Phase IV
Meal For Two | Rs 850
Timings | 10 AM -11 PM
Call Them | +91 9643 206 207
Check Out Their FB Page | https://www.facebook.com/cafewanderlust
4. The Library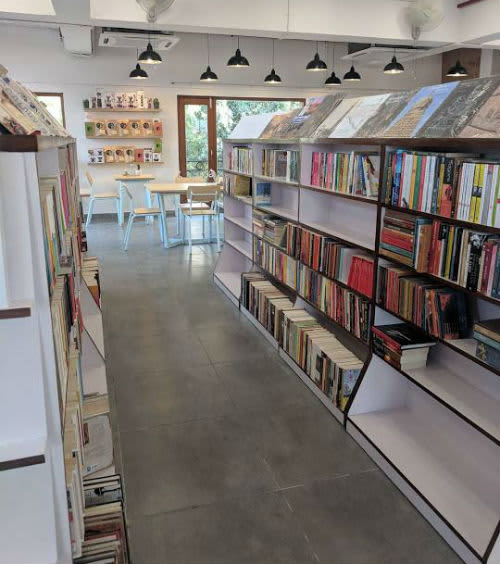 Books and Bahrisons have been synonymous to all us Delhiites for the longest time. And did you know, that you can also sit and slurp on amazing Blue Tokai roasted coffee, while reading and buying new books from The Library at Galleria Market? Well, our inner bibliophile and coffee-head just did a happy dance 'cause The Library is the brainchild of Bahrisons and Blue Tokai and we can't wait to head here and shop up all the latest best sellers while also enjoying a cup of splendid coffee! 
Where | The Library - R1, Galleria Market, DLF Phase IV
Timings | 9:30 AM - 10:30 PM
Call Them | +91 124 4562 264
Check Out Their FB Page | https://www.facebook.com/bahrisons.booksellers/
5. C'est La Vie Cafe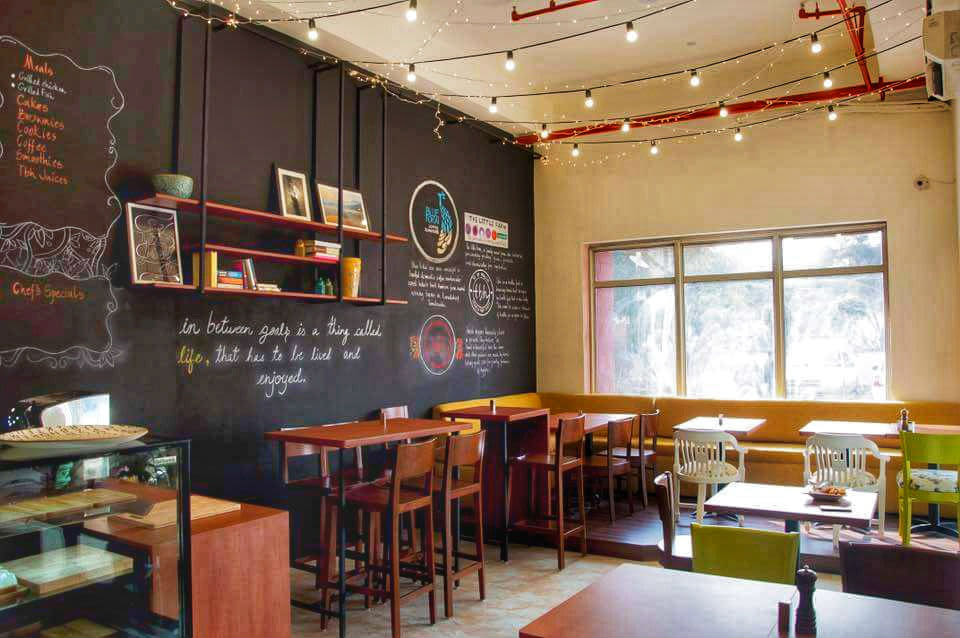 C'est La Vie is a warm and cosy cafe in Nirvana Country where you can chill with some good coffee and great books! The walls here are graffitied with quotes and their menu will surely win your heart. Find yourself a good spot, prop open your novel, order up their Grilled Chicken and Baby Spinach Salad or the Pesto Roasted Veggies Sandwich and just chill like a villain!
Where | C'est La Vie - C-15/16/17, Nirvana Courtyard Market, Nirvana Country, Sector 50
Meal For Two | Rs 1,100 
Timings | 8 AM - 10 PM 
Call Them | +91 124 4051 699 & +91 9560 074 424
Check Out Their FB Page | https://www.facebook.com/CestlaVieGurgaon/
So plan that much needed date with your books and besties at these cafes right now!