Delhi
9 Best Places To Devour Garma Garam Bread Pakoras Starting At 10 Bucks A Pop!
Delhi runs on all kinds of street food like tikkis, kachoris, samosas or better still the king of fried street food - Bread Pakoras that will NEVER go out of trend *phew*! So for those of you who still haven't visited these places (our deepest sympathies go out to you!), take a mental note of this list and make your way to the following places!
P.S. - Do take stock of the situation before stepping out and take all necessary precautions!
1. Khandani Pakodewala
Picture Credits: Sandeep Kashyup
Having been around for almost 55 years now, Khandani Pakodewala is super popular, to say the least! From a basic aloo bread pakora to varieties like paneer, palak, gobhi - they've got almost 15 variants and so are one of the best vendors to go to for your BP fix! Also, an added bonus is the chutney they serve which is out of this world so go and get drowned in some fried awesomeness y'all!
Where | Khandani Pakodewala - Ring Road Market, Nauroji Nagar, Near Sarojini Nagar
Price | Rs 12 Onwards
Check Out Their Facebook Page | https://www.facebook.com/khandanipakodewala/
2. Gopal Sweets Corner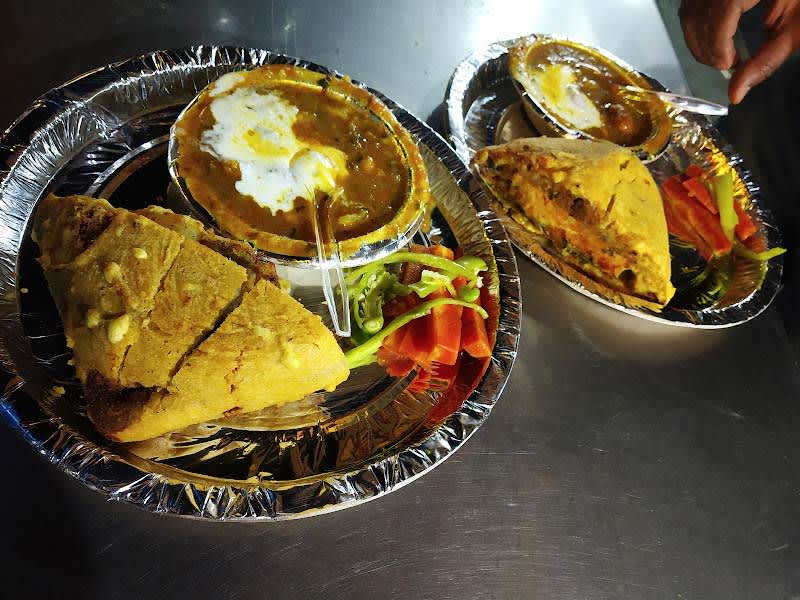 Picture Credits: Ronia Ali
Another legendary establishment in Kamla Nagar, the crowd at Gopal swears by this age-old shop, a childhood haunt for many. Although this place is famous for its Bedmi Poori, Gopal's bread pakora is nothing less than spectacular! A huge chunk of paneer is sandwiched between a flavoursome bread with a besan batter slathered all over it. They provide a plate of chole along with the pakora which takes it to the next level - go try!
Where | Gopal Foods - A-43, Kamla Nagar
Price | Rs 30
Call Them | +91 9999 426 975
3. Paneer Bread Pakora @ Jaipur Namkeen Bhandaar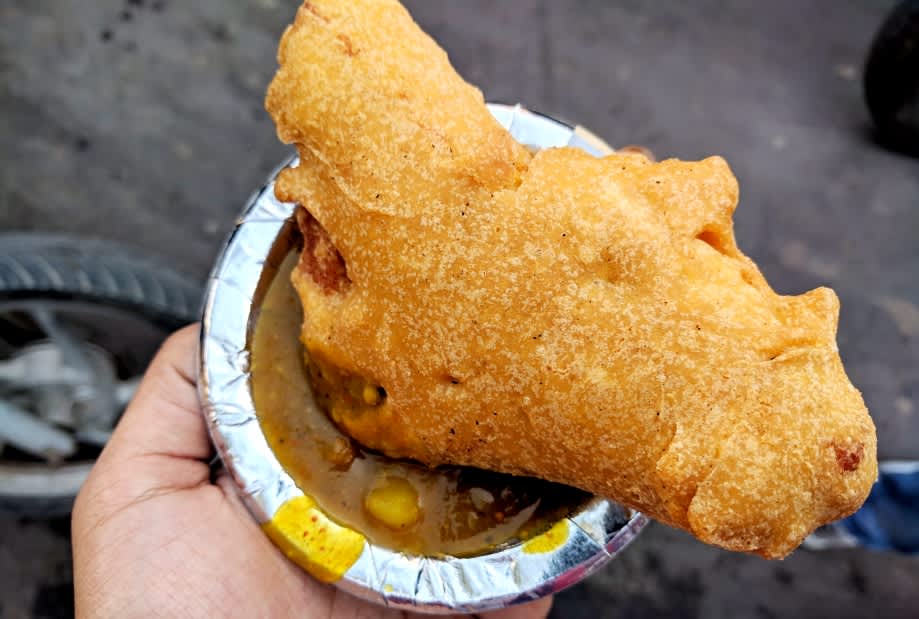 The first shop you come across after crossing the famous book market is Jaipur Namkeen Bhandar. This place is famous for its Special Bread Pakora and Paneer Bread Pakora which is loaded with finely chopped paneer pieces along with onions and other spices *yum, yum*! 
Where | Jaipur Namkeen Bhandaar - Delhi Gate, Netaji Subhash Marg, Chatta Lal Miya, Chandni Mahal
Price | Rs 14 Onwards
4. A Tiny Shop Right Behind Bangla Sahib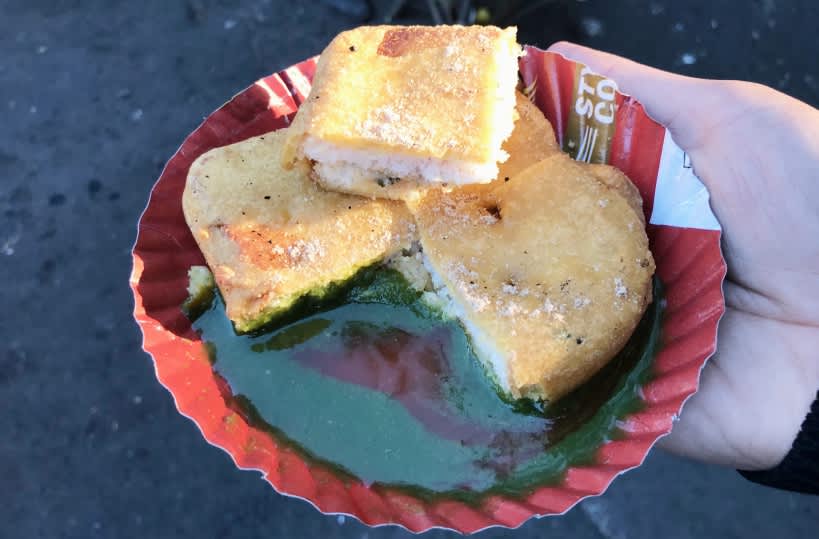 There is no name for this particular shop but it's one of the most sought after street-side joints in the area surrounding Bangla Sahib in CP. This guy sets up his stall for the entire day and night so you can't miss it, serving his loyal customers till as late (or early) as 4 AM! Find fresh pakoras with fillings like onions, paneer & palak etc. paired with a spicy and sour chutney and juliennes of a daikon radish!  
Where | Behind Bangla Sahib, Ashoka Road, Next to Grand Post Office
Price | Rs 20 Onwards
5. Saini Refreshment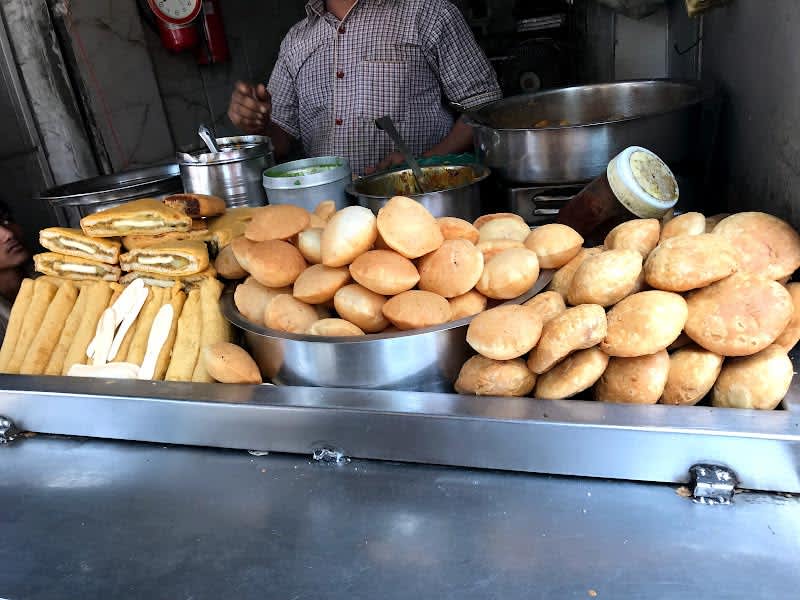 Picture Credits: PbCrafts
One would not find much of a mention when it comes to Saini Refreshment in Old Delhi but his shop has been here for the past 60 odd years as claimed by the owner of this shop! Specialising in Bedmi Poori and Aloo Curry this guy also does some heavenly samosas and bread pakoras and the huge crowds outside is a testament to that fact! The best part about this place is the flavourful Aloo Curry he serves along with the bread pakora and a heavenly chutney too! SCRAM!! 
Where | Saini Refreshment - Shop No. 1446, Gali Guliyan, Dariba Kalan, Chandni Chowk
Price | Rs 30
Call Them | +91 9899 795 699
6. Pakode Ki Dukaan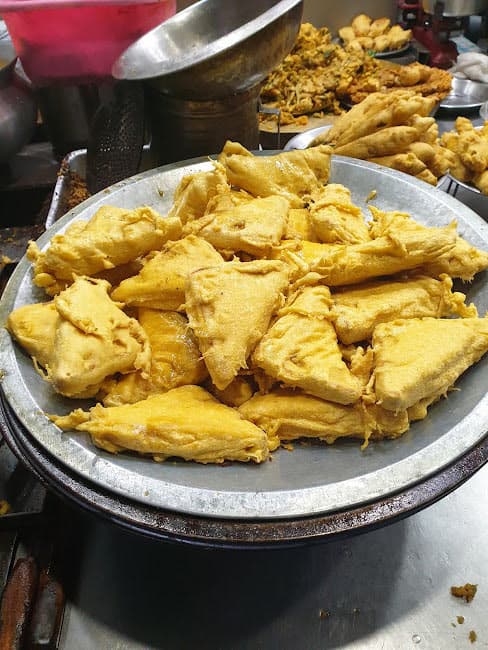 Picture Credits: Srijan Sachdeva
A Karol Bagh favourite, this one is a must-visit for a post-shopping spree or just a rainy day snack. They are known for the huge varieties of fresh pakoras offered including lotus stem, brinjal, and dal pakoras! But of course, our favourite remains the bread pakoras, and the lip-smacking chutney that leaves people raving!
Where | Pakode Ki Dukan - Shop 120, Netaji Subhas Market, Karol Bagh
Price | Rs 10 Onwards
Call Them | +91 8582 858 699
7. Dhan Singh Kachori Wale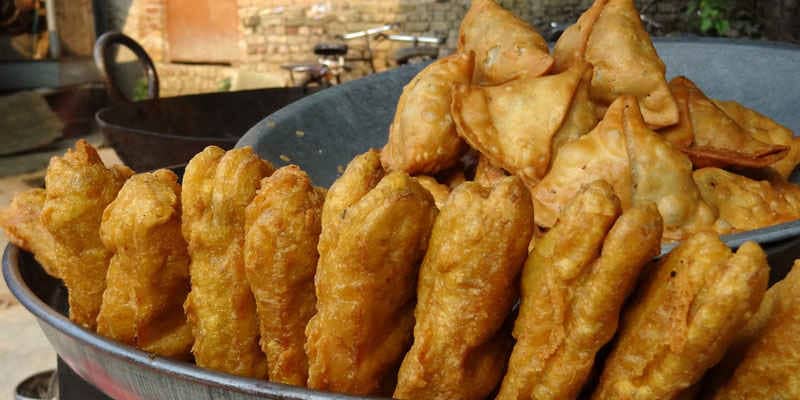 Here, you can top off your scrummy bread pakoras with delish jalebis. Nice! A little gem located in Yusuf Sarai, Green Park, Dhan Singh Kachori Wale is a very well known shop that serves their spicy bread pakoras loaded with potato and paneer, along with a spicy aloo ki sabzi, tamarind chutney and raw onions! Our mouth is already watering, head over soon!
Where | Dhan Singh Kachori Wale - Shop T 24 B, Ground Floor, Mandir Wali Gali, Yusuf Sarai, Green Park
Price | Rs 20 Onwards
Call Them | +91 9868 446 245
8. Vinod Snacks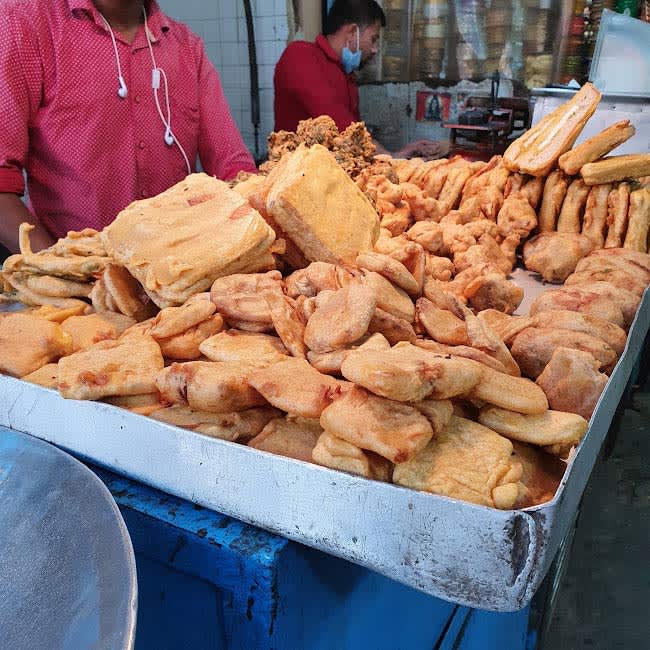 Picture Credits: Chirag gahlaut
Our Lajpat Nagar visit is NEVER complete without hitting and hogging pakoras from Vinod Snacks in the Central Market. This super famous shop IS the reason that this entire area is known as pokode wali gali in Lajpat Nagar. Damn! When are you heading to enjoy these yummy pakoras, and to shop till you drop?
Where | Vinod Snacks - Shop No.1, Central Fruit Market, Central Market, Lajpat Nagar II
Price | Rs 20
Call Them | +91 11 2983 9502
9. New Vishal Corner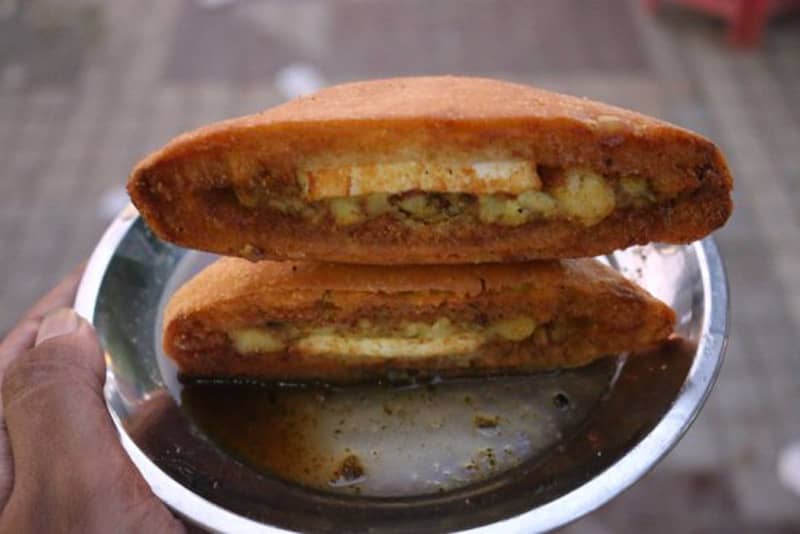 Picture Credits: Love Kaushik
Tucked right inside the electronics market in Nehru Place, this iconic shop called New Vishal Corner has a vast menu, but today we are in the mood to rave about their delightful paneer bread pakoras! Flowing with spicy mashed potatoes and a slice of paneer, we look forward to visiting Nehru Place again, and not just for Epicuria!
Where | New Vishal Corner - G-4, Vishal Building 95, Nehru Place
Price | Rs 20
Call Them | +91 9310 555 267
So head out and enjoy Delhi's very own favourite street food!