Delhi
5 Best Momos Like Chilli Mutton Momos & Tandoori Prawn Momos To Try In Yashwant Place!
Hankering for momos, we went to try out the hub religiously dedicated to momos, Yashwant Place. Housing multiple shops for leather clothes, the complex also embraces multiple food outlets placed strategically in a straight line maintaining the consistency of the complex's structure. 
The place has an amphitheatre kinda look with a good seating capacity - the seats are fixed and a table can accommodate upto 8 hungry souls. Locating the food outlets was effortless, owing to the aroma of sizzlers and momos luring us in. We reached in a jiffy and were amazed by the number of outlets waiting to serve us and the diverse options available here.
We decided to try the most sought after momo variants of every outlet and here's what we gobbled up!
1. Chicken Momos (Steamed) @ Momo Point

Being a best seller at this outlet, we tried their Steamed Chicken Momos where 8 jumbo pieces, steamed to perfection, were served with a chili dip. The filling comprised minced chicken along with coriander and finely cut onions plus lots of spices. 
Pepper being the dominant spice enhanced the flavour of the filling to the core, enhancing the taste of the dumplings overall. Though the presence of copious masses of greasy oil hindered the experience, we still give a thumbs up to this one!
Price | Rs 150
2. Chili Mutton Momos @ Chimney Sizzlers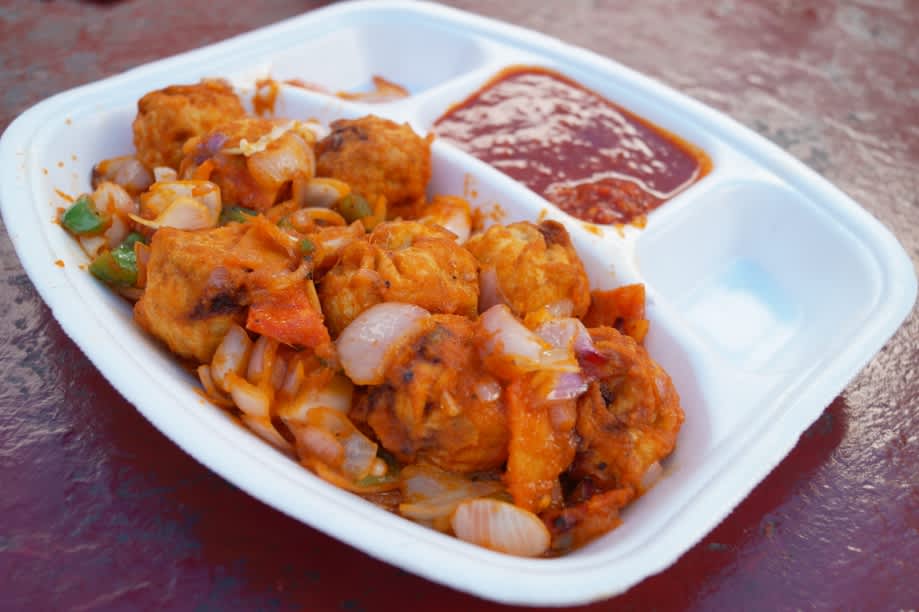 10 round pieces of dumplings, containing a filling of minced mutton along with coriander, ginger, garlic and onions with a unique blend of spices were shallow fried before being stirred well in barbecue sauce along with diced onions, capsicums and red and yellow bell peppers *YUM*. 
The minced mutton was pan fried before forming the filling of the momo and the barbecue sauce was super spicy, just the way we like it! The generous helpings of garlic and ginger intensified the overall flavour of the dish making us polish off every last morsel in no time!
Price | Rs 250
3. Mix Veg Momos (Fried) @ Bawarchis

Being a slightly hatke option, we ordered this variant that had a filling of finely diced carrots, onions, garlic, tomatoes, chopped cabbage and crumbled cottage cheese. The momos were deep fried before being served to us after a sprinkling of chaat masala all over them. 
The prima facie look allured us but the taste of the momo was a little bit of a let-down. Despite possessing a good filling and apt spices, this variant failed to impress us mainly owing to stale cottage cheese and since, seemingly, the pieces were not fried nicely. Better luck next time maybe!
Price | Rs 180
4. Tandoori Prawn Momos @ Chinese Bite

8 enormous pieces with a filling of finely diced sautéed prawns along with finely chopped onions, garlic, ginger and cabbage were shallow fried before roasting them in the tandoor till they turned crispy *heart eyes*. 
Covered in chili paste, these pieces had a unique taste owing to the fact that these were fried before roasting. The prawns had absorbed the spices fully and had turned a bit mushy, doing full justice to the dish overall. We LOVED this one!
Price | Rs 410
5. Pork Momos (Steamed) @ Al-Kuresh

After covering almost every outlet in the vicinity we ended up ordering Pork Momos here in our last leg of this momo fiesta. Finely minced lean pork mixed with chopped cloves, onions, spring onions, chilies, ginger and coriander leaves formed the filling of this variant. 
These pieces of heaven were steamed to perfection with the essence of ginger and clove intensifying the overall flavour and taste of the dumplings. The smoky flavour of clove was the highlight of the dish, making us reach for second and then third helpings! 
Price | Rs 120
Bonus Dish: Pork Thukpa @ Zaika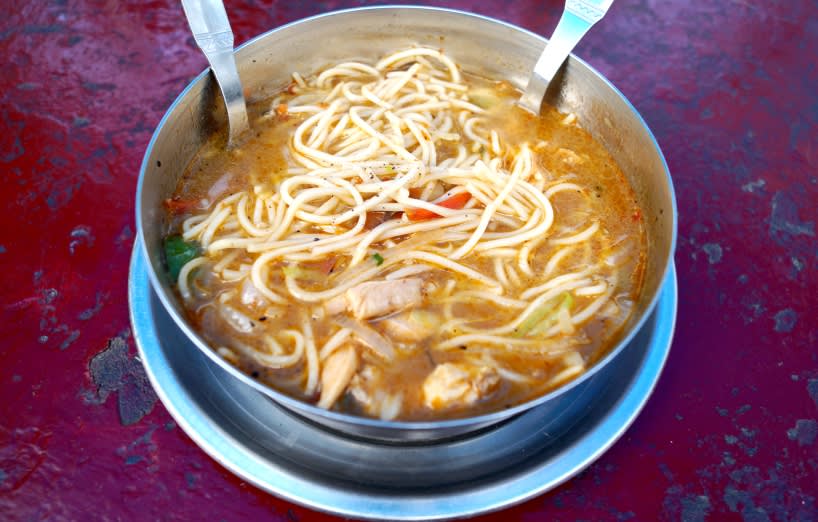 Served in a big bowl, we had this Tibetan noodle soup which comprised chopped carrots, onions, capsicums, red and yellow bell peppers along with hand-pulled pork pieces cooked with noodles in a unique blend of spices with chili powder, garam masala and black pepper. 
The stew had a hot and spicy flavour which turned out to be a delight for our taste buds! The noodles were boiled to perfection and the pork pieces had soaked up the spices pretty well. The only downside we felt was the consistency of the stew, which could have been a whit more intense.
Price | Rs 180
All in all, the place can turn out to be a good option to sit, relax or chit chat at, especially during a sunny winter afternoon with yummy food all around. Come on by for a momo overdose!
Location | Yashwant Place Commercial Complex, Opposite Post Office, Satya Marg, Chanakyapuri