Delhi
5 Below Average Shakes & Pulsating Neon Lights: Shake Shook Cafe Is A Complete Disappointment!
Shakes are something we just can't get enough of, especially in this horrid weather that leaves us sweating like pigs. So when we heard about a brand new shakes café in Satya Niketan, we happily hopped over. Shake Shook Café isn't hard to find and is located in the lane right opposite Venkateshwara College. This place has a very 2000s disco-like atmosphere which is TBH border-line shady! The lights are LED neon *yuck*, the music is deafeningly loud and the décor is far from subtle. For some reason, there are some novels stacked in a corner, although they offered little comfort to us.
The café has quite an extensive menu with flavours ranging from Cola to Pan Masala and the shakes come in regular, jumbo or with ice cream. They have some interesting concepts to offer such as the Hot Ice Cream Shakes which are, well, hot and the Kuchh Bhi Shake, which is a customized shake. We tried 5 of their shakes and here's what we think:
1.  Bubble Banana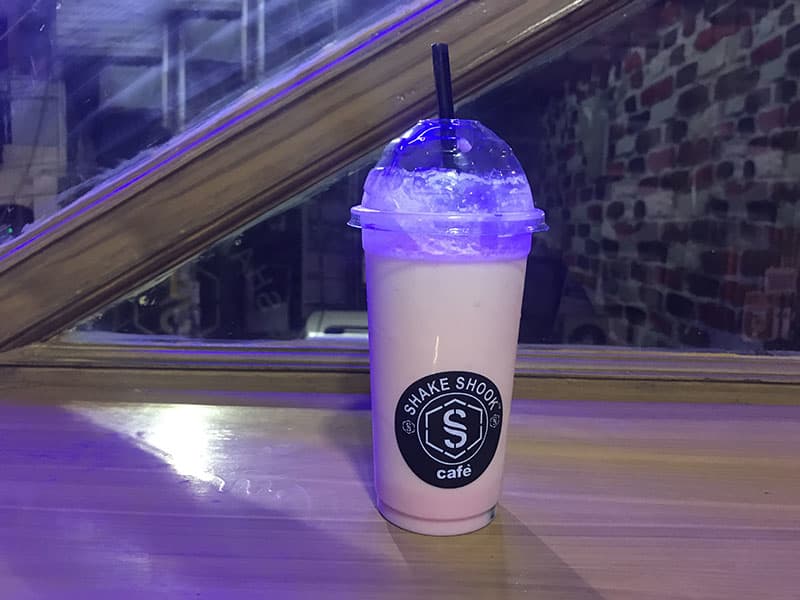 This was the first shake that we tried and the fresh banana flavour brought back many of our childhood memories of homemade shakes. It was creamy with well-balanced flavours and the perfect amount of sugar. The downside was that the consistency was a little watery. However, there was nothing particularly special about this one. We've definitely tried better ones right next door!
Price |  Rs 80 Onwards
2. Irish Cream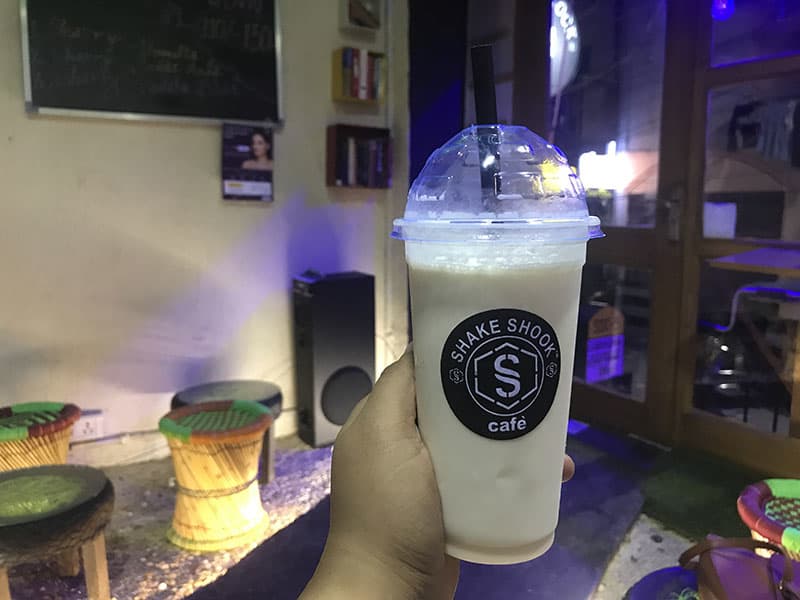 We had high hopes from this one and were expecting a creamy shake right out of grandmother's kitchen as this one is a St. Patrick's speciality. Irish cream is generally made with cream, Irish whiskey and some flavours such as coffee. However, the shake that we were served was quite the opposite of any Irish delight and had an odd tinge on top of being overly milky!
Price | Rs 60 Onwards
3. Hot Coffee Ice Cream Shake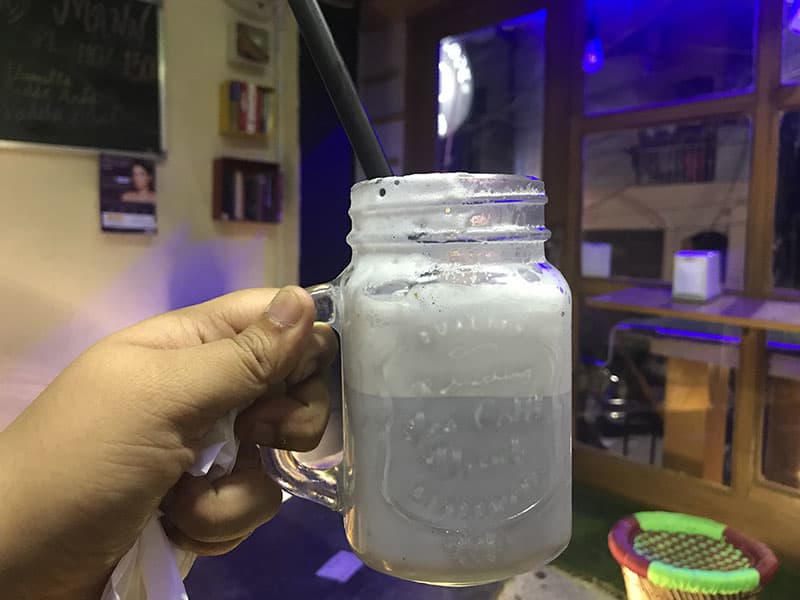 We were a little sceptical about having a 'hot' shake and rightly so. We tried their Hot Coffee Ice Cream Shake with blackcurrant flavouring and it was only slightly short of a disaster! The flavours did not work well together and produced a very odd taste, to say the least. Although we appreciate the attempt at a new concept, it was a little like having cold milk tea when it's supposed to be hot *shaking our heads*. 
Price | Rs 70 Onwards
4. Kuch Bhi Shake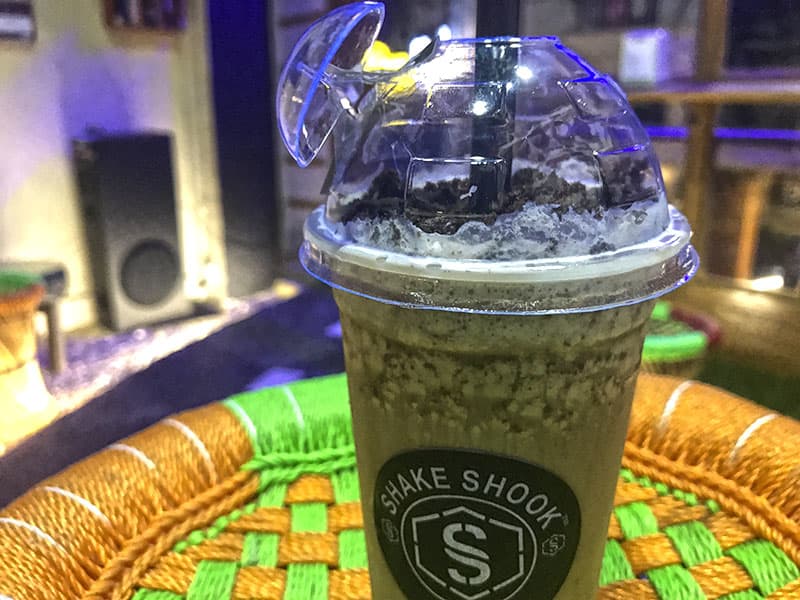 This customised shake had been advertised as one of their specialities. They have an overwhelming variety in terms of flavours and type segments, so we decided to go with their recommendation and got a Black Current, Hazelnut, Brownie and Bomb Shake. There were some flavours in this one which we would have liked to try on their own but all blended together, it ended up being peculiar and mismatched - we won't be recommending this one any time soon!
Price | Rs 130 Onwards
5. Kit Kat And ChocoPie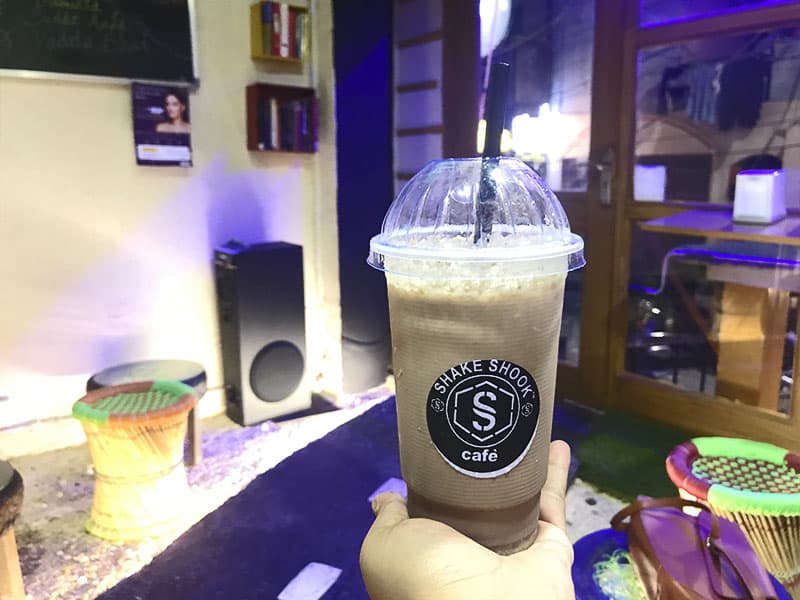 One of the saviours of the lot, our decision to go with the classic Kit Kat Shake turned out to be a decent one, overall. The consistency was all right, the chocolate crumble gave it a good texture and it was deliciously melting in our mouths. It was also the right amount of crunchy, but could have been thicker. In a nutshell, this is your safest bet here! 
Price | Rs 110 Onwards
The café is definitely trying to step away from the clichéd Oreo shakes that we see everywhere else, but we think a little reconsideration in terms of what flavours work well together might work in their favour. 
A plus of this café is that the owners are extremely friendly and will work upon and listen to any of your requests so they definitely get a point for good hospitality. Go here if you're planning to try any of the usual chocolate or fruit shakes but we'd advise you to stay away from the whacky ones! 
Where | Shake Shook Cafe - F- 282, Shop 4, Opposite Sri Venkateshwara College, Satya Niketan
Check Out Their FB Page | https://www.facebook.com/shakeshookcafe05