Delhi
5 Authentic & Yummy Tibetan Dishes To Try Under 110 Bucks At Sera Mey Restaurant, MKT
Majnu Ka Tilla has transformed itself from just a refugee settlement to a bustling hub full of chic stores, handicraft galleries and cosy cafes. It has become a go-to spot for North Delhi students due to its variety of affordable eateries and stores. We've all heard of the famous Ama Cafe and the praises about its desserts along with numerous laphing mentions but there's more to MKT than that.
We found this simple and quiet yet absolutely amazing restaurant called Sera Mey Restaurant. This one is run by Sera Mey Monastery and is situated in the same lane as Ama Cafe. We thought we'll tell you a little about Tibetan cuisine so here's everything that we tried!
1. Veg. Mokthuk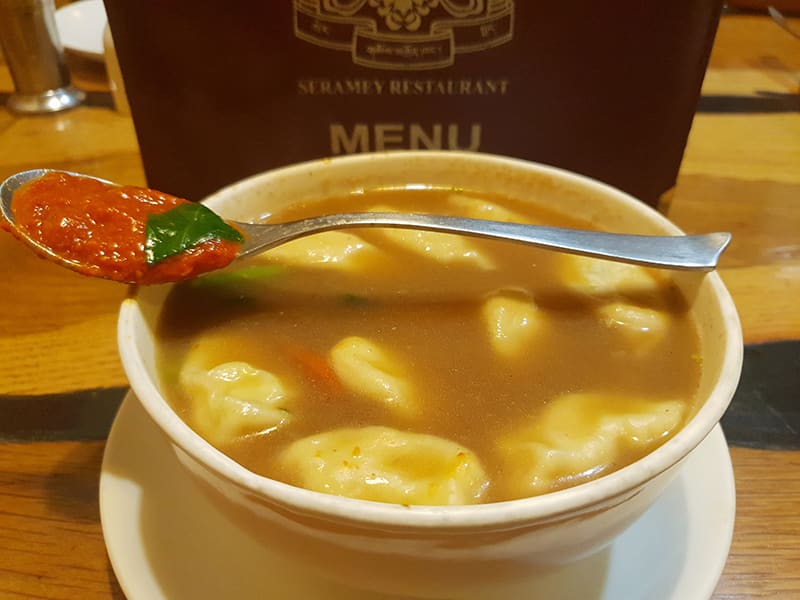 You're probably wondering what's this, right? Don't worry, we'll educate you about each of these dishes. This one is simply momos served in a bowl of soup. Tibetan meal is usually incomplete without soup so this one's a crucial element of the meal. Coming to the taste, we absolutely loved this one because of the balance of flavours. The momos with their veggie filling had a subtle flavour whereas the soup was tangy and mildly spiced making the dish flavoursome and delish!
Price | Rs 90
2. Buff Steam Momo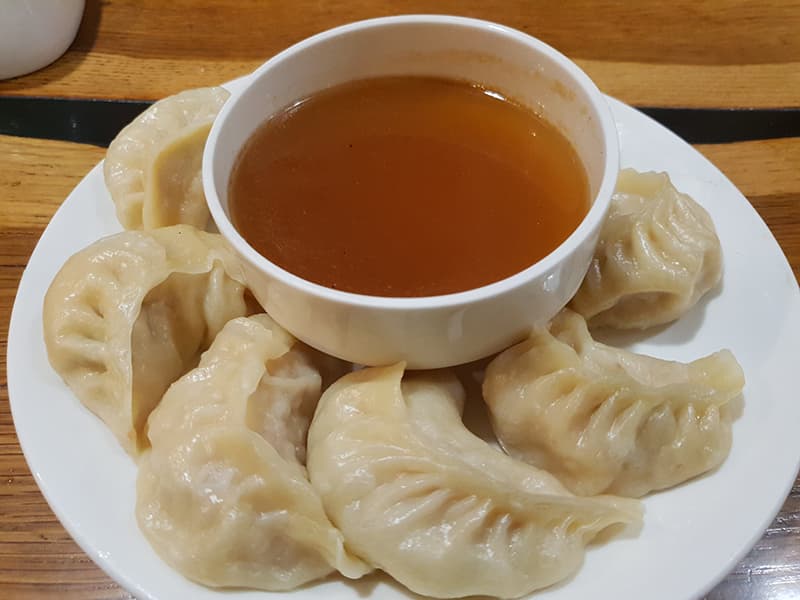 It won't be a complete Tibetan meal without perhaps the most popular Tibetan dish - momos. And what better place to try them than at an authentic Tibetan restaurant like this one? Upon ordering this, we were welcomed by a plate of wholesome buff momos complimented by a bowl of soup and some thick chilli sauce. While they were good in their own way, we would recommend you to try their other dishes which are much tastier.
Price | Rs 100
3. Veg. Shabhalay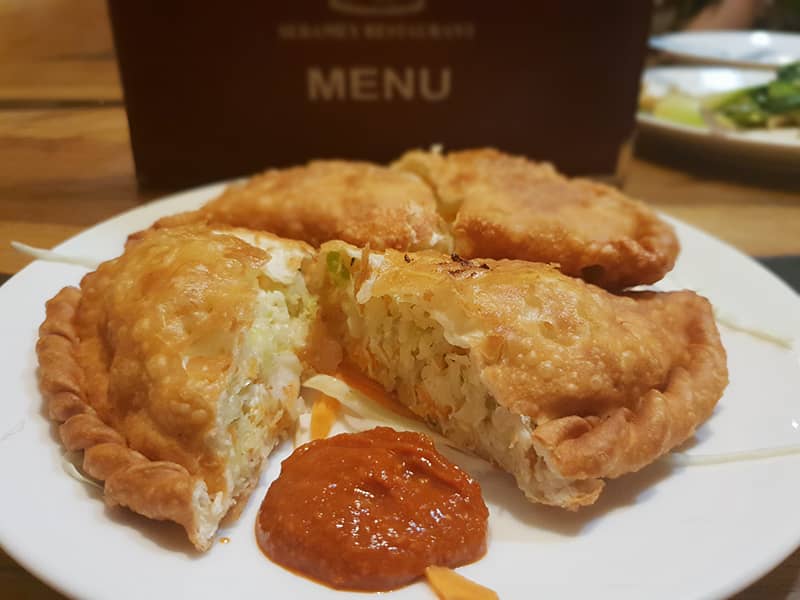 Another interesting dish from Tibetan cuisine is a Shabhalay which is simply a savoury gujiya. To explain it better, it's deep fried flour pockets stuffed with veggies or meat and taste almost heavenly. The crispy outer layer combined with minced veggies and paneer gave this dish its perfect texture. At Sera Mey, it's served as 2 big pockets with a thick chilli sauce and is an absolute must try if you're looking to explore tasty food!
Price | Rs 100
4. Chicken Thenthuk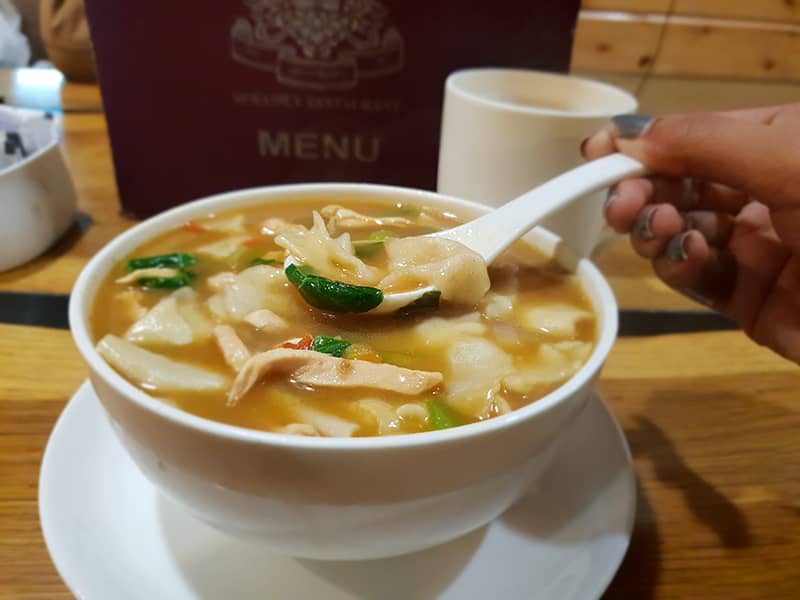 If you're bored with the conventional noodles that Chinese cuisine has to offer, this place also offers traditional Tibetan hand-pulled noodles. Served in a simmering bowl of yummy soup with veggies, these noodles are small flat pieces of pasta that complete the dish. If you love noodles or pasta, this one is a must try as it offers a new rendition of these that will blow your senses away!
Price | Rs 100
5. Veg. Portomein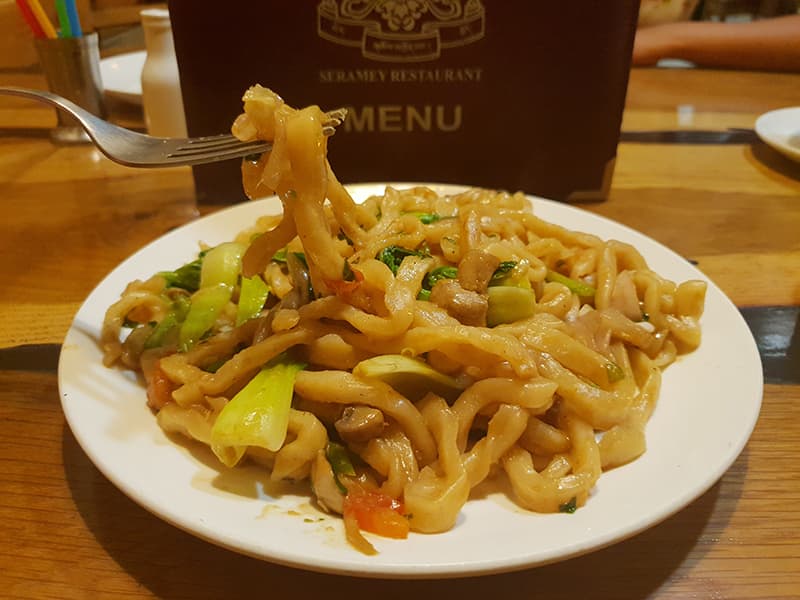 You've probably made some guesses about this one considering its similarity to the word chowmein, right? Well done then, because Portomein is a kind of noodle dish too. To be precise, it's a dish made with hand-made noodles tossed with veggies, meat or both. This one is an interesting take on everyday noodles and is extremely scrumptious and filling. Sera Mey does this dish really well apart from the fact that the noodles were slightly undercooked. Thumbs up for the taste!
Price | Rs 100
All in all, we give Sera Mey Restaurant a big thumbs up for the taste, hospitality and vibes. You've got to try their authentic Tibetan food at least once, you never know how much you like something till you try it. Next time you're at MKT, do give this underrated restaurant a shot!
Where | Sera Mey Restaurant - New Aruna Colony, Majnu Ka Tilla
Timings | 8 AM - 6 PM
Call Them | +91 9773 826 617 & + 91 8826 852 208