Delhi
4 Types Of Soya Chaap To Eat @ The Legendary Amritsari Chaap Wale In Amar Colony!
Being hardcore carnivores bemused with the idea of 'chaap' as a vegetarian cheat code for chicken, we were a bit sceptical about Amritsari Chaap Wale's ability to wow us. Hearing even our meat-eating foodie friends raving about this gem in Amar Colony, we decided to see for ourselves what all the fuss was about, and boy were we in for a delicious surprise! It's safe to say that this is one outlet that we wouldn't mind vegging out at, and not just on Tuesdays *wink wink*.
Situated right next to Hunger Strike (which has become a foodie landmark in the market now), don't let ACW's lack of seating and open kitchen deter you at the first glance. Gluttony is a serious business, and they ensure that nothing distracts you from the grub! There's a table up front for if you're ordering a huge spread like us, otherwise folks eat in their cars or get hefty takeaway bags. Their extensive menu also offers rolls, tikkas, momos and noodles, but the Soya Chaap(s) is unarguably the show stealer. Here's what made us look at this humble dish with newfound respect:
1. Kadhai Chaap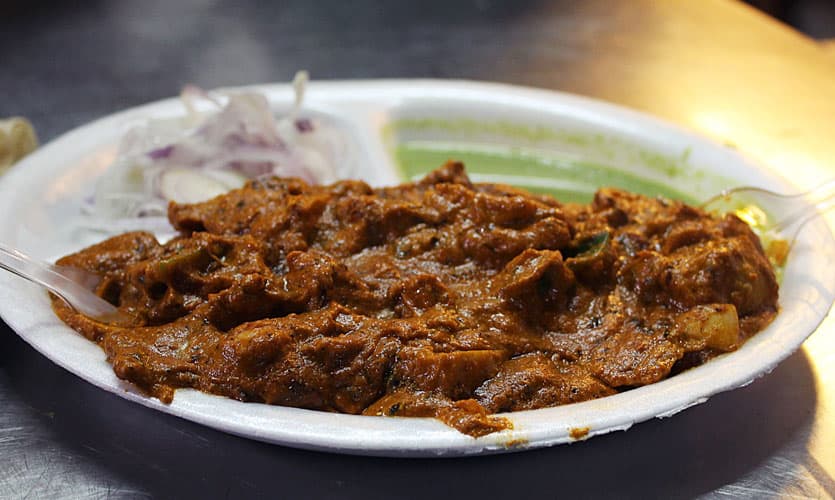 Our first order off the menu, and we were floating on 9 clouds of soya! We absolutely loved the Kadhai Chaap, which had a rich tomato-based gravy with fried onions, capsicum and potatoes. The spice quotient was perfect and the gravy was better than any kadhai paneer or chicken gravy we've ever tasted. Don't believe us? Try it for yourself and join the fan club! We didn't even feel the need for the mint chutney and raw onions which accompanied the plate, the chaap was enough to put us in a food coma! This one's best enjoyed with rumali roti peeps.
2. Malai Chaap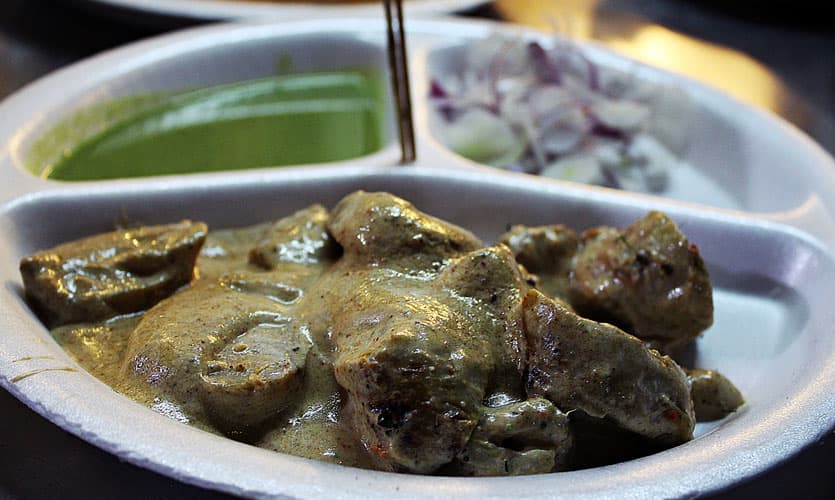 Big chunks of chaap were completely doused with oodles of super creamy malai and once again, we had to eat our words and bow down to this vegetarian masterpiece! The friendly cook revealed that the malai used here is 100% pure cream made from khatti dahi, which is then mixed with a bunch of spices to balance out the sour kick and fried pieces of soya are folded in. Both the taste and texture of the dish were to die for and each mouthful was a delight!
3. Veg Mutton Chaap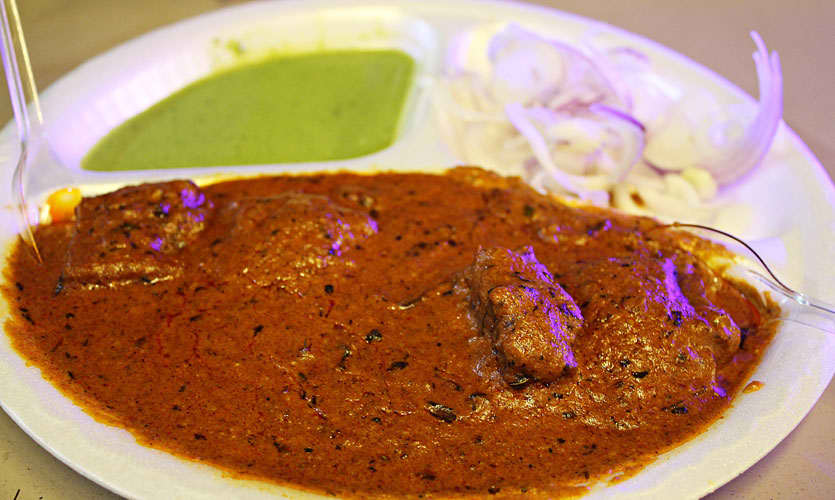 No, ACW is not taking you for a ride! They also have Fish and Mutton chaap – both of which are 100% veg. Don't be disappointed, their renditions are quite good (damn, we're hardcore believers now) and the Mutton Chaap gravy they whipped up was a bomb! Infused with the quintessential flavours of the mutton curries that we all know and love, the secret ingredients in the robust gravy here were kaali mirch and brown chaap. The only letdown was that the soya was a bit hard and chewy.
4. Gym Chaap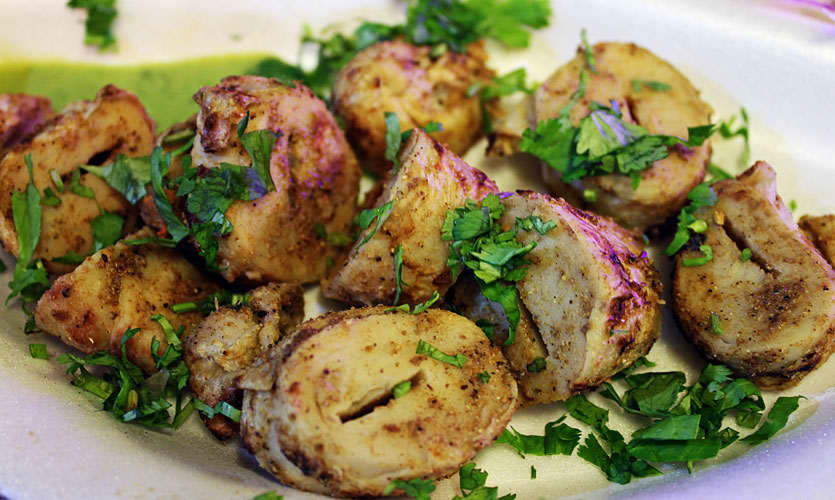 The name caught our eye on the menu but unfortunately, our curiosity wasn't rewarded too well. Aimed at satiating the diet-conscious, this low-fat version uses minimal oil and spices, with the soya simply marinated with garam masala, black pepper, a bit of salt and then fried. Only one thing ruined it for us - the overwhelming taste of the lemon juice sprinkled on top. We couldn't taste anything but the sour lemony flavour, sadly. If you do opt for this, be sure to tell the cook to go easy on the lemon!
We also indulged in a plateful of momos, being hardcore foodies, and here's how their paneer ones fared:
Paneer Momos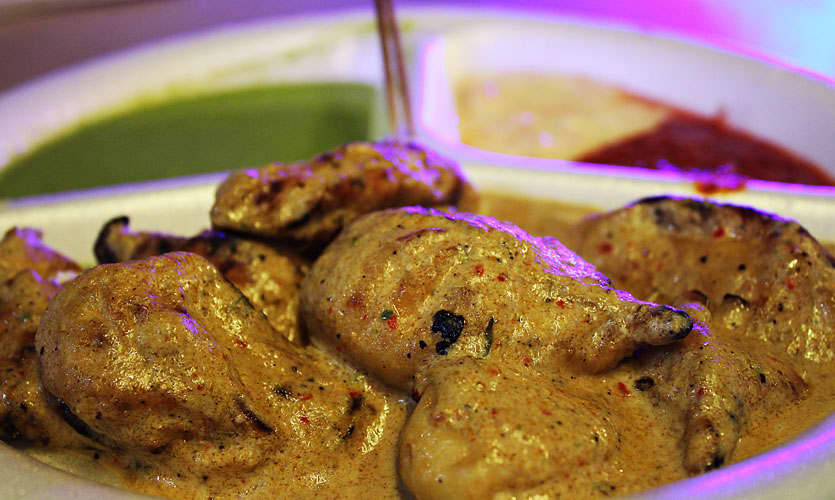 Giving Hunger Strike's Veg Tandoori Momos next door a run for their money, the Paneer ones at Amritsari Chaap Wale were perfectly chargrilled and smothered with malai! The crispy crust simply dripping with the spiced curd was a pleasure to chomp on. While we're completely satisfied with the outer layer, we felt that the paneer filling inside was a little undercooked for our liking. But you might just miss this with the aftertaste of the buttery smooth gravy in your mouth!
Like most cafes in Amar Colony, ACW also delivers via Zomato, Foodpanda and Swiggy (and has been featuring a lot in our recent orders - no shame in admitting we're hooked). A definite soya stalwart, we would highly recommend Amritsari Chaap Wale for those days when you can't reach a veg v/s non-veg consensus for your gang's next binge sesh. Also, the prices will get you hungrier *big grins*! Come on over.
Meal For Two | Rs 300
Location | C-28, Shop 6, Amar Colony, Lajpat Nagar IV
Must Tries | Kadhai Chaap & Malai Chaap