Delhi
4 Delish Desserts Like Black Ice Cream & Santa Bubble Waffles We Gobbled @ Funnel Hill Creamery
Black ice cream has become a huge craze around the globe, and finally it's hit Delhi too! Funnel Hill Creamery is the first place that's introduced this craze to Delhi and needless to say, we HAD to go pay them a visit and we gotta tell y'all - it's worth the hype! 
This all new ice cream parlour in the heart of Green Park Market is giving ice creams a complete facelift and we personally loved 'em. Their innovations are pretty crazy and it's good to see people trying out new permutations and combinations to come up with flavours that we wouldn't get to try anywhere else. A scoop of an ice cream will never taste the same here! True story! 
While we were at it, we tried a few cool things off their menu, and here's our unflinchingly honest verdict! 
1. Cookies & Cream Bubble Waffle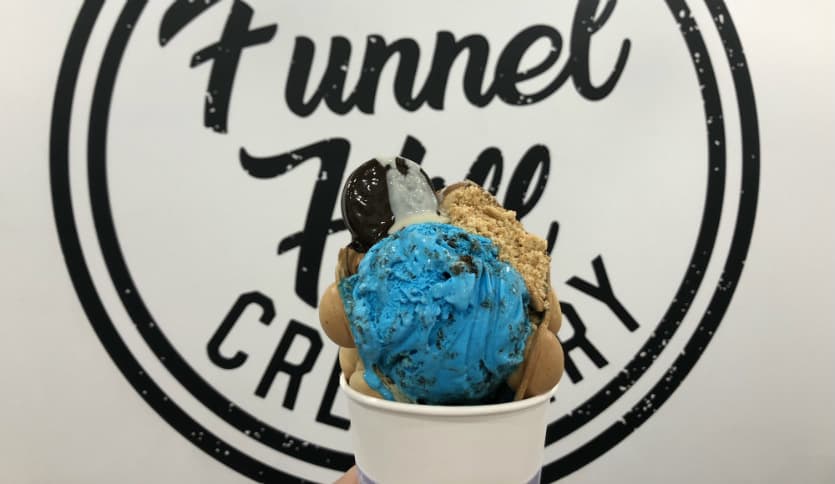 Named after the movie character Cookie Monster, this waffle has a nice big scoop of blue-hued Cookies & Cream ice cream enveloped in a warm vanilla bubble waffle! YUM! It has two types of cookies in it, one is Oreo and the other is chocolate chip, and you can easily taste both the varieties in the ice cream. 
The ice cream pairs perfectly well with the vanilla waffle, and they top it off with a digestive biscuit crumble and a whole Oreo that's dipped in either dark, white or milk chocolate. A meal in itself, you can either have it in a takeaway cup like we did, or else they'll plate it up real nice for you! 
Price | Rs 249
2. Devil's Hell
 
A red velvet cone with a scoop of activated charcoal ice cream, now that's what we call genius *heart eyes*! These guys started off with the ice cream originally having a base of coconut, but now they've changed it to Oreos *YASS*, and we've gotta admit that it tastes SO good! 
The Black Oreo Ice Cream is a mix and match of a whole bunch of things, you'll taste a slight bit of burnt charcoal in it which binds the sweetness of the Oreos and ice cream together perfectly. Now this is one ice cream that you'll love to capture for your Insta first and eat later *wink wink*! 
Price | Rs 189
3. Pistachio Santa Bubble Waffle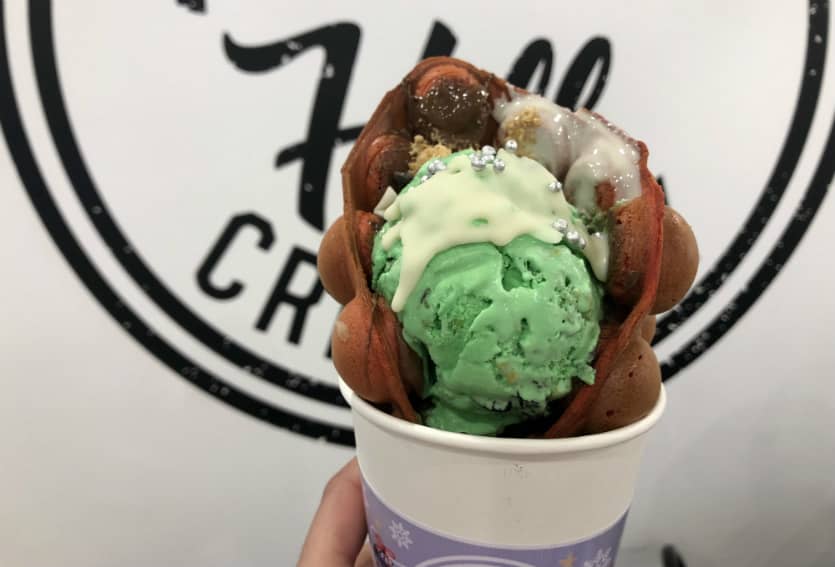 A red velvet bubble waffle (firstly, woah!), that had a green scoop of pistachio and baked raisins ice cream, with a hidden, subtle paan flavouring to it! Specially curated for the festive season, the flavours in this one are completely spot-on. The whole concept of these guys adding a surprise element to every ice cream while making a new batch, was seen in this one very prominently. Topped with a white chocolate drizzle and some digestive biscuit crumbs, this colourful dish was another one that we loved here! 
Price | Rs 279
4. Green Goblin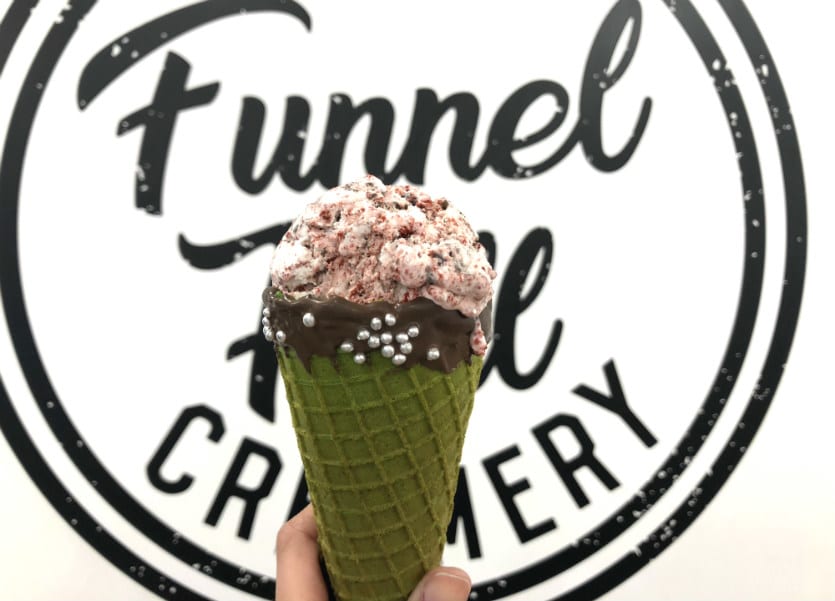 This one's a limited edition ice cream up available only till New Year's Eve and looks like a little party in itself! A peppermint waffle cone, giving the cone a slight minty taste, the ice cream that came with this one is again another super innovative one, Red Velvet Oreo ice cream! 
A new flavour that these guys boast of being the first ones to be serving in the city. TBH, this scoop of ice cream looks divine, the white base with the tints of red and brown in the green cone. Flavour wise, again spot on, another one that we're surely going to try again. Do give it a shot before NYE, because they'll discontinue this flavour then, but a similar one shall get added to the menu soon too! 
Price | Rs 189
We're giving these guys an unhesitating thumbs up for everything going from their innovation to execution! You'll prolly see us here often, pigging away to glory!
Meal For Two | Rs 800 
Where | Funnel Hill Creamery - G-55, Ground Floor, Main Market, Green Park
Check Out Their FB Page | https://www.facebook.com/thefunnelhillcreamery/