Delhi
13 Types Of Quirky Momos You Must Pig Out On With Your Gang In The City
It seems Delhi is not getting over the craze of momos anytime soon. Momos shops are mushrooming in every corner of the street doling out juicy dumplings on-the-go. So for all the momos junkies out there, we've culled out a list of awesome joints that'll make you grab your besties and go out for a binge sesh of quirky momos around the city.
1. Chicken Cheese Butter Masala Momos At Wow! Momos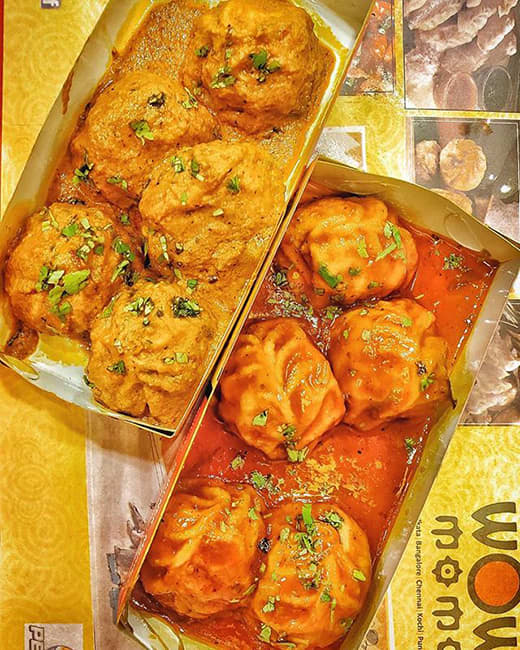 Picture Credits: a.pinch.of.masala
Well, if we talk about momos, and don't mention this legit chicken momos dipped in cheese, it would be a sheer disrespect to this legendary invention. Right? So, this cute little gem called Wow! Momos does these amazing Chicken Cheese Butter Masala Momos swamped in cheese with the perf amount of spices and butter. Now doesn't this make you drool already? Head straight here and demolish these scrummy momos!
Where | Wow! Momo - Saket, HKV, Karol Bagh, GK I & Other Outlets
Timings | 11 AM -11 PM
Call Them | +91 8178 969 500
Price | Rs 242
Check Out Their FB Page | https://www.facebook.com/WowMomos/
2. Kurkure Momos At KENNEDY'S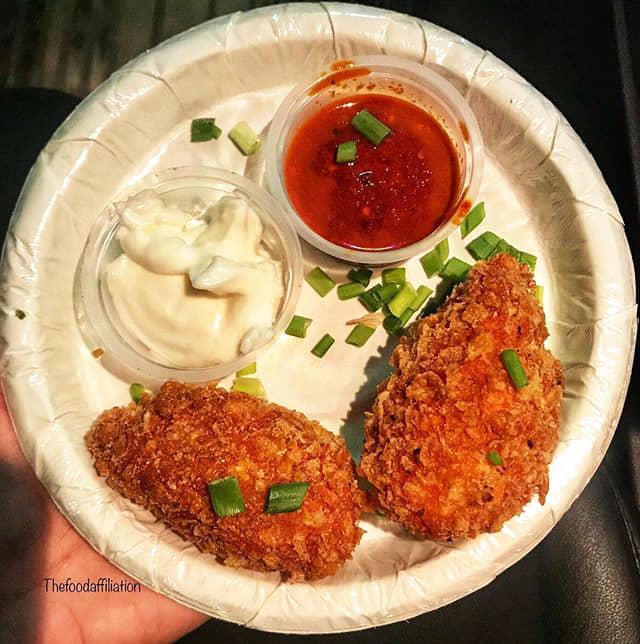 Picture Credits: thefoodaffiliation
As we all know Kurkure Momos are trending on social media and people are going gaga over it, so we decided to tell you guys about this cute little takeaway place, KENNEDY'S, that does amazing crunchy Kurkure Momos. Doing an absolute justice to their name, these babies are super crunchy, with an adequate amount of spices to give your tastebuds a good rollercoaster ride. *winks* The momos are fried, making its outside crispy and inside full of yummy soft momo fillings and cheese. Try these sumptuous momos with the signature red momos chutney for a divine momos feast!
Where | KENNEDY'S - B-1, Block B, West Patel Nagar, Patel Nagar
Timings | 1 - 11 PM
Price | Rs 90
Call Them | +91 9582 775 665
Check Out Their FB Page | https://www.facebook.com/pages/category/Fast-Food-Restaurant/KENNEDYS-458172767682481/ 
3. Tandoori Achari Momos At Kingdom Of Momos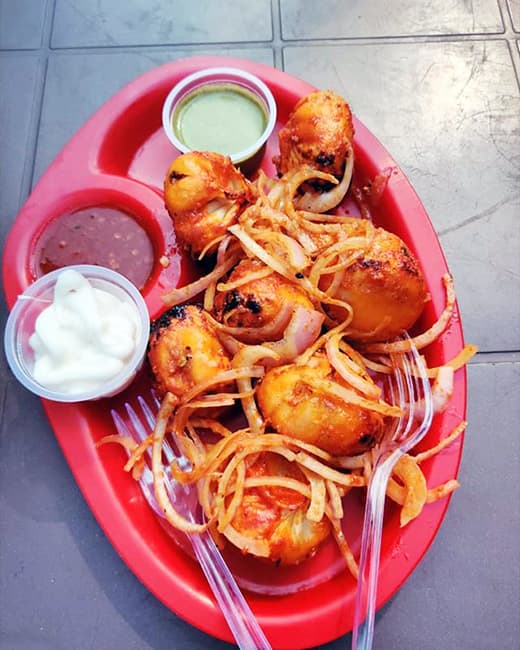 Picture Credits: cafe_review_101
Don't we all just love achaar alongside aloo ke parathe for a Sunday breakfast? Well, now you can even have achaar in momos (Say What?) at this momo joint called Kingdom Of Momos! So, go get your squad and hit this place to try these quirky Tandoori Achari Momos which are totes flavourful. Plus, these momos are seasoned with classic achari onions to give you legit achari feels!
Where | Kingdom Of Momos - 13/9 B Block, Choti Sabzi Mandi, Janakpuri
Timings | 2 PM - 12 Midnight
Price | Rs 80 (Veg) & Rs 90 (Non Veg)
Call Them | +91 9718 051 122 & +91 9718 061 122
Check Out Their FB Page | https://www.facebook.com/kingdomofmomos/
4. Rice Momos At Darjeeling Steamers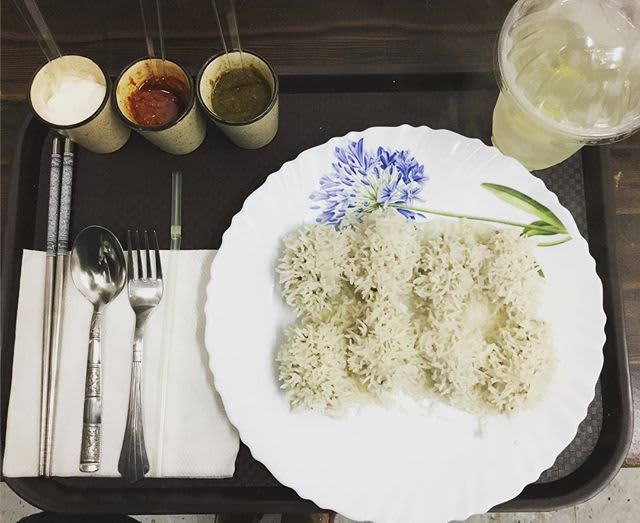 Just the thought of two of our favourite things coming together is making us dizzy with excitement. This quaint little cafe known as Darjeeling Steamers does Rice Momos that have the outer layering of rice grains. For all those who don't prefer maida, this one's for you as these momos have a crust of fresh, healthy and crispy rice and loaded with juicy yummy chicken inside that'll leave you in a super happy state. And while you're there, you can also munch on their other variants like Butter Garlic Momos, Veg Shaphalay, Chat Momos and several other delectables!
Where | Darjeeling Steamers - 252A, Siri Fort, Shahpur Jat
Timings | 12:15 - 10 PM
Call Them | +91 9599 610 656 
Price | Rs 250 
Check Out Their FB Page | https://www.facebook.com/darjeeling.steamers31/
5. Pizza Momos At Asian Fun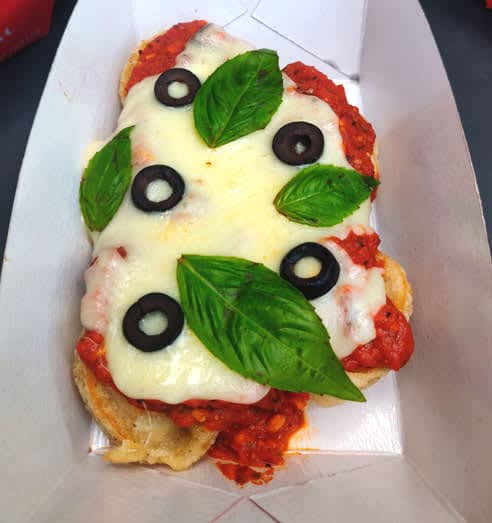 We know how much you gourmands out there love momos, so when we heard about this place in Noida that doles out well-stuffed and quirky momos, we were overjoyed to share the news with you! So, this eatery in Noida does 15+ kinds of quirky momos, Pizza Momos being one of them! These amazing momos are not just filled with cheesy goodness but also reminds us of our never-ending love for pizzas. Plus, they also come in a non-veg variant! Go destroy these cheese-oozing Pizza Momos with your bhukkad buddies!
Where | Asian Fun -  Sectors 37, 15 & 62, Noida
Timings | 11 AM - 10 PM 
Call Them | +91 9717 979 118
Price | Rs 138 (Veg) & Rs 168 (Non-Veg) 
Check Out Their FB Page | https://www.facebook.com/asianfun/ 
6. Nutella Dumplings At Yeti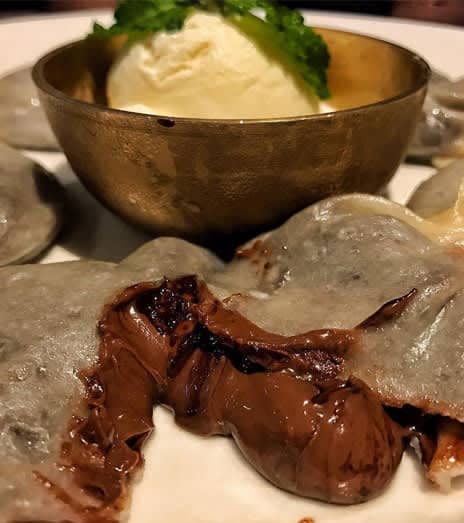 All you chocolate junkies in the house, what if we tell you that now you can feast on heavenly melted chocolate stuffed inside your all-time fave momos? Yep, that's right! This amazing little gem in GK does these super funky and decadent chocolate momos. So, with every bite you take, a pool of liquid dark chocolate is waiting to surprise your taste buds and make you go all loco. So, tag your chocolate-freak besties along and head to this eatery to try their irresistible Nutella dumplings.
Where | YETI,The Himalayan Kitchen - HKV & CP
Price | Rs 365
Call Them | +91 9650 618 315 & +91 9717 453 287
Check Out Their FB Page | https://www.facebook.com/YETIThe-Himalayan-Kitchen-132962034049/
7. Spicy Chicken Dimsums At Cafe Inside Stories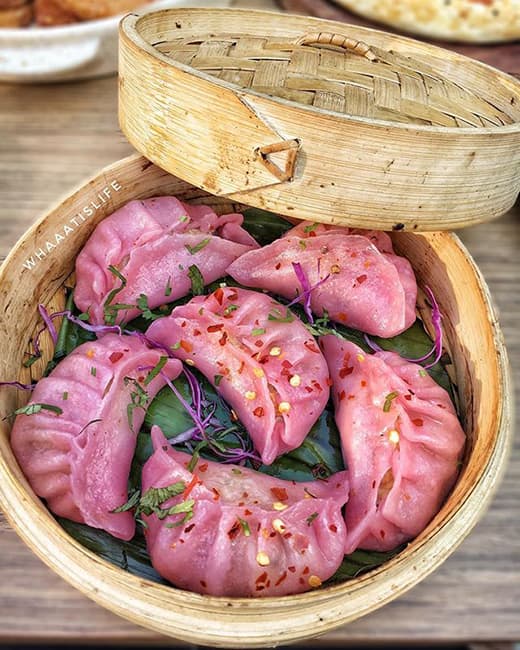 Picture Credits: whaaatislife
This quaint Parisian cafe in Champa Gali does these amazing pink chicken momos and we're going gaga over how pretty and Insta-worthy these look! Served in a cute little wooden basket these momos will set you back by Rs 355. Garnished with coriander and spring onions, these momos are absolutely irresistible and we can't wait to try them out!
Where | Cafe Inside Stories - Plot Number-2, Khasra 264, Westend Marg, Saket
Price | Rs 355
Timings | 11:30 AM - 10 PM
Call Them | +91 9999 412 272
Check Out Their FB Page | https://www.facebook.com/Cafe-Inside-Stories
8. Pasta Momos At Momos Point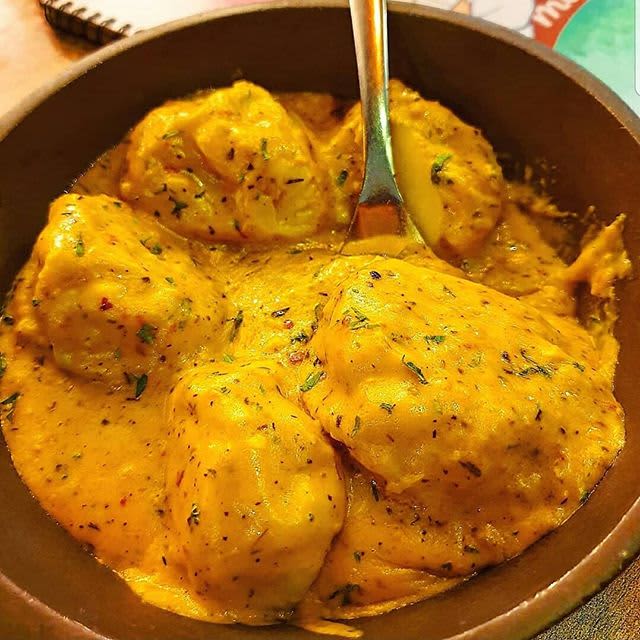 Picture Credits: the_glutton_14
Brimming with cheesy creamy pasta sauce, Momos Point does loaded Pasta Momos. These momos are a cray concoction of veg momos, dipped in a creamy pool of cheese and pasta sauce. Plus, they also come in a non-veg variant. We are already drooling, aren't you too? So, how soon are we gonna see you here, peeps?
Where | Momos Point - Kamla Nagar, Ramesh Nagar, Chanakyapuri & Other Outlets
Price | Rs 167 (Veg) & Rs 188 (Non-Veg)
Timings | 11 AM - 10 PM
Call Them | +91 11 2385 8435
Check Out Their FB Page | https://www.facebook.com/Momos-point-542037252626389/
9. Chilli Paneer Momos At MoKart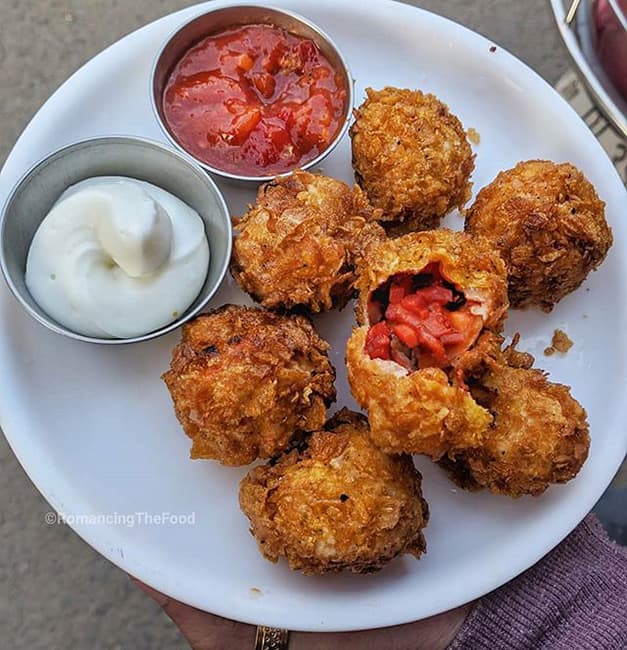 Picture Credits: romancingthefood
MoKart in Lajpat Nagar is legit a hidden gem, dishing out 130 kinds of momos *OMG*, giving us a plethora of options to try. The one that we absolutely drooled over was crunchy scrummy Chilli Paneer Kurkure Momos. Stuffed with soft paneer along with other veggies these are served with red chilli sauce and mayo. You can also try other quirky momos like Soya Momos, Cheese Momos, Pizza Momos and many more. What are you waiting for, folks? Head over now for your share.
Where | MoKart - Lajpat Nagar 1 & DLF Phase III, Gurgaon
Price | Rs 70
Timings | 12 Noon - 12 Midnight
Call Them | +91 8826 860 079
Check Out Their FB Page | https://www.facebook.com/mokartmomos/
10. Punjabi Tadka Momos At Stack9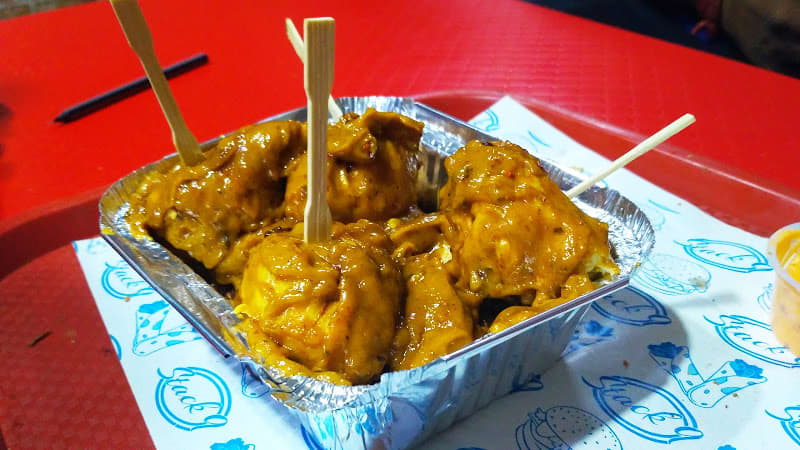 Picture Credits: Rishab mehta
You prolly wouldn't have heard about Stack9 in GTB Nagar. So allow us to introduce you to this place and why we're loving every bit of it! They do these appetising Punjabi Tadka Momos which have a crispy crust and an abundance of tender chicken on the inside. Slathered in creamy and spicy gravy, these yummy Punjabi Tadka Momos priced at Rs 120 are gonna tantalise your tastebuds. You might as well wanna gorge on their crispy Kurkure Momos and Yummy Cocktail Momos among other options. So, hop on over to this place with your partner in crime and have a nice little binging session.
Where | Stack9 - Shop 13, DDA Market, Hudson Lane, Delhi University, GTB Nagar
Price | Rs 120 Onwards
Timings | 11 AM - 11 PM
Call Them | +91 9899 222 133
Check Out Their FB Page | https://www.facebook.com/officialstack9/
11. Manchurian Momos At Giri Momos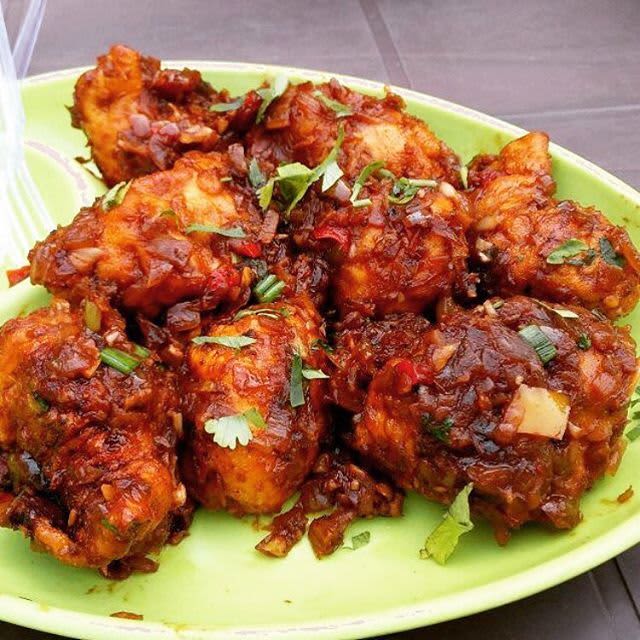 Picture Credits: thezingytwist
Giri Momos does toothsome Manchurian Momos that are served with a  manchurian gravy with loads of vegetables like tomatoes, capsicum and cabbage! With just the right amount of spices and a lingering flavour of garlic, these are a must-have when you visit them! Plus they come not just in veg but paneer, soya bean and non-veg variants too! Apart from Manchurian Momos, you could also try their crunchy KFC momos, Mozzarella Cheese Momos, Cocktail Veg momos and an entire section exclusively for mushroom momos as well! Go, attack!
Where | Giri Momos - Pitampura & Ashok Vihar
Price | Rs 130 Onwards
Call Them | +91 8130 949 484 & +91 9910 456 891
Check Out Their FB Page | https://www.facebook.com/Girimomos-centre-283458711865007/
12. Butter Chicken Momos At Social Foodie Inside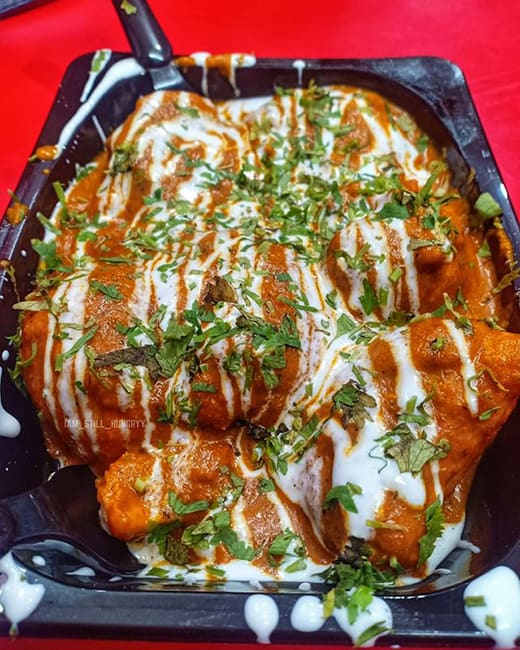 Picture Credits: iamstillhungrry
If there's something that can completely lift up our moods, is a plate of butter chicken. Imagine, the darling of our foodie lives, butter chicken to fuse with momos! Exciting, right? Well, this place in Vikaspuri, Social Foodie Inside, does these super quirky Butter Chicken Momos and we're losing it RN! The crispy momos are slathered in thick butter chicken gravy and packed with loads of flavour and spices. Besides, while you're hopping with your foodie buddies, you could also munch on Crispy Kurkure momos, Paneer Makhani, Schezwan Chicken and tons of their other tasty specialities. This place is sure to satiate your hunger pangs with their budget-friendly meals so head over now.
Where | Social Foodie Inside - 71A, Vikaspuri Rd, Block GG 2, Vikaspuri
Price | Rs 120
Timings | 12 Noon - 12 Midnight
Call Them | +91 9711 417 471
Check Out Their FB Page | https://www.facebook.com/socialfoodieinside/ 
13. Akkha Paneer Tandoori Momos At Chalte Firte Momos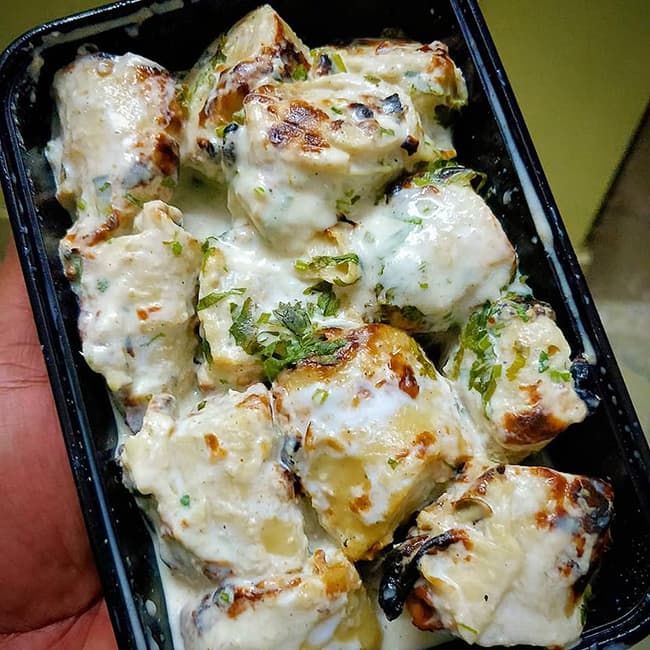 These Akkha Paneer Tandoori Momos are far from your ordinary momos. These are actually Afghani paneer tandoori momos stuffed with juicy paneer and doused in creamy white sauce with chilli flakes sprinkled on top of it. They are served along with mayonnaise and red chilli chutney. So gather your buddies and head over for some lip-smacking and quirky snacks!
Where | Chalte Firte Momos - Kamla Nagar, Rohini & Other Outlets
Price | Rs 210
Call Them | +91 8586 879 634
Timings | 11:30 AM - 12 Midnight
Check Out Their FB Page | https://www.facebook.com/CFMSpecialFoods/
So what's the holdup, guys? Head over to these places for your share of crazy yet mouth-watering and totes delish momos!