Delhi
13 Bucket List Worthy Dishes That Are Worth Travelling Across India For - How Many Have You Tried?
If food is all you dream about, day in and day out, then call us your BFFs because we do the same, ALL THE TIME. So, for fellow bhukkads like us, we've curated a list of some lip smacking dishes from all over India that MUST be added to your bucket list right away. Have a look!
1. Haleem From Pista House, Hyderabad
Picture Credits: foodybliss
A super popular and drool worthy dish, haleem, is originally an Arabic dish but now is synonymous with Hyderabad. Made with wheat, barley, lentils, tons of spices and minced meat (goat, lamb, mutton or chicken), this stew is just out of the world and is usually served with a generous amount of rice. The process of cooking the dish is a li'l tedious and it takes about 7-8 hours to achieve its paste-like consistency. It may not look very appealing to the eyes, but take a bite and you'd thank us later!
Where | Pista House - Shop No 20, 4-140, Shalibanda Road, Charminar
Meal For Two | Rs 500
Check Out Their FB Page | https://www.facebook.com/pistahousehyd/
2. Biryani From Arsalan Biryani, Kolkata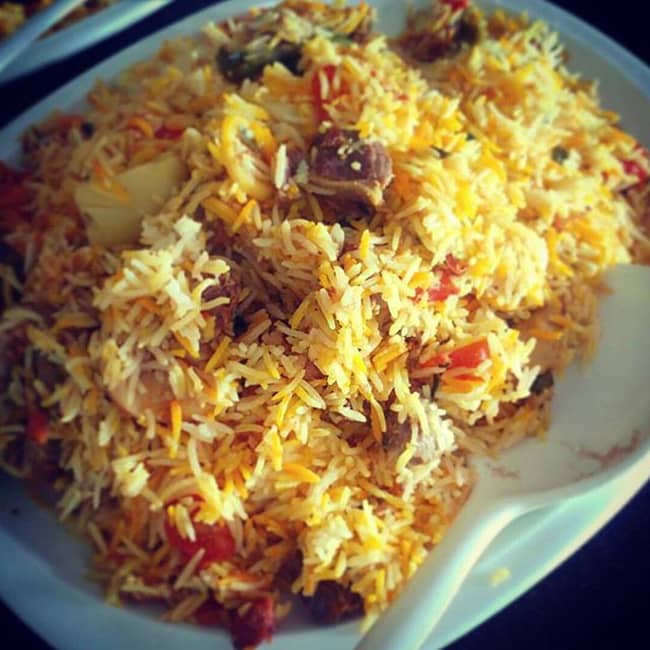 Picture Credits: emmabrynstein
And because our love for biryani can literally take us anywhere, we'd like to start with Kolkata for its very famous Mutton Biryani from Arsalan Biryani. The one stop destination for all foodies, this place is never out of visitors. If you still haven't had your #biryanigoals yet, this is the eatery for you to be at!
Where | Arsalan Biryani - Hatibagan, Ruby Hospital Area, Chinar Park & Other Outlets
Meal For Two | Rs 700
Check Out Their FB Page | https://www.facebook.com/ABHSONARPUR/
3. Butter Chicken From Moti Mahal, Delhi
Because Delhiites simply CANNOT imagine their lives without butter chicken, we had to talk about the creator of this awesome sauce dish, Moti Mahal. Standing tall since decades now, this place got hold of the right nerves of us foodies. There's simply no way you can come to Delhi and NOT head here!
Where | Moti Mahal - 3703, Netaji Subhash Marg, Daryaganj
Meal For Two | Rs 1,100
CheckOut Their FB Page | https://www.facebook.com/Moti-Mahal-138035799679931/
4. Vada Pav From Ashok Vada Pav, Mumbai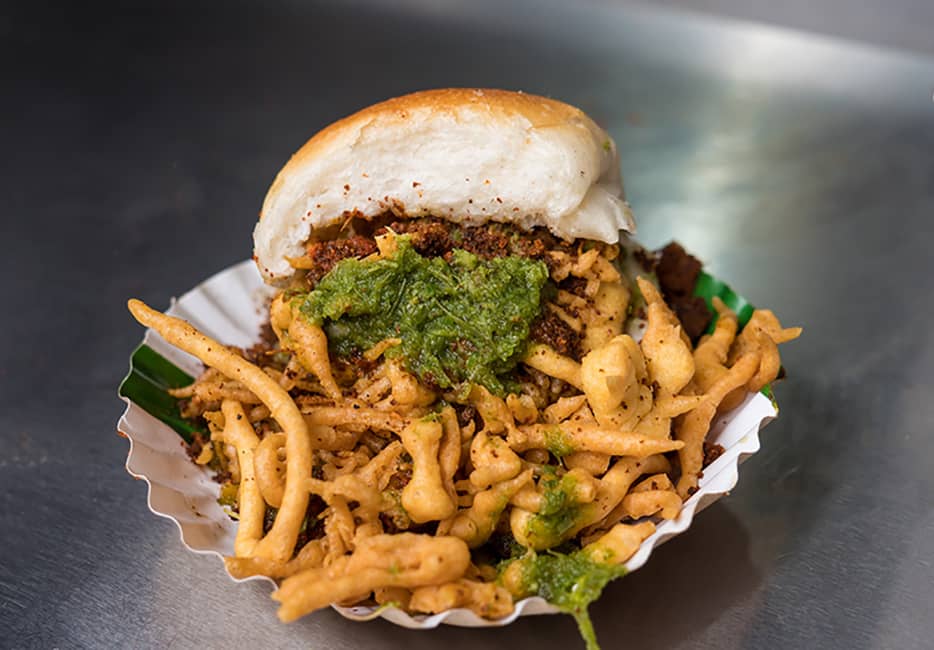 Picture Credits: migrationology
Mumbai, the city of dreams, is insanely popular for Bollywood, the actors that reside there, their houses, Juhu beach and obviously, vada pav. The aloo bonda stuffed between two buns, vada pav here is often served with a green chilli and is paired with garma garam cuppa chai. This snack is best enjoyed when bought from this amazing street vendor right next to the Gateway Of India!
Where | Ashok Vada Pav - Kashinath Dhuru Marg, Dadar, Dadar West
Meal For Two | Rs 100
5. Laal Maas From Spice Court Restaurant, Jaipur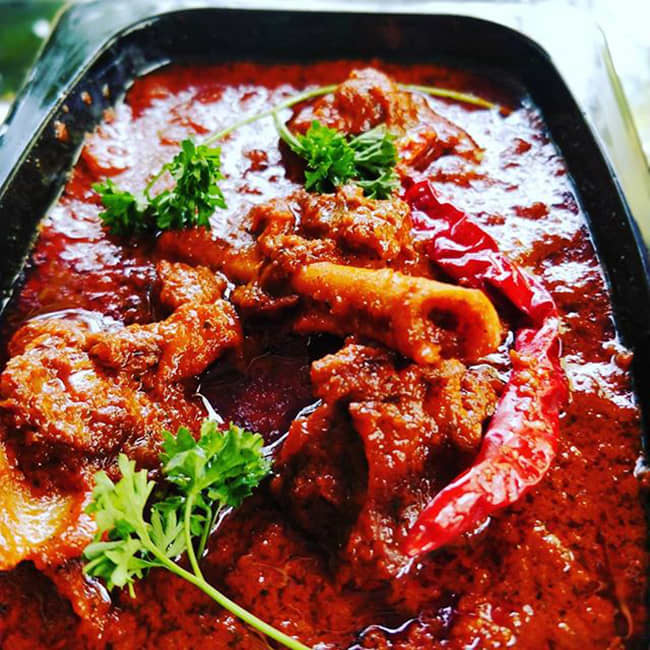 Picture Credits: spice.court
 This scrumptious mutton curry is prepared in a sauce of yoghurt and hot spices which includes the super spicy red Mathania chillies. It is usually served hot and the thick gravy has a strong garlic flavour. Because it comes from the desert land, it is usually accompanied with wheat or bajra rotis during the months of winter. This dish alone is good enough reason to visit this beautiful city!
Where | Spice Court Restaurant - Achrol House, Jacob Road, Civil Lines
Meal For Two | Rs 1,000
Check Out Their FB Page | https://www.facebook.com/spicecourtjaipur/
6. Tunday Kabab From Tunday Kababi, Lucknow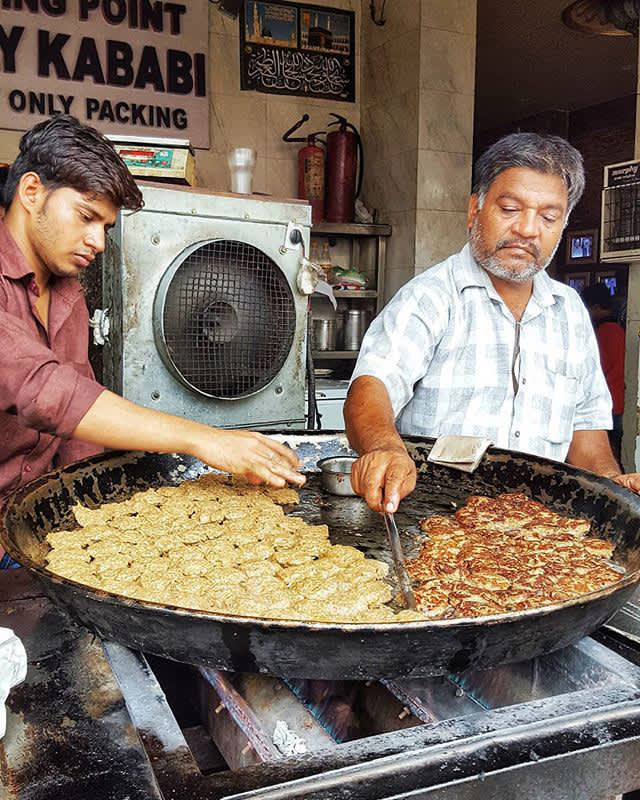 Picture Credits: leisurepursuitz
Lucknow gaye aur tunday kabab nahi khaya to kya kiya janab? Yes, tunday kababs are so famous in Lucknow that there's even a place that goes by the its name and is loved by one and all. Part of the Awadhi cuisine, these toothsome kebabs are made out of minced chicken meat, plain yogurt, garam masala, grated ginger, crushed garlic, ground cardamom, powdered cloves, melted ghee, dried mint, onions , vinegar, sugar and lime. You've gotta try this one with a side of rumali roti!
Where | Tunday Kababi - Aminabad & Aliganj
Meal For Two | Rs 300
Check Out Their FB Page | https://www.facebook.com/TundayKababii/
7. Wazwan From Kareema Restaurant, Kashmir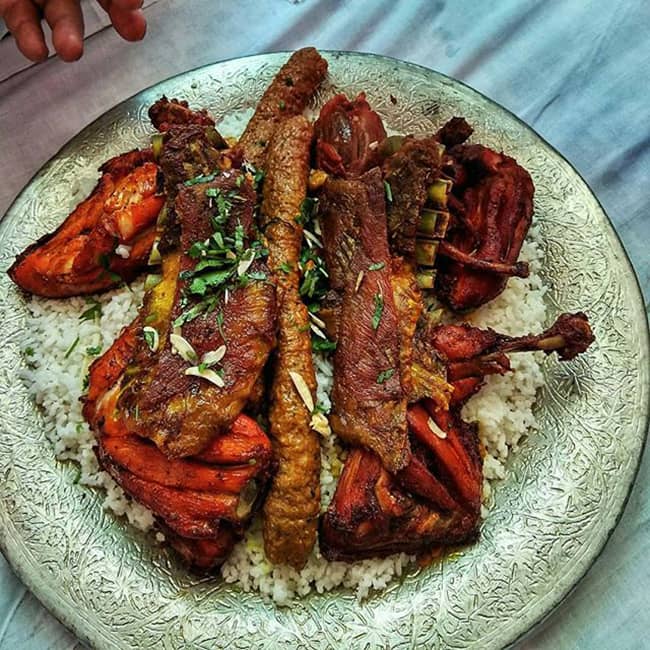 Picture Credits: kashmirvirtuosos
The jaan and shaan of Kashmir, wazwan is a multi course meal, preparation of which is considered an art by the Kashmiris. Almost all the dishes served are meat based, both lamb and chicken with a few vegetarian options as well. Out of the 36 courses served as part of this meal, almost 15 of them are meat based and are cooked overnight under the supervision of the master chef usually called the vaste waze. Make sure you try it on an empty stomach because this one will need a LOT of eating!
Where | Kareema Restaurant - Chowk, Residency Road, Regal Chowk, Press Colony, Lal Chowk
Meal For Two | Rs 400
Check Out Their FB Page | https://www.facebook.com/Kareema-Restuarant-1979338612312779/
8. Kothu Parotta From Courtallam Border Rahmath Kadai, Chennai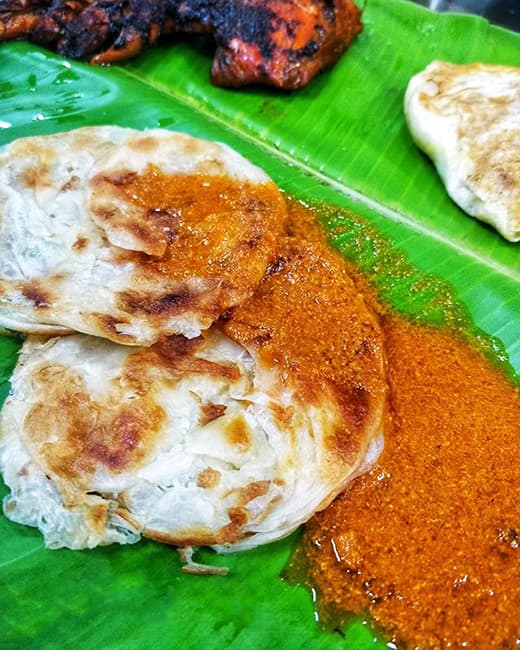 Picture Credits: trippy_yippy_tales
Kottu, also known as Koththu Rotti is a Sri Lankan dish which is made from godhamba roti (a type of Sri Lankan roti) and vegetables, egg &/or meat and truck loads of spices. A favourite dinner dish for Sri Lankans, it is usually served with parotta which is a layered flat bread made from maida flour. It is a popular street food dish and a MUST try as well!
Where | Courtallam Border Rahmath Kadai - 67, G N Chetty Road, T. Nagar
Meal For Two | Rs 400
Check Out Their FB Page | https://www.facebook.com/BorderRahmathKadai/
9. Masala Dosa From Vidyarthi Bhavan, Bangalore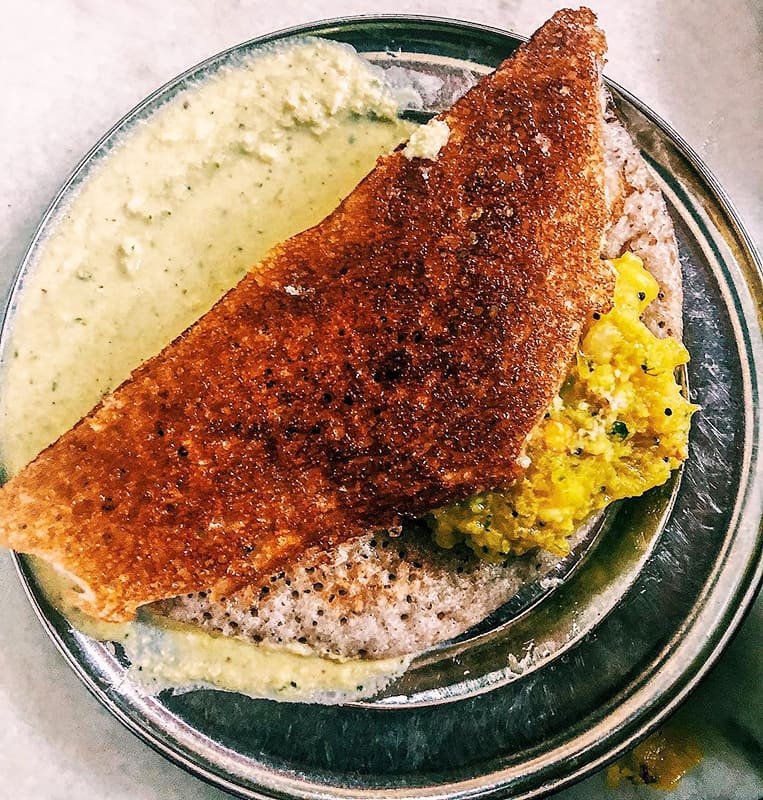 Picture Credits: Pramod Nanaware
Founded in 1943, Vidyarthi Bhavan in Bangalore have been whipping up these delicious vegetarian dosas for decades now and they have won our hearts because of them. Their crispy Masala Dosa is loved by one and all and you'd love them too, especially when you see the waiters carrying a dozen of them in one go!
Where | Vidyarthi Bhavan - 32, Gandhi Bazaar, Near Gandhi Bazaar Circle, Basavanagudi
Meal For Two | Rs 150
Check Out Their FB Page | https://www.facebook.com/Vidyarthi.Bhavan/
10. Goan Fish Curry From Spice Goa, Goa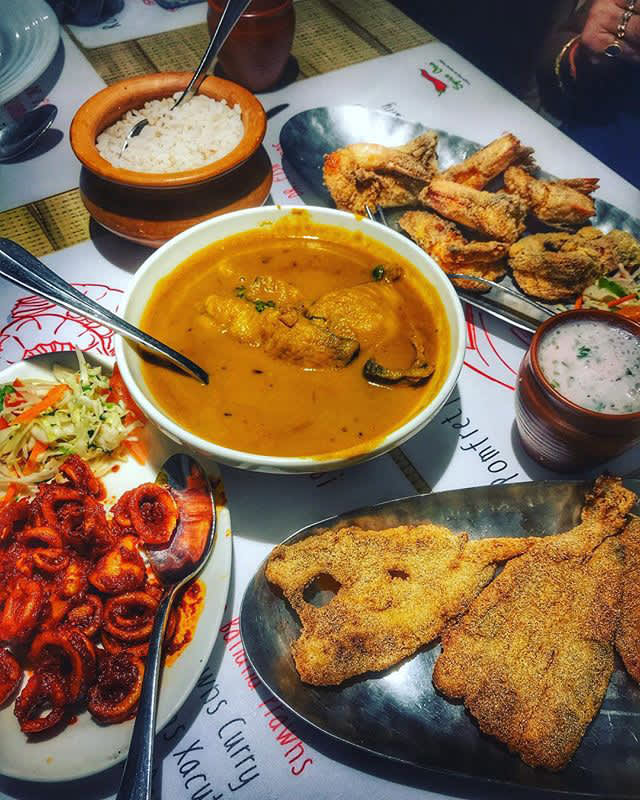 Picture Credits: khaatipeetiladki
The ultimate party hub for Indians, Goa is a favourite for all us boozy heads especially because of the cheap liquor you can score there and the amazing beaches. But do you know what goes best with a pint of chilled beer? It's the lip smacking Goan Fish Curry at Spice Goa and we're sure it'll drive you crazy too. The curry is made with coconut milk, chopped tomatoes, chillies, garlic, ginger, ground spices, cardamom seeds, bay leaves and seasoned with lime juice for that perfect taste. Try this one ASAP!
Where | Spice Goa - No 3, Satt-Adhar Complex, Near Karaswada Junction, Mapusa
Meal For Two | Rs 900
Check Out Their FB Page | https://www.facebook.com/spice1goa/
11. Vada Pav From JJ Garden Vada Pav, Pune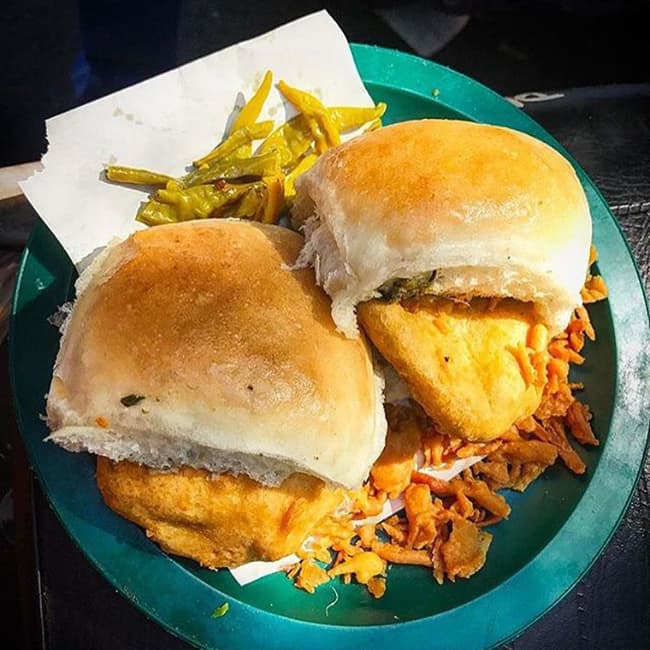 Picture Credits: thepunefoodie
If you thought that the stardom of vada pav is limited to the streets of Mumbai, then it's time you think again because JJ Garden Vada Pav in Pune dishes out an utterly delicious version of this beloved snack which is an absolute MUST have. Served with green chillies and fried bhajia, these Vada Pavs make for a super yum Sunday breakfast!
Where | JJ Garden Vada Pav - Erandwane & Camp Area
Meal For Two | Rs 100
Check Out Their FB Page | https://www.facebook.com/JJVadaPav/
12. Chemmeen Curry From Karimpumkala, Kottayam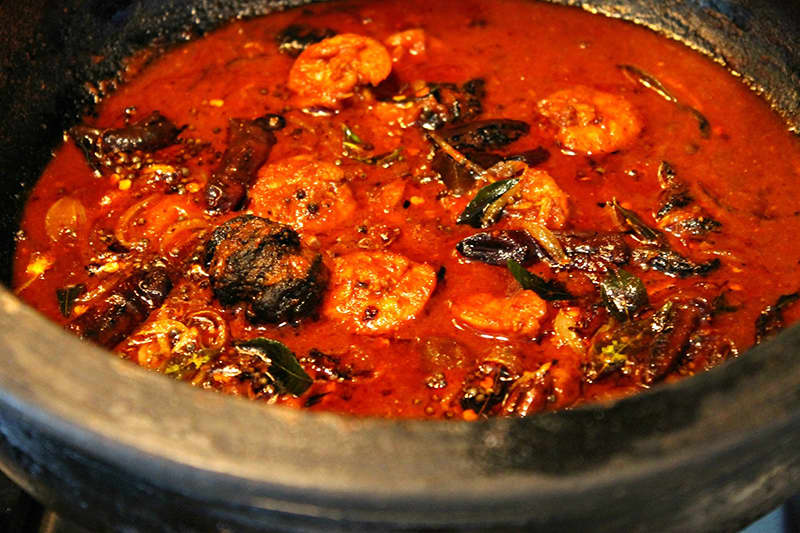 Marinated prawns roasted with coconut, coriander seeds, red chillies, garlic and shallots, this curry will give you major #foodgoals especially with the additional flavour of curry leaves and coconut oil, you'd keep asking for more!
Where | Karimpumkala - Adivakkal Building, State Highway 1, Pallom, Kottayam
Check Out Their FB Page | https://www.facebook.com/Karimpumkala/
13. Khaman Dhokla From Das Khaman, Ahmedabad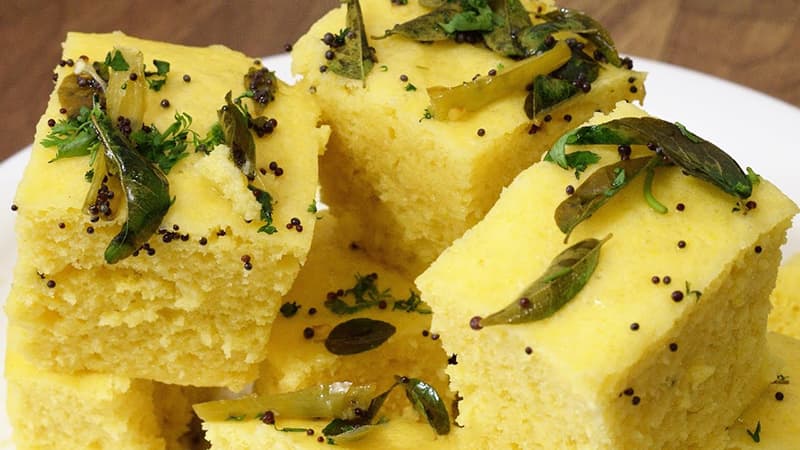 Picture Credits: Shalini's Kitchen
Gujaratis are known to be the sweetest people in the country and its because these people eat a lot of sweet food and khaman dhokla is one of them (khatta meetha). Alternatively known as the sponge snack, dhoklas are made of besan with a tadka of rai and green chillies, yum!
Where | Das Khaman - 2, Trade Center, Stadium Cross Road, Navrangpura, Ahmedabad
Meal For Two | Rs 200
Check Out Their FB Page | https://www.facebook.com/daskhamansince1922/
So, booking your tickets already, aren't you?