Delhi
13 Best Waterfalls In India That Would Make You Wanna Forget About Niagara Falls
India is one of those few countries in the world which is blessed with mountains, beaches, lakes, waterfalls, lush forests, and basically every possible natural beauty. There is an impressive number of waterfalls tucked away in different parts of the country which are phenomenally beautiful and some even unheard of. So, check out this list and we're sure that if you're a true blue nature lover, you would wanna make a stop at these places!
1. Jog Falls, Karnataka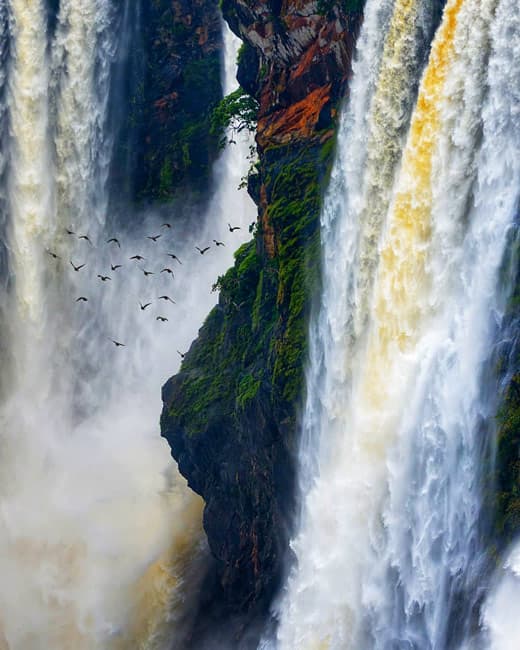 Picture Credits: karthik.m.d
Jog Falls are Asia's second-highest plunge falls, nestled in the state of Karnataka. During the monsoons, it is said that 3.4 million tons of water comes down the cliff every moment. Sounds unbelievable, right? You guys outta witness the splendour of these mighty falls at least once in a lifetime. So, plan a trip down South and don't forget to spam your social media handles! 
Where | Jog Falls - Near Sagara Taluk, Shimoga District
2. Chitrakoot Falls, Chhattisgarh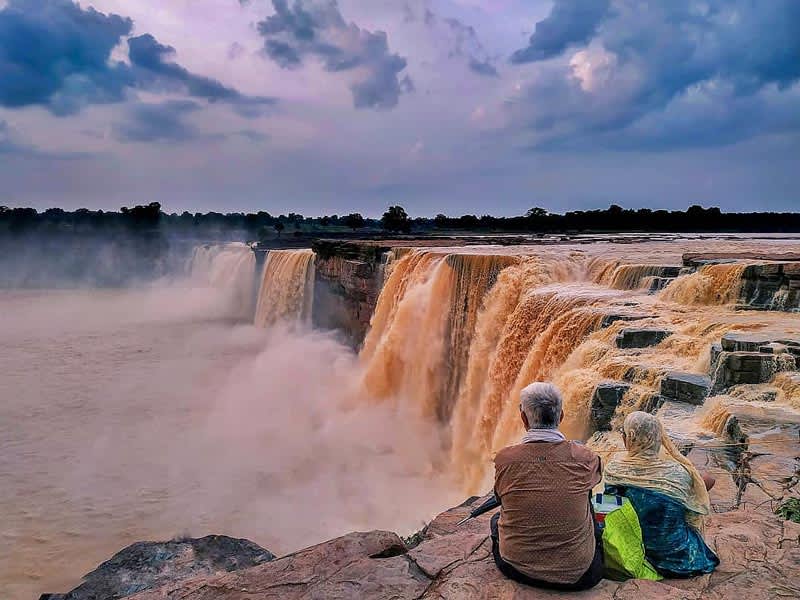 Picture Credits: harsh__patel___
Located on River Indravati, Chitrakoot Falls are a sight to behold during the monsoons. Since it's one of the widest falls in India, in its full bloom it looks very similar to Niagara Falls. The grandeur of this waterfall is sure to leave you all mesmerized. This one definitely needs to find a place on your travel list!
Where | Chitrakoot Falls - Tiratha, Chhattisgarh
3. Dudhsagar Falls, Goa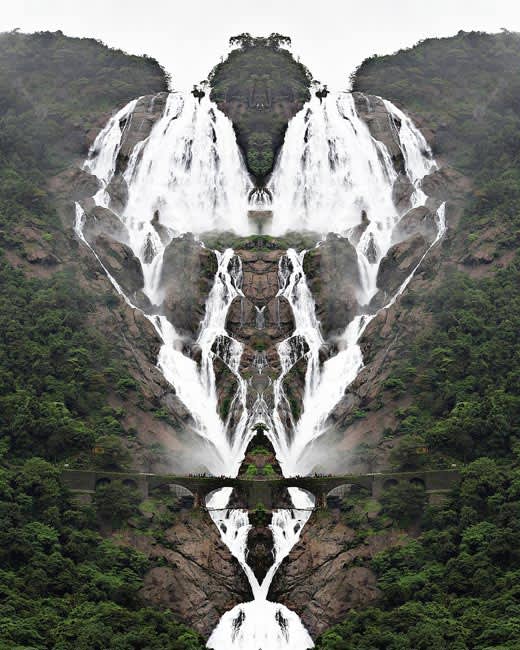 Picture Credits: indian_travelgeek
These Falls appear almost milky when crashing from the height of 310 meters, hence the name Dudhsagar. The colour of the water changes from blue to pure white, making for an absolutely stunning view. You must come here during the monsoons when the river is at its peak and trust us, this particular waterfall is truly a visual treat for the eyes. So, when you're making your annual visit to Goa (yes, we know you all do that) next time, this place should be on your list!
Where | Dudhsagar Falls - Sonaulim, Goa
4. Athirappilly Falls, Kerala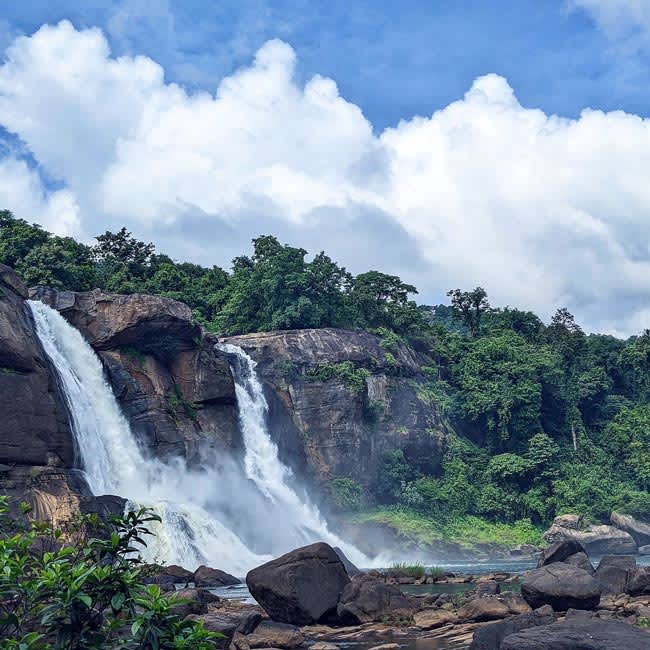 Picture Credits: thatvisualdesigner
Kerala, known as God's own country, is home to this gorgeous waterfall called Athirappilly Falls with River Chalakudy as its source. Even though the height of the Falls are not much, its width is the main reason it looks so magnificent that you'd wanna gaze at them without batting an eye. Don't believe us? Come here and see for yourself! 
Where | Athirappilly Falls - Athirappilly, Chalakudy Taluk, Thrissur District, Kerala
5. Hogenakkal Falls, Tamil Nadu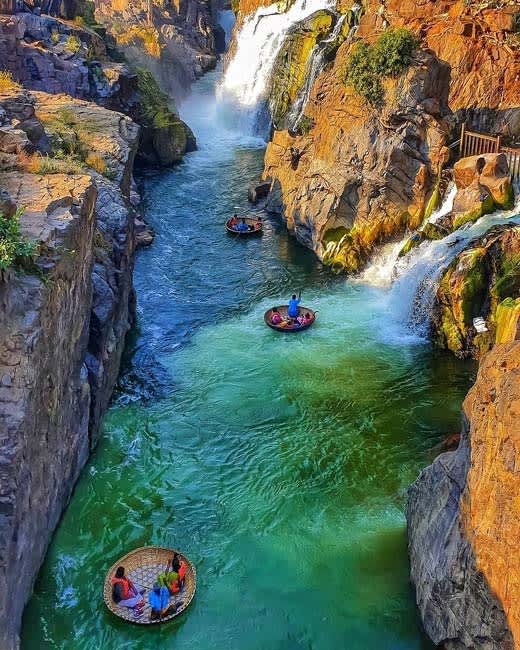 Picture Credits: sundar.k_/
When the river is in full spate, Hogenakkal Falls are truly a glorious sight. The semicircular formation of this waterfall is unique and adds to the x-factor of this place. This is one of the most famous tourist attractions in Tamil Nadu and for good reason. You gotta head here if you LOVE natural beauty!
Where | Hogenakkal Falls -  Dharmapuri - Hogenakkal Road, District Hogenakkal, Tamil Nadu
6. Chachai Falls, Madhya Pradesh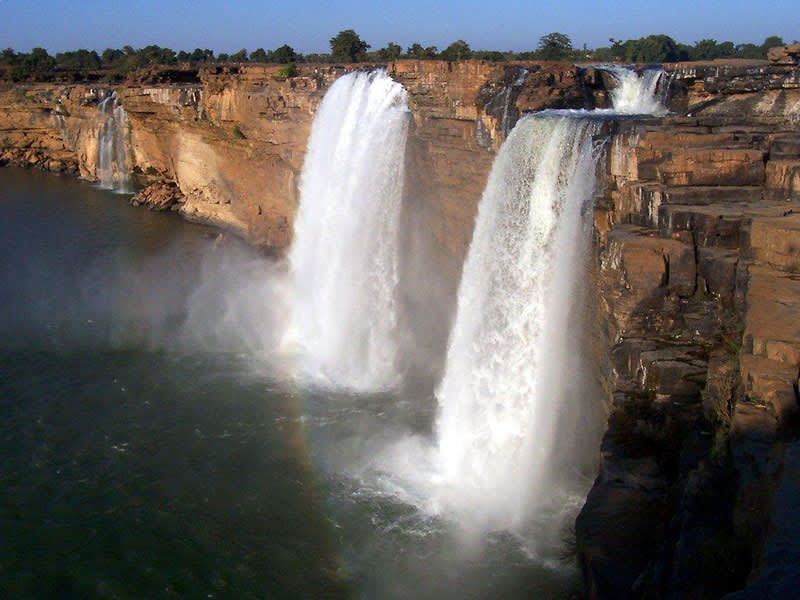 Picture Credits: SUNIL PATEL
With a total height of 130 meters, Chachai Falls are fed by River Beehar. This waterfall is one of the few examples of a knick point which is a result of rejuvenation. This means that there's a break in the slopes which is the reason for the formation of the waterfall, forming a cascade. This vertical fall of water is phenomenally captivating. When you're in this state, don't forget to stop your wagon here!
Where | Chachai Falls - Beehar River, Chachai, Madhya Pradesh
7. Shivanasamudra Falls, Karnataka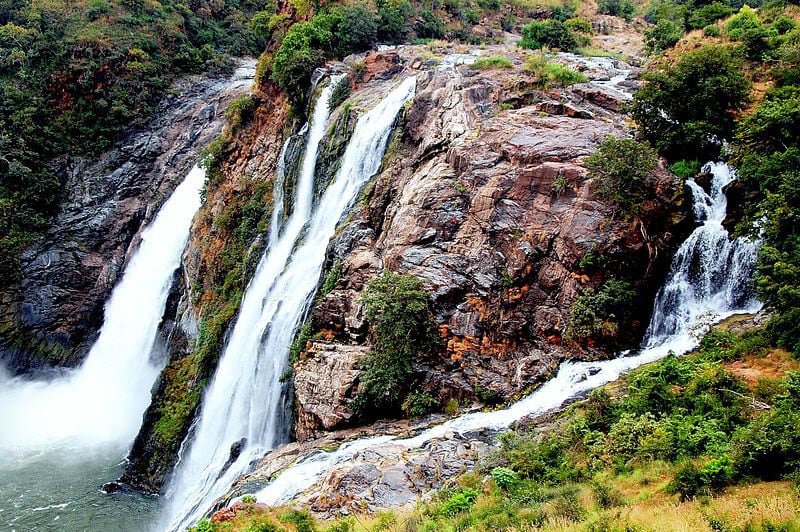 At its peak, Shivasamudram Falls discharge about 19 million litres of water each second. Imagine the fervent flow of water and how pretty the sight would look. Kaveri River is the source of these falls and it's advised you visit this one during the monsoon as it is comparatively dry during the other times of the year. So, spam your social media handles when you come here and let others have major FOMO!
Where | Shivanasamudra Falls - Chamarajanagara District, Karnataka
8. Iruppu Falls, Coorg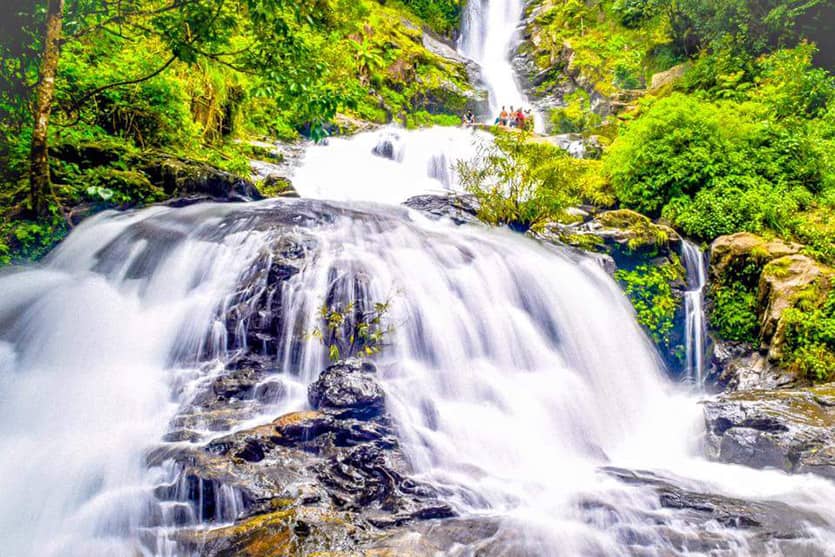 Picture Credits: thanooj srinivasareddy
Iruppu Falls' beauty lies in its gentle fall as opposed to the steep drop of some others. It doesn't cascade off the cliff at once but does so in a series of falls. Because of this reason, it becomes an elongated waterfall. Even though its height is just 130 feet, what makes it spectacularly beautiful is the way it flows down the rocks. So, visit this place and soak in the beauty! 
Where | Iruppu Falls - Kurchi, Karnataka
9. Nohkalikai Falls, Meghalaya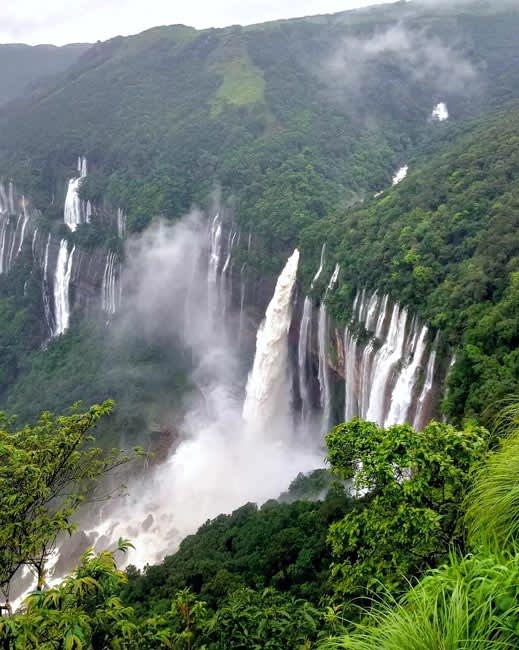 Picture Credits: dbty_18_
Tucked in the wettest state of India, Nohkalikai Falls is the tallest plunge fall in the country with a height of a staggering 340 meters. Since Meghalaya receives rainfall throughout the year, this waterfall is in full bloom all year except December till February. This place is one of the major tourists attractions of the seven sister states. There's no way you should skip the visit to these falls when you make your way to the Northeast! 
Where | Nohkalikai Falls - East Khasi Hills, Meghalaya
10. Bhimlat Falls, Rajasthan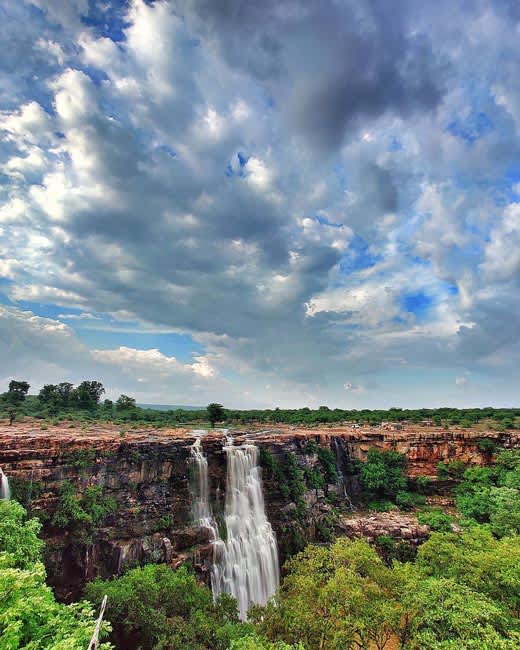 Picture Credits: theauraticphotography
Bhimlat Falls are located in Rajasthan, a place regarded as the land of deserts. It is a delight for tourists, as well as the people of Rajasthan, to witness something so spectacular here. It falls from the height of 60 meters into the green lake beneath and the sight is ah-mazingly pretty. So, for a perf weekend getaway, do head here! 
Where | Bhimlat Falls - RJ SH 29, Kheenya, Rajasthan
11. Dhuandhar Falls, Madhya Pradesh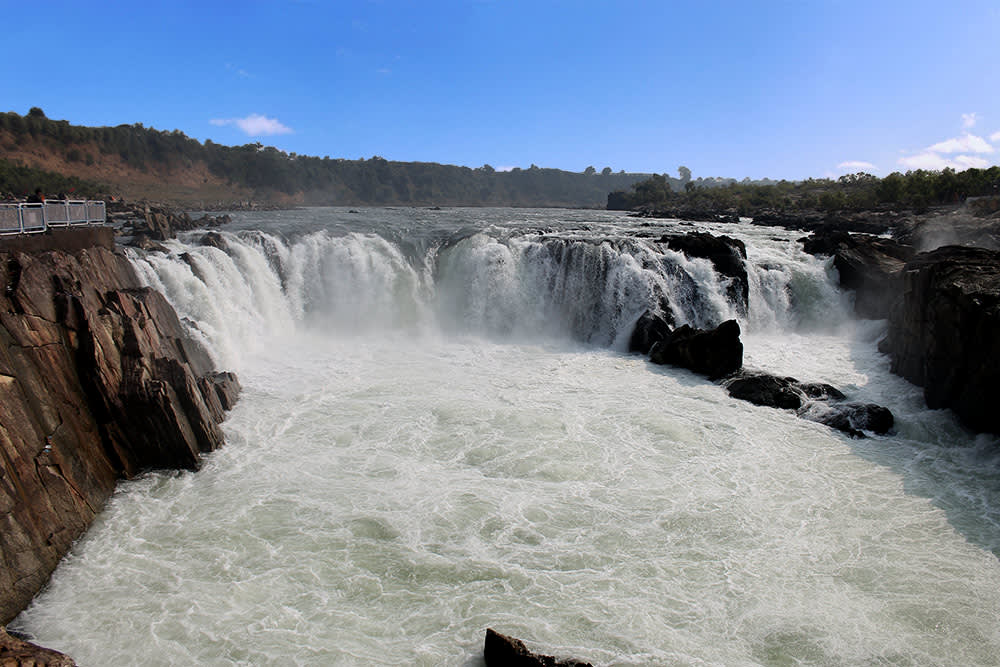 Dhuandhar Falls got its name owing to the mist it forms. Because of the force by which the water flows, it creates an almost smoke-like mist, hence Dhuandhar!. These falls are fed by River Narmada and are not that high with just 30 meters of height but the flow of the water here is extremely powerful. Don't forget to fill your camera gallery with splendid images. 
Where | Dhuandhar Falls - Jabalpur, Madhya Pradesh 
12. Nuranang Falls, Arunachal Pradesh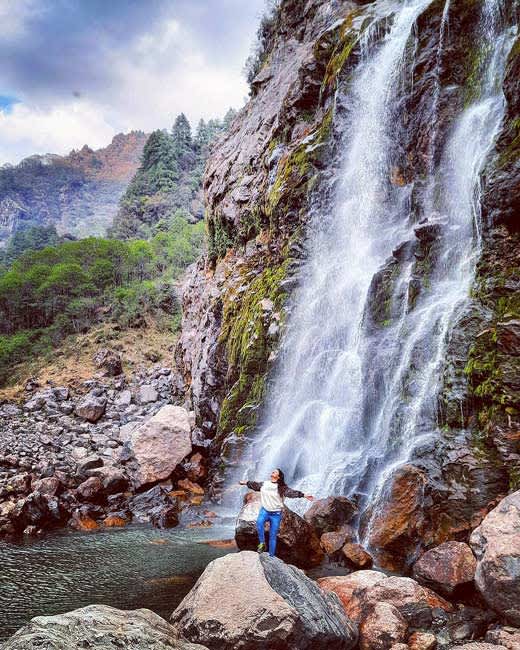 Picture Credits: poulomi_d_official
Nuranang Falls, also known as the Bong Bong Falls, situated in the Tawang district of Arunachal Pradesh are comparatively lesser known amongst the masses. This hidden gem in Arunachal Pradesh will surely leave you transfixed. Fun fact - The song Tanhai Tanhai from the movie Koyla was shot here. So, movie buffs, you're not gonna miss this one out, right? 
Where | Nuranang Falls - Tawang, Arunachal Pradesh 
13. Rajdari Falls, Uttar Pradesh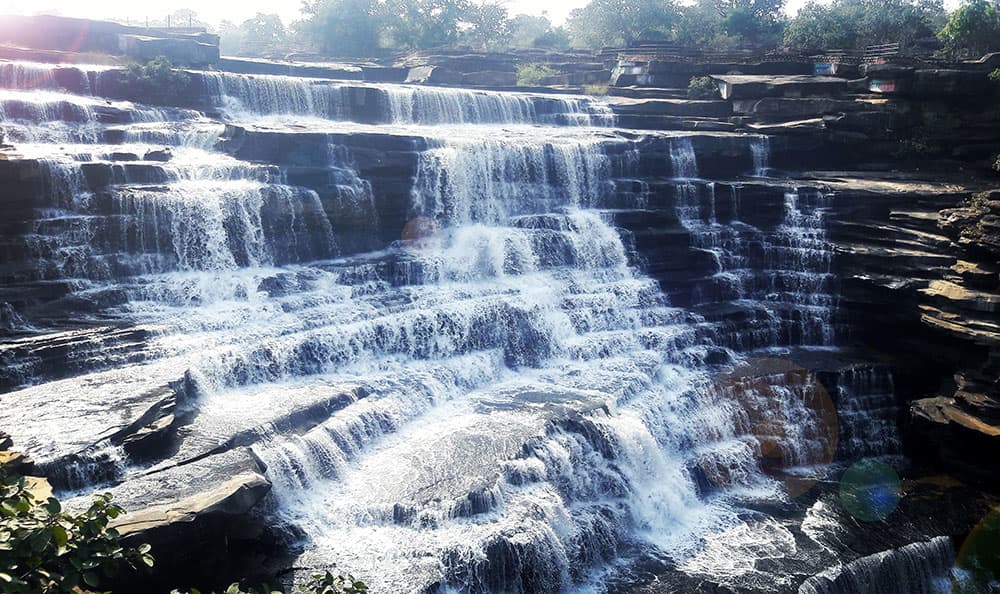 This particular waterfall is unique and awe-inspiring, thanks to its striking resemblance to a staircase. When the water makes it way down from the height of 65 meters, it basically gushes down a flight of stairs. Located up North in Uttar Pradesh, a visit to Rajdari Falls are truly an experience like no other. So, when are you dropping by? 
Where | Rajdari Falls - Chakai, Uttar Pradesh 
All these falls are at their peak during the monsoon season. So, add them to your bucket list to enjoy nature at its best!