Delhi
13 Best Movies Of SRK That Will Remind You Why He's Known As The 'King Khan'
The fan following for SRK, AKA King Khan or the King Of Bollywood is huge! His admirable acting skills, clever dialogue delivery, his classy style - honestly we can go on about it forever. And, if y'all love SRK as much as we do, then we've rounded up some of his best and highest-grossing movies that need to be on your list, so check it out.
1. Dilwale Dulhania Le Jaayenge (1995)
DDLJ is one of the most iconic movies that was the highest-grossing B-wood film in 1995. With 10 Filmfare awards and several others under its wings, this classic remains an all-time-favourite, in which the storyline revolves around the sweet love-story between Raj and Simran!
Watch Online Here | https://bit.ly/2KMoTgp
2. Dil To Pagal Hai  (1997)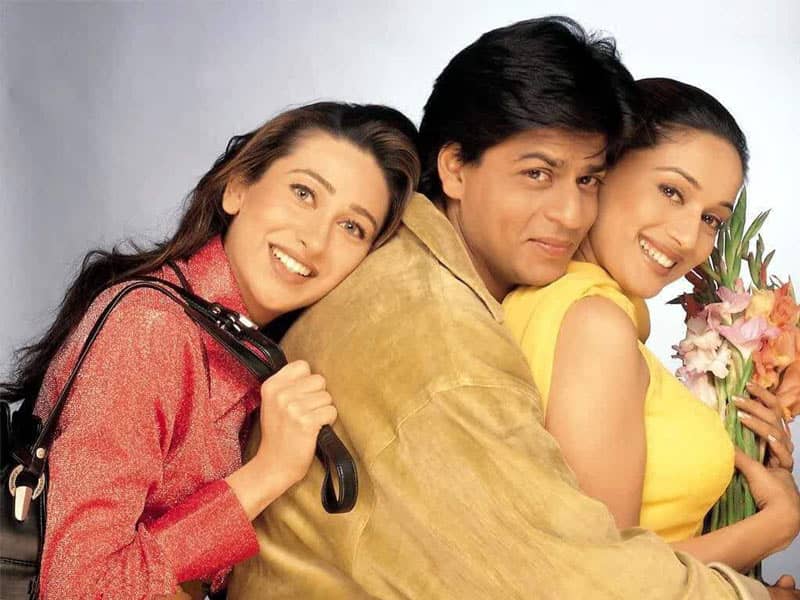 Picture Credits: imdb
Dil To Pagal Hai is a musical featuring Shah Rukh Khan, Karishma Kapoor and Madhuri Dixit. A story about passion, dreams, love and friendship, this movie hits the right chord with its narrative and melodious soundtrack. This movie has won eight Filmfare awards and 3 National Film Awards. Go ahead and watch this one ASAP!
Watch Online Here | https://bit.ly/35k4mJO
3. Dil Se (1998)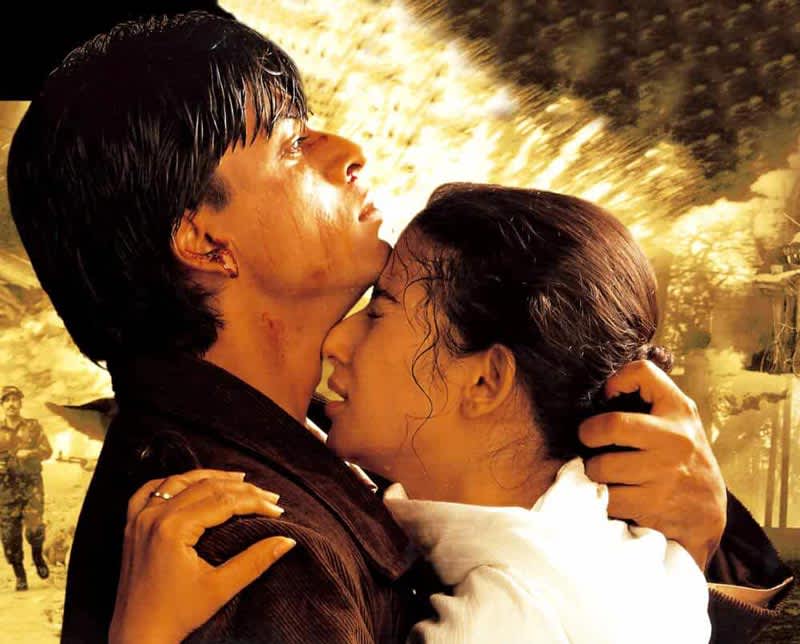 Picture Credits: imdb
Amar bumps into a mysterious woman twice, and that is enough to make him fall in love with her! He tries to woo her, but she breaks his heart and he decides to marry someone of his parent's choice. But, what happens when she comes back into his life? Put on this movie and find out all the answers yourself, folks.
Watch Online Here | https://bit.ly/35iSbwA
4. Phir Bhi Dil Hai Hindustani (2000)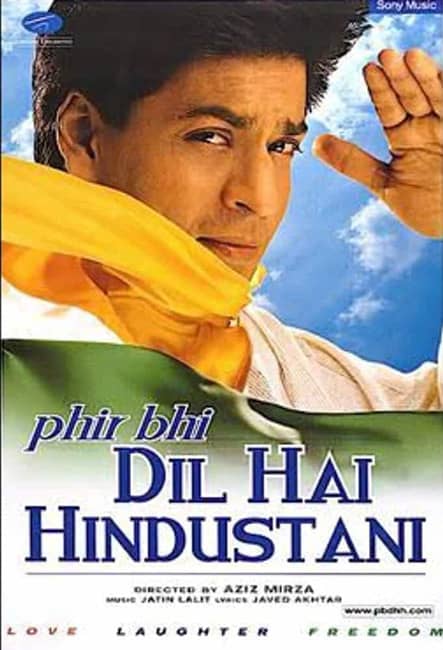 Picture Credits: imdb
Two rival reporters teams up to seek revenge from a politician who is also a murderer. What follows is a lot of action, comedy, drama and of course, no movie of SRK is complete without some romance, no? Check this one out and you'll be thanking us later!
Watch Online Here | https://bit.ly/35oEWdR
5. Kabhi Khushi Kabhie Gham (2001)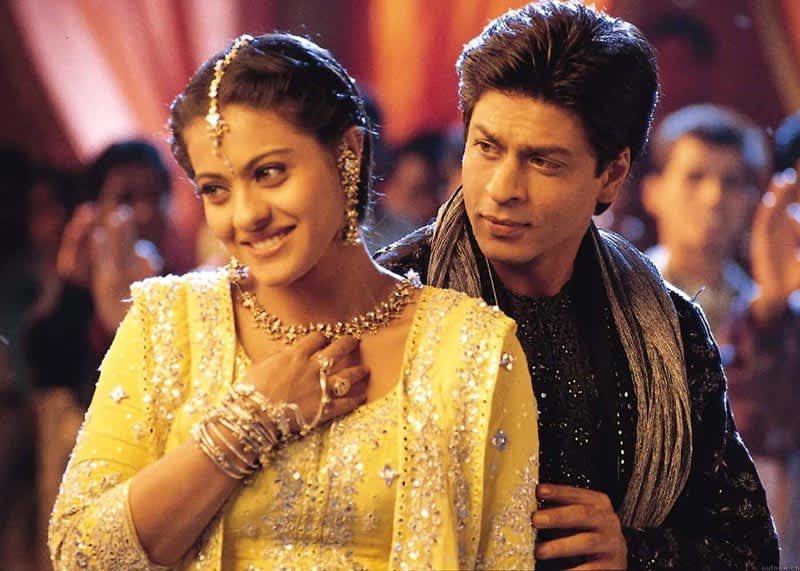 Picture Credits: imdb
In this super-popular flick, SRK plays the role of Rahul Raichand who is forced to leave his family home because his beloved parents did not accept his love for a middle-class girl. Rahul perfectly portrays the role of a doting son, father and a brother that is full of humour, emotions and of course, foot-tapping songs.
Watch Online Here | https://bit.ly/3bLtv2h
6. Kal Ho Naa Ho (2003)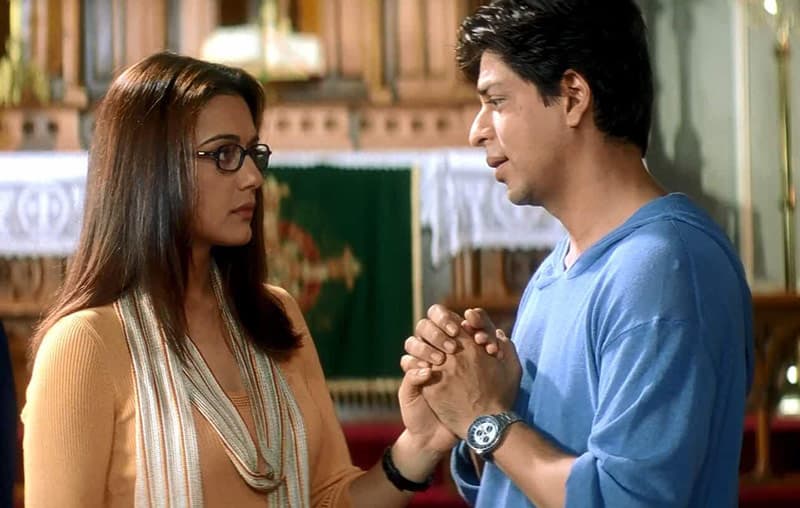 Picture Credits: imdb
SRK's character, Aman is fun-loving and never fails to make you smile with his wit! He might be suffering from a life-threatening disease, but that doesn't stop him from spreading love and happiness to other people's lives! Gotta love SRK's comical role in this one.
Watch Online Here | https://bit.ly/3aOS4u2
7. Swades: We, The People (2004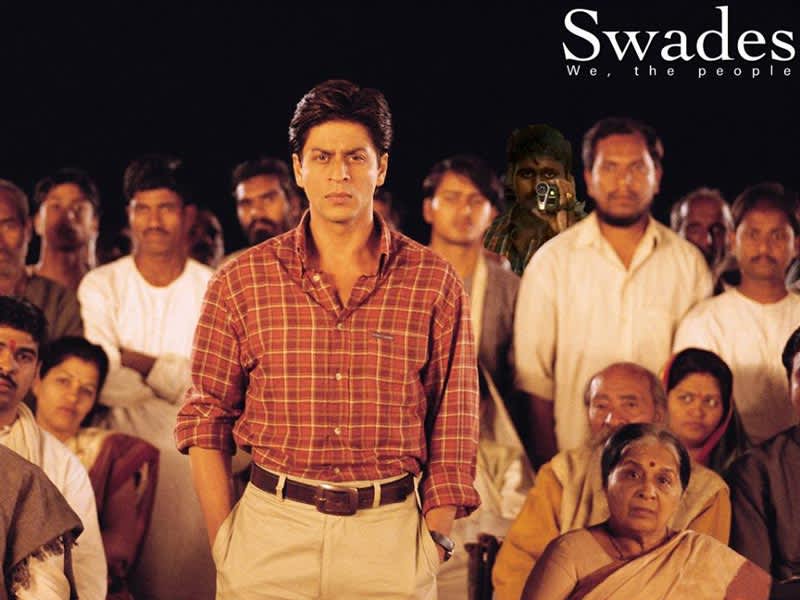 Mohan is a scientist who has a successful career at NASA. When he comes back to India, he discovers his roots and his journey to "home" finally begins. This award-winning performance by King Khan is undoubtedly one of his best works throughout his victorious career.
Watch Online Here | https://bit.ly/3aWp43D
8. Paheli  (2005)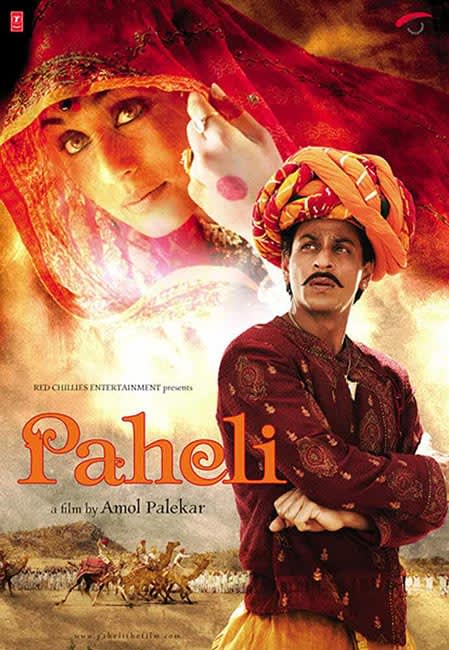 Picture Credits: imdb
Set in a small town in Rajasthan, this is a tale about a ghost named Kishanlal, who falls in love with Lachhi, who is a newlywed woman. A story of eternal love and a woman & her dreams, Paheli became a hit amongst the masses that was also India's official entry to the Oscars in 2006! Y'all need to see this one if you haven't already.
Watch Online Here | https://bit.ly/2VOanLl
9. Chak De! India (2007)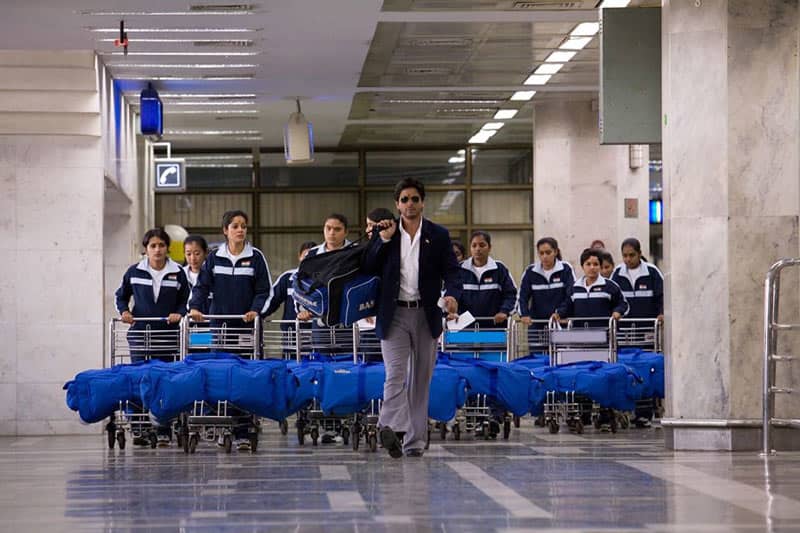 Kabir Khan wants to make his women's hockey team victorious, but in this path of success, a lot of challenges are thrown his way. But Kabir's determination, sharp mind and smartness helps him achieve his dream. Unarguably one of the best performances by King Khan, Chak De! India is sure worth all the hype.
Watch Online Here | https://bit.ly/35klEpO
10. Rab Ne Bana Di Jodi (2008)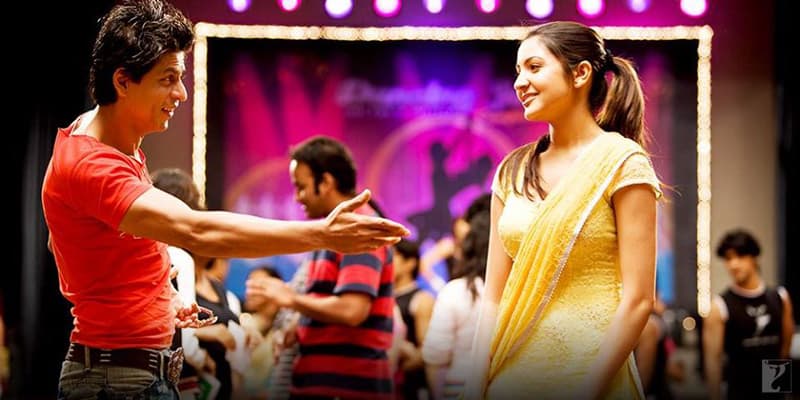 The debut film of Anushka Sharma, Rab Ne Bana Di Jodi is a story of two very different people, Suri, a simple man and Tani, a fun-loving dancer, who get married to each other due to some unforeseen events. You'll see a lot of dancing, tears and laughter in this movie that will make y1ou believe that in every ordinary jodi, there's an extraordinary love story! 
Watch Online Here | https://bit.ly/3aNiM5Z
11. My Name Is Khan (2010)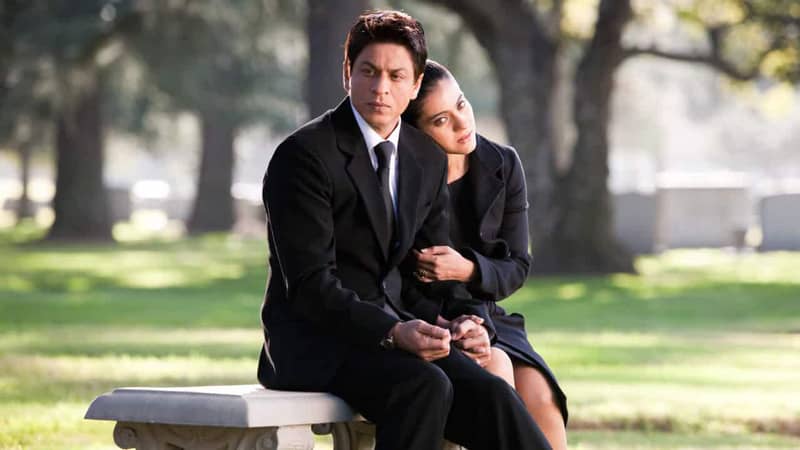 Picture Credits: imdb
My Name Is Khan is one of the highest-grossing Bollywood film overseas that also marked the reunion of the beloved pair of Kajol and SRK. This tale is about an Indian-Muslim man suffering from Asperger's Syndrome who begins the journey across countries as he is determined to speak to the POTUS and is a must-watch.
Watch Online Here | https://www.hotstar.com/in/movies/my-name-is-khan/1000019450
12. Don 2 (2011)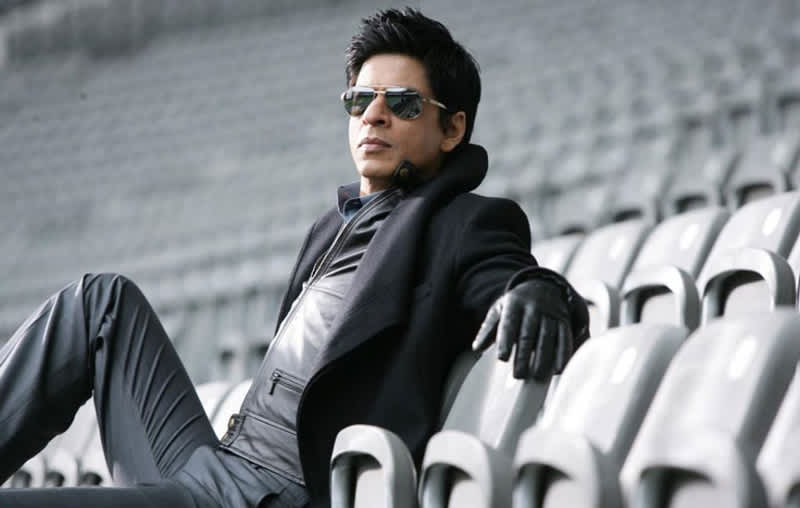 Another highest-grossing movie of SRK, this one is about Don, his suavness and his escape from prison with Vardhaan. Following his escape, he plans to steal the currency printing plates from Berlin and hires a team for the same. You're gonna love this one if you love thrillers and action. 
Watch Online Here | https://bit.ly/3bTCgaK
13. Dear Zindagi (2016)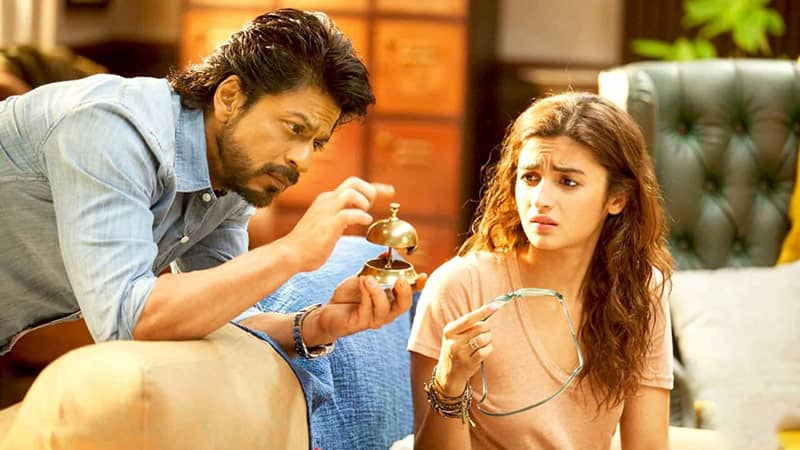 Picture Credits: imdb
Jug helps Kaira in discovering happiness and finding solace in life's imperfections. With soulful music to fine dialogues and the sizzling chemistry between Alia and SRK is a breath of fresh air that will take you guys on a wonderful journey while teaching you some lessons about life.
Watch Online Here | https://bit.ly/3aTD0eu
Guys, we hope you like this list and enjoy watching these intriguing movies!