Delhi
14 Street Shopping Hubs From Sarojini To Janpath That Makes Saadi Dilli A Shopper's Paradise!
Delhi is a shopper's paradise because you can literally find everything here and that too for a bargain! Whether you are looking for handicrafts, ethnic wear, shoes, clothes, ethnic, junk jewellery or designer wear, you'll get it all. 
Check out our hand picked list of the best places to score all kindsa funky jewellery and slay this wedding season!
1. Janpath Market, CP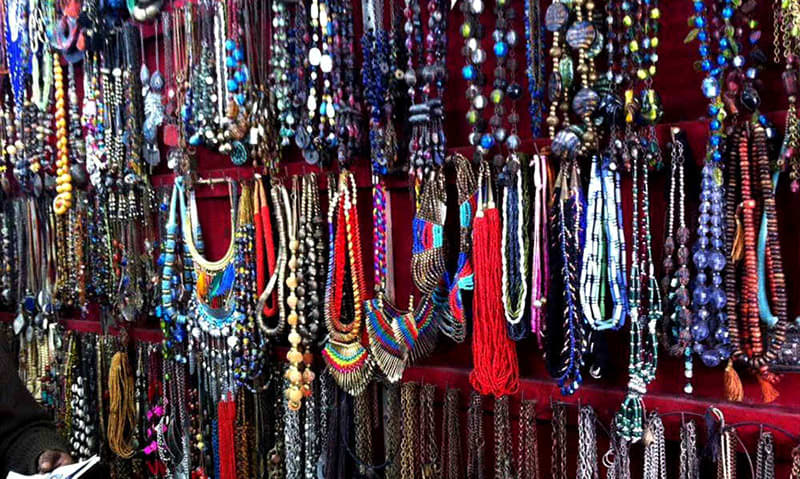 Love to shop, but always low on funds? Well, here's the best solution for you.  Located right opposite CP, Janpath is the best place to shop if you are looking for great bargains. Be it those hippy style clothes, junk jewellery, brassware, paintings, leather goods, Indian handicrafts, shoes or decorative items, this flea market has got it all. So, brush up on your bargaining skills, and shop your hearts out 'cause college equals loads of new clothes, right?
Check Out Their FB Page | https://www.facebook.com/JANPATH-MARKET-130435593656854/
2. Chandni Chowk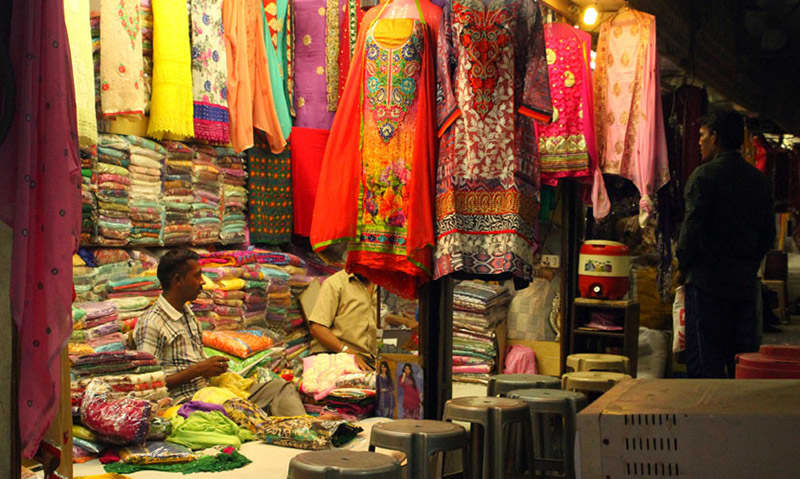 Every Dilliwala swears by Chandni Chowk, 'cause there's no better place than the ever crowded and busy lanes of Old Delhi. The market is always brimming with sarees, heavy lehengas, brassware, antiques, artificial and real jewellery, a plethora of fabrics and loads more.
Each lane in this market is dedicated to different products like Katra Neel is all about fabrics, Dariba Kalan is known for silverware and jewellery while Khari Baoli and Sadar Bazaar are wholesale markets full of spices, dry fruits, incense sticks and more! So, if you have a wedding coming up in the family, then Chandni Chowk is the place to be. 
3. Dilli Haat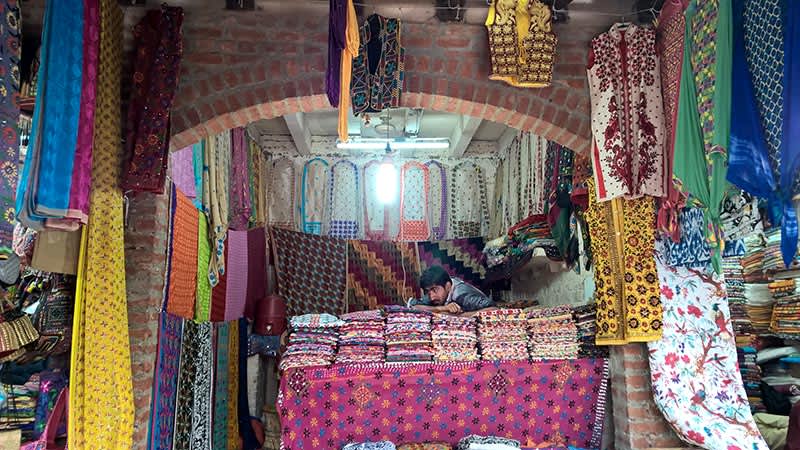 A hub for handicraft products, Dilli Haat is quite popular among Delhizens when it comes to shopping for apparels, crafts and jewellery from different parts of the country. From Kashmiri shawls and hand embroidered pillow covers and bed sheets from Gujarat to handicraft products from Rajasthan, you get everything at Dilli Haat.
With the monsoon approaching, we say you take your mom for a shopping spree here and relish spicy momos or scrummy puran poli whilst enjoying the weather!
Where | Dilli Haat - INA, Janakpuri & Pitampura
Here's Their Website | http://www.delhitourism.gov.in/delhitourism/tourist_place/dilli_haat.jsp
4. Central Market, Lajpat Nagar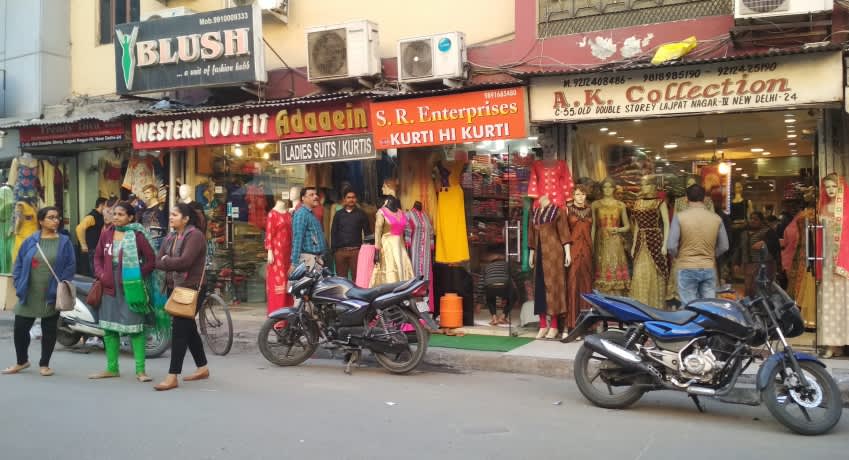 This is one of the oldest markets in Delhi and sells just about everything. From clothes, fabrics, bags, shoes to accessories and home furnishings, you just have to name it. The best part - you can shop from a branded showroom as well a roadside stall, depending on your budget, cool eh
And while you are there, don't forget to treat yourself to a plate or two of  Ram Laddoos!
5. Sarojini Nagar Market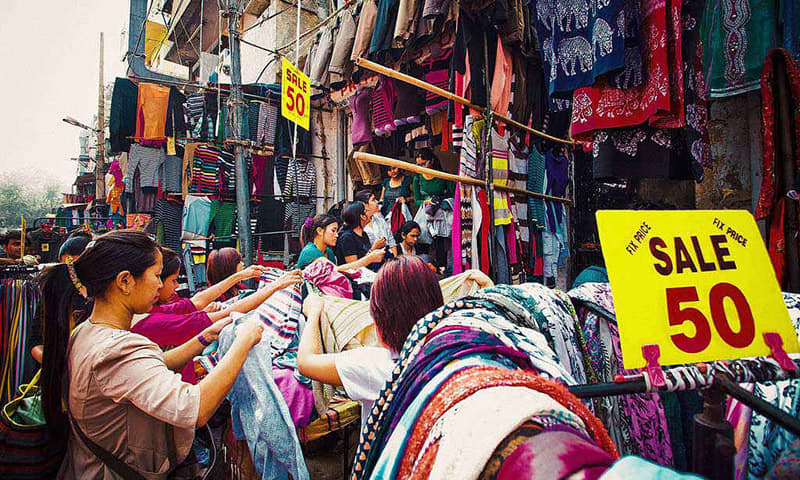 Sarojini Nagar Market equals great shopping and even better bargains. This super HUGE flea market is a shopper's heaven 'cause here you can find anything and everything. From those trendy jhumkas, funky bags to chic dresses and even classy home furnishings, they have it all.
Head here with your bestie and shop till you drop! 
6. Kamla Nagar Market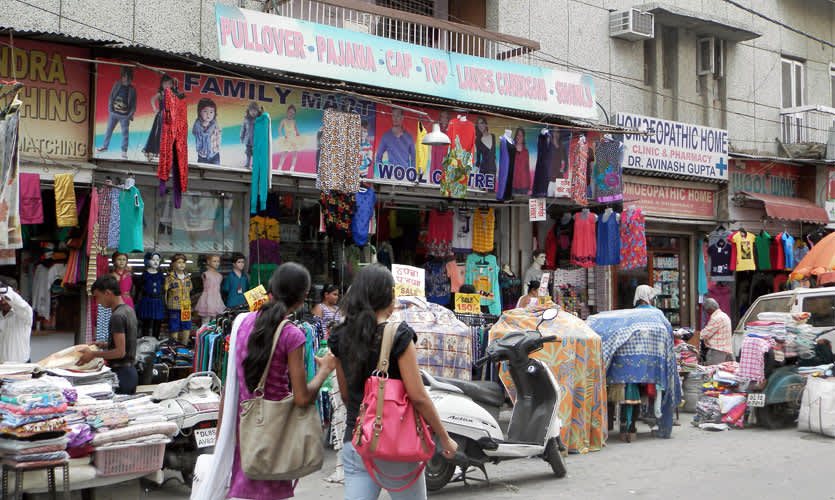 A fave among college peeps, K Nags is an all-out shopping hub. If you're a DU fuccha, you'll find yourself wandering in the streets of Kamla Nagar buying those cool hot pants or adding a funky sling bag to your collection or maybe just picking a colourful pair of slippers, all of it at dirt cheap prices. In addition to an endless list of street shopping options, you can also check out Puma, UCB, Incense and more to satiate all your brand-conscious shopping needs!
7. Karol Bagh Market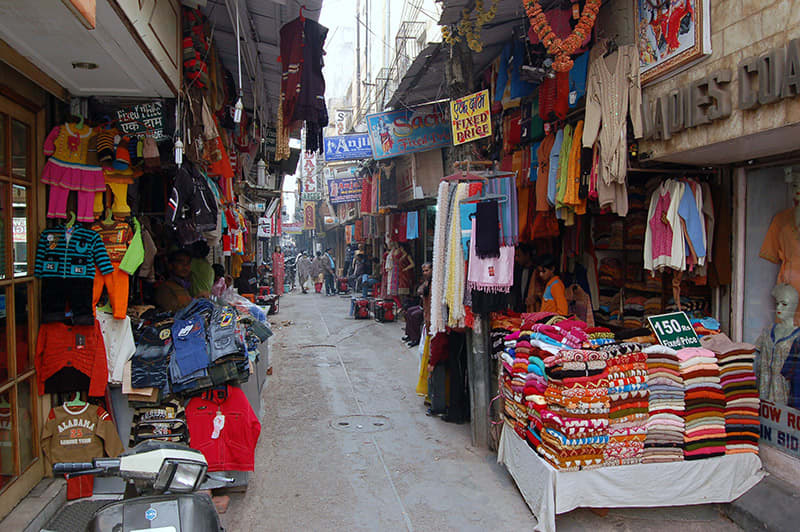 If you live in West Delhi, we're sure Karol Bagh Market is one of your go to places for your regular knick knacks. This one's quite popular for its vast collection of artificial jewellery 'cause of which the market gets super busy during the wedding season. 
Also, Gaffar Market nearby is a hub for electronic items that are available at super affordable prices. Be it the latest phones, laptops, music systems or even TVs, you'll get them all here!
8. M Block Market, GK I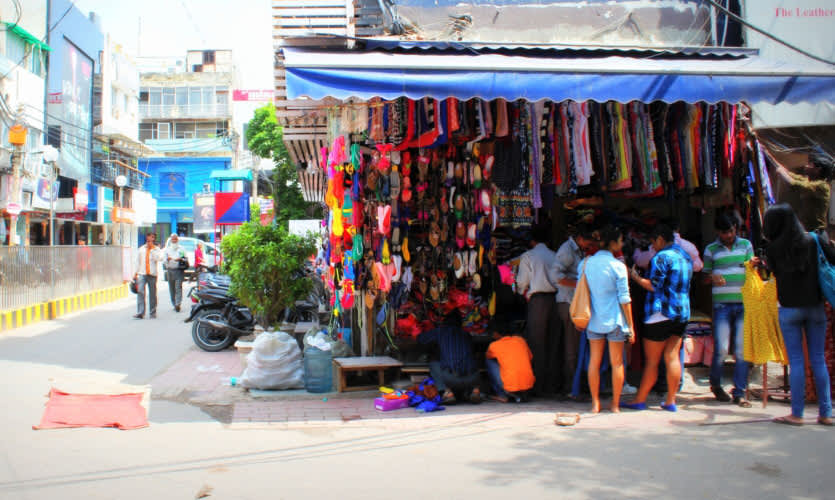 You'd know what the hype is all about the very moment you set foot inside this market. From sturdy handbags, eye catching clutches to daily wear kurtis, palazzos and heavy blouses, you'll be awestruck by their huge collection.  
And you can get all of these at dirt cheap prices, only if you're good at bargaining!
9. Jwala Heri Market, Paschim Vihar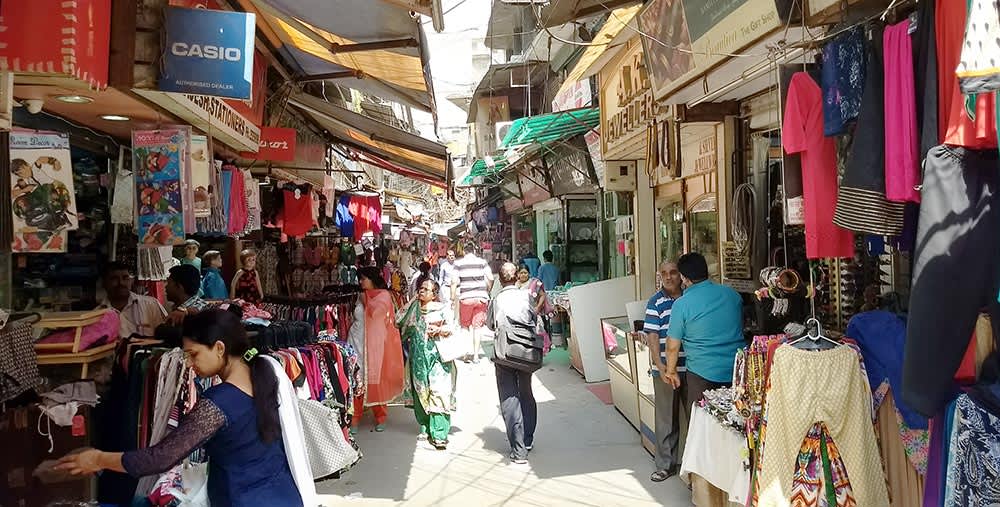 Known as the heart of Paschim Vihar, Jwala Heri is a busy marketplace, mostly popular for clothes, accessories, jewellery, food and computer accessories. The market is a li'l congested, but we're up for anything if we can get our hands on those oh-so-pretty pom pom earrings, right girls?!
10. Lal Quarter Market, Krishna Nagar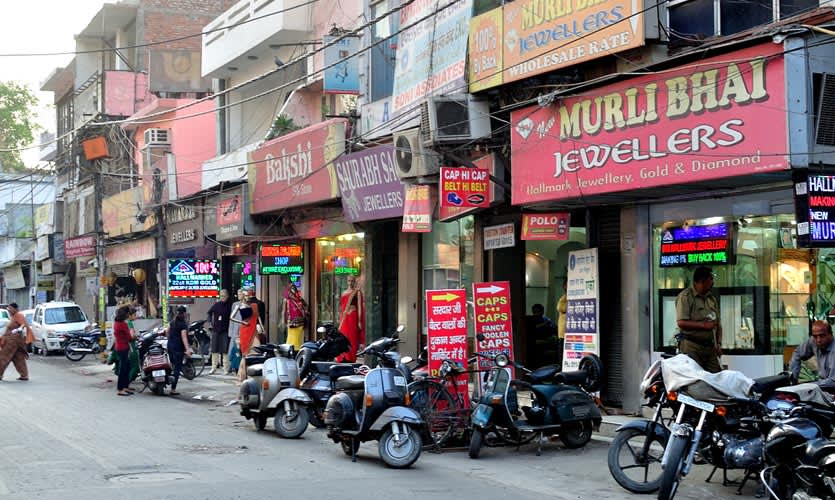 We're sure this one comes as a li'l surprise to y'all, isn't it? But, let us tell you that this lesser known market in Krishna Nagar is a great place to explore. You'd love this one if you're looking for traditional wear including sarees, bangles, cheap jewellery and other assorted items. In addition to these, you can also shop for kitchen appliances, toys and lots more here! 
11. Khan Market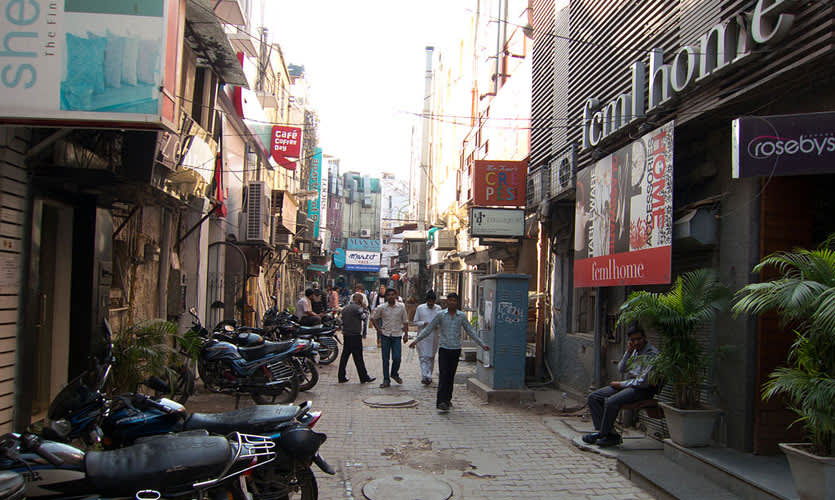 We wouldn't be surprised if Big Chill is the first thing that pops in your head when you hear Khan Market (and yes, we love it too). But what if we tell you that in addition to the high end brands and those cutesy cafes, Khan Market is also a popular street shopping spot? Yes, saunter into the middle lane and find your beloved fashionable cropped jackets, traditional dupattas, stylish handbags, clutches and loads more! 
12. Turab Nagar Market, Ghaziabad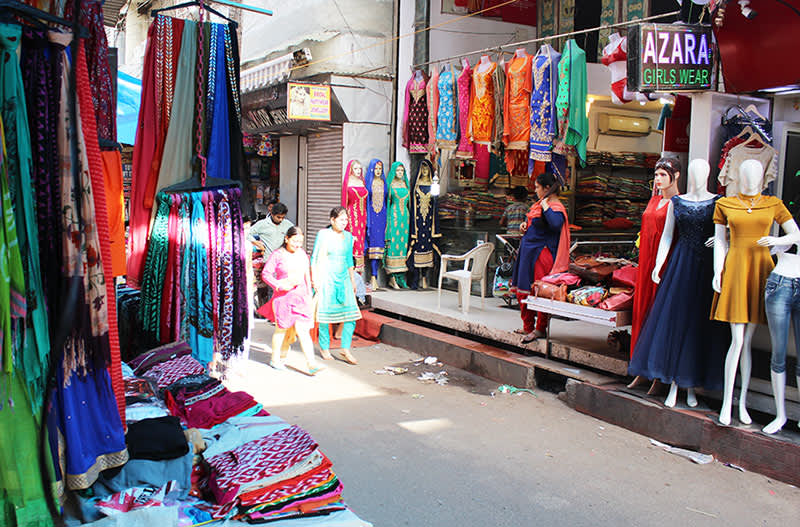 If you thought that Chandni Chowk was the only sasti market, then you defo need to head over to Ghaziabad 'cause Turab Nagar Market Lane is loaded with cheap fabrics, daily wear kurtis, floral skirts, pretty stoles in different colours and patterns and TONS more. These shops are a blessing for all those who love to shop!
13. Shankar Market, CP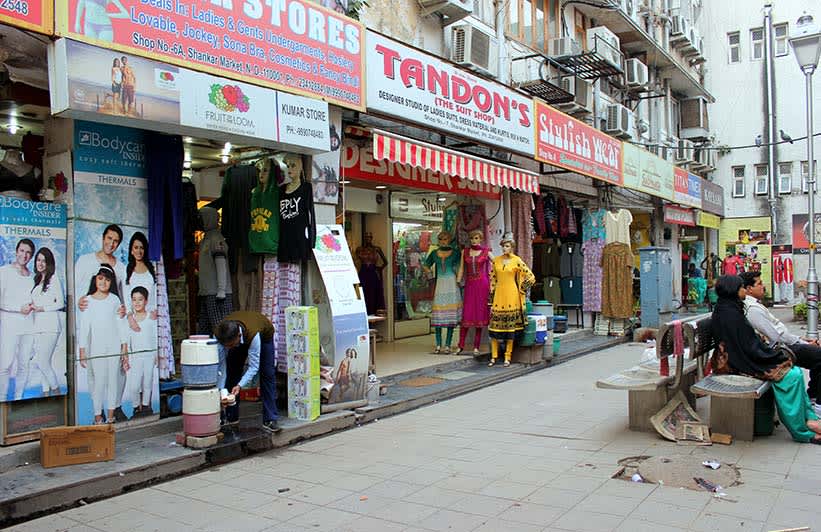 Love to fill up your summer wardrobe with those flowy and colourful cotton and chikan kurtis? If yes, then head over to Shankar Market in CP and shop for your fave kurtis starting at as low as Rs 350. You can pair them up with pretty slippers and juttis that'll cost you somewhere between Rs 150 - 400! 
14. Bangle Bazaar, Hanuman Mandir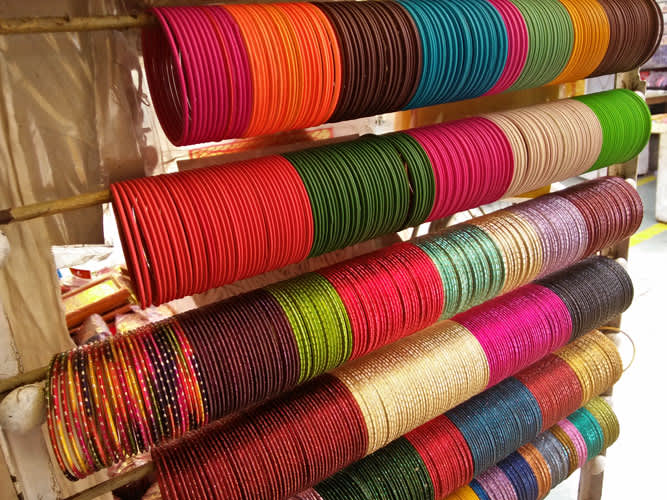 If you're one of those who believes that no number of bangles are too much, then you should head straight to the colourful Bangle Bazaar in Hanuman Mandir that's loaded with infinite varieties of bangles. From metal, glass, glitter and stones, these shops literally have everything you can ask for, bangle-wise. You can choose from a range of Rs 20 - 300 a dozen!
So, grab your totes and get, set, shopping!