Delhi
12 Bollywood Movies Released In The Last 15 Years That'll Make You Laugh Till You Cry
Has the current health crisis left you exhausted and craving for those AMAZEBALL classic comedies that will leave you in a small puddle of your own tears? Fret not, being the good friend that we are, we have culled out a list of some of the BEST flicks that are refreshingly pretty great and will lift your spirit up even on your darkest days, folks! 
FAIR WARNING: You will be quoting these movies in no time as they become your absolute FAVS and go-tos! *doing the happy dance* Add these to your watchlist ASAP! 
1. Good Newwz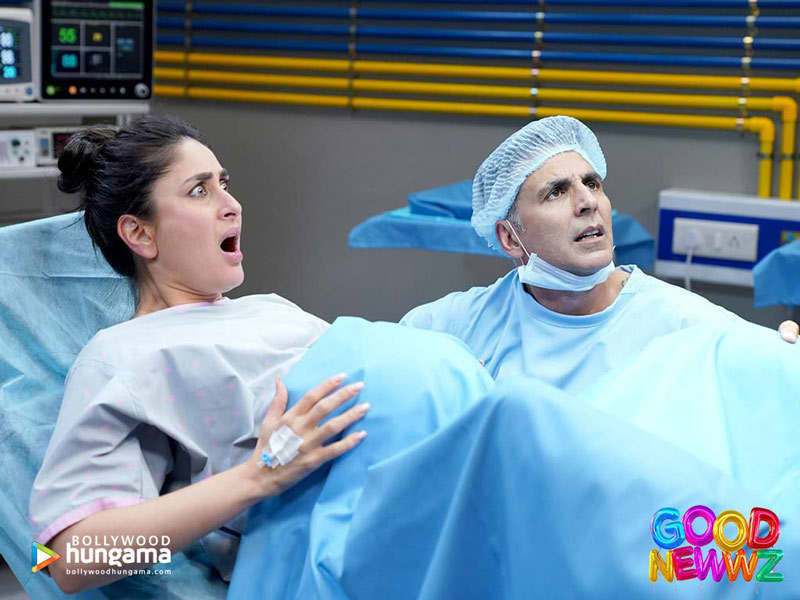 Picture Credits: imdb
Over the years we have missed seeing Akshay shine in comedy roles as he used to in his earlier years of glamour since he took on various roles pertaining to patriotism, haven't we peeps? Good Newwz, a breezy and lighthearted film starring Akshay Kumar, Kareen Kapoor Khan, Diljit Dosanjh and Kiara Advani, *WOAH* will make you GUSH over the top-notch acting portrayed by this ensemble cast and you'll definitely go CRAZY with laughter 'cause the narrative is filmed with FANTASTICALLY timed humour, creative and smart writing and heartfelt emotions as the film in a feel-good manner tries to educate the audience about the in vitro fertilization. Akshay as usual is at the top of his comedy game, Kareena is absolutely gorgeous, Diljit keeps us invested in a character that is super loud, over the top and extremely hilarious and Kiara is the epitome of sincerity and innocence! 
Watch Online Here | Good Newwz
2. Stree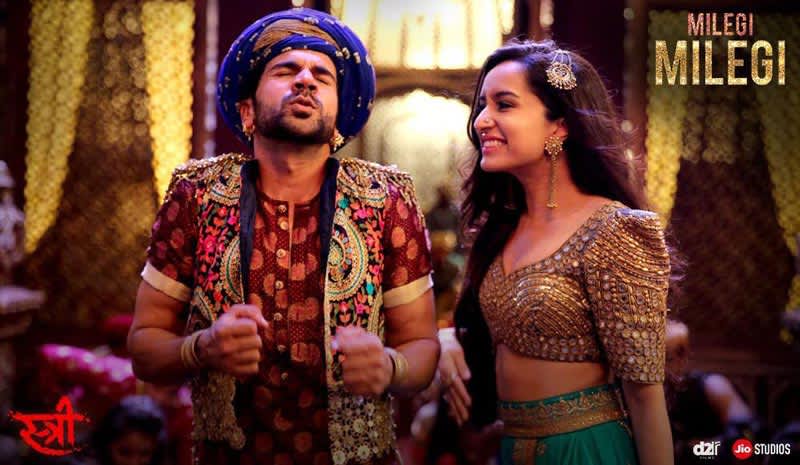 Picture Credits: imdb
Comedy and horror sounds as atypical as the weird combo of ice cream and fries but trust your gut when we say, both, the food combo and famous movie Stree will blow your mind! *Say whaaa*. With brilliant performances by Rajkumar Rao, Pankaj Tripathi, Aparshakti Khurana and Abhishek Baneerjee, the flick is a SUPERB and CREATIVE entertaining representative which is totes funny and strategically less scary as it delivers an engaging feminist tale! A movie which is unique, full of clever laughters, and keeps you on the edge of your seat as you curiously wait for the ghost to make her move is a must-watch you guys as laughing in an eerie environment is something nobody should miss out on! 
Watch Online Here | Stree
3. Badhaai Ho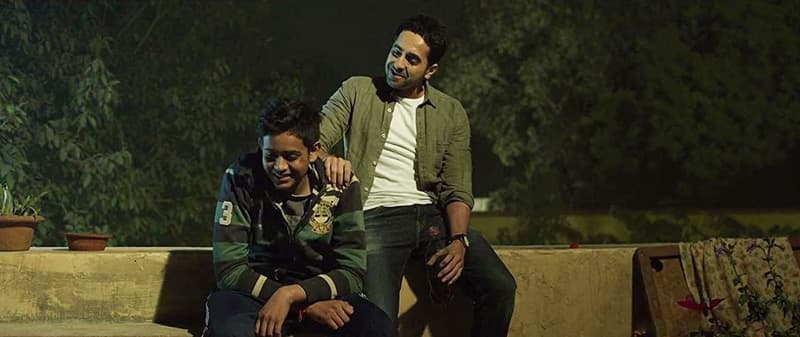 Picture Credits: imdb
It will be a nightmare if you found out in your adulthood that your parents are expecting a baby, won't it folks? Can't express the shock that'll wash over you? Well that's how Nakul Kaushik A.K.A Ayushmann Khurrana feels when he gets this particular "good news." *OMG* Badhaai Ho's refreshing take on a social issue that hasn't been addressed before, with the PERFECT amount of comic-relief and drama delivers a mass entertainer, y'all! You will be laughing so hard that this one's definitely gonna be on your re-watch list! Surekha Sikhri is the star of the show with her finesse acting skills and you'll have to watch it to know what we are talking about, folks!
Watch Online Here | Badhaai Ho
4. Chhichhore 
Picture Credits: imdb
Prattling with your school and college friends and all you can do is rave about the golden and carefree hostel days? Well peeps, been there, done that! Stealing our hearts, Chhichore is one of those movies which is utterly relatable and let's us travel back in time to when we were the "chichoras", were unburdened by the realities of life and lived some of the most unforgettable memories! *dreamy eyed* Singing the true bond of friendship and shedding light on our education system and the subsequent suicides that are triggered, this movie will inspire you, make you laugh out so loud that you'll fall off your chair, will make you cry and rekindle burnt out friendships! Starring late Sushant Singh Rajput, Shraddha Kapoor and Varun Sharma this movie is soulful with nifty performances. So get your old gang together and watch Chhichhore now! 
Watch Online Here | Chhichhore
5. Bareilly Ki Barfi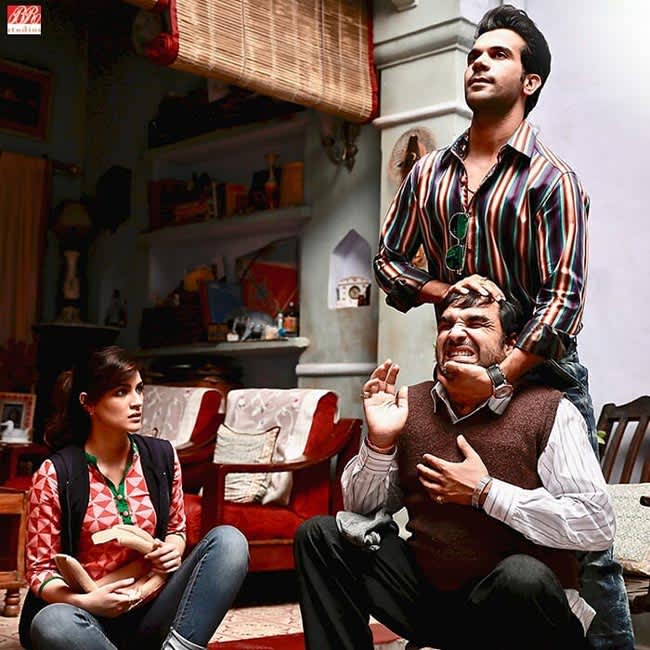 Bareilly Ki Barfi is a paisa vasool movie that has found a special place in our hearts and we are sure it will captivate you too! A movie about a love triangle is sweet, funny and fresh as Rajkumar Rajo, Kriti Sanon and Pankaj Tripathy steal the show! Rajkumar Rao's transformation from a meek underdog to a confident rowdy rathore is commendable and stems ahh-mazing razor-sharp humour, Kriti Sanon's portrayal of a not so-sushil independent and headstrong girl who shares smokes with her loving and supportive father A.K.A Pankaj tripathy, shatters the stereotypical image of a small town girl and we all wish for a father as phenomenal as Pankaj who unapologetically supports, loves and understands his daughter. This rare feel-good movie brings forth the  raw love that a father has for his daughter and a beloved has for his love where the society does not get a say through easy laughs, inside jokes and don't tell your mom moments, peeps!
Watch Online Here | Bareilly Ki Barfi
6. Sonu Ke Titu Ki Sweety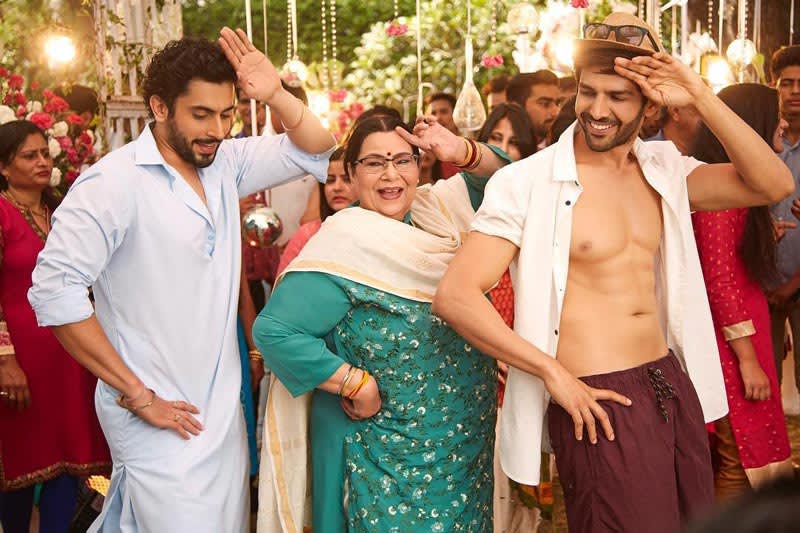 Picture Credits: imdb
Been in a triangle with your bro and his *ahem* mean girlfriend? If yes, then you will surely identify with Sonu Ke Titu Ki Sweety. Looking for a fun and enjoyable time as you tell your BFF "dekh ye tu hai" and exchange sly smiles then this is the one for you, fellas! Sonu has always been protective of his innocent and gullible childhood friend Titu (the bonding is so pure, y'all!) *sniffs* 'cause Titu being Titu is always getting himself into trouble with girls who are quick-witted and Sonu fiercely saves him everytime he is in a mess! *pheww* Kartik Aaryan, Alok Nath, Virendra Saxena and Nushrat Bharucha's impressive performances generate etched in our memory humour and you will definitely be sitting in a pool of your own tears as this one's straight up SUPERB and MAZEDAAR! So, Stream it now with your BFF y'all! 
Watch Online Here | Sonu Ke Titu Ki Sweety
7. Dream Girl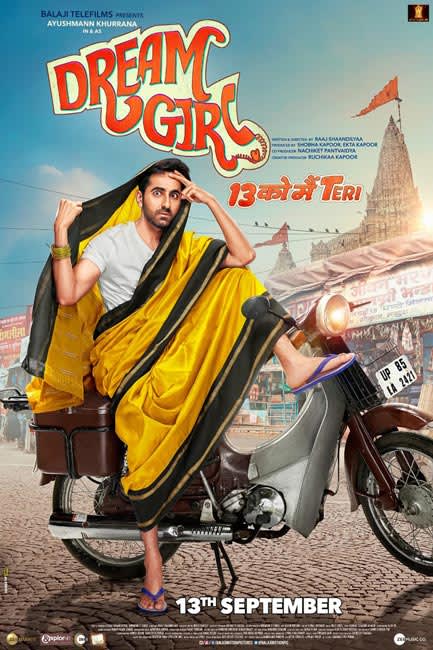 Picture Credits: imdb
"Dream girl kisi shaayar ki ghazal, dream girl," though the movie is different the lyrics are quite apt, folks!  Dream Girl starring Ayushmann Khurrana takes on a hilarious take on friendship call centres when Karamveer gets a job 'cause of his ability to talk in a lovely woman's voice. *Wowza* The actual fun, drama and uncontrollable humour begins when his jealous lovers want to meet Pooja and eventually marry her! The quirky and distinctive role of a cross-gender actor is an impressive and seeti-maar game changer which provides situational based comic one liners and evokes a rollicking good time! Ayushmann Khurrana is the star of the show as he once again demonstrates his acting prowess to perform unique roles and doing justice to them!
Watch Online Here | Dream Girl
8. 3 Idiots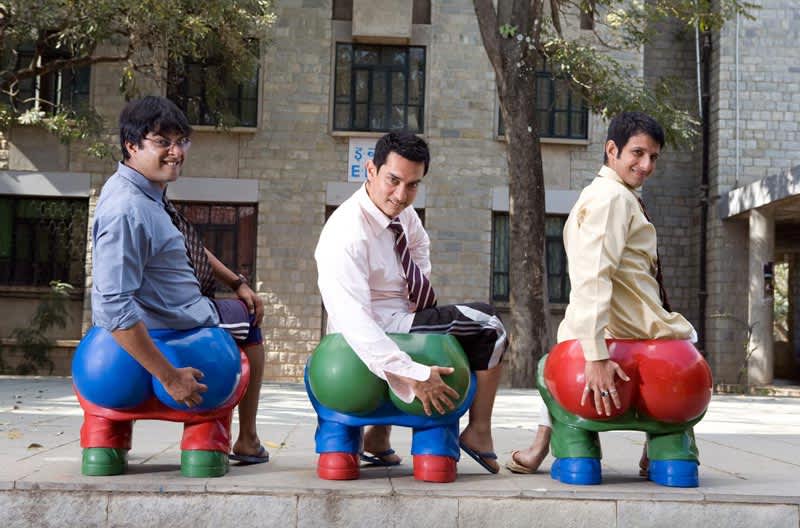 Picture Credits: imdb
Who hasn't watched the remarkable movie that leaves us with the impression that "All iz well," and even if it isn't, it will be! 3 idiots is a pure comedy movie with strong acting, memorable characters, a perplexing storyline and most importantly a film that inspires and motivates you to be true to who you really are! Portraying the journey of 3 friends, Farhan, Raju and Rancho, portrayed respectively by R. Madhvan, Sharman Joshi and Aamir Khan, through engineering college. We get to experience their young college years and all the mischief they were upto, the wrong decisions they made and all the drama that occurred. *YAY* A movie that can be re-watched a gazillion times because of the arrogant VIRUS, overachieving and blind to the flaws of our educational system "Silencer" and the passionate and playful Rancho! We see the trio crash a wedding, settle a bet, deliver a baby on a makeshift operating table, fall in love and follow their dreams in a very dramatic Bollywood style. *Aah* Watch it for a good time as you explore the complications of following your heart while discovering the true meaning of friendship!
Watch Online Here | 3 Idiots
9. Jolly LLB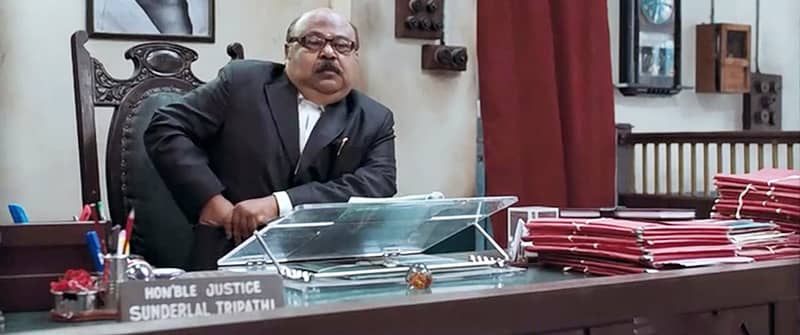 Picture Credits: imdb
Truly a jolly good film series, both parts 1 and 2 of this cinematic creation is engaging and absolutely hilarious as it deals with certain realistic issues with finesse and fire! Jolly LLB is about a lazy lawyer and his transformative journey of becoming a great lawyer as he shines light on a serious issue, the condition of Indian Judiciary. This masterpiece pulls off all it sets out to achieve through a realistic narrative portrayed by flair and panache as Arshad Wasi and Boman Irani nail their roles and fill the courthouse and our surroundings with unresistable laughs! *LIT* We also recommend watching Jolly LLB 2 as both Arshad Wasi and Akshay Kumar are known for portraying astoundingly well comic roles WHILE delivering intense and inspiring messages through their witty banter and astute skills, don't worry, the sequel is just as good as the prequel! #WeekendPlansSorted y'all.
Watch Online Here | Jolly LLB
10. Welcome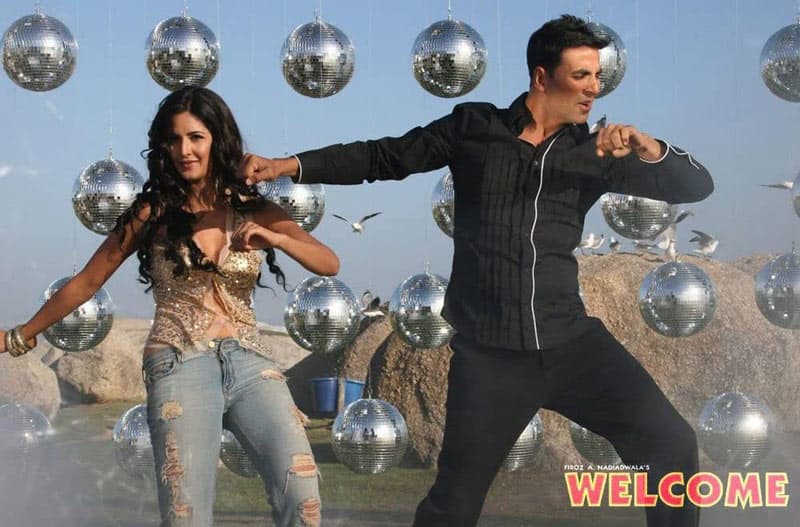 Picture Credits: imdb
Want to knock your socks off? Then what's better than a story about two criminals, Uday and Majnu who wants to marry their sister, Sanjana in a family which has no relations with the underworld! *Yikes* Sounds like a hefty task, no? Anil Kappor and Nana Patekar, some of the most brilliant actors, bring their roles to life to such an extent that we can not imagine anyone else portraying the duo! In search of the ideal family, the humour that emerges from this quirky situation is both silly and clever, y'all. The chaotic narrative brings forth can't stop laughing scenarios and slapstick humour that we just can't get enough of! A pure comedy, Welcome is quite welcoming if you want to sit back, relax and guffaw of to dialogues like "ab ghodo ki race mein ghade bhi daudenge", "Maar bhi nahi sakta, pyaar jo karat hai mujhse" and a lot more!
Watch Online Here | Welcome
11. Bhool Bhulaiyaa
Picture Credits: imdb
We strongly believe in the saying "Old is Gold", which is why this list would have been incomplete without the fabled movie Bhool Bhulaiyaa. Another must-watch movie that establishes why Akshay is hailed as the king of comedy will make you fall off your chair so hard that even then you will be laughing! Horror? Comedy? Suspense? Thriller? You name it, and the movie has it all, folks! (the perfect balance) From havelis to ghungroos and from myths to ghosts with Akshay Kumar's witty nature, sarcastic dialogues and other actors giving it their all this movie will keep you hooked! Rajpal Yadav's staggering acting prowess is the icing on the cake, fosho! Entertaining you through and through, all we can say is, if you haven't watched it by now, stop doing whatever you are doing and go watch it NOW! 
Watch Online Here | Bhool Bhulaiyaa
12. Phir Hera Pheri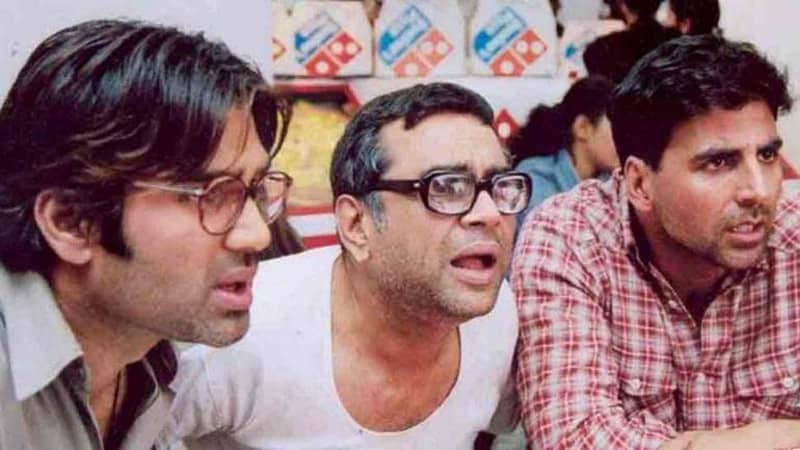 Picture Credits: imdb
"Abhi maza aayega na bhiduu", you thought we missed the best? How could we? We were saving the cult favourite, Hera Pheri's sequel for the last, folks! After all there is a reason dessert is served at the end of a meal, and we intend to do the same. *Wink wink* Portraying some of the best comic actors that are revered for their skills and talents, Phir Hera Pheri is as much a comic rollercoaster as its predecessor which took the Bollywood world by a hilarious storm! The infamous trio of Baburao, Raju and Shyam are in a heap of problems with gangsters and mafias as they continuously try to battle their financial problems resulting in astonishing and hilarious scenes, comic punchlines, funny situations and so much more! If you want to laugh from beginning till the end as you struggle to wipe your tears then this iconic film which can be rewatched numerous times is the one for you! #AMoodLifter
Watch Online Here | Phir Hera Pheri
Can't wait to binge-watch all of 'em for a weekend filled with laughter and tears? We hear ya! Let us know in the comment below which one of the above movies had you laughing from the very beginning till the end? Did you fall off the couch while laughing like us? (your secrets are safe here!)