Delhi
8 Dreamy & Magical Looking Restaurants In GGN For A Fancy Date Night
Thanks to those cliched romantic movies, almost all of us have dreamt of a perfect date night amidst those fancy fairy lights, a beautifully decorated li'l corner, greenery of the vines, white curtains and all that jazz where you and your prince/princess can bond and enjoy the time of your life. *Sigh* If only there was a place as real as this. Well, your daydreaming days are over fellas, for we have the exact magical looking places lined up for you right here in G-Town. Take note of these gorg places, our love-stricken folks and impress your boo with an absolutely delightful date night. 
1. Kiyan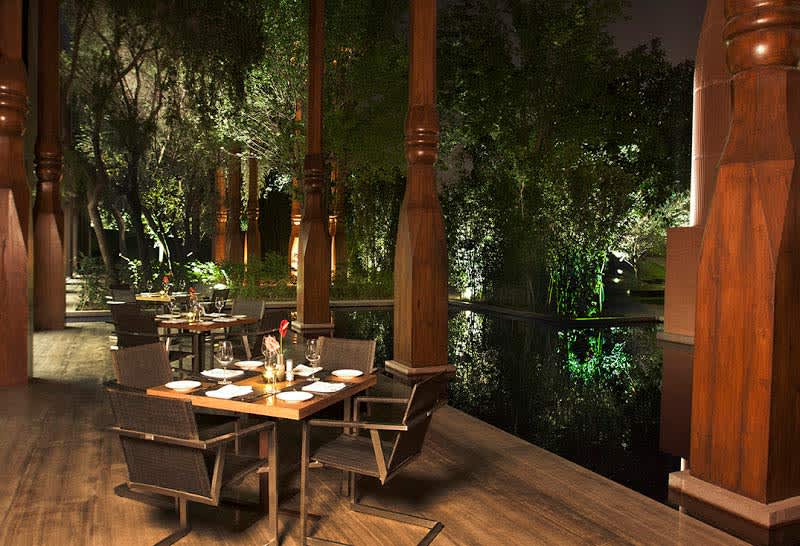 Leave your date spellbound with the beauty of this phenomenal restaurant at The Roseate. The mighty pillars surrounding the chic seating area alongside a little pond are our definition of an ideal location for a dinner date. Besides admiring your crush and the aesthetics of the place, you can munch on delish food like Sous Vide Lamb Cutlet, Goat Cheese And Wine Macerated Beetroot, Malabar Fish Curry & Chocolate Soup For The Soul! If you're not on a budget, head over to this place right away.
Where | Kiyan - The Roseate, 21st Milestone, Samalkha, NH 8, Kapashera 
Timings | 7 - 10:30 AM, 12:30 - 3 PM, 7 - 11:30 PM
Call Them | +91 8068 972 901
Meal For Two | Rs 5,000
Check Out Their FB Page | https://www.facebook.com/TheRoseate/ 
2. The Forresta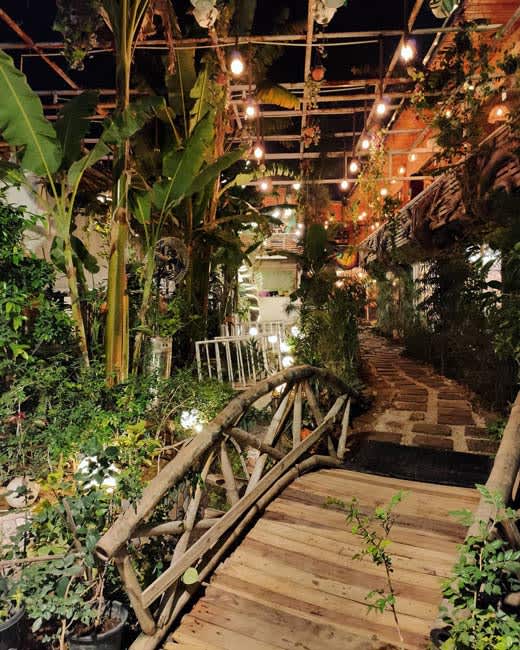 Picture Credits: chalchalewahan
Whatever we say about this FAB AF place would be an understatement. An ethereal dining experience in the vicinity of all-things-dreamy is what comes closest to defining this superb cafe. The rustic yet supremely elegant seating area dolled up with lights, lanterns and love is what makes it every couple's fave destination. Devour some delectable grubs here like Italian Herbs Chicken Risotto, Juicy Lucy Mutton Burger, The God Father Pizza, Butter Chicken Pasta & Ratatouille. Sounds like a plan doesn't it?! 
Where | The Forresta - Plot 27, Saraswati Kunj, Suncity, Opposite Alchemist Hospital, Sector 54 
Timings | 5 PM - 5 AM
Call Them | +91 9818 282 878
Meal For Two | Rs 1,000
Check Out Their FB Page | https://www.facebook.com/theforestta 
3. Threesixtyone°
Life's legit gonna take a three sixty-one-degree turn when you experience a date like this at The Oberoi. Besides the location being astonishing, the fact that the seating is above a pool defo earns extra brownie points. Gorge on appetizing delicacies like the Kebab Platter, Shrimp Miso Soup, Peking Duck, Spaghetti Bolognese, The Oberoi Club Sandwich, Sashimi And Sushi Traditional Platter and the Dessert Platter for a wonderful ending to a spectacular evening. 
Where | Threesixtyone° - 443, Phase V, Udyog Vihar 
Timings | 9 AM - 11 PM
Call Them | +91 12 4245 1234
Meal For Two | Rs 5,000
Check Out Their FB Page | https://www.facebook.com/TheOberoiGurgaon/ 
4. Guftagu Cafe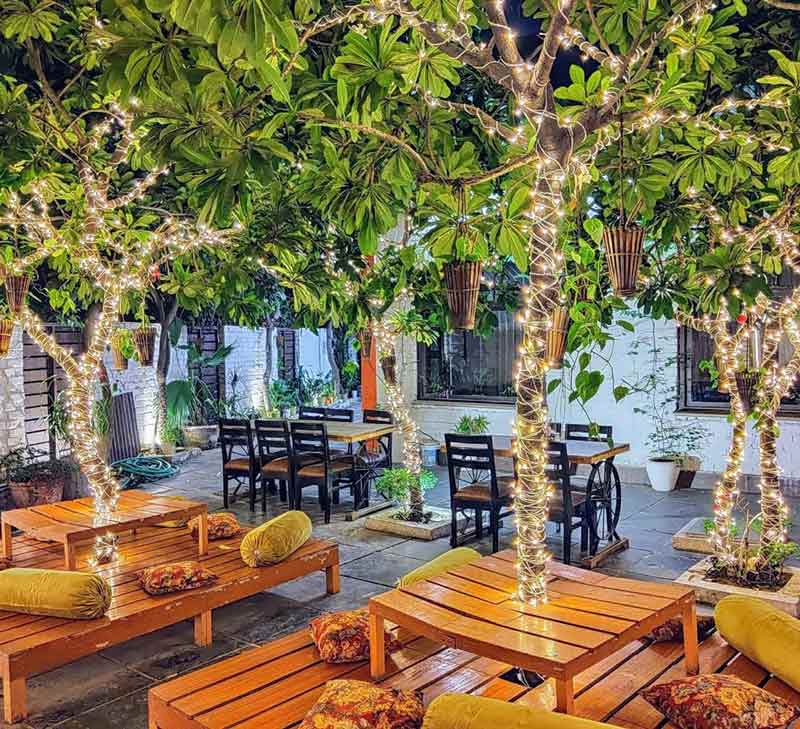 This next one on our list is extremely astounding and popular when it comes to being 'gram-worthy. The seating area is finely done with lights to brighten up the place. Their Parle G and Mango & Cheesecake Shake are to-die-for and we just cannot get enough of their Peri-Peri Onion Rings, Chicken Popcorn, Tex Mex Corn Potato Burger, Chicken Lasagne & their 14" Triplex Chicken Pizza. Pro Tip: Wear something casual 'cause it goes with the vibe perfectly (helps with filling tummies with the yummies as well *wink wink*).
Where | Guftagu Cafe - Main Road, Opposite DLF City Court, DLF Phase II
Timings | 12 Noon - 11 PM
Call Them | +91 9310 022 110
Meal For Two | Rs 1,400
Check Out Their FB Page | https://www.facebook.com/Guftagucafe/ 
5. Como Pizzeria And Cafe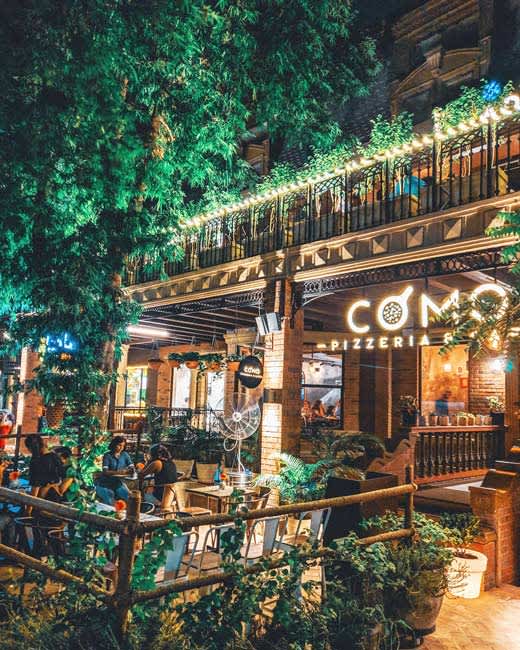 Picture Credits: _findfocus_
A beautifully lit area, this cafe does wonders in terms of making the date-night totally awesome 'cause c'mon people, who doesn't like pizza amid such a serene setting?! Do order their Spaghetti Carbonara, Asparagus & Prawn Risotto, Spinachetta & Mayhem Woodfired Thin Crust Pizza and Parma Neapolitan Style Pizza that will leave you with a moreish feeling. 
Where | Como Pizzeria And Cafe - 32nd Avenue, National Highway 8, Sector 15 
Timings | 12 Noon - 12 Midnight
Call Them | +91 9999 177 600
Meal For Two | Rs 2,000
Check Out Their FB Page | https://www.facebook.com/Como-Pizzeria-Cafe-424681531460105/ 
6. Pepper Pot - The Terrace Cafe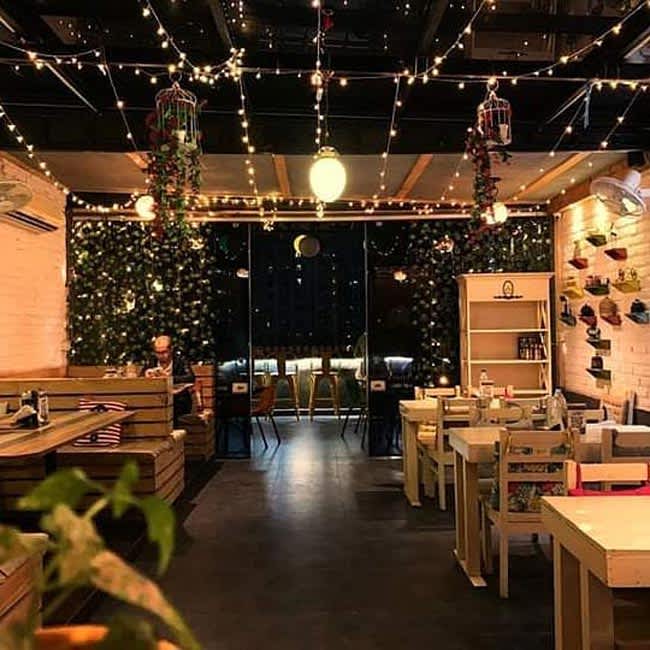 This rooftop cafe does justice to your long-planned dinner-date night that's gonna be mesmerizing fosho! Apart from the superb scenic view and awesome white interiors, their menu reels of scrummy dishes like Afghani Chicken Momos, Chicken Lollipop, PPC Chicken Sizzler and Chicken Lababdaar, best enjoyed with their Garlic Naan, to name a select few. Pop over to this fantastic place without delay.
Where | Pepper Pot - The Terrace Cafe - SCO No - 40, District Commercial Center, Near Harish Bakery, Sector 56
Timings | 11 AM - 10 PM
Call Them | +91 9999 949 970
Meal For Two | Rs 950
Check Out Their FB Page | https://www.facebook.com/pepperpotggn/ 
7. Under The Neem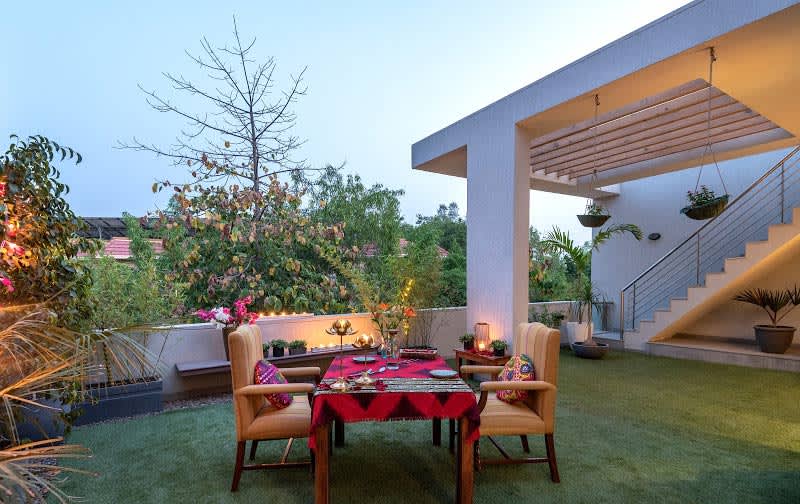 Next up is the modern European cafe that is chic to its core. We're in complete awe of the magical setup that gives off such dreamy vibes. A dinner date couldn't be any more perfect. Flatter your taste buds with their excellent continental menu with specialities like Chattar-Pattar, Bhuna (succulent mutton dish), Pizza Pesto Chicken and Berry Shake to sip on. Come plan your ideal date 'under the neem' soon!
Where | Under The Neem - Karma Lakelands, NH 8, Sector 80, Near Sector 83 
Timings | 8:30 - 10 AM, 12:30 - 10 PM
Call Them | +91 9625 291 720
Meal For Two | Rs 3,000
Check Out Their FB Page | https://www.facebook.com/pages/Under%20the%20Neem/677503596060963/ 
8. Ladera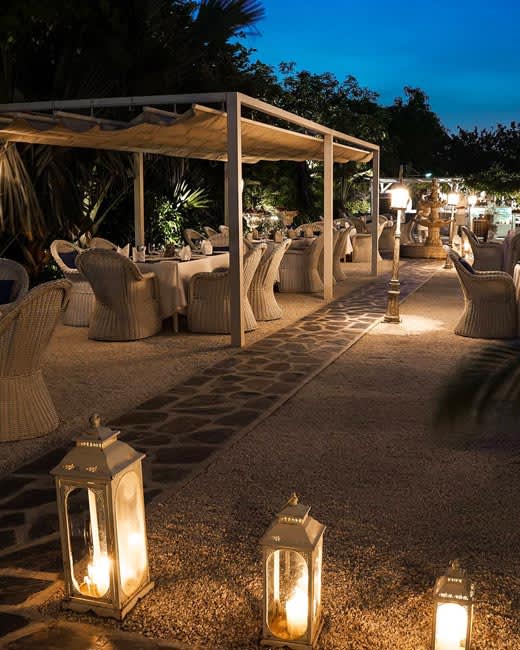 Get a load of all 'em Greek vibes at Ladera, the date night hot spot in GGN! The open-air restaurant is decked up with white interiors, lamps, lights and almost every decor item that lifts up the ambience of a place. The gourmet-style grubs are what one can consider the *baap* of all kinds of delicacies. The Arancini Di Riso (dumplings), Gnocchi Di Ricotta Souffle, Pork Tenderloin, Pizza Atomics and Tiramisu are crazily popular & insanely yummy, would be an understatement. Experience the divinity first hand and swing by ASAP!
Where | Ladera - Clarens Hotel, Plot 363, Sector 29 
Timings | 6 PM - 11 PM
Call Them | +91 8447 758 631
Meal For Two | Rs 5,000
Check Out Their FB Page | https://m.facebook.com/laderagurgaon/ 
So, guys and girls, now that you have this list, call up your bae already and scamper over to these awe-inspiring restaurants for a lit date night and thank us later!