Delhi
11 Hilarious & Frustrated Thoughts Every Delhiite Has Had While Travelling In The Metro
Delhi Metro is the knight in the shining armour for those of us who travel from one end of the city to another EVERY SINGLE DAY! Since this is almost every Delhite's preferred mode of travel, the coaches are often packed like sardines in a can with huge groups of people travelling together - people who are often unique and eccentric in every sense, making us want to either smile or karate chop someone's head real quick. If you, too, go through this tug of war in your head every day, you'd defo relate to these thoughts that every Delhiwala has had while travelling in the metro. Get reading!
1. *When Random Peeps Stare At You, Just Because* "Am I Looking Weird Or Something?"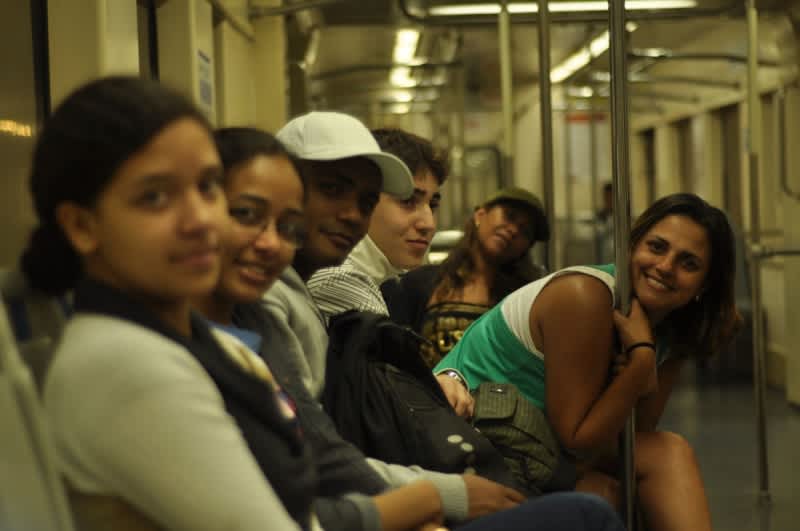 This Is A Representative Image
There are moments like these that make you wonder two things - does the new hairstyle actually look good or is there something on my face or am I simply weird? You can go from being confident to having an existential crisis with the constant and unnerving staring in the metro every day and the only thing you can possibly do is ignore or creepily stare (and scare) right back at them!
2. *When A Deluge Of People Enter An Already Crowded Metro* "Aao Aao, Bahut Jagah Hai Abhi Toh!"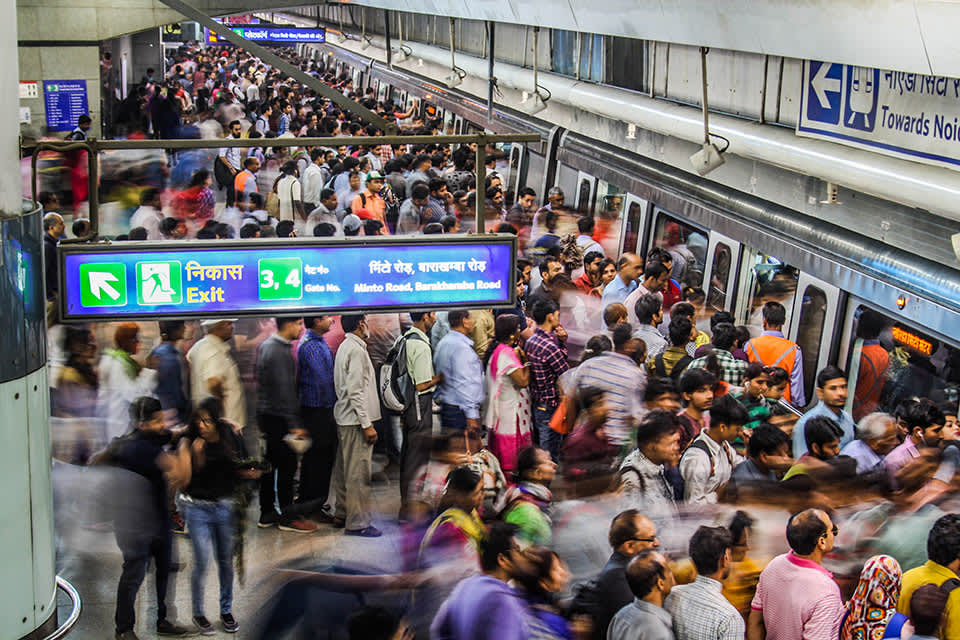 We know everyone has places to be, either you need to hurry to get to office or college or all you want to do is somehow catch the metro that just pulled up, but the only thing that people inside can think is - "NAHI! Please don't enter this already congested metro where people are vacuum-packed like potato chips!". And as mean as it sounds, it would be great if you could maybe wait for the next one to come? Thank you very much!  
3. *When Someone Says "Thoda Adjust Karlo"* "Haan Bhai Godh Mein Hi Baith Jaa!"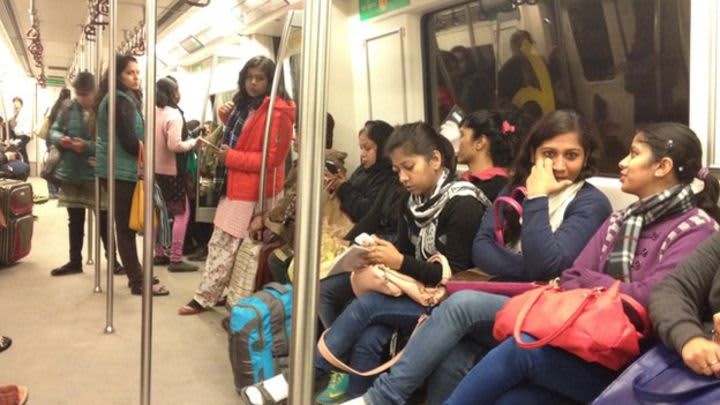 Picture Credits: metrorailnews
Probably the most annoying and irritating line we hear while travelling is, "Thoda sa adjust karlo!". Oh dear lord, we're already jammed between two aunties who thought they'll somehow surreptitiously fit into whatever little space was available and now you want us to 'adjust' more? Trust us, it's humanly impossible, so just let it go!
4. *When You See An Empty Metro* "Aaj National Holiday Hai Kya? Itni Khaali Metro?"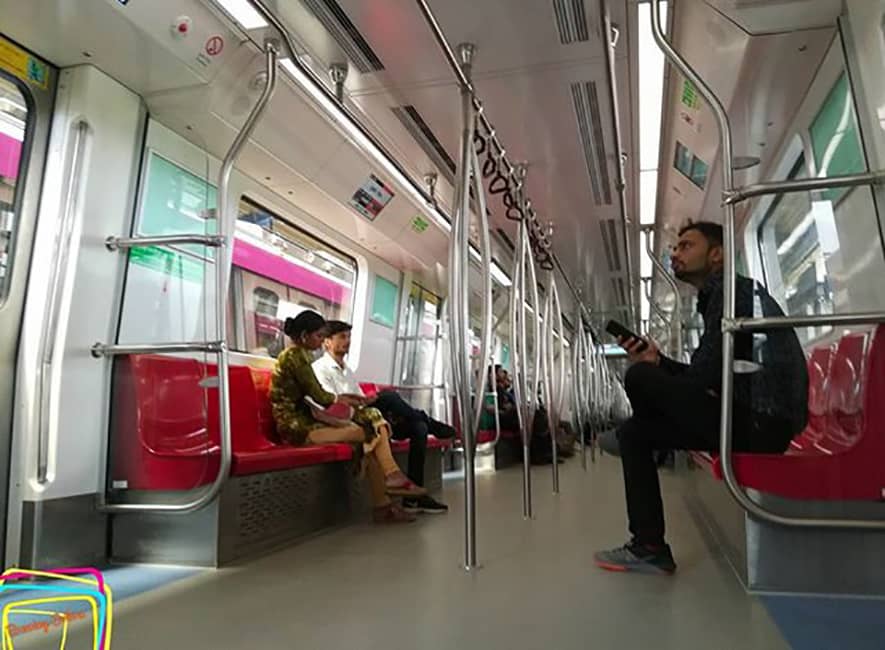 Picture Credits: brewingcolors
Think we'll all agree when we say that witnessing a nearly empty metro is nothing short of a miracle! So when (magically) you're waiting for your metro in the morning and an unusually khaali train arrives, you feel like pinching yourself and asking around if it's a Sunday or public holiday by any chance because this is legit a day that deserves to be marked in the calendars and this becomes an instant mood-lifter too!  
5. *When People Stare You Down For Wearing Something Slightly Revealing* "So Much For Delhi Being Modern & Shiz!"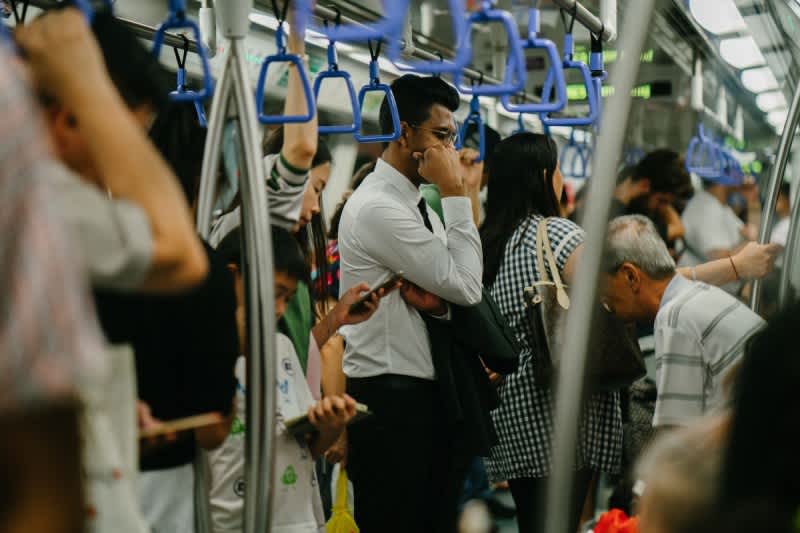 This Is A Representative Image
If you've ever entered a metro coach wearing something even slightly short, revealing or something strikingly unique, then you'd know what we're talking about. As soon as a guy in some Boho avatar or a girl in shorts steps into the metro, nosy aunties and uncles start their weird and judgy stare-off, making it the most annoying and never-ending metro ride even if you're travelling to the very next station. So, we'd suggest you glare right back and let the games begin! #BeatThemAtTheirOwnGame
6. *When You Find A Seat* "Is The Almighty Happy With Me Or Something?"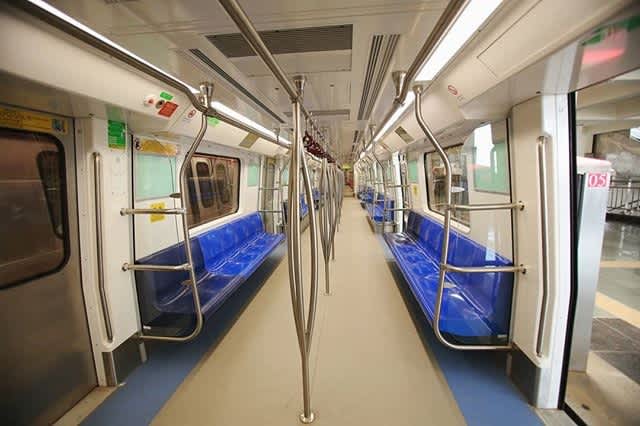 Picture Credits: officialdmrc
What are the chances of getting a seat in the metro? Between 0 to 100, we'd say -1! In a place where we can hardly find the space to balance ourselves and stand on both legs, getting a seat is nothing short of a blessing, believe us. And on miraculous days when this does happen, we relish this mercy with some much-needed shut-eye, peacefully catching up on our sleep!
7. *When Someone Older Asks You To Vacate The Seat* "Itni Mushkil Se Toh Mili Thi Yaar, FML!"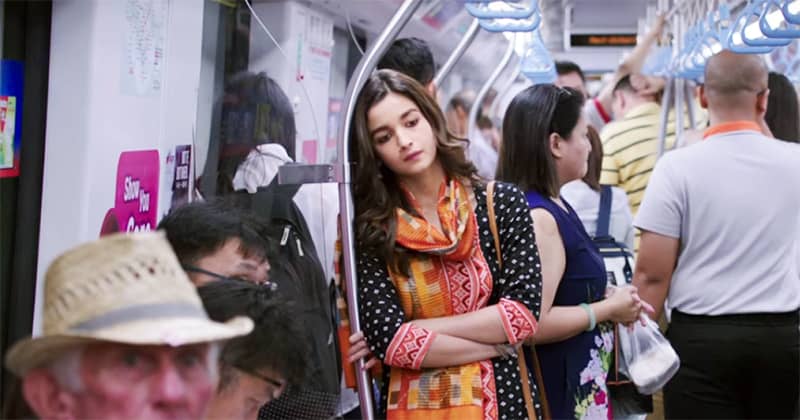 Picture Credits: akkarbakkar.com
Imagine this - you've got a seat in the crowded train at Rajiv Chowk Metro Station and just as you're about to process this happy news, suddenly an old uncle approaches and looks at you with those disapproving eyes and you're forced to (morally) stand up and vacate that oh-so-PRECIOUS seat. Been there, done that? We're sure everyone has! Giving up your seat for an elderly person or someone in need makes complete sense BUT the least people can do is being thankful in return, don't you think? 
8. *When You Need To Snake Around Someone Just To Deboard* "Hatt Jaa Behen, Utarna Nahi Hai Toh Door Ke Samne Kyun Aate Ho?!"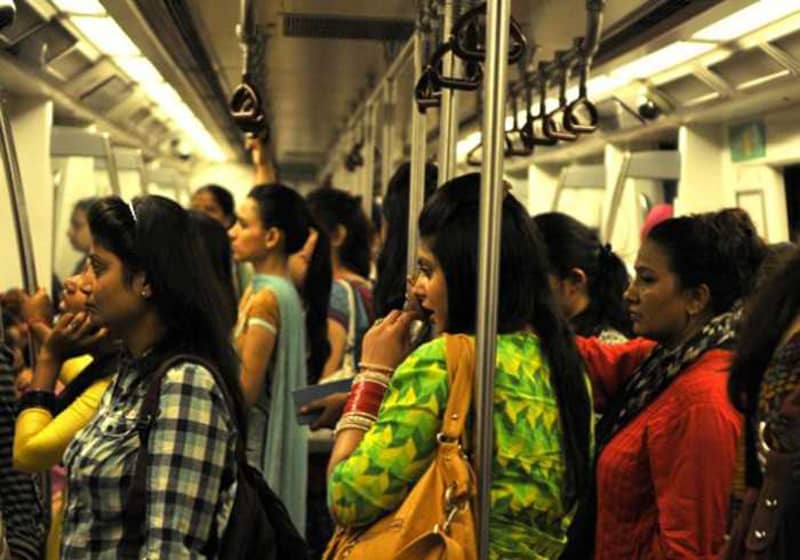 Picture Credits: topyaps.com
It's your station next, so you come forward towards the door to get down and you see a bunch of people standing in front of you - people who AREN'T getting off at the upcoming station but, nevertheless, are hogging the gate. The amazing feeling of menacingly staring at these neanderthals and plotting their ends is what keeps us going really (#ChotiChotiKhushiyan).
9. *When The Metro Stops Just As You're Running Late For Office* "The Universe Is Conspiring Against Me Today"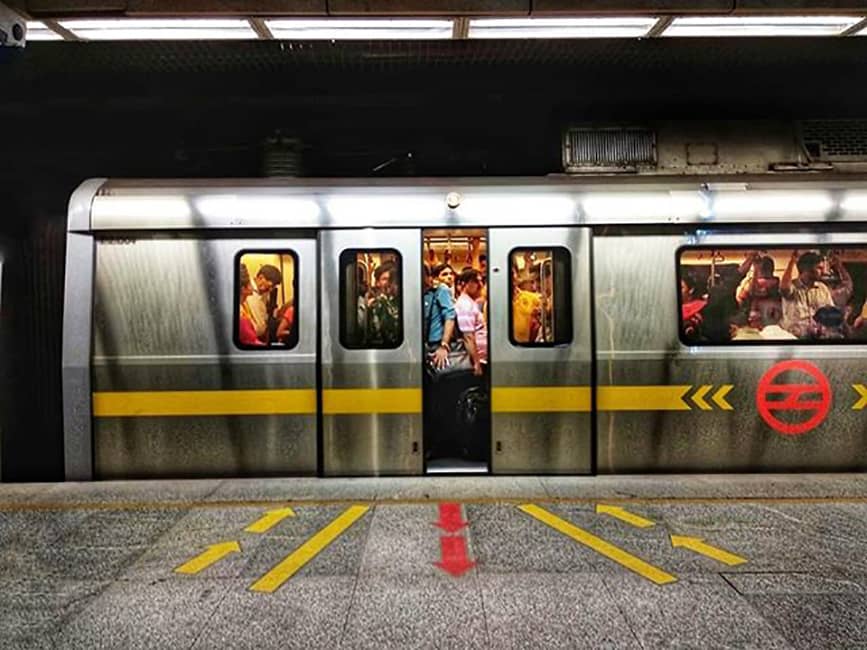 Picture Credits: uniquedelhi
If you've EVER run late for work (and of course you have), then you'd probably have had this thought too! It's like the universe is punishing us for sleeping in a little more in the morning and now there are glitches in the metro just to make us even tardier than before. We'd suggest you don't put that alarm on snooze, people!
10. *When You Spot Someone Sitting On The Floor* "Lait Hi Kyun Nahi Jaate?!"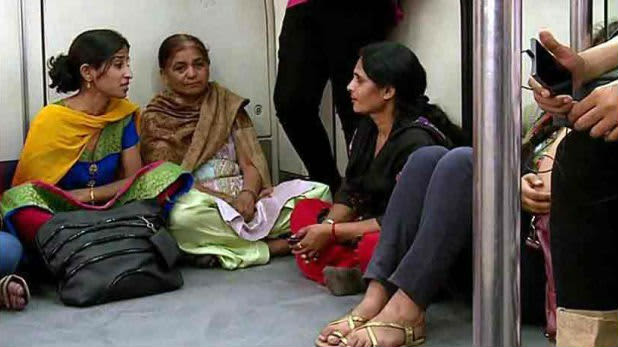 Picture Credits: amarujala
Okay, we get that you're tired and that finding an empty seat is almost impossible but sitting on the floor is not acceptable, guys. Not only is it a punishable offence but this also disturbs other people in the metro who just want to stand in peace. So, as difficult as it may be for you all, please for the love of God, stop sitting on the floor!
11. *When People Talk Loudly On Their Phones* "Loudspeaker Par Hi Baat Karlo!"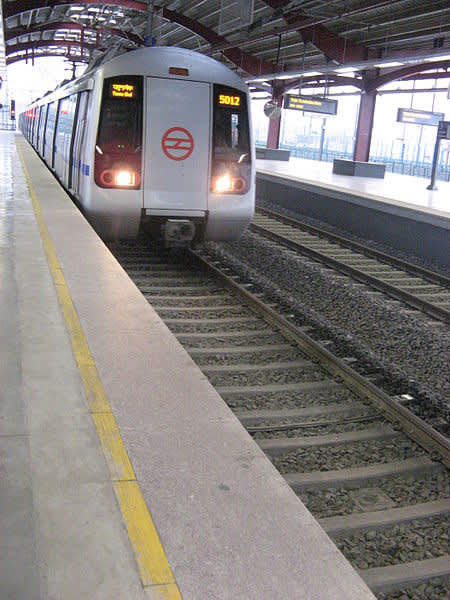 Pictire Credits: rahul_rivaan
Getting good mobile network coverage in Delhi is difficult and getting one in the metro is...well, to plainly put it - nearly impossible! And yet, there are people who're hell-bent on chit-chatting, even if it means shouting throughout the conversation and annoying the rest of the passengers in the coach. If the call is that important, sir, why not just ask them to call back later? Is that such a hard thing to do?
So, these were just a few thoughts that crossed our minds, which ones cross your heads every day?