Delhi
11 Metro Dos & Don'ts Every Delhiite Needs To Follow!
We love to talk about Delhi Metro because there's no denying the fact that we won't be as happy as we are (travelling wise) if it were not for the metro. But while we say that it's the best and everything, we'd also like to urge Delhizens to follow basic etiquette to make our metro experience even better. Scroll down if you agree!
1. Get A Sense Of Space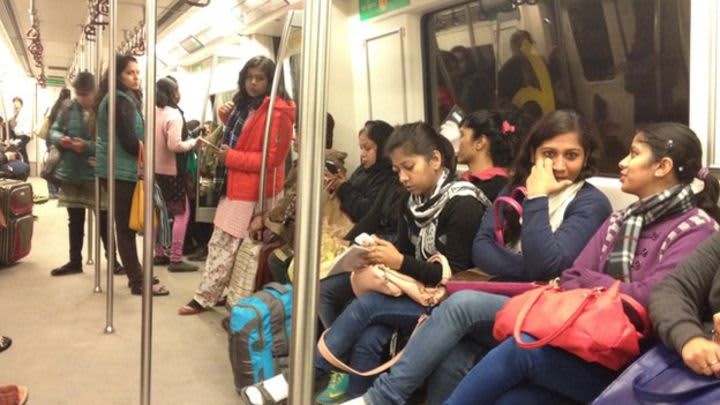 Picture Credits: metrorailnews
If you're a regular commuter of Delhi Metro, then you must've defo seen people trying to fit in those tiny gaps asking others to shift a little and make space. We get that you're tired, but you've got to wait until the seat is actually empty and you've got ample space to plant your bottoms at without annoying others!
2. No Seat Is NOT Equal To Sitting On The Floor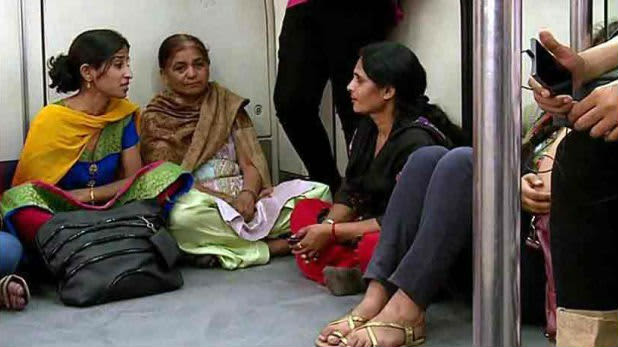 Picture Credits: amarujala
After 8 straight hours of hard core working, bearing with boss' nagging and eating salad for lunch, we totes understand that the one thing you really want is to find a seat in the metro, but alas, a seat ain't always available. While sitting on the floor might seem like the perfect solution to you, we say you DON'T because it's against the rules and also, it's a bit uncomfortable for other passengers.
3. Stop Pushing Other People While Boarding Or Deboarding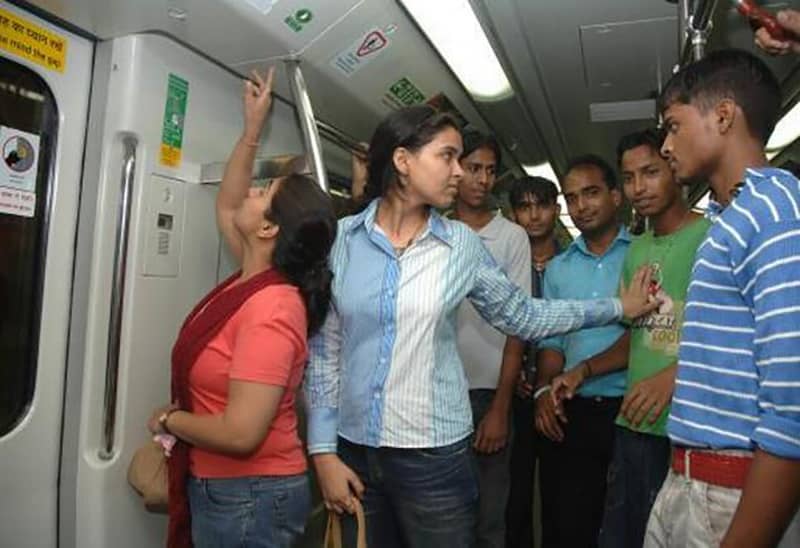 Picture Credits: perhapsicanwrite
If you're running late for office, you're the only one responsible for the delay, right? Why push others and punish them for nothing? Metro is a mode of public transport and you need to be careful and maintain some sense of decorum while travelling with other people, meaning no violence!
4. Let People Get Off Before You Get On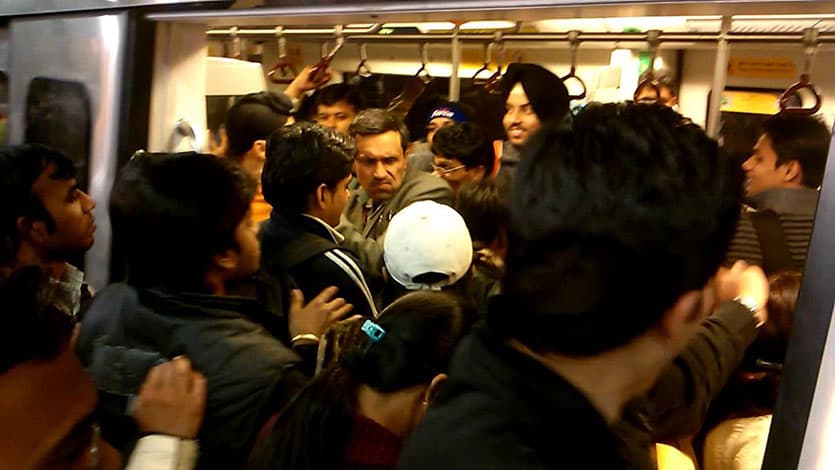 Picture Credits: David Furka
This one's really important since we've all suffered this multiple times. Everyone's in a hurry to hop on or off of the metro which leads to unwanted pushing and fights. Ideally, we should let people step out before stepping in to make enough space for everyone. So, can we start doing this from now on, pretty please?
5. Let's Stick To The Rules & Not Click Pictures Inside The Metro!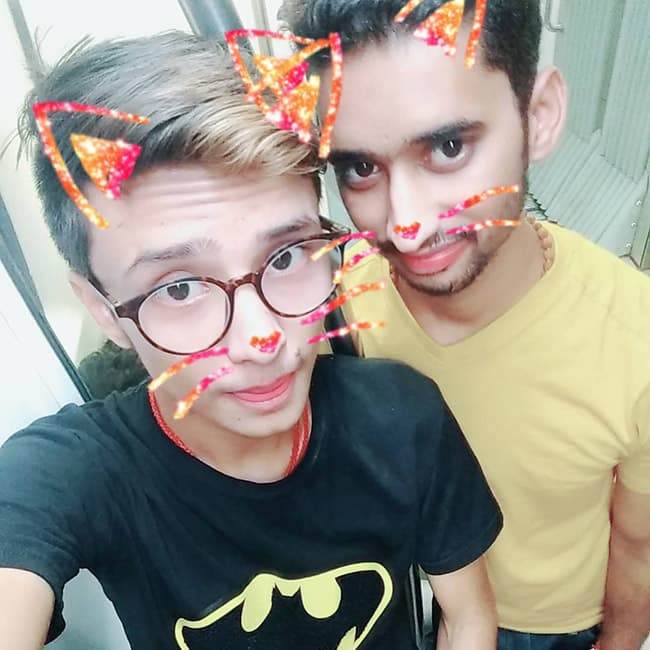 Picture Credits: _rajputshubham_
We understand your love for selfies 'cause we feel the same but clicking pictures inside the metro is strictly prohibited, peeps. It's cool to say that rules are meant to be broken but when it's about the state law, we say you better adhere to it!
6. Don't Stand Right In Front Of The Door If It's Not Your Station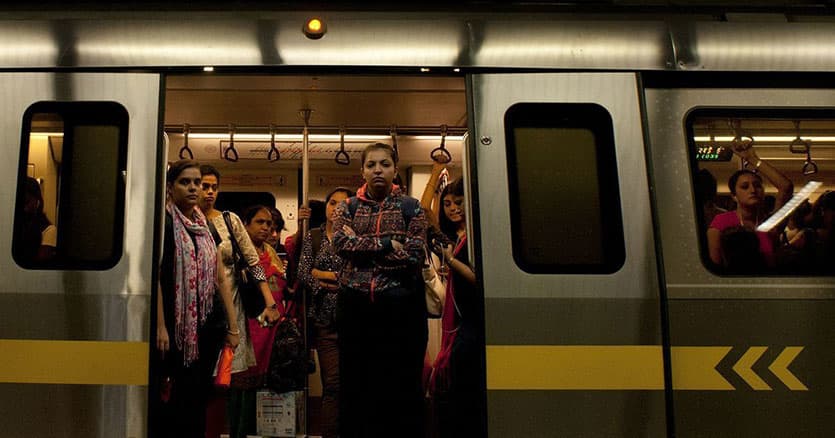 Picture Credits: dailypost
Okey, so here's the thing. Even if you're a first time traveller in the metro, you must know that major interchanging stations like Kashmere Gate, Rajiv Chowk, Kirti Nagar and Mandi House among others are jam packed, so you should never stand right in the front of the doors & block the way. It's not just annoying but leads to unwanted crowding!
7. Hold Your Bags In The Front To Avoid Hurting Your Co-Passengers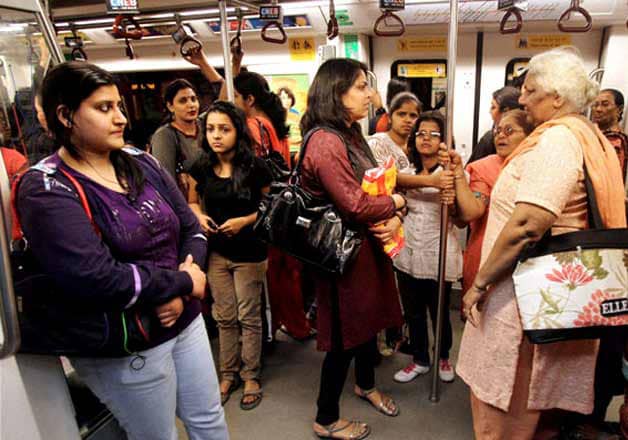 Picture Credits: jantakareporter
If you're even moderately aware of your surroundings, there's no way that you missed the poster stuck to the metro walls displaying the right way to carry your bags, which is placing them in the front. It is supposed to be that way because lugging your bags on your backs blocks a lot of space and it can also hurt fellow passengers while the train is moving. So, do take note of this Delhi walo!
8. Do Not Hold The Gate For Your Friend!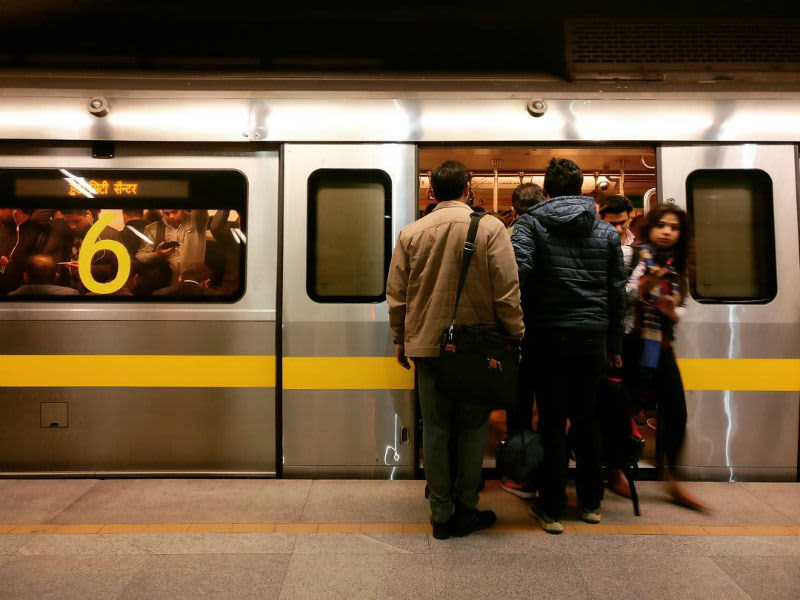 Picture Credits: axe_hacks
Waiting for your friend at the station is a sweet gesture but making the entire train wait for them is kinda unfair, don't you think? It totally is and hence it's advisable to either step in or stay out, but DO NOT stand in the middle of the gate and block it!
9. Metro Is Not The Place For Lunch Breaks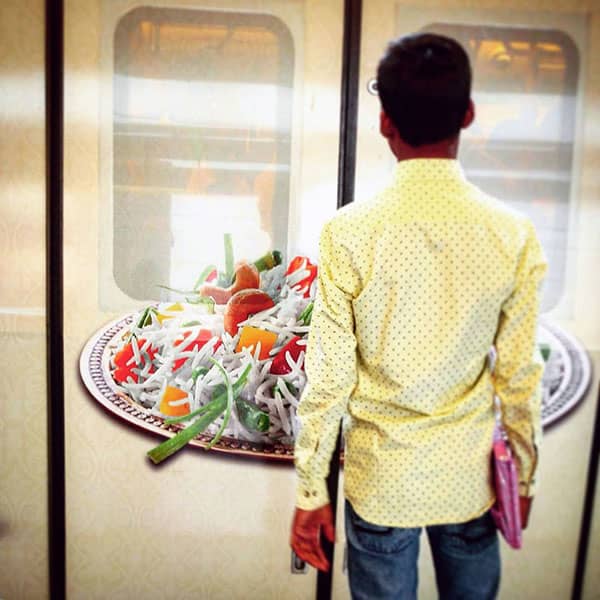 Picture Credits: delhimetrodiary
Guys, come on, munching on a cookie or chewing gum on occasion is understandable, but you CANNOT literally sit there and gorge on an entire lunch spread. Why you ask? Well, first, because it's not allowed and second, because seeing you eat, we feel hungry too, so please don't do that to us!
10. You've Gotta Stop Staring Into Other People's Phones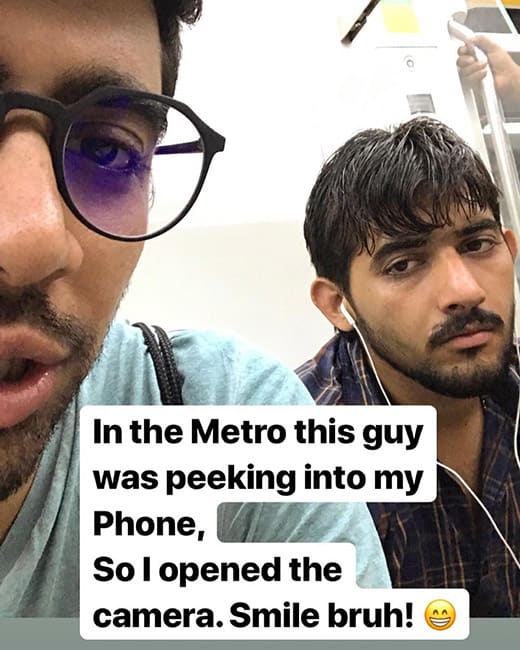 Picture Credits: samitgambhir
This is meant not just for the metro but should be followed while travelling in any public transport mode. Peeping into other people's phones is actually invading someone's personal space and nobody likes it. Listen to music, call a friend or maybe even take a power nap if you're bored but please, avoid staring into your neighbour's mobile screen!
11. Avoid Playing Loud Music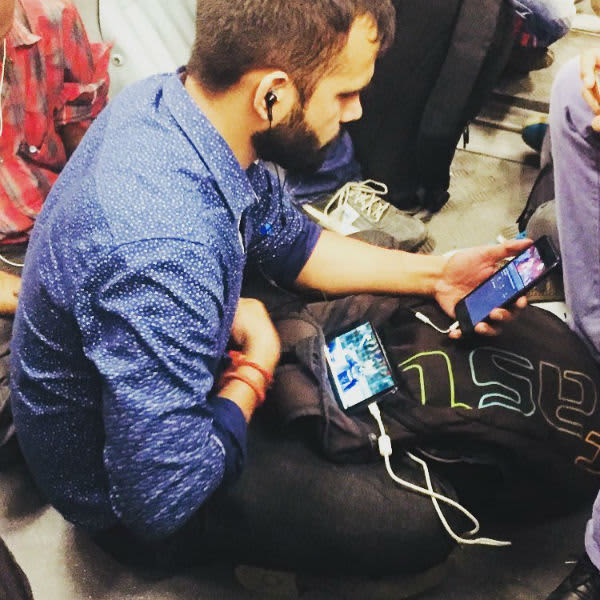 Picture Credits: ramisgod
And when we say listen to some music for entertainment, we mean keep it to yourself and don't start an impromptu radio broadcast and make the entire coach listen to your playlist. Earphones have been made for a particular reason, which primarily involves enjoying your music all by yourself, so we suggest you stick to plugging 'em in!
Did we miss anything? Tell us in the comments section!