Delhi
11 Magnificent & Breathtaking Palaces Across The Country For A Vacay Fit For Royalty
India is littered with age-old and flamboyantly opulent palaces that showcase the essence of bygone eras. These massive palaces have now been converted into gorgeous luxury hotels where everyone can come and get a little taste of what it feels to be royal. And since luxury and holidays go hand in hand, we've drawn up a list of fab palaces across the country where you can have a vacay fit for royalty - scroll on and make your reservations!
1. Taj Rambagh Palace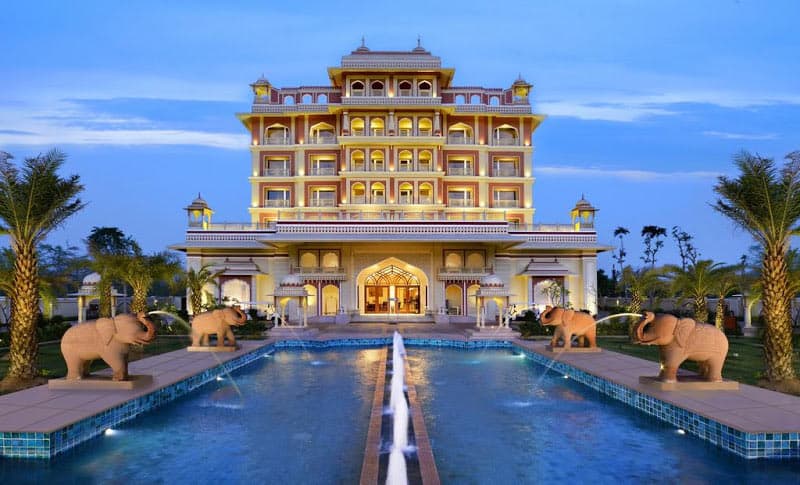 Open your ears to the story of 'The Jewel Of Jaipur' and immerse yourself in the beauty of the circa 1835 Rambagh Palace. Transcending through time and dynasties, it became the residence of the Maharaja Sawai Man Singh II and his queen, Maharani Gayatri Devi. Presently,  this jewel has been restored by Taj and retains its splendour. Decked up with hand-carved marble 'jalis' or latticework, sandstone balustrades, cupolas and 'chattris' and elaborate Mughal gardens, this palace reflects Rajasthan's royal heritage. 
You can indulge in the best fine-dining experience at Suvarna Mahal, the Rajput Room or Verandah Café etc. They also have a fully equipped spa where you can simply relax and unwind, apart from many other facilities and amenities. So go ahead, book that fabulous vacay you've been longing for!
Where | Rambagh Palace - Bhawani Singh Road, Rambagh, Jaipur, Rajasthan 
Tariff | Rs 21,000 Onwards 
Call Them | +91 1412 385 700
Book Your Stay Online Here | https://bit.ly/3lZW9l1
Check Out Their FB Page | https://www.facebook.com/TajHotels/
2. Gajner Palace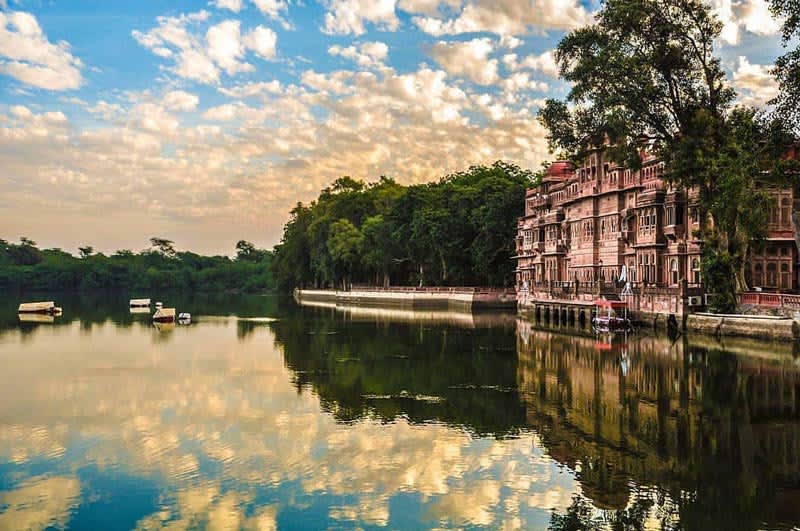 Picture Credits: hrhhotels
Built by HH Maharaja Sir Ganga Singh of Bikaner, Gajner Palace is located on the edge of a lake. Accompanied by a unique charm, this palace is characterized by its terraces and balconies, nature-walks, boat-rides, sanctuary dinners and desert safaris. Converted into a heritage hotel in 1976, this sprawling and majestic palace stretches over 6,000 acres. The most astonishing yet heartfelt revelation about this palace is the remnants of a historic railway station since Gajner Palace was once connected to Bikaner Palace via rail in 1922 (cool, no?!). Each suite in this palace has been meticulously restored and the palace is divided into four distinctive wings - Dungar Niwas, Mandir Chowk, Gulab Niwas and Champa Niwas. From the furniture to the wallpaper, this palace personifies a bygone era and offers one of the most opulent experiences of a luxurious lifestyle! 
Where | Gajner Palace - PBM Hospital Road, Bikaner, Rajasthan
Tariff | Rs 5,000 Onwards 
Call Them | +91 1534 275 061
Book Your Stay Online Here | https://hrhhotels.com/hotels/gajner_palace/
Check Out Their FB Page | https://www.facebook.com/PalaceGajner/
 3. Taj Lake Palace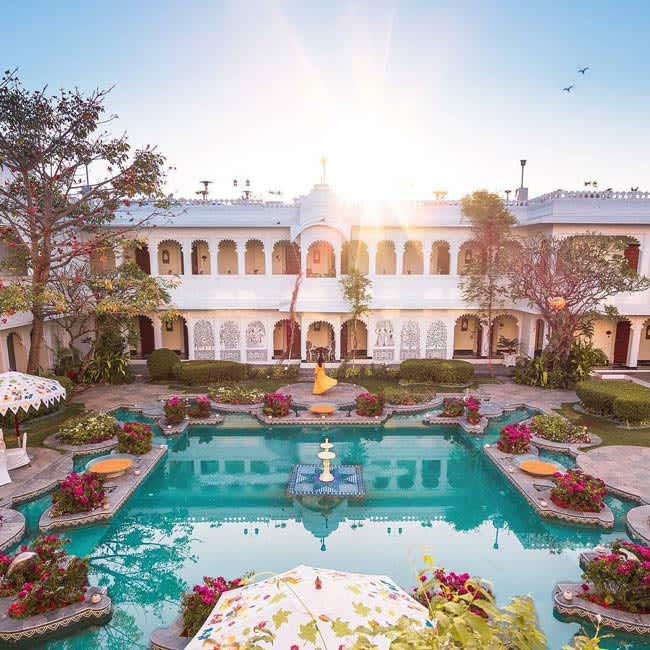 Picture Credits: globetrottingsu
Built over 200 years ago, the Taj Lake Palace lies amidst the pristine waters of Lake Pichola. The ferry to the palace sets the tone of your never-ending awe for this royal palace. The rooms host panoramic views and pamper you with plush canopy beds and richly coloured upholstery woven from Indian textiles. The outdoor Jacuzzi and private terraces enrich your experience and sweep you off your feet. Built in 1746, the palace contains some picturesque traditional scenery like the lily pond situated in Neel Kamal, a fine-dining, dinner-only restaurant. A throwback to the old ways, this palace is truly a dream come true!
Where | Taj Lake Palace - Pichola, Udaipur, Rajasthan
Tariff | Rs 26,000 Onwards 
Call Them | +91 2266 011 825
Book Your Stay Online Here | https://bit.ly/37n56Rh
Check Out Their FB Page | https://www.facebook.com/TajHotels/
4. Ahilya Fort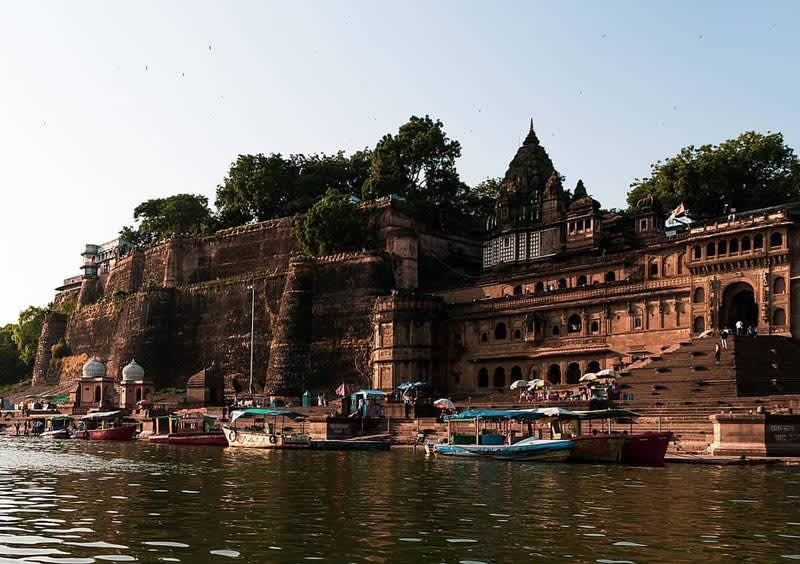 Picture Credits: aubade_creative
Sitting high above the celebrated River Narmada, Ahilya Fort was ruled by Maharani Ahilyabai Holkar from 1765 to 1796. The Ahilya Fort is a luscious representation of grandeur meeting culture and glory. Comprising 19 rooms set in six buildings coupled with modern amenities and comforts, this palace is nothing less than a flutter of magnificence. Vast and spacious, with three acres of courtyards, fountains, and gardens that link areas within the wada, this palace is a visual treat for the eyes. The hotel is well situated to explore the highlights of Maheshwar. The hotel's gardens commemorate an exotic vibe, as they have been carefully curated by Prince Richard. So, what are you waiting for? Pack your bags and head straight here!
Where | Ahilya Fort - Ahilya Wada, Maheshwar, Madhya Pradesh 
Tariff | Rs 30,000 Onwards 
Call Them |  +91 1141 551 575
Book Your Stay Online Here | https://ahilyafort.com
Check Out Their FB Page | https://www.facebook.com/AhilyaFort/
5. Taj Umaid Bhawan Palace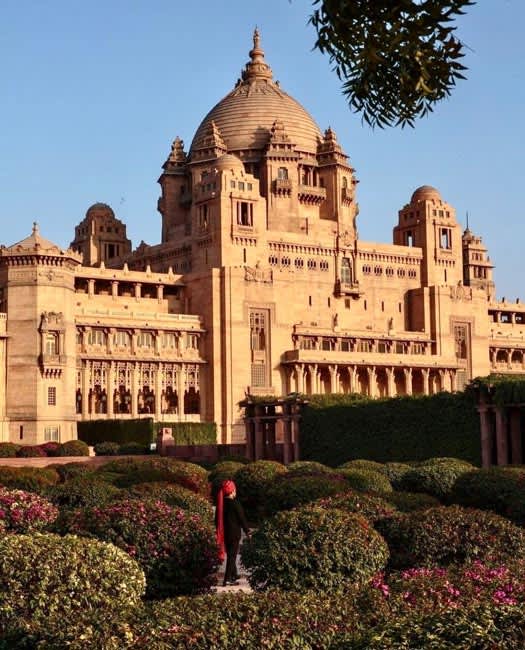 Picture Credits: sarahyltonphoto
A striking symbol of Rajasthan's undeniable prestige, Umaid Bhawan Palace was built between 1928 and 1943. Gaining the status of the world's sixth-largest private residence, the palace has one thing in common with the illustrious Taj Mahal - the palm court marble used in its construction. Standing tall on Chittar Hill, the highest point in Jodhpur, Umaid Bhawan Palace offers exotic views of the Blue City. Located amidst 26 acres of lush gardens, consisting of dancing peacocks and a subterranean Zodiac Pool, the luxury five-star Taj heritage hotel provides 70 utterly ah-mazing art deco-style suites. The palace also treats you with a plethora of traditional Rajasthani food items through renowned restaurants like Risala. You can also pamper yourself with rejuvenating treatments at the Jiva Grande Spa. Take a heritage stroll and relive a fascinating bygone era brought to life right here! 
 Where | Umaid Bhawan Palace - Circuit House Road, Cantt Area, Jodhpur, Rajasthan
Tariff | Rs 25,500 Onwards 
Call Them | +91 2912 510 101
Book Your Stay Online Here | https://bit.ly/31oAvPm
Check Out Their FB Page | https://www.facebook.com/TajHotels/
6. Neemrana Fort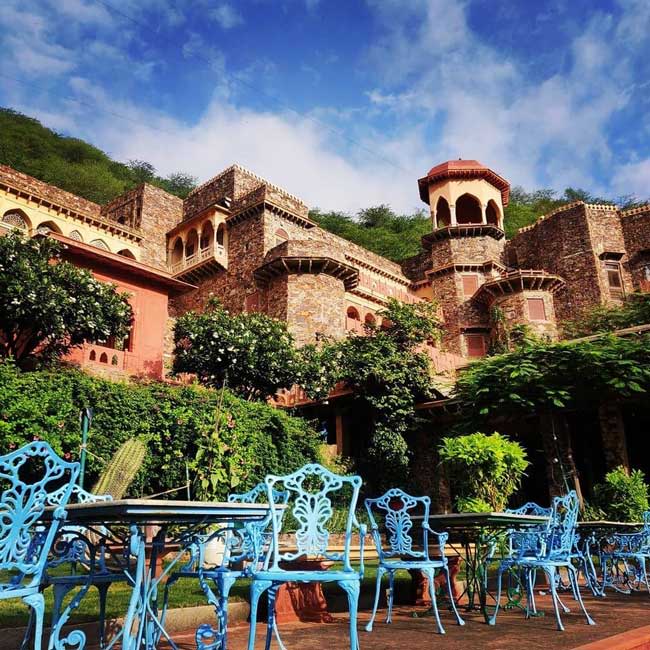 Picture Credits: famishedsouls
A 553 years old medieval fort-palace, Neemrana Fort is a renowned weekend getaway from Delhi. They offer you comfort at its best with 76 rooms and suites. The palace is a vast and open arena consisting of nine palace wings built over a hill. Also, the six acres of luscious green gardens make this heritage hotel one of the best places to escape to. Hanging gardens, two pools to swim in, an Ayurvedic spa and what's touted to be India's first zip-line takes your whole experience up a few notches. Gather the squad and defo plan a trip to this gorgeous palace soon!
Where | Neemrana Fort - Delhi-Jaipur Highway 122nd Milestone, Delhi - Jaipur Expressway, Neemrana, Rajasthan 
Tariff | Rs 6,000 Onwards 
Call Them | +91 1244 666 166
Book Your Stay Online Here | https://www.neemranahotels.com/fort-palace-neemrana/
Check Out Their FB Page | https://www.facebook.com/NeemranaHotels/
7. Fort JadhavGadh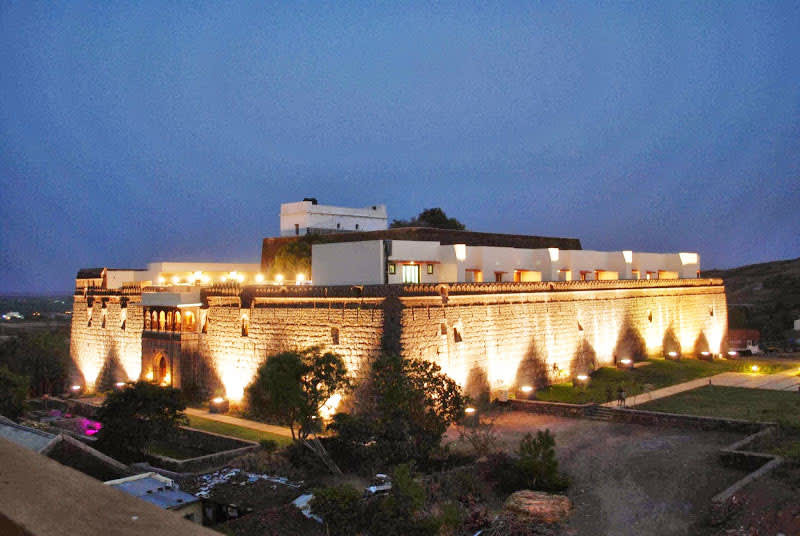 Stretched over 25 acres of carved landscape, Fort JadhavGADH offers  you a completely luxurious stay by spoiling you with choices ranging from the king's own Maharaja Suite to the impressive royal tents that shower you with all the royal vibes. From their cobble-stoned steps to the magnificent panoramic views, this Maratha marvel guarantees a fabulous stay. You can relish the top-notch delicacies prepared by restaurants such as Payatha and Chhajja or satisfy your curiosity with the fort's in-house museum - The AAI Museum. Have a happy vacay here!
Where | Fort JadhavGadh - Hadapsar Saswad Road, Jadhavwadi, Pune, Maharashtra
Tariff | Rs 10,260 Onwards 
Call Them | +91 9987 573 818
Book Your Stay Online Here | https://www.orchidhotel.com/fort-jadhavgadh/
Check Out Their FB Page | https://www.facebook.com/fortJadhavGADH/
8. Alila Fort Bishangarh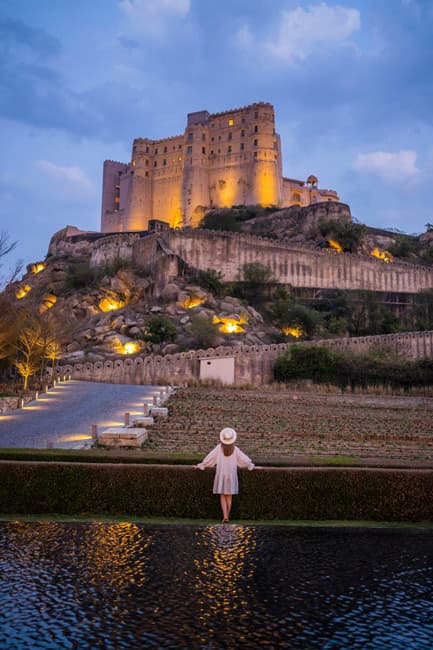 An adaptive reuse of the 230-year-old warrior fort into one of the country's most legendary heritage properties, Alila is infused with rich splendour. Instilling Jaipur Gharana architecture, the fort also showcases Rajput and Mughal influences. The architecture is stark and spartan, accompanied by brass embossed panels and Rajasthani plastering of the traditional surkhi. Alila offers a plethora of mind-blowing experiences such as relaxing full-body spa treatments, private dining, Rajasthani Rasosda masterclasses, meditation and rejuvenation amidst nature, meeting local artisans and a tour of the warrior house. Indulge in the illustrious royal days of the Shekhawati dynasty right here at Alila Fort!
Where | Alila - Off NH-8 at Manoharpur Bishangarh Village, Jaipur Bishangarh, Manoharpur, Rajasthan 
Tariff | Rs 22,960 Onwards 
Call Them | +91 7230 058 058
Book Your Stay Online Here | https://www.alilahotels.com/fortbishangarh
Check Out Their FB Page | https://www.facebook.com/AlilaFortBishangarh/
9. Mundota Fort And Palace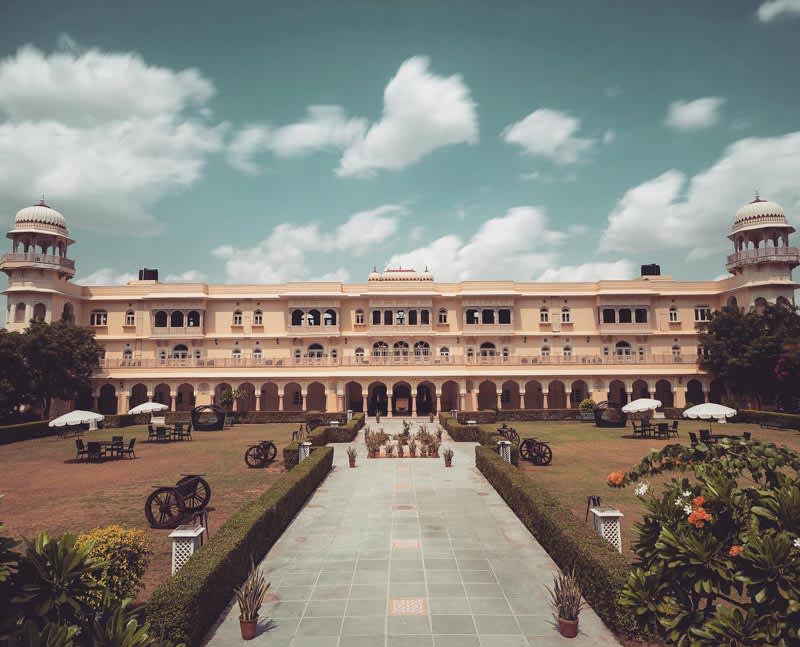 Strategically located on top of a cliff in the Aravalli Range, Mundota Fort guards the village. The fort's construction was completed in the 14th century by Naruka Rajputs. Currently, it has been transformed into one of the most affluent luxury retreats in the region. Mundota Palace has been consistent in maintaining its 450 years old heritage, luxury services and signature curated experiences such as the Dune Sundowner, paramotoring, heritage walks, dining at Mundota Stables, kite flying, camel polo etc. Their open floor plan suites are super-spacious and feature traditional Rajasthani frescos on the ceilings along with panoramic views of Mundota Fort and Bagh-e-Inayat. Make your way to this illustrious retreat and get set to make some ah-mazing memories! 
Where |  Mundota Palace - Mundota Road, Mundota, Rajasthan
Tariff | Rs 23,600 Onwards 
Call Them | +91 9660 605 555
Book Your Stay Online Here | https://mundotapalace.com
Check Out Their FB Page | https://www.facebook.com/mundotapalace/
10. Gudliya Suite At The City Palace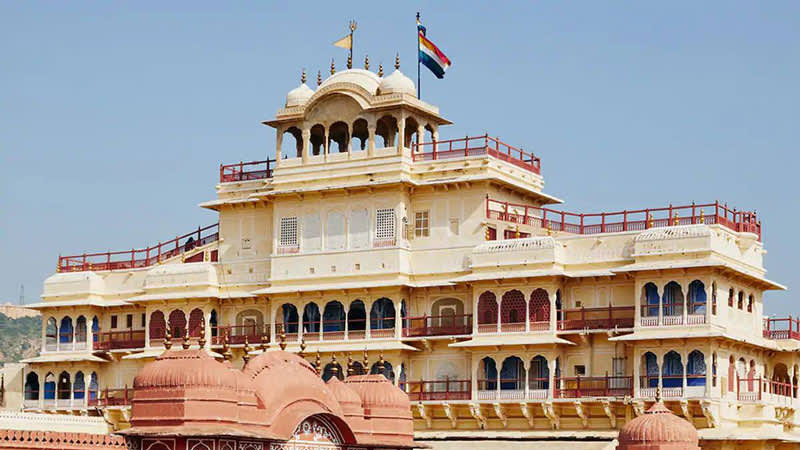 A sojourn at the Jaipur City Palace will take you on an enticing journey full of rich history, cultural heritage and the artistic traditions of Jaipur's royal family. The Gudliya Suite enthrals you with the opportunity of relishing authentic Rajasthani meals at the terrace overlooking the Aravallis, and serene breakfast sessions in the company of peacocks at the Palace's lush gardens. The City Palace's in-house restaurant, Baradari, offers a tailored menu featuring hearty Rajasthani dishes like Laal Maas. For all you history buffs out there, we've got good news for you. You will be pleased to know that there's a complimentary guided tour of the 1700s complex conducted to explain the intricacies of the architecture, art and décor at the palace itself. Head out for this glorious palace and gear up to hear some incredible folk tales when you land up for a stay here!
Where | Gudliya Sweet At The City Palace - Tulsi Marg, Gangori Bazar, J.D.A. Market, Pink City, Jaipur, Rajasthan
Tariff | Rs 569,200 Onwards 
Book Your Stay Online Here | https://bit.ly/37p1ezo 
11. Narendra Bhawan Bikaner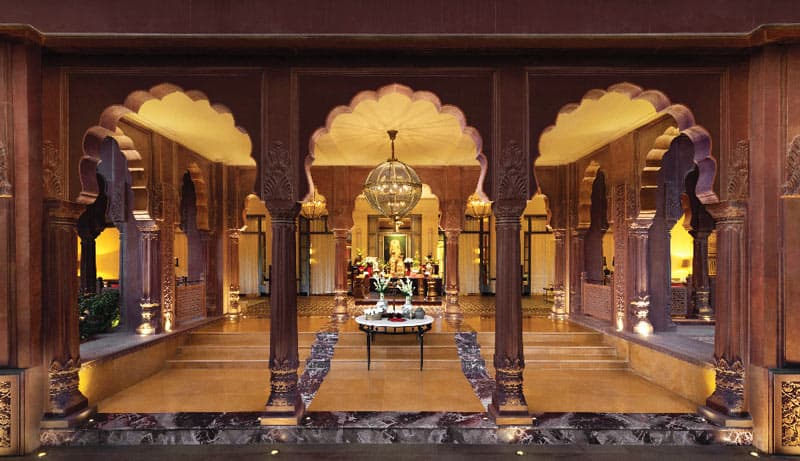 Narendra Bhawan in Bikaner is ingrained with Narendra Singhji's memories from his travels to destinations near and far. The ambience is thoughtfully decorated with dark inviting caverns, rich velveteen fabrics, chiffons and pearls. Cherish the luxurious experiences on offer here such as fine-dining at The Crescent Grill & Diner, Museum dinner at the Night Room, sundowners and more. We say you bring bae over here for a romantic getaway soon!
Where | Narendra Bhawan - Samvit Shikshan Sansthan, Gandhi Colony, Samta Nagar, Bikaner, Rajasthan
Tariff | Rs 5,376 Onwards 
Call Them |  +91 7827 151 151
Book Your Stay Online Here | https://www.narendrabhawan.com
Check Out Their FB Page | https://www.facebook.com/narendrabhawan
Now that we've done your homework for you, which palace are you checking out next?!