Delhi
These 11 Designers Are Slaying It With Their Offbeat Statement Jewellery - Splurge Away!
Quirky, vintage and off-beat jewellery pieces are certainly making their way into the hearts of shoppers in Delhi. Be it swanky malls or street corners, shopping spaces are celebrating all that is hip, cool, vintage, out of the box and certainly off the beaten track. These cool designers are where you can indulge your wacky side and give your accessory box a little twist.
1. Outhouse by Kaabia and Sasha Grewal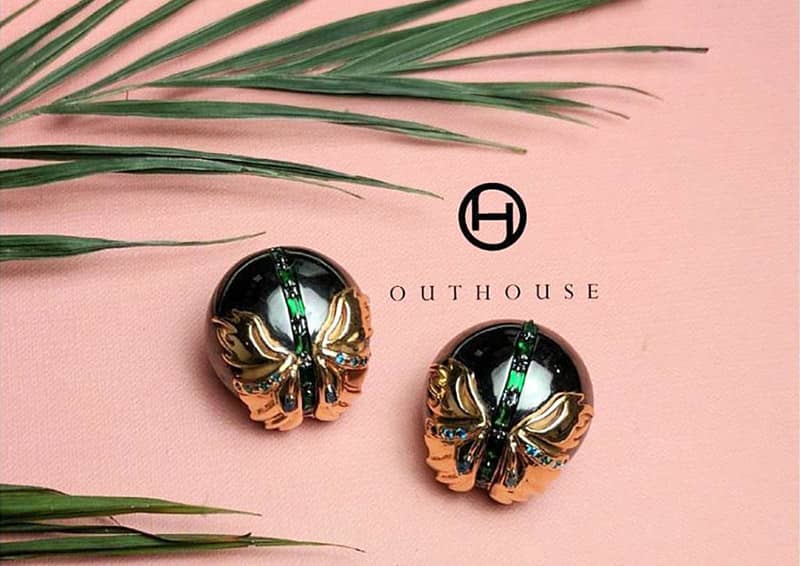 Outhouse is the brainchild of Kaabia and Sasha Grewal. They have come together to create edgy and eclectic baubles, which are currently ruling the roost of fashion accessories. Their jewellery is for the fun, fearless and audacious women of Delhi. Providing a fusion of contemporary style and rich craftsmanship is this elegant choker with semi precious stones that will glam up a muted outfit and can easily be worn for a dinner party or a night at the club. 
Where To Find Them | 144, Lodhi Road, Mehar Chand Market 
2. Tribe by Amrapali
Manish Arora is a master in whatever he does and so are his pieces of work with Tribe by Amrapali. Young, colourful, and modern, Amrapali offers a wide variety of body armours, bold waist belts, necklaces and ear cuffs. Though ear cuffs have been around for quite some time, they are mostly associated with western outfits. If you scout a bit more, you will find that these ear cuffs are a perfect go to accessory with your Indian wear, as well. These ear cuffs have just taken our hearts away as they are light and would look elegant for a function during the day time.      
Shop Online At | www.tribebyamrapali.com/
3. Pipa + Bella by Shuchi and Komal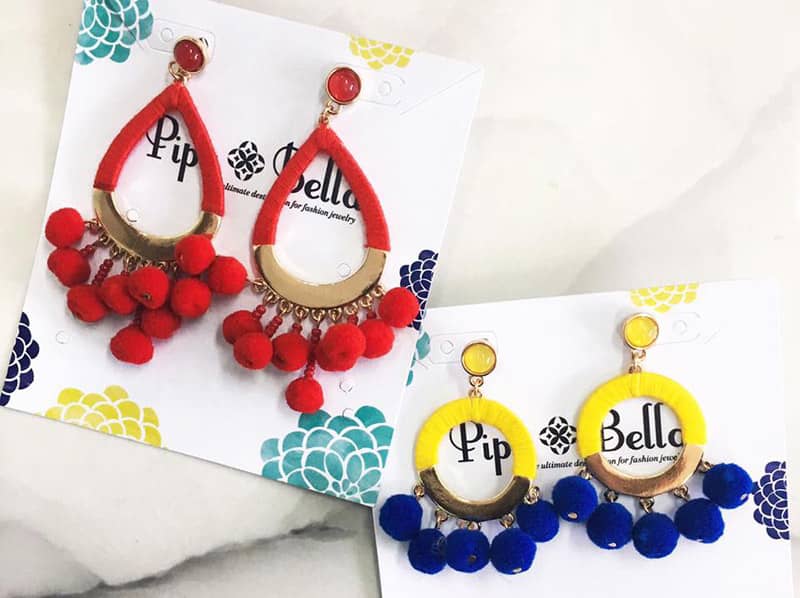 Pipa + Bella is an online store aimed at selling fashionable and affordable costume jewellery at par with international standards and trends. Offering trendy fashion jewellery, this  brand celebrates the women who are comfortable with who they are, what they wear, and most importantly what they believe. It's high time to bid adieu to the conventional hand cuffs and go big with larger-than-life and intricately-designed hand cuffs, hand harnesses, and knuckle dusters  to enhance the overall look of your hands.  
Shop Online At | www.pipabella.com
4. Prerto by Prerna Agarwal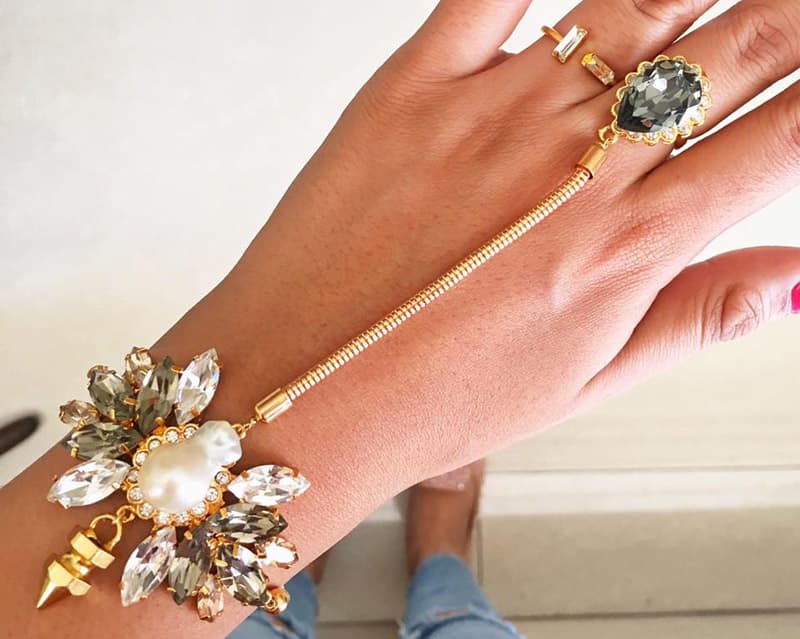 Jewellery is extremely personal and reflects your style. Prerto is versatile and is a mix  of classic, sophisticated and edgy pieces. We believe that fashion jewellery should be expressive and match to your moods and lifestyle. All the pieces Prerto has to offer are statement making and eye-catching. Prerto has an amazing collection of statement neck pieces, hand harnesses and  earrings which are surely not to be missed. We couldn't take our eyes off this beautiful hand harness embedded with semi precious stones. The spikes at the wrist add an old world charm to it.
Shop Online At | www.prerto.com
5. Amethyst by Rahul Popli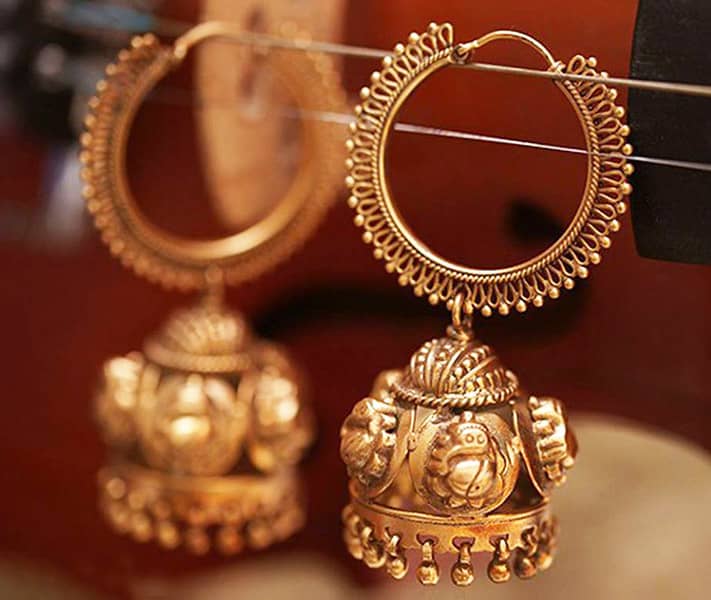 Head pieces and headgears are so much more elaborate now. Big, chunky and oh-so-stylish, head pieces are a hot favourite on the ramp these days. Amethyst by Rahul Popli offers elegant pieces in mesmerizing designs for all age groups and occasions. But before you head out to buy one, make sure that the headgear you choose, can be carried off effortlessly. This simple maatha patti with tiny dangling pearls is a gorgeous adornment with any Indian outfit.
Where To Find Them | 51-B, Khan Market & H5/1, Ambawatta Complex, Mehrauli
6. Suhani Pittie by Suhani Pittie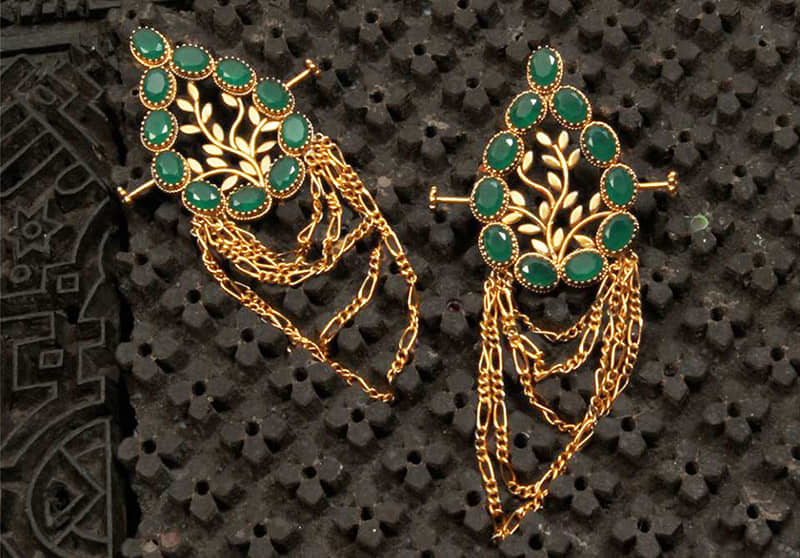 She is not just one of the world's most inventive and ingenious jewellery designers; almost all fashion magazines agree that she is also one of the most stylish and best dressed. She believes in creating contemporary jewellery that is unapologetically individualistic. Her label offers a huge collection ranging from neck pieces to waist belts; and not to miss the brooch which can surely jazz up any outfit. This brooch from Suhani's is elegant yet classy and can be worn with an array of outfits giving a desi twist to your evening wear. 
Shop Online At | http://www.suhanipittie.com/
7. Gioielli by Parneet Thukral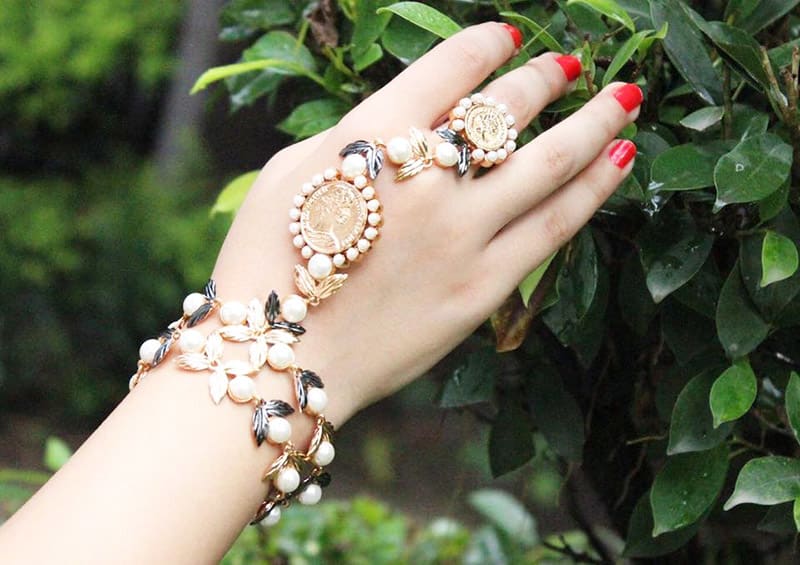 Each meticulously handcrafted piece is just so beautiful. Unique, complex and a mixture of contrasting materials, each piece of jewellery invokes a curiosity in an imagery of India's multiple layers. Rings, necklaces and earrings are sure to make the kill! Also  with the rise in temperatures, these light and easy to carry accessories can be teamed up with daily wear with elegance and elan. Our pick from Gioielli is this beautiful pair of earrings and the only thing that came to our mind was a smart and casual outfit for these stunners to shine!
DM Them At | https://www.facebook.com/Gioiellibyparneetthukral/
8. Aditi Bhatt by Aditi Bhatt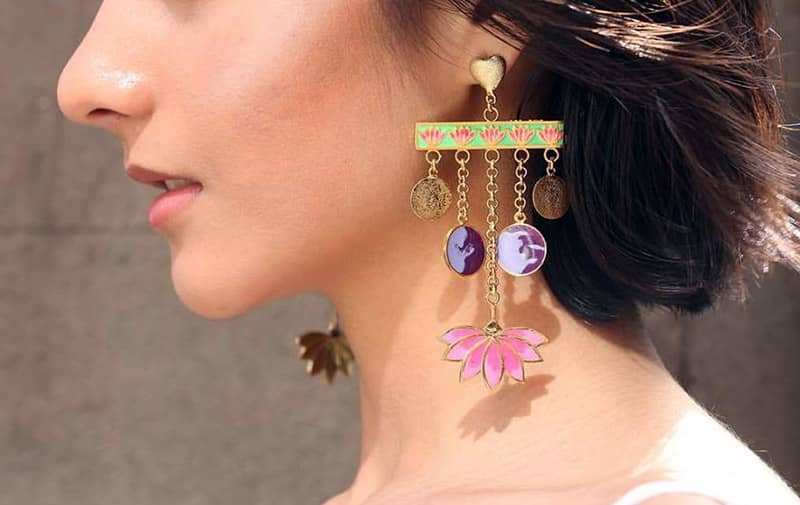 Her accessories are born out of a love for all things bright, colourful and bling. Made and inspired from India, each collection reflects the vibrant and exciting country that our country is. As you'd go through her collection, you will see the story behind each piece. Vibrant as it is, it has been also spotted on the vivacious women of the Indian Film Industry. If you love colours her collection is to die for. This Lotus Charm Bracelet has kept us busy admiring it, loving it and flaunting it.  
Shop Online At | www.aditibhatt.com
9. NIMAI by Pooja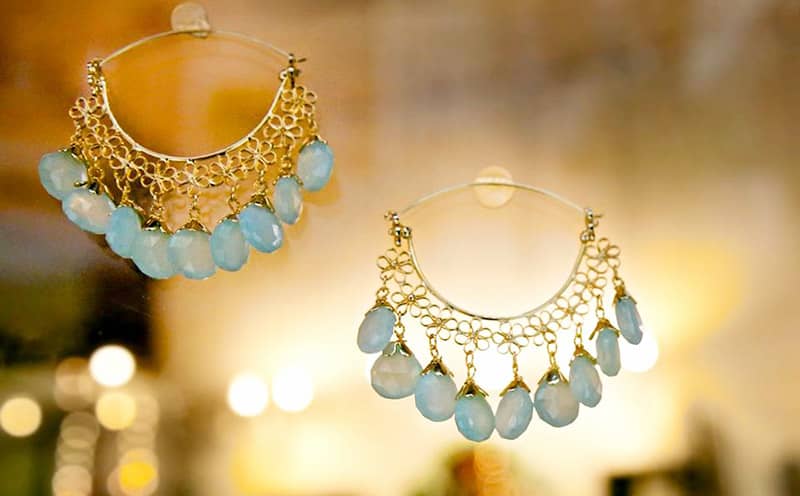 A prettily cramped store showcasing the works of 11 designers. Glitzy chains, colourful pendants and vibrant earrings; these pieces are elegant and delicate at the same time. With a wide variety of chains, earrings, bracelets and all things pretty to showcase, NIMAI strikes a chord with the girls and the ladies likewise. It's also one of those stores where you find something new and exciting every time you visit; and has built a loyal fan base. Beat those Monday blues with these gorgeous earrings, ladies and turn people green with envy!
Where To Find Them | 416, Shahpur Jat
10. Peritot by Sonam Ganeriwala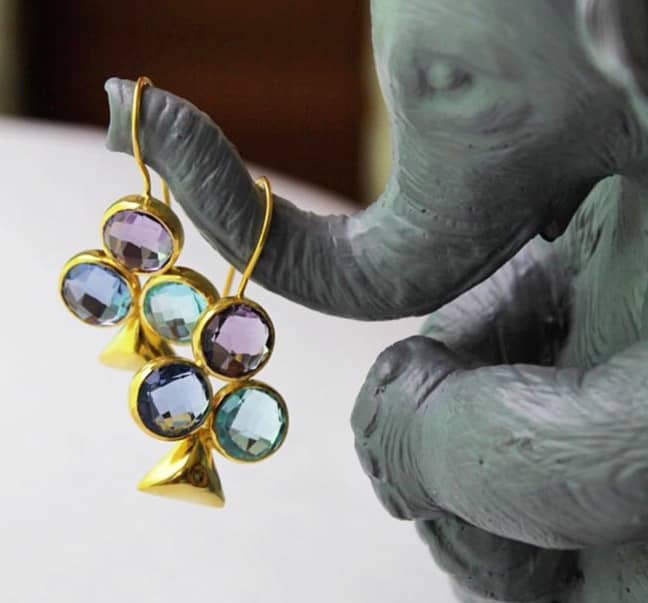 Peritot is an upcoming brand that's all about semi-precious stone earrings that look super chic and stylish! They've got earrings with coloured translucent stones, pearls, and a variety of other stones and metals. Pair them up with a simple cocktail outfit or with a casual day look, and they'll add a fab, colourful pop to your ensemble!
DM Them At | https://www.facebook.com/peritotbysonam/
11. Angel Casa by Shraddha Nefressica Talwar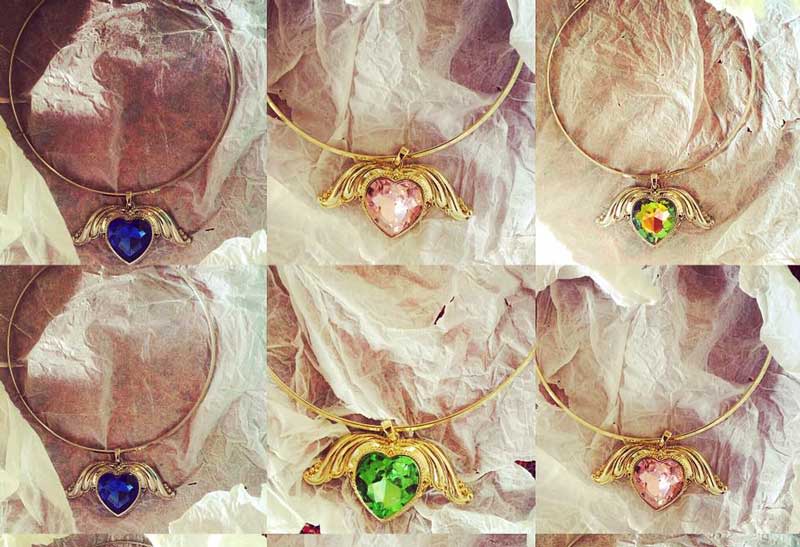 Angel Casa is dedicated to the gorgeous, classy and angelic woman in you! Shraddha's range consists of carefully chosen, designed and hand crafted pieces including chokers with angel wings, body-chains, feathers, mermaids, unicorns, and much more. Each piece of jewellery has its own story to tell. Easy to wear, this gothic choker with a cross had us enraptured the moment we saw it. 
Shop Online At | https://www.facebook.com/pages/Angel-Casa/542522269216969
So zero in on your beloved bauble and splurge away!