Delhi
11 Crazy Waffles Like JD Waffles To Try @ The Waffle Mart At Pepsi Presents Horn OK Please Fest
Disclaimer: Bearing in mind the current restrictions in the city and the world at large, we're tweaking our content policy and recommendations to focus more on staying indoors and exploring the digital world and all its wondrous offerings! Stay positive, keep hygiene levels up and don't fall prey to panic and misinformation.
Waffles are always on Delhiites' minds and that's why the lovelies at Horn OK Please are setting up an entire arena dedicated to just waffles and they're calling it the Waffle Mart *huge grins*! They're bringing the best waffles joints in town under one roof and we've gone and picked out 11 waffles that you HAVE to try while you're there, check it out! 
1. Waffle Hot Dog From Waffle's Up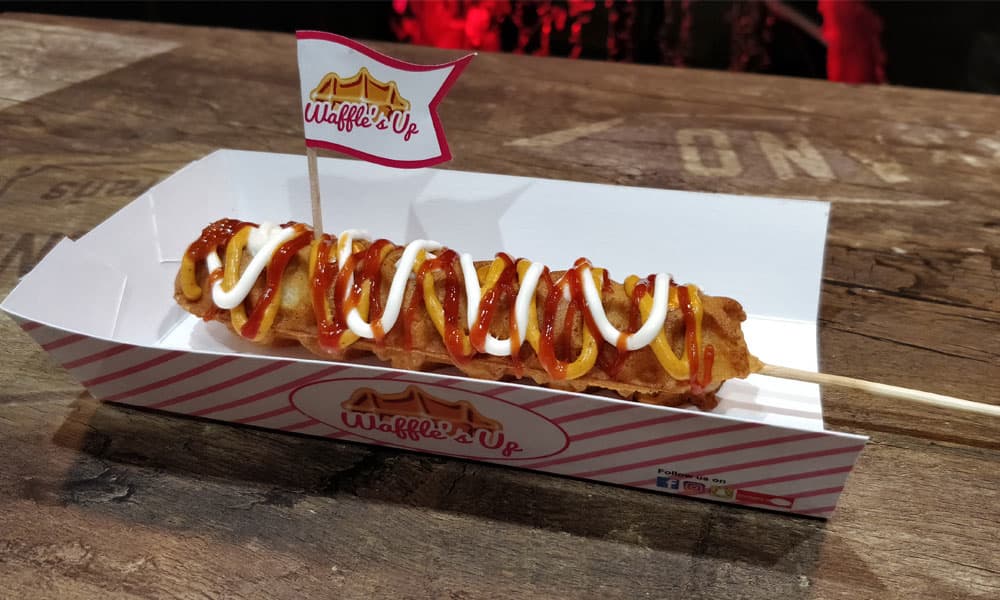 There are crazy waffles and then there are crispy waffles wrapped around a hot dog sausage-kinda crazy waffles! Waffle's Up is bringing in their very popular Waffle Hot Dog to this fest and we're already drooling. 
You can choose anything from a classic ketchup topping to chilli garlic, mayonnaise, tandoori, mexicana or mustard toppings and trust us, you're gonna love 'em all! 
Check Out Their FB Page | https://www.facebook.com/wafflesup/
2. Ride With Marshmallow From The Waffle House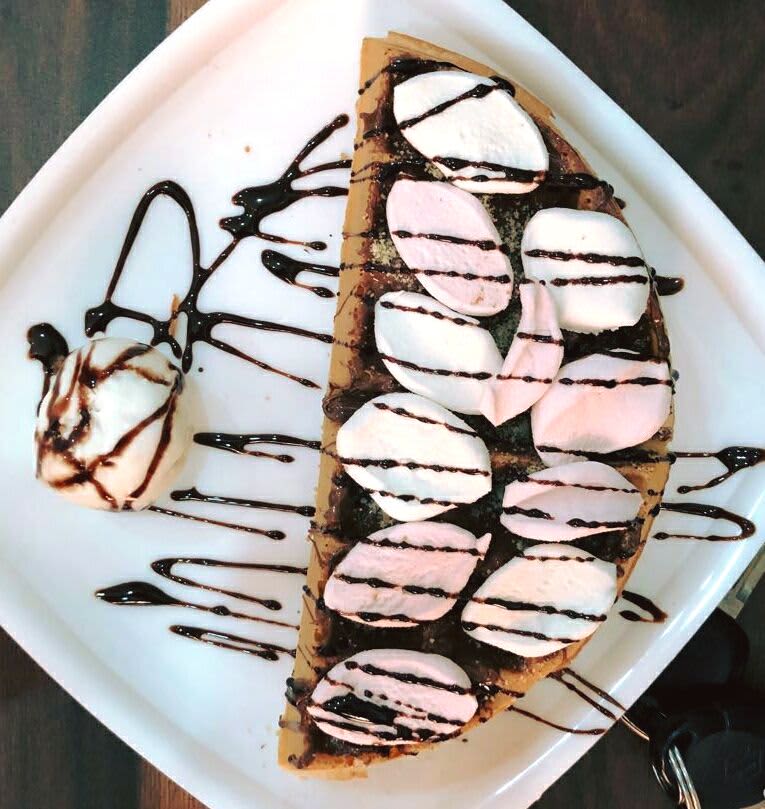 Who can say no to a waffle topped with tons of gooey marshmallows, chocolate and ice cream? Definitely not us! And we can't wait to drop by The Waffle House's stall at this fiesta and hog on their crispy waffles served with loads of marshmallows, Nutella and generous dollops of ice-cream *heart eyes*! 
Check Out Their FB Page | https://www.facebook.com/thewafflehousepv/
3. Jelly Wow Waffles From Maka Maka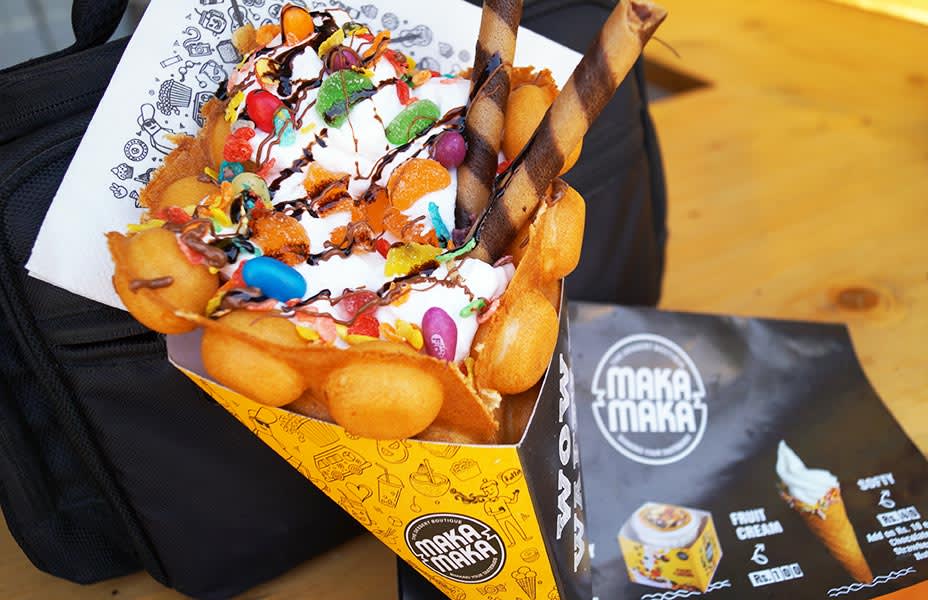 YAASSS, Maka Maka is bringing in their delicious bubble waffles and we can already feel the sugar rush hitting us RN! We highly recommend their Jelly Wow Waffles which they serve with various jelly flavours along with chocolate Munchini and whipped cream and it's something you CANNOT miss out on!   
Check Out Their FB Page | https://www.facebook.com/makamakaindia/
4. JD Waffle From Chocolate Desire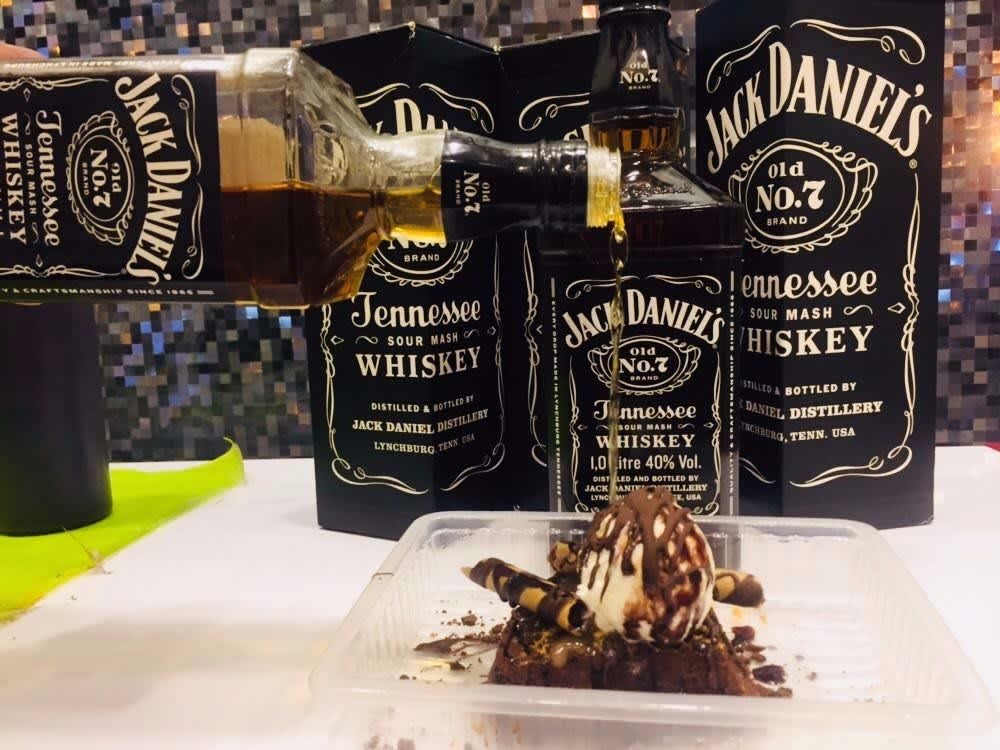 A boozy twist to our favourite dessert? We're loving this one already! One of our fave dessert parlours - Chocolate Desire is dropping by this epic fest and they're bringing in JD (Jack Daniels) loaded waffles *YAASSS*. Topped with loads of chocolate, ice-cream and of course - JD, this waffle is a must-try here!
Check Out Their FB Page | https://www.facebook.com/thechocolatedesire/
5. Crazy Monster Waffle From Waffle King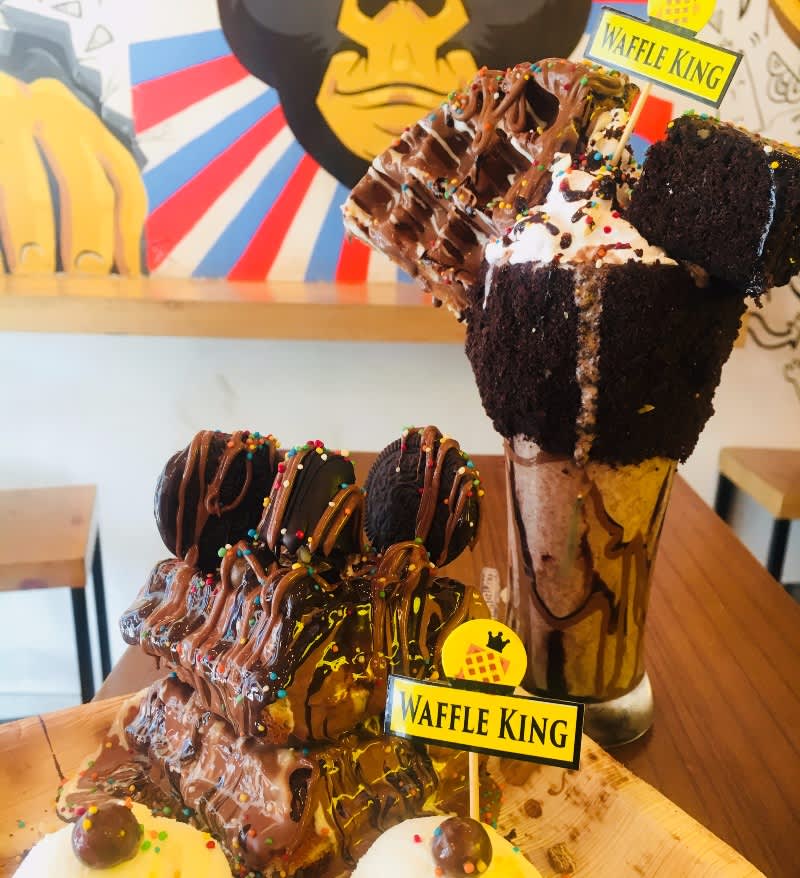 Time to move over monster shakes, 'cause Waffle King is bringing in Monster Waffles to Horn OK Please *woohoo*! This one comprises layers of waffles topped with lotsa different chocolate sauces, scoops of ice creams, chocolate biscuits, sprinkles and then some more chocolate sauce *wiping the drool away from the keyboard*! 
Trust us, you wouldn't be able to finish this one alone, so gather all your buddies together before heading to this stall!  
Check Out Their FB Page | https://www.facebook.com/Thewafking/
6. Death By Waffle From Waffle Lust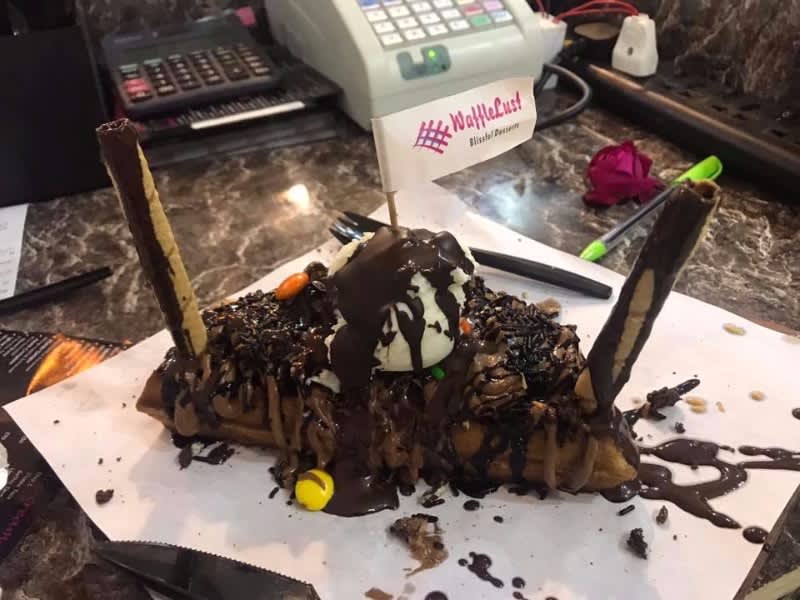 If we all are to die one day, then why can't it be a super sweet and chocolatey death? Yass! Waffle Lust is here with their crunchilicious Death By Waffles and it's yummy AF! The chocolatey waffle is topped with Kit Kat, Oreos, Nutella, colourful gems, vanilla ice cream and loads of chocolate sauce. Everything delicious in one waffle *wow*!
Check Out Their FB Page | https://www.facebook.com/Waffle-lust-171663506929577/
7. Fruity Bliss From WaffleWallah
 
Wanna try out something not-so-chocolaty? Then this one is going to be perfect for you! Loaded with freshly sliced fruits, ice-cream and choco chips - the Fruity Bliss Waffle from WaffleWallah is actually fruity heaven on a plate, so don't forget to drop by their stall and devour all their yummy waffles!  
Check Out Their FB Page | https://www.facebook.com/WaffleWallah/
8. Waff Tacos From Me Waffle N More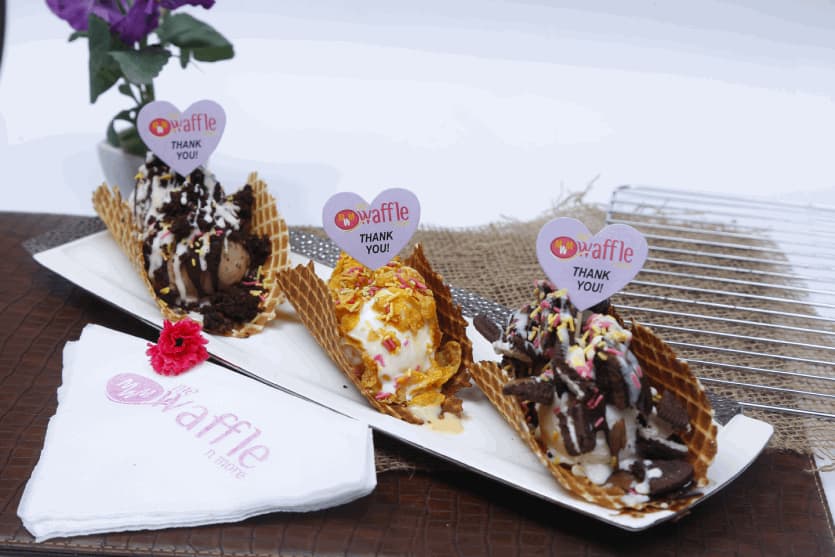 With truck loads of chocolate and deliciousness, Me Waffle N More will drive you crazy with their mad list of Waff Tacos. From Crunchy Caramel Surprise to the Everlasting Nutella waff-tacos, you are SO gonna love this overdose of sweetness!
Check Out Their FB Page | https://www.facebook.com/mewafflenmore/
9. Banoffee Pie Waffle From The Waffle Co.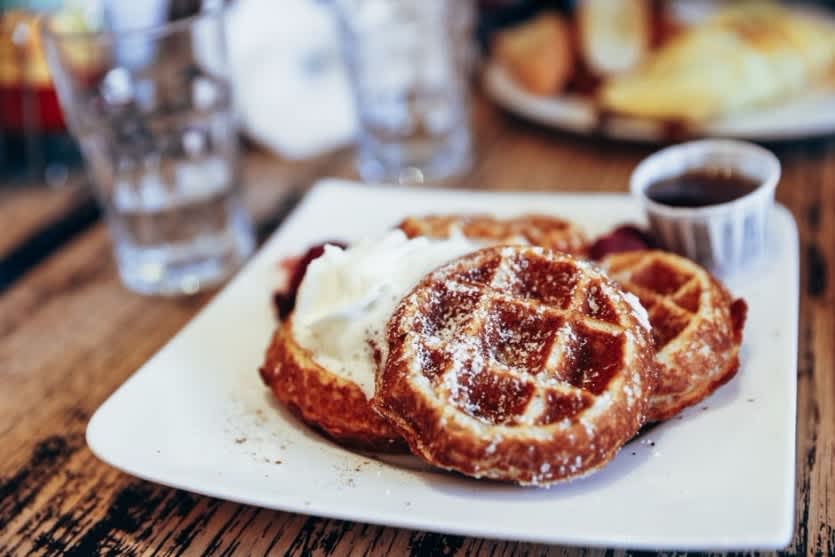 This Is A Representative Image
If too much chocolate isn't what floats your boat, then you are gonna love this one. This waffle is topped with fresh banana caramel, super crunchy cookie crust, vanilla ice cream and lots of whipped cream *DROOLS*. Can you even think of missing out this one? No, sir!
Check Out Their FB Page | https://www.facebook.com/thewaffleco.hudsonlane/
10. White Forest Waffle From Waffle Chowk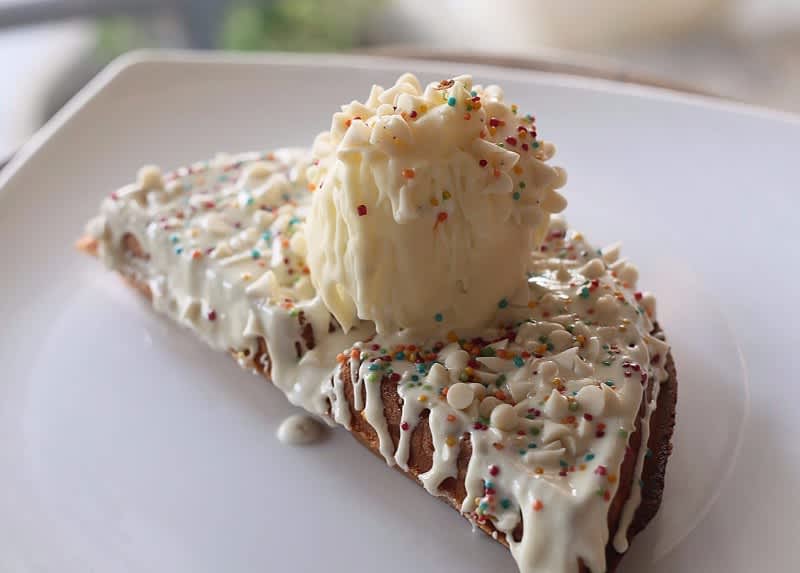 With white chocolate sauce layers and vanilla ice cream topped with tiny colourful sprinkles and white chocochips - this waffle looks like perfection served on a plate! Crispy, sugary and sinfully delicious - this waffle is a must try for all the waffle lovers out there! 
Check Out Their FB Page | https://www.facebook.com/thewaffleco.hudsonlane/
11.  Cotton Candy Waffle From The Waffee
Oh, this one is something we can't wait to get our hands on! The lovely peeps at The Waffee are getting their Cotton Candy Waffles to this fest and our inner sugar-monster is doing a happy dance - you just gotta drop by their stall for this yummy alone! 
Check Out Their FB Page | https://www.facebook.com/The-waffee-165550780717933/
These guys are taking our love for waffles to another level and we're definitely lovin' it! But that's not all fellas, once you satiate your waffle cravings, you can grab something savoury from the 50+ food trucks that are gonna be there or splurge at the Quirk Bazaar or chill with your buddies at the Pop Up District that'll feature lots of standalone outlets serving single cuisines, or check out the cool, pocket-friendly Grub Campus that'll be laden with stalls serving most dishes under Rs 200! 
So gather the gang and head to the 3rd edition of Delhi's original food truck festival! 
PS - The tickets are out peeps, so get yours right away! 
When | Friday - Sunday, 9th - 11th March 
Timings | 12 Noon - 10 PM 
Where | Gate No. 14, JLN Stadium 
Book Your Tickets Online Here | https://goo.gl/Sdho1W 
RSVP On FB Here | https://www.facebook.com/events/794727764051293/