Delhi
11 Amazing Brekkie Places That'll Make You WANT To Get Out Of Bed On Sunday Mornings
Eating a wholesome, delicious breakfast is like saying good morning to your body - and giving yourself a reason to wake up and go out into the real world! A leisurely breakfast in a beautiful place is the key to staying happy and shining all day, and we've got you a list of places that offer some of the most delirious dishes in town for the best breakfast dates in the city. These places will definitely make you want to get out of bed, even on a lazy Sunday morning - scroll on!
1. Cafe Lota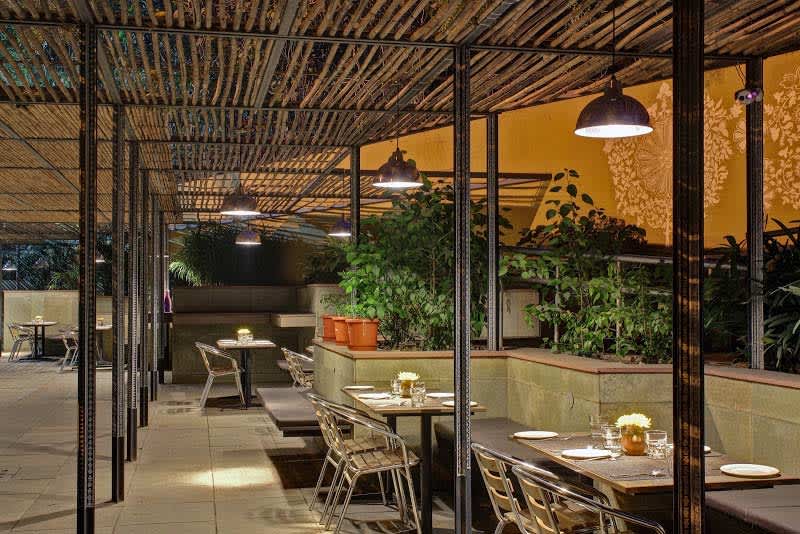 Picture Credits: Jindal Delhi
The unique, artsy cafe nestled in a traditional crafts museum offers an interesting contemporary take on traditional Indian dishes, along with artisanal tea and coffee. Their Banana Ragi Pancake, Bhapa Doi Cheesecake, and lots more makes for a lovely breakfast, in a charming village themed setting. 
Their outdoor area is also the perfect place to chill on a winter morning. Don't forget to visit the souvenir shop that offers cutesy stuff from all over the country! 
Meal For Two | Rs 1,200
Where | National Crafts Museum, Pragati Maidan
Check Out Their FB Page | https://www.facebook.com/CafeLota/
2. Rose Cafe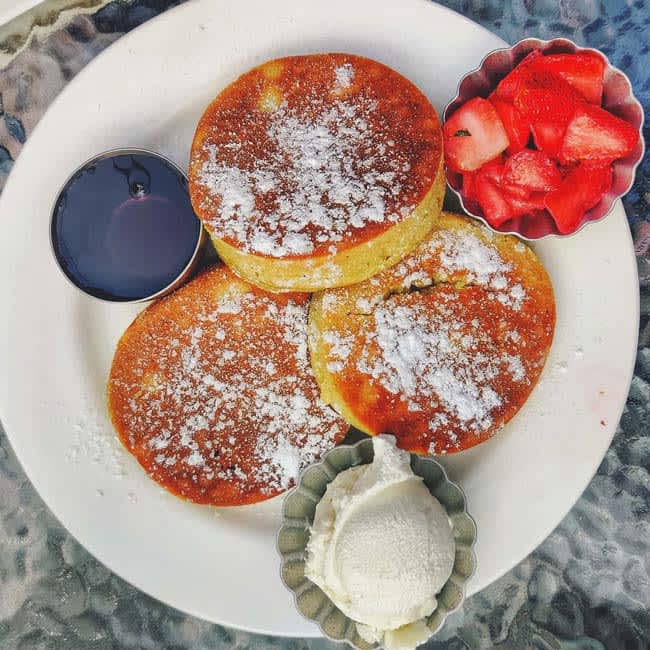 This elegant Victorian-style cafe is styled in pastel blues and pinks and ornamented with rich wooden furniture, making the cafe as pretty as a rose! Winter mornings call for a breakfast date in their pretty AF outdoor seating area. 
They offer an All Day Breakfast Menu with hearty meals and lovingly cooked recipes! An ideal place for a morning gateway with friends, the Rose Cafe will provide you with the yummiest of fuel to function for the day!
Meal For Two | Rs 1,000
Where | Rose Cafe - 2, Westend Marg, Saiyad Ul Ajaib Ex, Behind Saket Metro Station
Check Out Their FB Page | https://www.facebook.com/rosecafenewdelhi/
3. Music & Mountains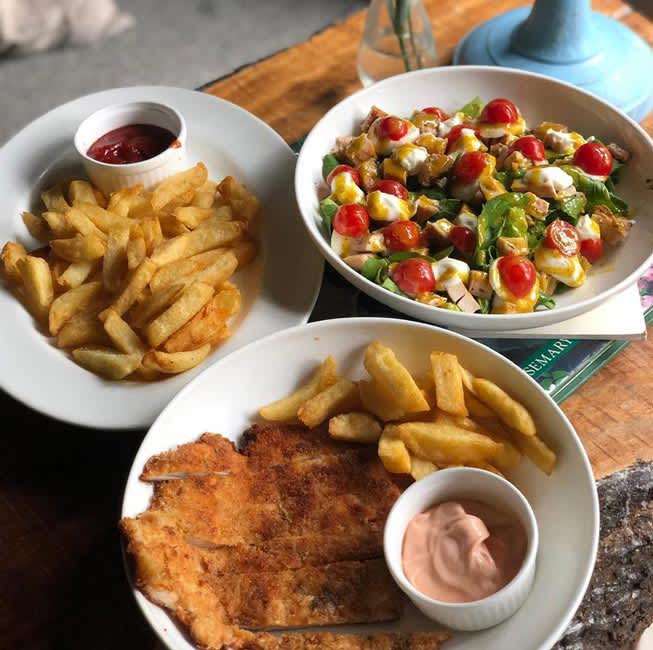 Winter weather calls for a much-needed getaway to the mountains, but we can't always go on a vacation to the hills. But luckily, we have 'the mountain cafe'  Music & Mountains, making us forget that we're in the middle of the city, thanks to its cosy interiors and warm cups of coffee. 
The music, the bookshelves, the faux fireplace and wooden interiors win at transporting our souls to a little cottage in the hills while we're there! Don't forget to try the Doon Valley Chicken and the Pork Sizzler - they're nothing less than heavenly!
Meal For Two | Rs 1,900
Where | Music & Mountains - M-23, M- Block Market, GK I
Check Out Their FB Page | https://www.facebook.com/MusicandMountains/
4. The All American Diner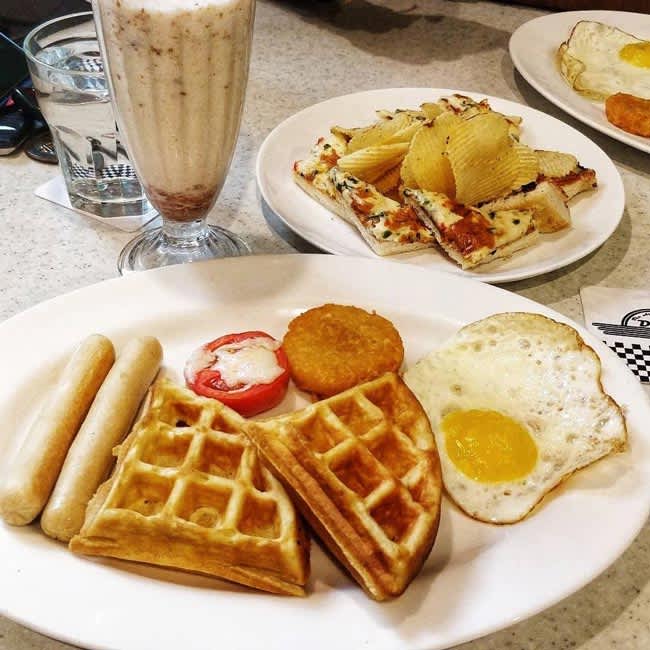 Picture Credits: saumyas_simply_scrumptious
If you want an authentic New York City breakfast feel in the middle of New Delhi, you can stop looking, because The All American Diner is most definitely your place! With the perfect ambience and an even better location (in the middle of one of Delhi's most loved cultural hubs), the diner is the answer to all your baked breakfast cravings, from wholesome, healthy bagels to guilt-inducing chocolate croissants *heart eyes*! 
Meal For Two | Rs 1,500
Where | The All American Diner - Ground Floor, India Habitat Centre, Lodhi Road
5. The Blue Door Cafe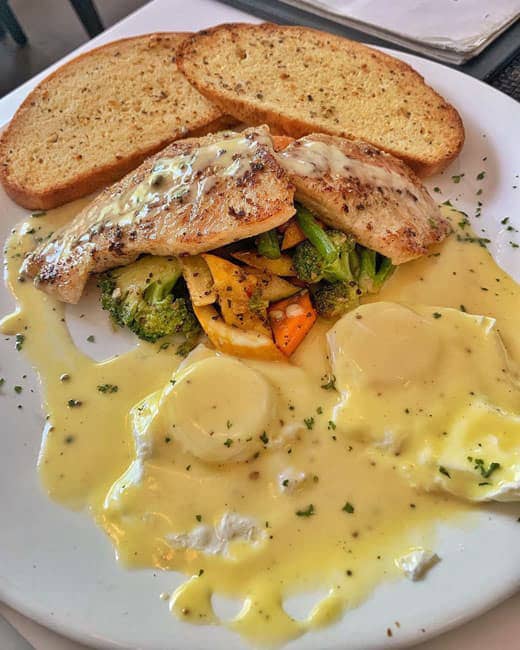 An eclectic space in Khan Market, The Blue Door Cafe serves a delish all-day breakfast menu, serving the best of smoothies, crepes and waffles. The breakfast place also features an art gallery and a terrace, and is located in one of Delhi's most loved markets. It's a great place to dine for breakfast before you head for a shopping spree during the day! 
Meal For Two | Rs 1,700
Where | The Blue Door Cafe - No. 66, Opp Cafe Coffee Day, Middle Lane, Khan Market
Check Out Their FB Page | https://www.facebook.com/thebluedoorcafedelhi/
6. Smoke House Deli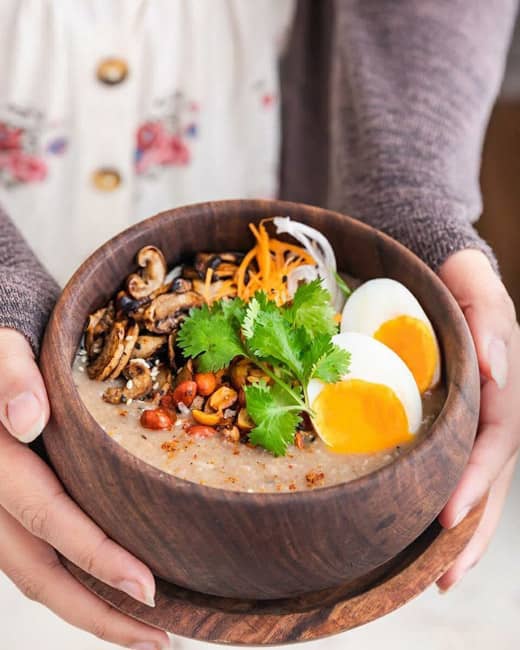 The delightful interiors of the Smoke House Deli in CP borrow from the design and feel of Connaught Place, as well as combining elements from Venetian coffee houses, making it a charming place to start your day with a cup of tea. Meet up with your best friends for a breakfast of supple vanilla pancakes with rich maple syrup and cream, and you're bound to be happy for the rest of the day! 
Meal For Two | Rs 1,600
Where | Smoke House Deli - CP, DLF Promenade, Vasant Kunj, Khan Market & Other Outlets
Check Out Their FB Page | https://www.facebook.com/smokehousedeli/
7. IHOP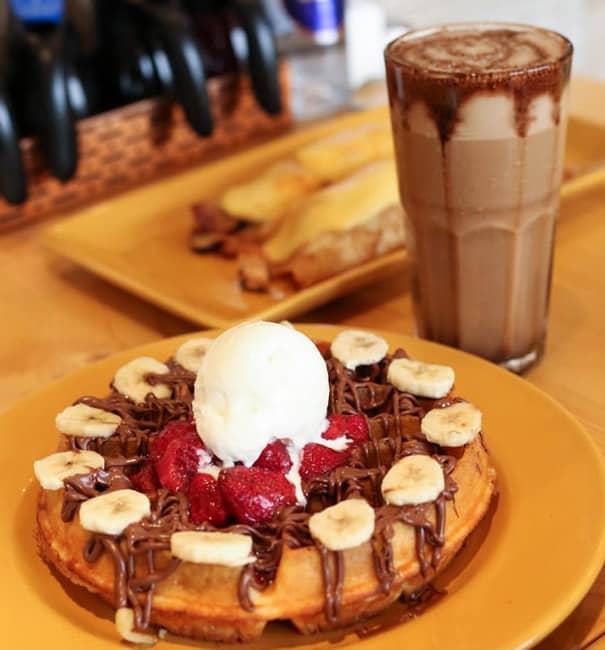 Specialising in breakfast food, the International House of Pancakes is a place to connect over breakfast, enjoy study breaks, grab a bite with a date, or just savour a delicious all-day breakfast to go about the rest of the day with a smile! Smiles at IHOP are a constant feature, and after having a delicious, comforting meal at the cafe, you'll understand why!
Meal For Two | Rs 1,100
Where | HOP - DLF Cyber Hub, DLF Cyber City, Gurgaon 
Check Out Their FB Page | https://www.facebook.com/ihopcyberhub/
8. Cafe Tesu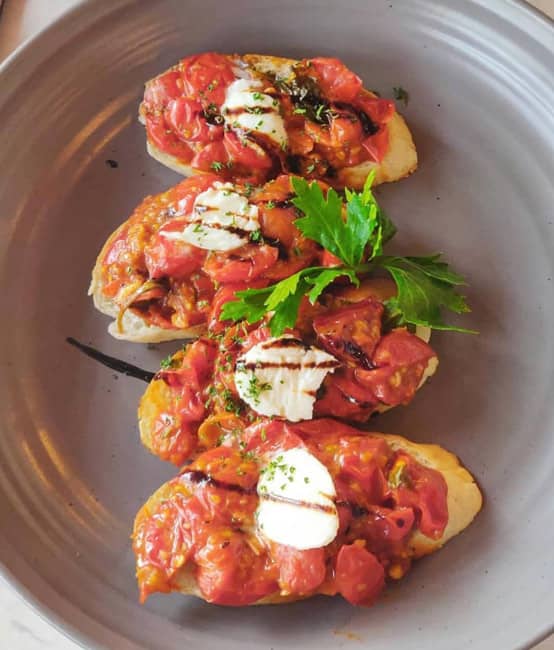 We'd go back to Cafe Tesu every time for their unmatched coffee, which they craft with such passion and expertise it's hard not to feel it with every sip you take! A bright coffee and breakfast place for you to sit, sip and talk, the dreamy cafe is decorated with a beautiful teal colour and gorgeous windows. The cafe takes you into a warm and welcoming world, the kind where you'd want to have your breakfast, every day! 
Meal For Two | Rs 500
Where | Cafe Tesu - Essex Farms, 4, Sri Aurobindo Marg, Vijay Mandal Enclave, Kalu Sarai
Check Out Their FB Page | https://www.facebook.com/cafetesu/
9. Roots - Cafe In The Park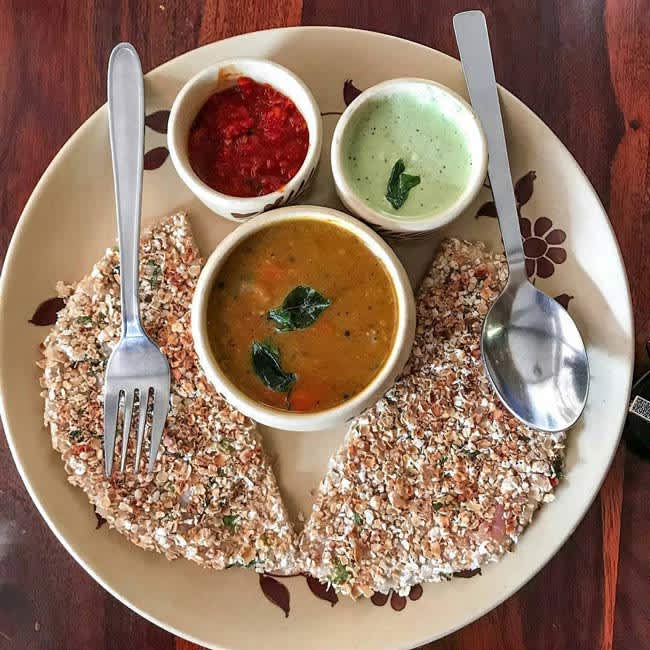 Situated in the middle of a park, Roots provides a wonderful place to sit in the lap of nature and enjoy a delicious and serene breakfast. Winter mornings in Delhi call for their lovely outdoor seating, a cup of their Nutella Hot Chocolate and divine Railway Masala Omelette for a perfect morning meal! The cafe has something for people of all ages, so head on over there with your family and enjoy a serene morning you'll remember forever! 
Meal For Two | Rs 600
Where |  Roots Cafe - In The Park - Sector 29, Gurugram 
Check Out Their FB Page | https://www.facebook.com/RootsCafeGurugram/
10. SodaBottleOpenerwala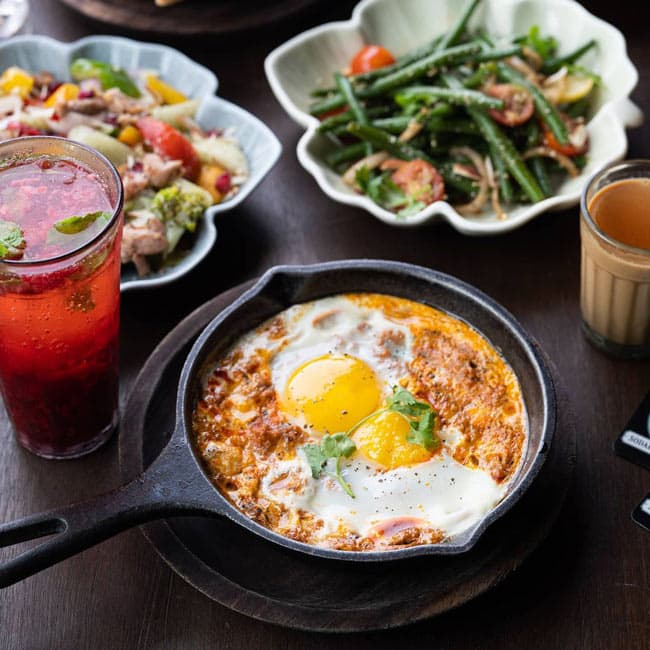 Inspired by a wonderfully chaotic, crowded, bustling, colourful, quirky and eccentric world of an Irani cafe, the concept cafe and restaurant is a fun and quirky place to have a good time with your friends over a cup of coffee, to set the right kinda vibrant mood for the rest of your day. Come drop by!
Meal For Two | Rs 1,300
Where | SodaBottleOpenerWala - Khan Market, DLF Cyber Hub & DLF Mall Of India, Noida
Check Out Their FB Page | https://www.facebook.com/SBOWIndia/
11. Andhra Bhawan Canteen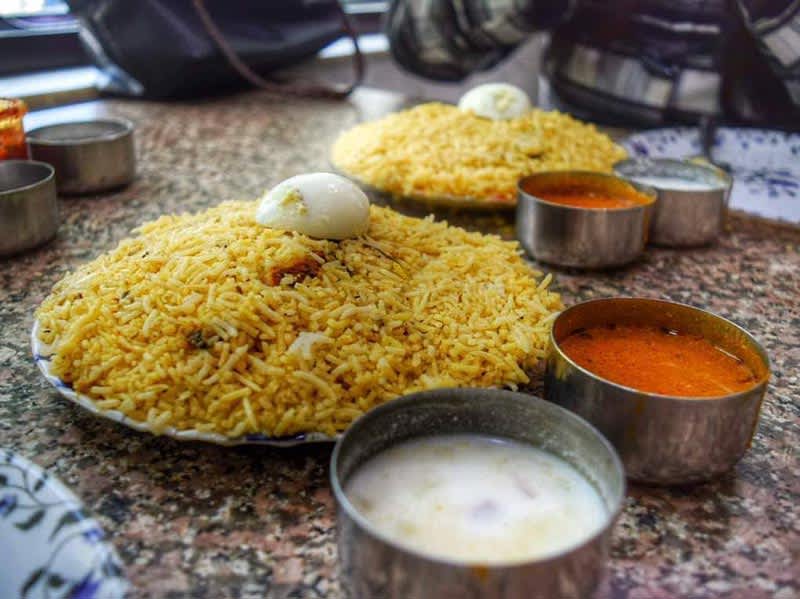 We're all familiar with Andhra Bhawan and its the perfect place to check out if you're looking for the perfect South Indian meal. But, what makes this place so much more sought-after on Sundays is their uber-delicious and piping-hot Dum Biryani, which is especially served only on Sundays and you'll always find a huge line of people here, who're looking for a taste of this delicacy. We'd advice y'all to drop by before the evening if you want to taste this yumminess! 
Meal For Two | Rs 350
Where | Andhra Bhawan Canteen - 1, Ashoka Road, Near Feroze Shah Road
Check Out Their FB Page | https://www.facebook.com/AndhraBhavanCanteen 
They say how you feel at the beginning of the day sets the tone for the rest of it. So head on over to these cafés and make your days brighter and happier!