Delhi
9 Types Of People You're Most Likely To Find At The Happiest Food Festival Horn OK Please
The 7th edition of Horn OK Please - Delhi's Happiest Food Festival, presented by MAGGI FUSIAN and co-powered by Fresca Juices & POLO - The Mint With The Hole this February and we literally can't stop jumping with joy. But with the comeback of Delhi's Happiest Food Festival, we got thinking about several kinds of people that we have come across there over the past few awesome editions. So here's a handpicked list of the various types of folks you'll invariably stumble into when you land up at this fiesta!
Type # 1 - The Momo Lovers Trying Each & Every Variety There Possibly Is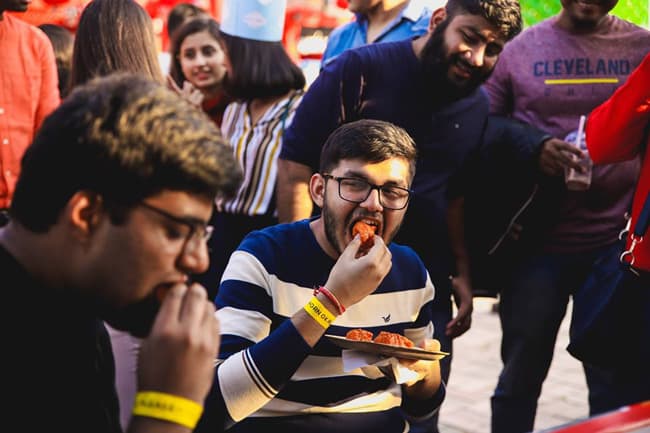 We Delhiites totally love our momos, but these type of people ADORE this delicacy to bits! Yep, the first category of people includes everyone whose love for momos is so intense that they're ready to hop over to this food fiesta just to get their hands on all the diverse kinds of dumplings that they possibly can. We definitely can't wait to drop by the fest and try 'em all!
Type # 2 - The Selfie Lovers Getting Clicked With All The Photo-Op Spots Cuz *Doin' It For The Gram*
There are people who like to get clicked and then there are people who live for their Insta-feed. And for them, this food fiesta is a paradise for here, you'll find a number of brilliant backdrops which will amazing photo op spots where you can get that perfect picture for your next DP clicked. You'll definitely run into people capturing numerous selfies or even striking that red carpet pose while they get immortalised on film by their loved ones!
Type # 3 - The Broke Bhukkad Souls Hogging Away On Low-Priced Dishes
You can find a number of dishes available over here which are priced at affordable rates and if there's someone you're sure to run into here, it's broke bhukkad souls. Yep, they'll be busy stuffing their faces with all that's on offer here as this fest is an absolute haven where you can munch on insanely scrummy dishes without digging some major holes in the pocket. And if there's something that we broke souls love? It's pocket-friendly grub for sure!
Type # 4 - The Revellers Found Right Next To The Artist Stage, Dancing Like No One's Watching  
With an absolutely cool artist line-up, it's no wonder that the music-lovers can often be seen trying to get the best view of the stage and of course, grooving like it's the end of the world! These people are so into their element with hands raised and with all those flawless twirls, it looks like they've come geared up to win the next national dance competition (pretty sure, they might even bag it!).
Type # 5 - The Lovey-Dovey Couples There For A Hatke Date Experience
If there's one category of people that you will definitely stumble upon here, it's the lovey-dovey couples. And the fact that this food fiesta is coming back with its V-Day edit, you might just spot these love birds giggling at inner jokes while they sway to the rocking music playing here, uninhibitedly beaming with utter joy as they lose themselves to the innumerable romantic experiences on offer at the carnival or just binging on all the V-Day themed yummies - after all, a fun-filled date is incomplete without good food!
Type # 6  - The Fashionistas Trying To Steal The Best Deals @ The Quirk Bazaar
When you're at H.O.P., you'll defo come upon TONS of fashion inspirations walking around the gigantic arena. But what's even more entertaining is when you get to see these fashionistas trying to snag the best deals at the Quirk Bazaar. With impressive discounts available at almost all the stalls, it won't be surprising to find them honing their bargaining skills and trying to snap up the best deals that they can spot!
Type # 7 -  People With Babies Or Kids Not Ready To Get Off All The Rides!
The carnival zone is one place where you'll be greeted with hordes of tiny tots laughing incessantly while jumping on the bouncy castle, snickering away on the carousel and just enjoying themselves while having a gala time on all the rides. But over here, you'll also chance upon parents struggling to get their children to leave the rides once their turn is over! Well, we don't blame these munchkins, we wouldn't wanna leave either if we'd be having as much fun!
Type # 8 - The Thrill-Seekers Looking For A Dose Of Adrenaline Rush
These people love every kind of rides and you might find them standing in a queue waiting not so patiently for their turn! Yep, Horn OK Please has previously been a host to some absolutely exciting rides such as the Columbus, Carousel, Cup & Saucer and even the good ol' Bull Ride, where these type of people flock over to in large numbers. Since most of the people turn up with their squad, they often end up going on it together, taking multiple turns even!
Type # 9 - The Bar Raiders Making The Most of All The Boozy Deals
Lastly, we have the boozeheads. Delhi's Happiest Food Festival is practically incomplete without cool deals on drinks and these type of people will never let one go if they get to know about it. The bar raiders will typically be found in the bar area where they're trying to get their hands on all the lip-smacking boozy drinks like Bira, Hopper, Bee Young and Mahou at the 7th edition of Horn OK Please!
The 7th edition of Horn OK Please is just around the corner and the tickets are now live. If you're up for a whale of a time this V-Day, then mark your calendars for 14th - 16th of February! And do let us know how many of these have you already seen before or which category do you belong to?!
When | Friday - Sunday, 14th - 16th February
Where | Gate No.2, JLN Stadium
Entry | Rs 149 Onwards
Timings | 12 Noon - 10 PM
Book Your Tickets Online Here | https://www.nearbuy.com/delhi-ncr/horn-ok-please-food-truck-festival-pragati-vihar
RSVP On FB Here | https://www.facebook.com/events/586675582186475/