Delhi
10 Things You Can Do By Yourself To Enjoy An Enriching Solo Date In The City
With the growing stress of everyday life and the added pressures of living in a metropolitan, we think all of us deserve to take some time off and spend a day that we dedicate to ourselves. 
Do you find it difficult to attain some quiet alone time? Is the hectic Dilli life getting to you? Trust us, we know how it feels! In our quest to help take some of that pressure off your shoulders, we have curated a list of all the uber-cool spots in our very own Dilli, that will be like a much-needed trip to Nirvana. What are you waiting for? Dive in!
1. Spot Nilgais @ Sanjay Van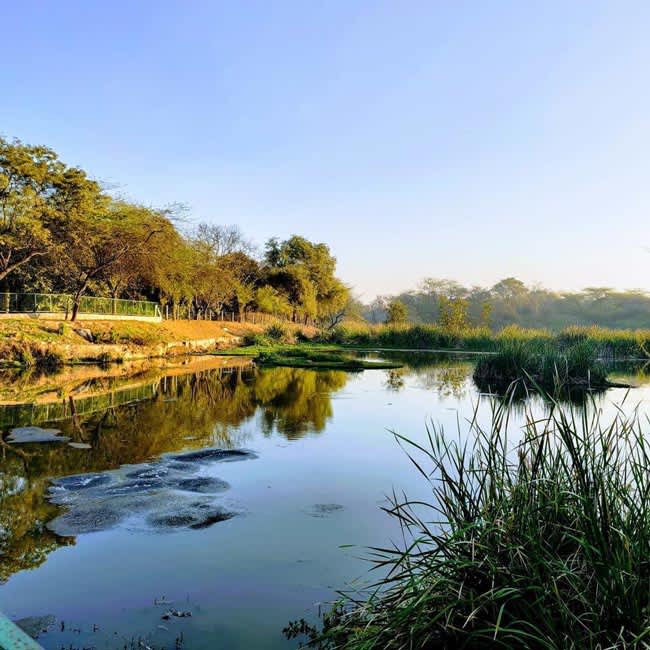 Picture Credits: jamesritisha
If you are a lover of some scenic natural beauty, we have the perfect Solo date for you. Head on over to the magnificent Sanjay Van and we are sure that the massive size along with the dense foliage will win your heart. The best part? You can spend your time here gazing at the awe-inspiring Nilgais and even take your camera out for a spin! The calm atmosphere might also inspire you to compose a song or write a poem or two, the possibilities are endless. 
Where | Qutub Institutional Area; Neela Haz Bridge, Vasant Kunj
2. Stroll Through Champa Gali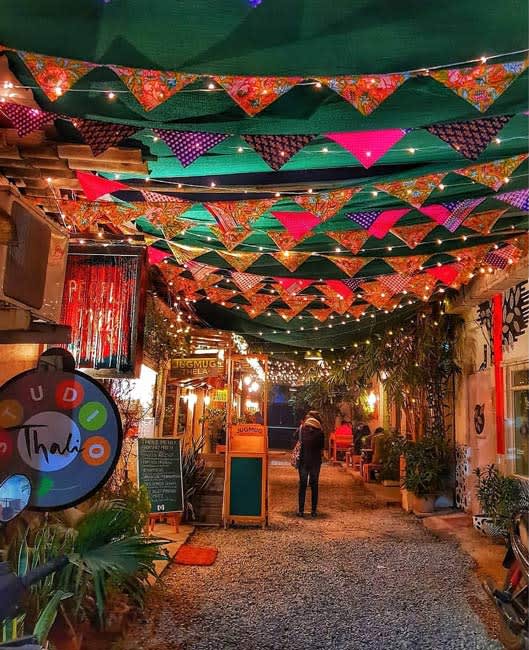 Picture Credits: walkwidme8
Champa Gali is our own little haven in the middle of our bustling metropolitan. The small yet peaceful strip of land is ideal for some quality time with yourself. Even a simple stroll down the lane is enough to calm us down. Try hitting up the modern flea market shops here for some light shopping or maybe just grab a bite at Jugmug Thela. You could indulge in any number of activities from a foaming latte at the Blue Tokai Coffee Roasters or maybe some warm Pho at Pho King. And if you're a true art connoisseur, why not head into the mini flea markets and art shops that dot this picturesque lane? 
Head on over to Champa Gali for a quiet day all by yourself, and trust us, your Insta feed will thank us!
Where| Shed 4, Khasra 258, Lane Number 3, Westend Marg, Behind Kuldeep House, Saidulajab, Saket
3. Solo Scavenging @ Flea Markets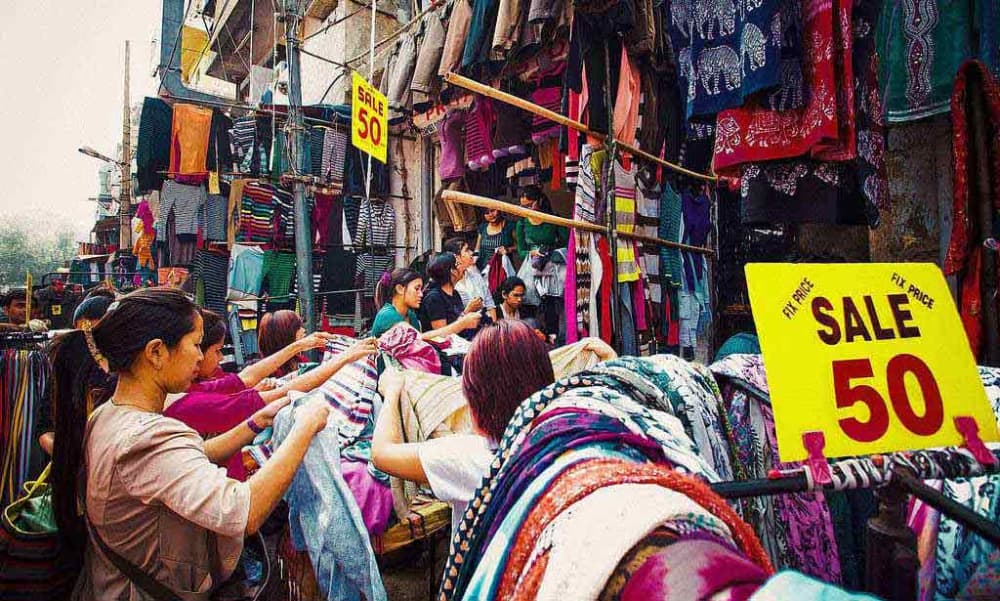 If you believe in the magical powers of some good old retail therapy, then we are sure that a day at some of our local flea markets is the ideal solo date for you. Dig into your Autumn wardrobe and dress up for a day in the city! From the classic tees in Sarojini Nagar to the quirky kurtis in Lajpat Nagar, and how can one forget the book markets in Daryaganj and Kamla Nagar? If you're someone who is obsessed with some boho accessories, a quick scavenging through these flea markets will unearth some of the best and super adaptable jewellery to fit all your needs. You have to agree that a refreshing new wardrobe for the summer is the best way to get some work done AND have a fantastic day out!
4. Night Photography @ The Bhagirath Palace Lights Market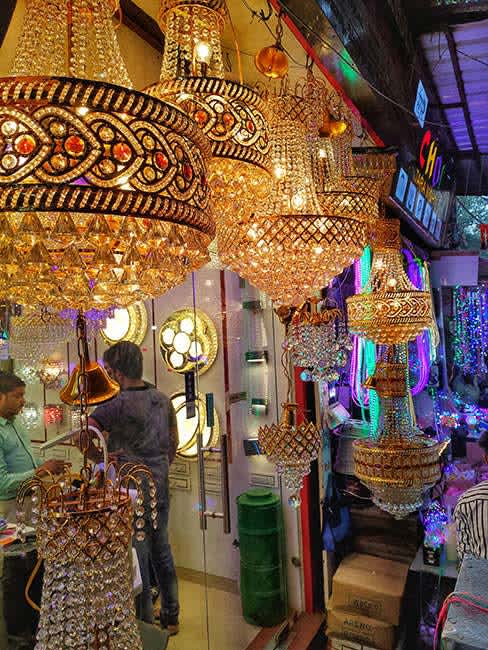 If you have an artistic soul, we have just the perfect aesthetic for you. Delhi's super famous electronic lights market, i.e. The Bhagirath Palace Market in the heart of the charming Chandni Chowk, is the ideal place for you to be. As the sun begins to set, a multitude of colourful lights and lamps from fairy lights to fancy lantern lights come aglow in the market. You can go on a solo date in the evening, and stroll through these glowing lanes with your camera for company. And who knows, you might even find some beautiful lights to take back home! 
Where| Chandni Chowk, New Delhi
5. Visit The Historic Gardens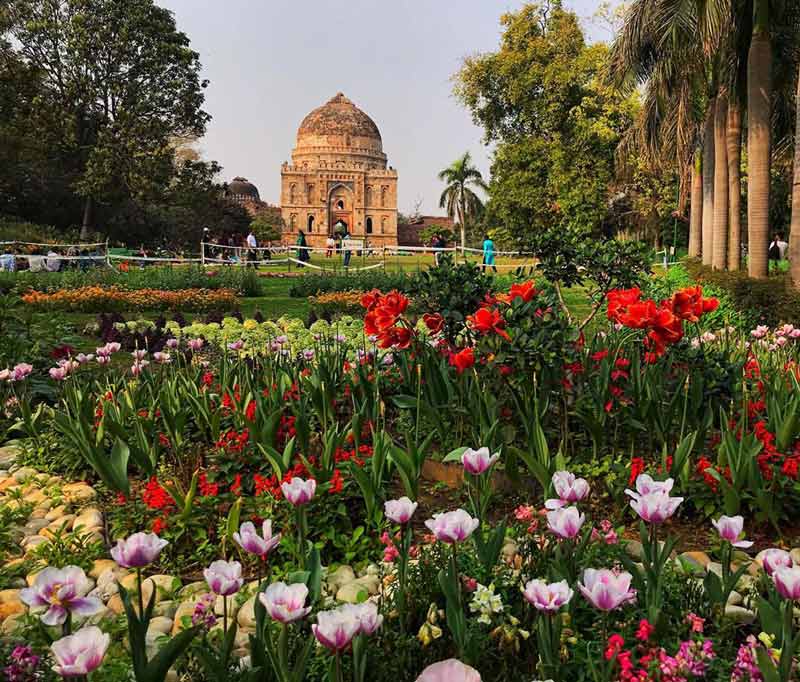 Picture Credits: accidentalnomad
If your idea of some quality time has to do more with historical fun facts, we think you should hit up the historical gardens all around Delhi. From the Lodhi Gardens to the Mehrauli Archaeological Park and even the Garden of Five Senses, when it comes to history filled places, Delhi hardly disappoints. You could curl up with your favourite book in a cozy nook, in one of the tombs, or you could make your solo date an enriching photowalk. A simple walk around these gardens will be enough to make you see the plethora of birds, beautiful structures and the history they house!
6. Go For A Ride On Yulu Bikes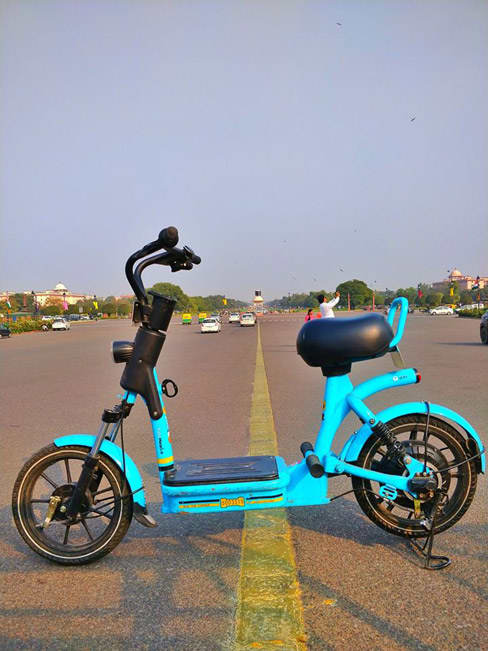 We are sure you have heard of Yulu Bikes by now, but who knew a measure to improve metro connectivity could be so much fun? The cute pastel blue bikes appeal to us with their small size and cheap rates! These quirky bikes are the perfect definition of the modern Delhi, they help us steer clear of the traffic (cause who likes traffic?!) and we can lower our contribution to air pollution. So, if you do not have anything planned this weekend, or even if you have a busy schedule we are sure you can squeeze in an hour of Yulu-ing. The ease of accessibility through their app or website along with the presence of these bikes in most locations in the city means your weekend planning just became way easier. What are you waiting for? Check the weather forecast and head on out to your nearest Yulu stand for some fun biking and exploring!
7. Hit Up The Book Cafes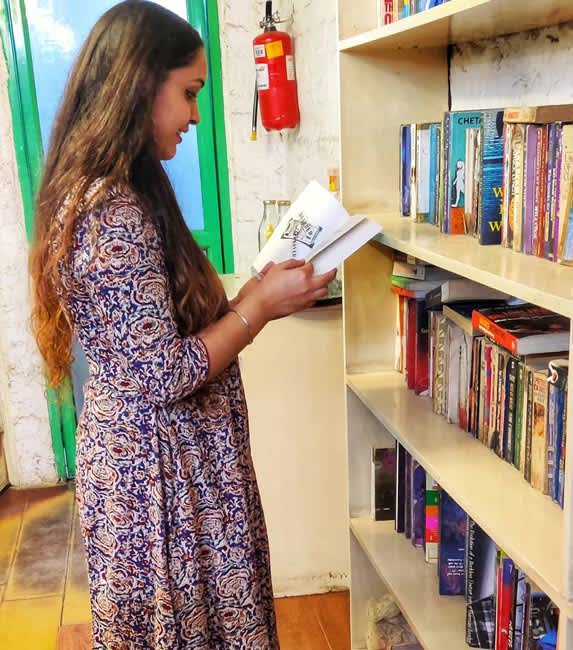 Picture Credits: readexplorelive
The best part about Delhi is that it has a little something for all of us, no matter how unique or out of the box our interests might be, this city seems to get us exactly what we want. For this reason, we have fallen in love with the up and coming trend of book cafes that are the perfect middle point for a bibliophile and a foodie. And if we are being honest, everyone in our Dilli is a foodie! You can take your pick from the popular book cafes in all corners of the city. From Kunzum Travel Cafe to Cafe Turtle to The Brew Room and Ivy Bean & Tea leaf for the caffeine lovers in you, we are sure you will find something that suits your style and your budget. While we all love some munchies and a warm drink when we read, the varying aesthetics of these cafes will take your reading experience to another level. You could try a solo date, you and your book against the world. The possibilities are endless!
8. Take Part In Workshops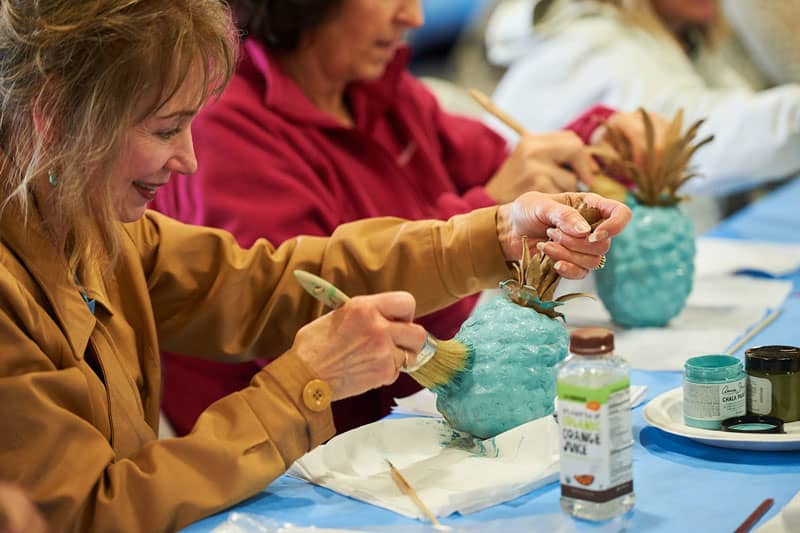 This Is A Representative Image
If you are someone who spends their leisure time planning and learning, then this one's for you! Often the best way to spend a relaxing day with yourself is to do something you love. Well, the city does not cease to amaze us with the amazing activities and workshops one can find, tailor made for their preferences. From crowd favourites like weekend cooking classes, to photography workshops, food trails in the old bazaars and gullys, and even some fancy book clubs, Delhi has it all for you. Centres like The India Habitat Centre and India International Centre, often have fascinating themes and you might just take a liking to them. So what say? Are you ready to invest in yourself and learn something new? Or perhaps hone an old skill forgotten in the bustle of city life? The best way to enjoy your solo date would be to rediscover your old passion through these truly interesting and engaging workshops. 
9. Movies Under The Stars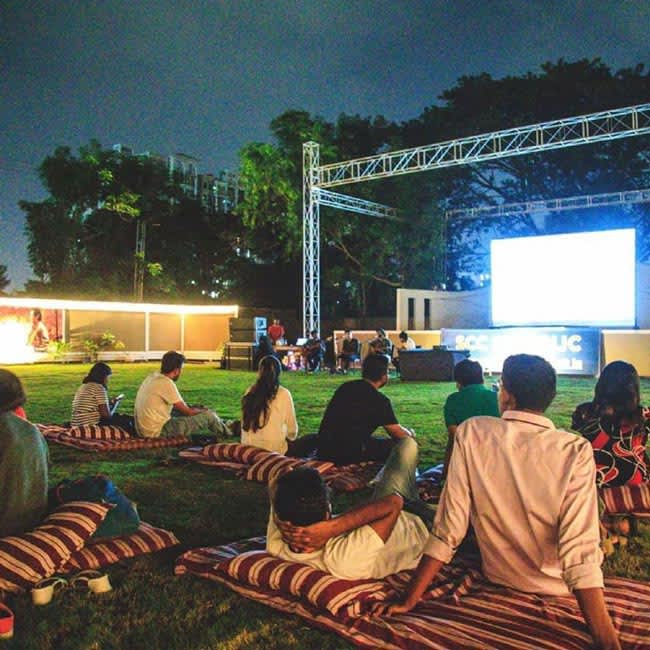 The most classic form of entertainment has to be when you rewatch your favourite movie time and again, and somehow derive the same pleasure from it each time. Well, for your enthralling solo date in the city, we have for you the concept of your favourite movie in the lap of nature. Movie theatres are commonplace and almost mundane now, and solo dates are meant for expanding your boundaries and finding something that appeals to the real you. We are sure that a night out under the stars will be the perfect accompaniment on your path to self discovery. The Sunset Cinema Club screens your favourite old time movies and the best part? They also have a lavish spread of some scrumptious food.
10. Meditate At Zorba The Buddha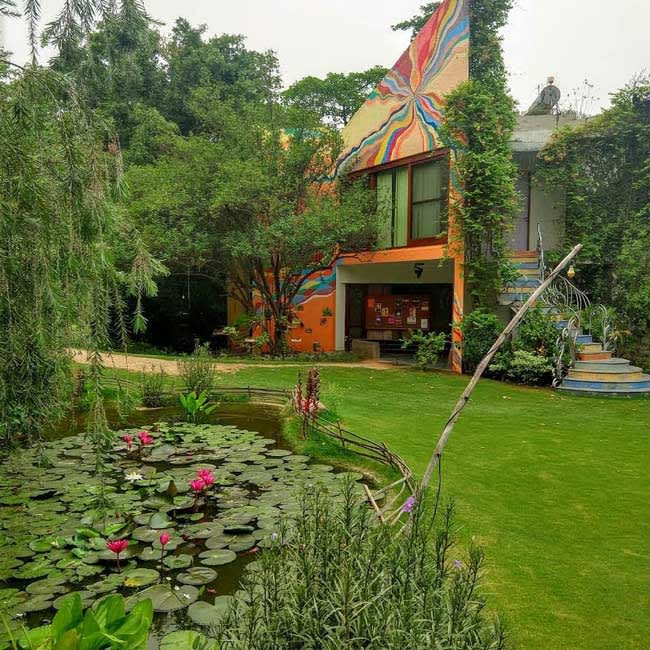 In the busy rigamaroo of city and corporate life, we often forget to build a relationship with ourselves and to rediscover the goals and passion that drive us. If you are someone, who wants to get in touch with their spiritual selves or if you are simply looking for some peace and quiet to access you religious self, Zorba The Buddha is the ideal destination for you. Driven with the idea of a community oriented open religious and spiritual experience, Zorba The Buddha provides you with a natural and serene retreat in the middle of the city. You could take the weekend and stay here, in the lap of nature, enjoy their organic food and the serene and calm activities that will help relieve you of all your stress. A solo date that helps you connect with your soul? What more could one want!
Trust us when we tell you that you will find your quality me-time at these iconic spots that dot the city. And we are sure, you will find yourself returning to these places every weekend, to wind off after a long day or even to introduce the serenity of these spots to a friend. So what are you waiting for? It's time to take that long-awaited break and have a day with yourself!