Delhi
10 Most Epic & Popular Heritage Monuments In Delhi You Must Visit Before You Die
Indian history is jam-packed with the rise and fall of myriads of kingdoms and empires. If we talk about Delhi, it's the hub of monuments from the Mughal era. Scores of tourists visit Delhi on their tour to India not because it is the capital but because of this historical beauty. Whereas, we, the people of Delhi, even after being here for all our lives only read about these in our History textbooks? Ironic? So here's a list of the most iconic and popular monuments in Delhi that you must surely visit before you die!
1. Red Fort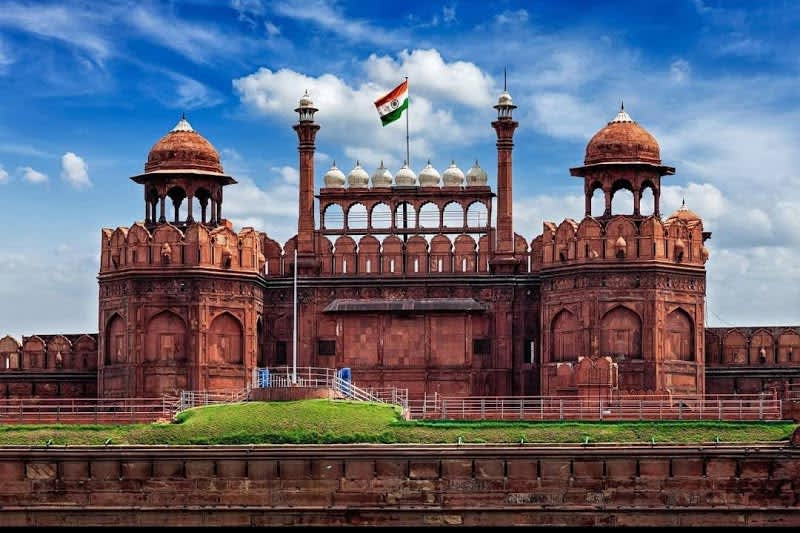 Picture Credits: Song Aemour Freek
The crowning glory of Delhi is the grand fortress called Red Fort. This monument was initially built from white stone but was painted red later. It is situated in Old Delhi and is the largest of all monuments in the city, housing museums and a plethora of undying stories of martyrs and wars. With features like Diwan-E-Aam, Diwan-E-Khas, several gardens and many other things in its complex, the light and sound show that's put up here every evening awaits y'all to regale you with the tales of the glory of the Mughal era!
Where | Red Fort - Netaji Subhash Road, Chandni Chowk
Entry | Rs 35 (Indians) & Rs 500 (Foreigners)
Timings | 9:30 AM - 4:30 PM (Closed On Mondays)
2. Qutub Minar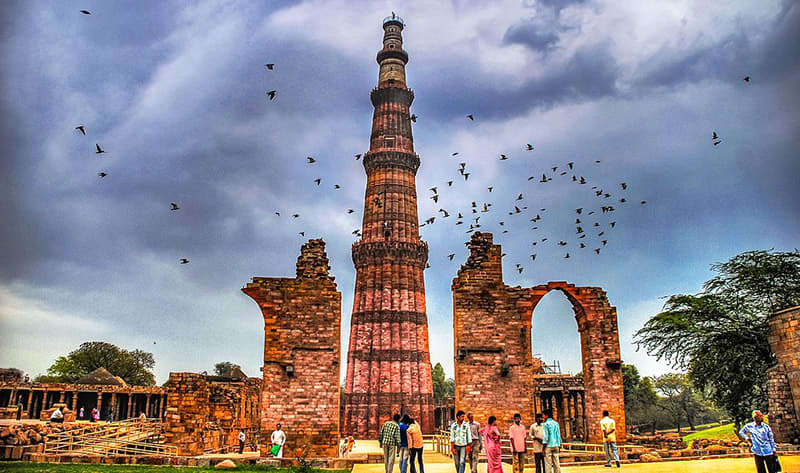 Qutub Minar is the tallest minaret in the world. It was built as a mark of victory by Qutab-Ud-Din-Aibak to commemorate his triumph over the Hindu dynasty. It was also given the title of a UNESCO World Heritage Site owing to the beautiful Arabic inscriptions on it. Such is the fame of this monument that its picture appears on the Delhi Metro Rail Corporation's travel cards!
Where | Qutub Minar - Mehrauli
Entry | Rs 30 (Indians) & Rs 250 (Foreigners)
Timings | 7 AM - 5 PM
3. India Gate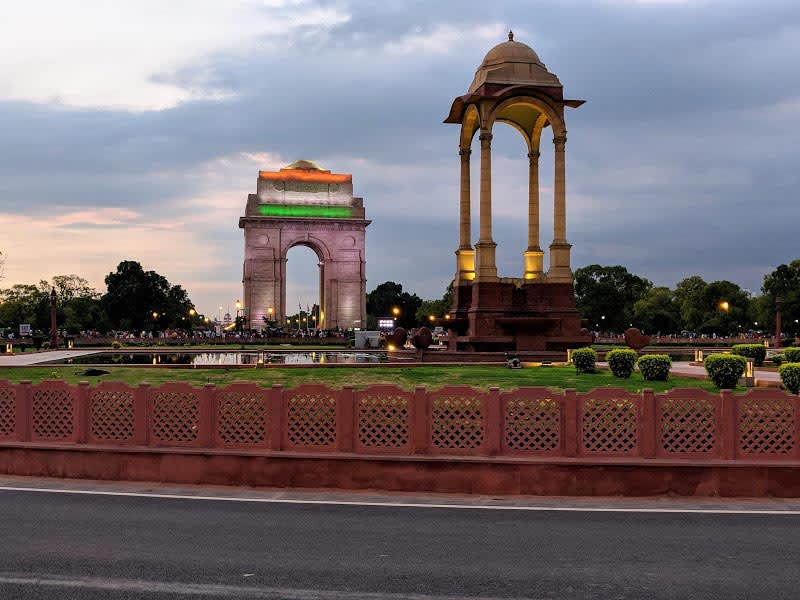 Picture Credits: Soham Das
Constructed by the British to commemorate the sacrifices of Indian soldiers in World War I, this is also known as the All India War Memorial. Located on Rajpath, it is a monument of national importance as on Republic Day, the parade marches to India Gate. Don't miss visiting the Amar Jawan Jyoti, the ever-burning flame that pays tribute to the soldiers who lost their lives saving the honour of India!
Where | India Gate - Rajpath Marg
Entry | Free
4. Jama Masjid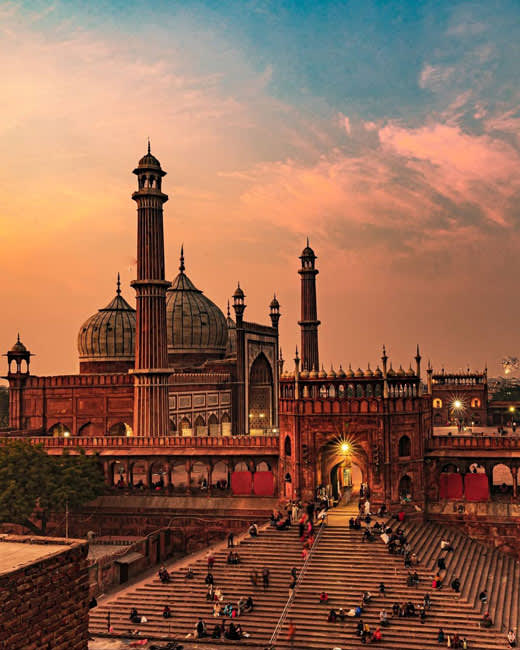 Picture Credits: /raghav.rai.ralhan/
Jama Masjid is one of the largest mosques in India and is one of the most serene spots to visit in Delhi. It's a deeply revered worship place among the Muslim community. Such is the grandeur of the place that its courtyard can accommodate more than 25,000 people praying at the same time!
Where | Jama Masjid - Meena Bazaar, Jama Masjid, Chandni Chowk
Entry | Free (Rs 300 For Photography)
Timings | 7 AM - 12 Noon & 1:30 - 6:30 PM
5. Humayun's Tomb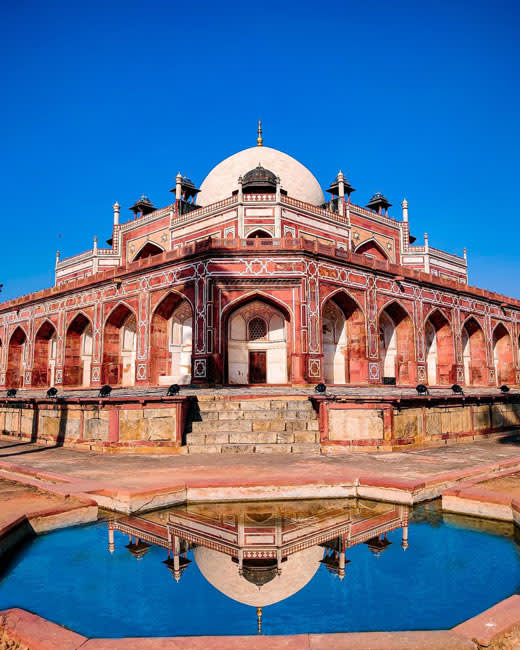 Picture Credits: sejal_singh1111
Situated on Mathura Road, this is the burial place of Humayun and is one of the most significant constructions done during the Mughal Rule. It was commissioned by the first wife of the king, Empress Bega Begum and was the first structure of this scale to be made using red sandstone which always had a special place in Mughal architecture. It's also a part of UNESCO World Heritage Sites.
Where | Humayun's Tomb - Mathura Road, Opposite Nizamuddin Dargah
Entry | Rs 30 (Indians) & Rs 500 (Foreigners)
Timings | 6 AM - 6 PM
6. Jantar Mantar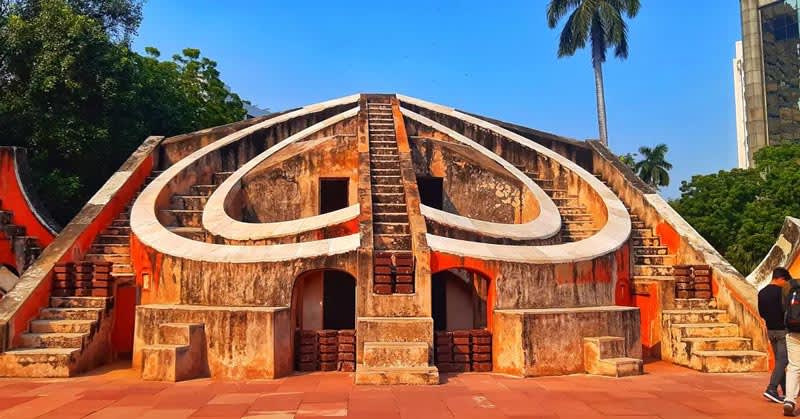 Picture Credits: Abhijeet Saurabh
One of the five astronomical observatories, Jantar Mantar has a lot to offer, including 13 massive architectural astronomical objects which help study the movements of planets, sun and moon. The instruments at this place are fascinating for their creativity and originality but accurate observations can no longer be made from here owing to the tall buildings around. Hop over here and reminisce about your good ol' school field trips that you had here which made science all the more fun!
Where | Jantar Mantar - Sansad Marg
Entry | Rs 15 (Indians) & Rs 200 (Foreigners)
Timings | 6 AM - 6 PM
7. Lotus Temple
Picture Credits: india_wale_official
The magnificent architecture and peaceful aura are two things that are greatly admired by the patrons of this place and make this lotus-shaped temple a hit among tourists. It is the last of seven Major Bahai's temples built around the world. The architect Furiburz Sabha chose the lotus as the symbol for its commonality to Hinduism, Buddhism, Jainism and Islam. There are nine pools of water around the blooming petals which light up in natural light and look simply magnificent. Come over and soak in the splendid view!
Where | Lotus Temple - Lotus Temple Road, Bahapur, Shambhu Dayal Bagh, Kalkaji
Entry | Free
Timings | 9 AM - 5:30 PM (Mondays Closed) 
8. Lodhi Gardens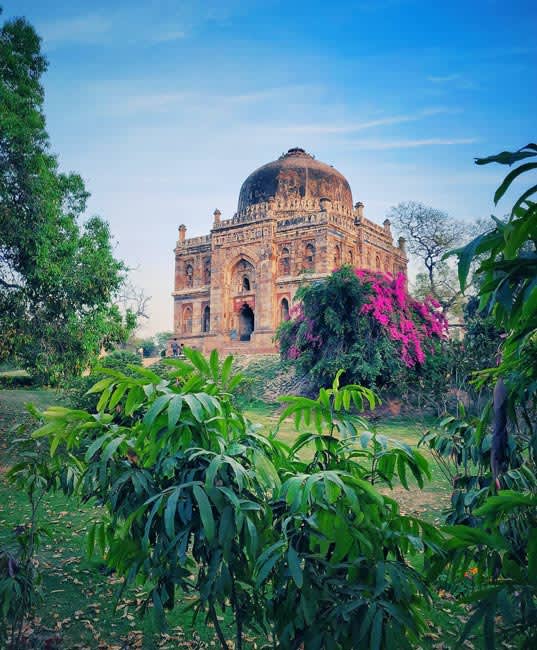 Picture Credits: india_wale_official
The Lodhi Gardens is one of Delhi's eminent tourist attractions. Littered with monuments and tombs from the Lodhi and Sayyed dynasties, the Lodhi Gardens has the tombs of Sikander Lodhi and Muhammad Shah. The perfect place for a morning walk, jogging and exercise and also a sought-after picnic spot, these flourishing gardens are the pride of Delhizens!
Where | Lodhi Gardens - Lodhi Road, Lodhi Estate
Entry | Free
Timings | 6 AM - 7:30 PM
9. Purana Qila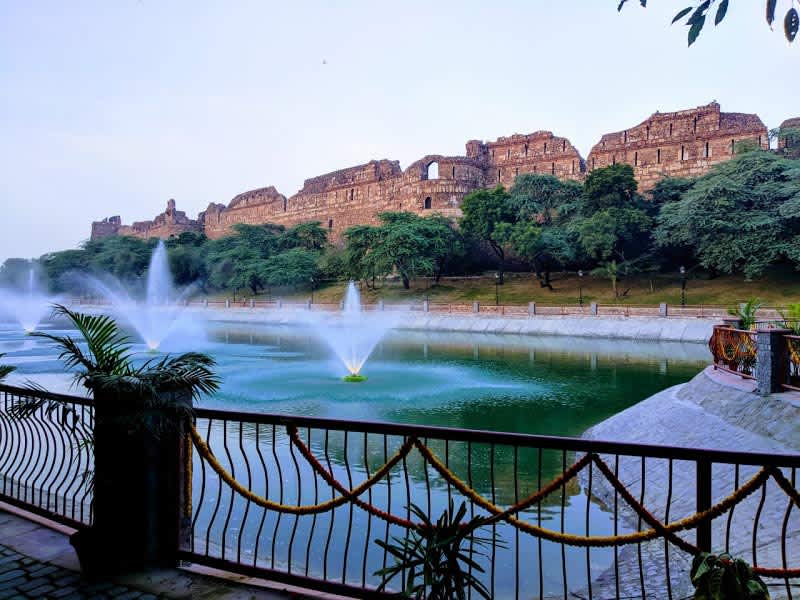 Picture Credits: Naveen Yadav
The Purana Qila is one of the oldest forts in India whose construction was started by Humayun and carried forward by Sher Shah Suri. It has three entrances, namely, the Bada Darwaza, Humayun Gate and Talaqi Gate. All the gates are double-storey structures that were constructed using sandstone. The north and the south gates have beautiful pavilions, balconies and umbrellas that add to the beauty and the grandeur of the fort!
Where | Purana Qila - Mathura Road 
Entry | Rs 20 (Indians) & Rs 200 (Foreigners)
Timings | 5:30 AM - 7 PM
10. Tomb Of Safdarjung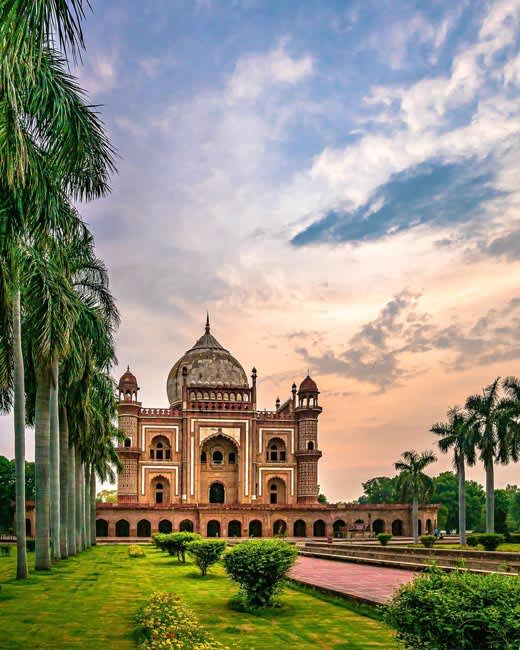 Picture Credits: Raghav.Rai.Ralhan
A hot favourite among all the photographers, this tomb lights up like a charm come sunset, and is also one of the heritage places in Delhi that one must not miss! It is the last enclosed garden tomb of Delhi and is made of marble and sandstone as the mausoleum of Safdarjung. Although it is not as grand in scale, it is still a part of Delhi's enchanting history and something that everyone must witness, especially on a late summer evening! 
Where | Safdarjung Tomb - Intersection Of Safdarjung Road And Aurobindo Marg
Entry | Rs 25 (Indians) & Rs 300 (Foreigners)
Timings | Sunrise To Sunset
So, there! We've just provided you with the list of the most epically eminent monuments in the city and if you haven't been to them, can you really call yourselves Delhiites?