Delhi
10 Mind-Blowing & Delicious AF Dishes You're Likely To Find Only In Delhi
Disclaimer: Bearing in mind the current restrictions in the city and the world at large, we're tweaking our content policy and recommendations to focus more on staying indoors and exploring the digital world and all its wondrous offerings! Stay positive, keep hygiene levels up and don't fall prey to panic and misinformation.
Delhi according to us is the 'Food Capital Of India'! The various cuisines, as well as flavours and spices dashed liberally in the food here, are unique to the city. Delhi's belly is forever craving something or the other that's innovative and not available easily anywhere and everywhere and we've gone and made a list of the best, most innovative dishes! We've curated the top 10 mind-blowing dishes that are likely to be found only and only in Dilli Meri Jaan! Here we go.
1. Japani Samosa @ Manohar Dhaba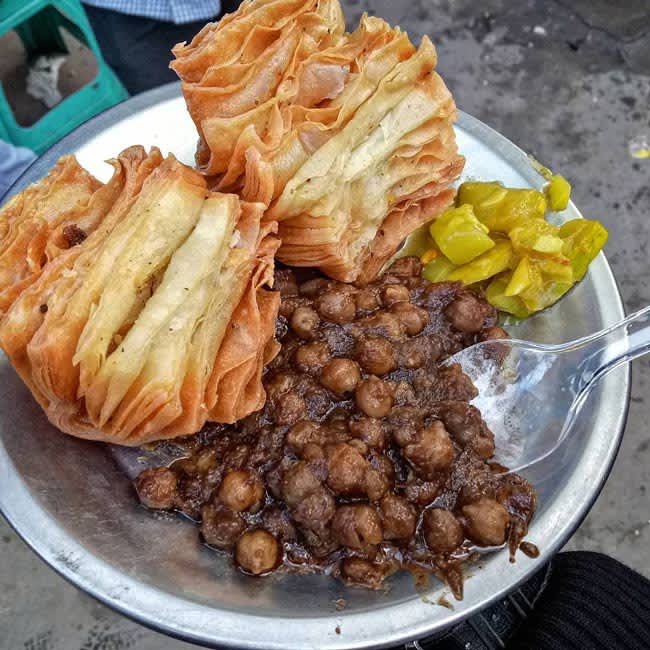 Picture Credits: food_gambler
A delicacy, this samosa doesn't look like the usual triangular samosa with a potato and peas filling - instead, it's got 60 layers of flour flakes that'll remind you of patties! Even though the outer covering has changed, the filling remains the same with potatoes and peas and it's delicious. The samosa comes with a helping of Pindi Chole and Gajar Ka Achaar. Yummy! Located in a lane squeezed between the Lajpat Rai Market, Manohar Dhaba is the gem of Old Delhi when it comes to samosas.
Where | Manohar Dhaba - Lajpat Rai Market, Old Delhi
Price | Rs 40
2. Moong Dal Pizza @ ITO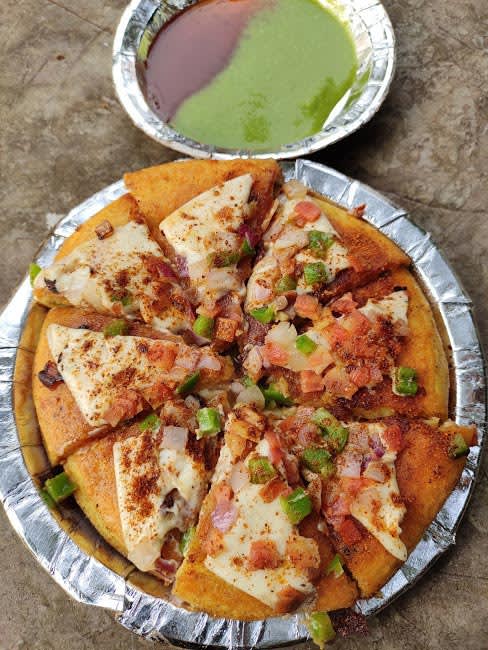 Picture Credits: Sonia Negi
As much as we love our pizza just like the Italians do, us Dilli-Wallahs are always up for innovation, which is why we present to you the Moong Dal Pizza! No, yeah, you read that right. This Indian avatar of pizza is every bit drool-some with its fluffy moong dal chila-like preparation and comes stuffed with onions, tomato & cheese. Served with homemade tamarind and green chutney, it's just yum! 
Where | Moong Dal Pizza - Opposite Gandharva Vidyalaya, Deen Dayal Upadhaya Marg (Near ITO)
Price | Rs 100
3. Mohabbat Ka Sharbat @ Delhi 6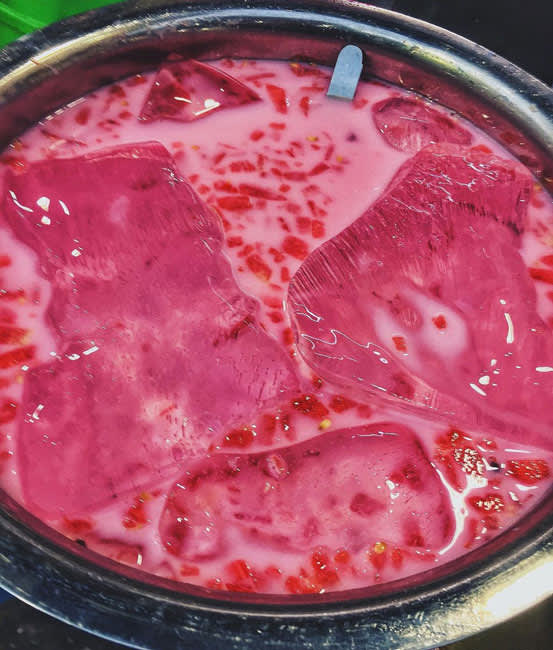 Picture Credits: _thenoshspoon_
A pink concoction made from summer favourites like Roohafza, milk, watermelon and ice, Pyaar Mohabbat Ka Sharbat is one rad summer drink! WOAH! Old Delhi's speciality, this summer cooler is only available at one or two stalls in the Jama Masjid lane and trust us, it's totally worth hunting for! The freshness of Roohafza with the tantalizing taste of watermelon, this sharbat is truly a crowd pleaser! 
Where | Jama Masjid, Shop No. 632, Matia Mahal Road, Bazar Matia Mahal, Kalan Mehal, Chandni Chowk
Price | Rs 10
4. Chicken Chinese Biryani @ Turant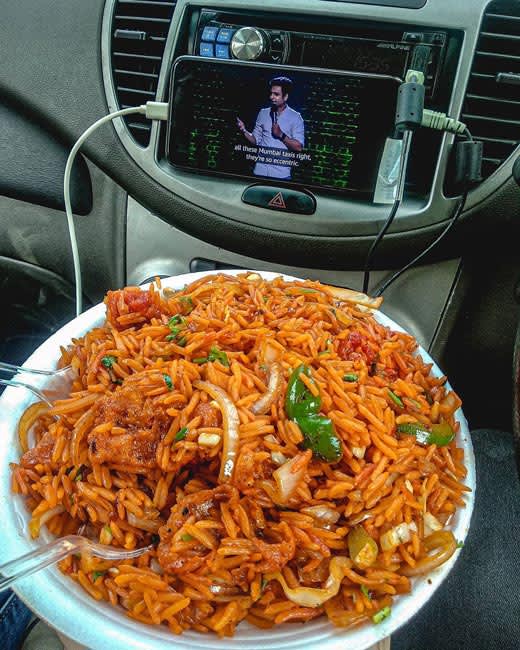 Picture Credits: thedesigora
Turant is a humble van located near Mandi House that does something offbeat. You must have heard about varied versions of Biryani, like Andhra, Hyderabadi, Lucknowi and more. But did you know these folks do something call Chicken Chinese Biryani? Yep, they actually dish it out and we're totally itching to try this yummy. Loaded with chicken, capsicum, cabbage and onions, this hatke biryani is surely a must-try Plus, it's available for 90 bucks, which is not too heavy on our pockets as well. 
Where | Turant - Opposite FICCI Auditorium, Near Metro Station, Mandi House
Price | Rs 90
Check Out Their FB Page | https://www.facebook.com/kizztion/
5. Nutella Golgappe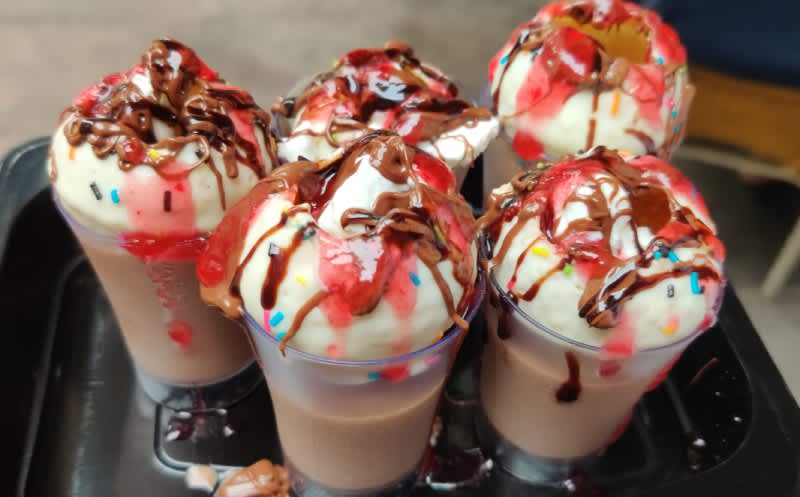 We all love golgappe (and if you don't then why?!) and we certainly can't imagine our lives without the same, right? Well, the peeps at Social Foodie Inside have made this street fave absolutely quirky as they're doing a lil' something called Nutella Golgappe. Sound absolutely quirky, doesn't it?
This is your good ol' golgappe that decided to go sweet and how! The puri is coated with chocolate filled with ice cream and served with chocolate milk. We're already wiping our drools!
Where | Social Foodie Inside - GG II, 71-A, Vikaspuri
Price | Rs 120
Call Them | +91 9711 417 471
Check Out Their FB Page | https://www.facebook.com/socialfoodieinside/ 
6. Paan Samosa @ Samosa Hub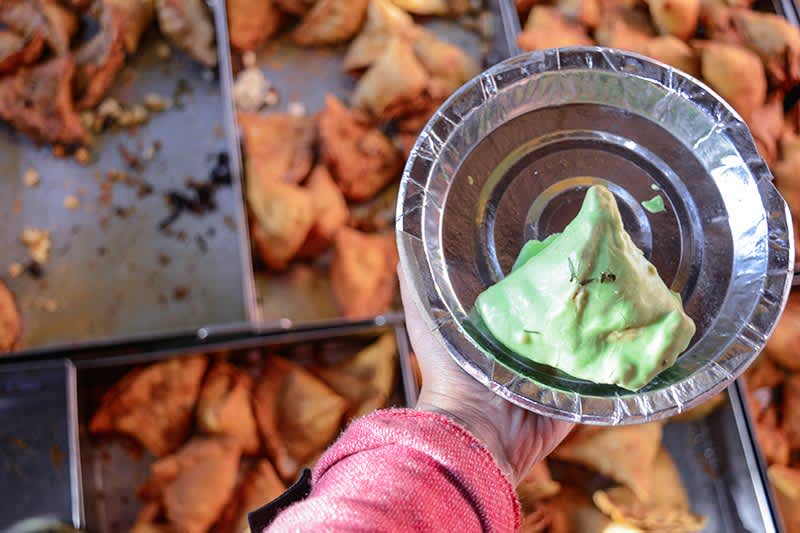 We can call this a truly desi concoction which will make its way into your hearts forever! The cool green-shelled samosa, believe it or not, had the taste of a meetha paan and a medley of flavours including gulkand, cardamom and cloves came together beautifully; every bite was like a party in the mouth! Definitely a must-try during summertime. They also do TONS of other flavours such as Blueberry Samosa, Manchurian Samosa, Malai Paneer Samosa and more.
Where | Samosa Hub - F-4/10, Mandir Marg, Krishna Nagar
Price | Rs 70
Call Them | +91 7827 331 394
7. Mughlai Butter Chicken @ Mini Mughal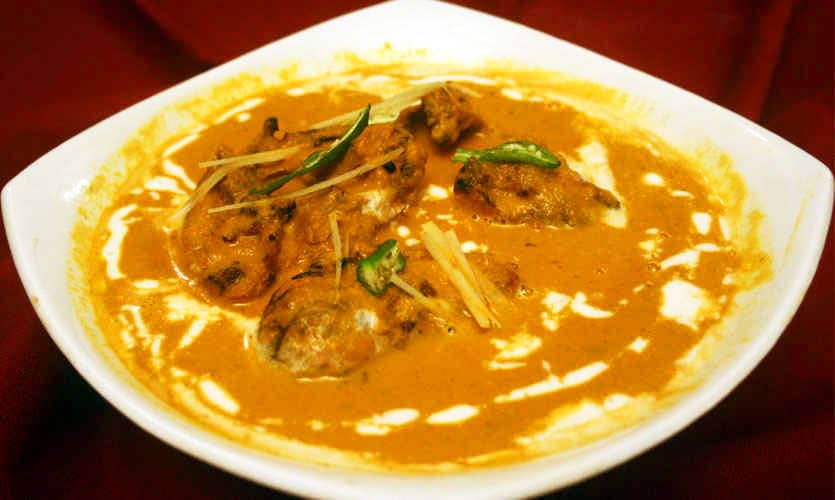 All these other dishes are unique yes, but a classic butter chicken totally steals the show! While you will get Butter Chicken everywhere in India, Delhi's special butter chicken is simply the best! The one you get a Mini Mughal is totally creamy yet slightly spicy and optimally sweet. Enjoy it with some crunchy Garlic Naan and chutney and you're good to go! 
Where | MINI MUGHAL - M-71, M Block Market, GK II
Price | Rs 460 Onwards
Call Them | +91 11 4104 6969
Check Out Their FB Page | https://www.facebook.com/minimughal.gk2/ 
8. Fire Paan @ CP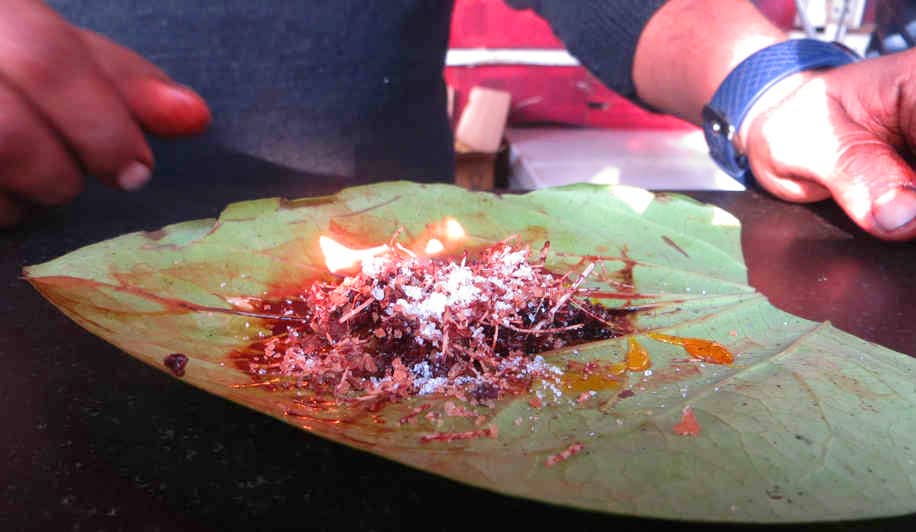 The line 'Sometimes all you need is six seconds of insane courage' fits in well here! Giving you the Roadies or Khatron Ke Khiladi feels is the Fire Paan. Sounds scary, looks even scarier but once it's over, you want more! The way the paan wallah dumps it in your mouth, without giving you a second to back off, fills you with chills and thrills. Go try it for yourself!
Where | Odeon Shukla Paan, CP
9. Daulat Ki Chaat @ Delhi 6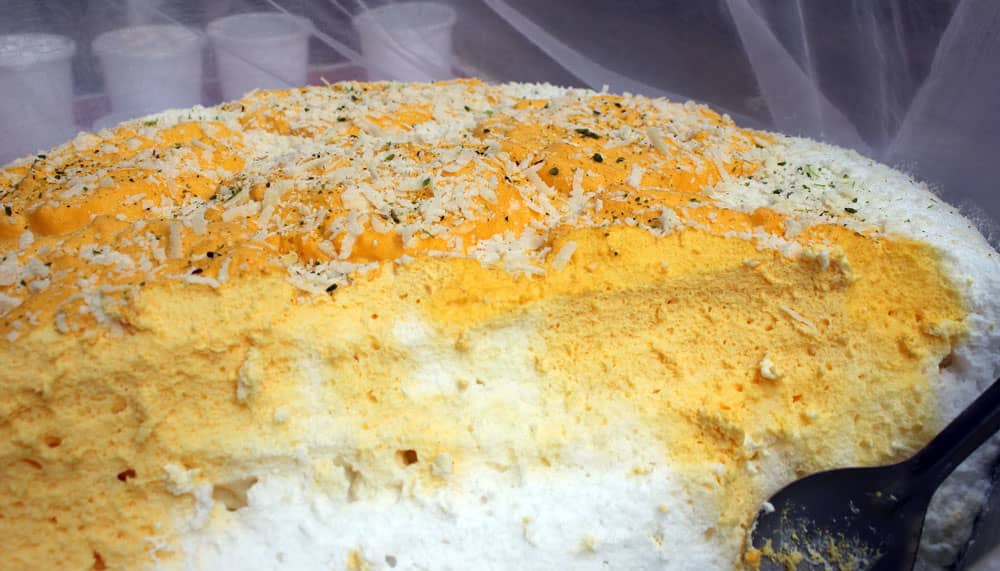 A little nip in the air, and out comes every Delhiites' favourite sweet dish, Daulat Ki Chaat! As the name suggests, Daulat Ki Chaat sure is rich when it comes to both taste and heritage value. Rajesh Kumar and Baburam, brothers and chaat walas, wheel two separate carts, one in Dariba Lane and the other one stands stationary at Gali Paranthe Wali. Two more carts are stationed in Daryaganj and Dariba. 
This dessert takes a whole lot of effort and time to be made. A round of mixing and churning of raw buffalo milk, milk cream, kewra and samundar paani goes into making this! This whole process of mixing the elements to its setting, takes about 12-13 hours! Woah.
Where | Kinari Bazar, Katra Shah N Shah, Shahjahanabad
10. Momos Biryani @ Lodhi Knights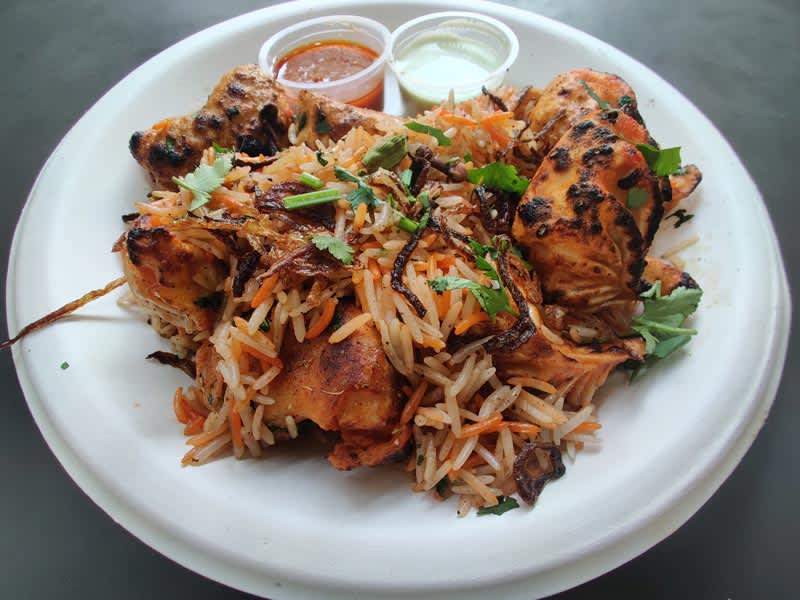 We love momos and biryani will always be our bae. But have you ever thought, about mixing the two together? Well, the good folks at Lodhi Knights did, and boy does it look appetising! They come in the options of Veg Mo, Chicken Mo and Paneer Mo. We're defo adding this to our list of dishes to try! This flavourful dish, loaded with oodles of spices, will definitely take your taste buds on a jolly ride.
Where | Lodhi Knights - Lodhi Colony
Price | Rs 120 Onwards
P.S. Prices may not be similar to the ones recorded when the article was written.
So tag your friends and bookmark these dishes that you must devour once things take a turn for better in the city!