Delhi
10 Fantastic Things To Check Out @ Horn OK Please For Those VIRAL Insta Stories
This Is A Representative Image
Hey there Delhizens, aren't you all super excited about Delhi's Happiest Food Festival, Nescafé presents Horn OK Please co-powered by MAGGI and Uber Eats?? If just you screamed a big yes, just like us, then let us tell you that this time around, your phone will have a lot to do at the event. Confused? Well, there's gonna be a LOT of vendors and stalls that'll be dishing up quirky AF dishes and statement accessories that'll look super cool on your Insta feeds. So check out this list and bookmark all these awesome things to ace your Insta stories game!
1. Black Ice Cream @ Cremeborne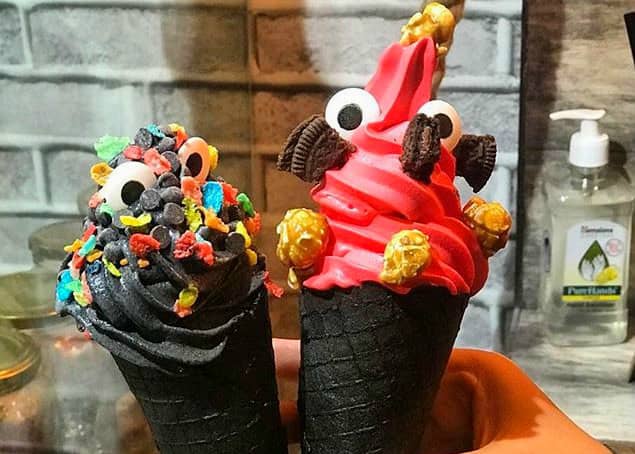 Picture Credits: gurneetkaur29
We're sure you must have already tried Creme Borne's ever famous Activated Charcoal Black ice cream that comes topped with popping candy eyes, caramelized popcorn, fruit loops and so much more. And if you haven't, then you better stop by their stall and try this one out fo sho, guys 'cause it'll make for an amazing Insta story!
Check Out Their FB Page | https://www.facebook.com/cremeborne/
2. Rocket Ejection Ride, Angry Birds Velcro Patch & More @ The Experience Zone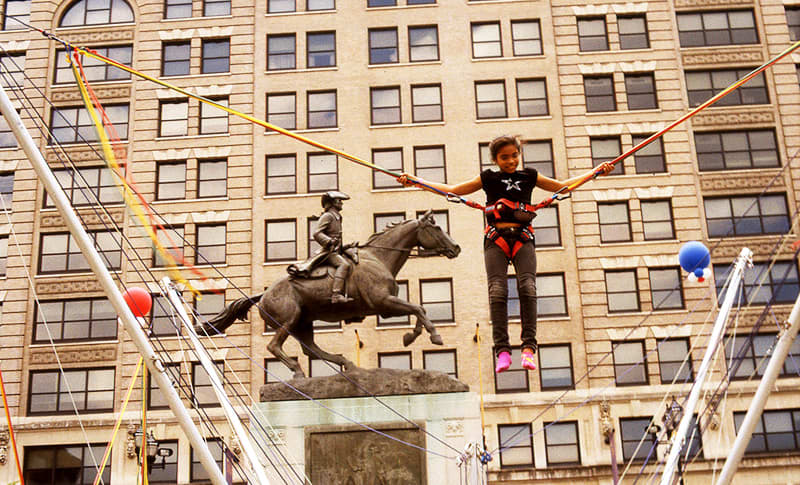 This Is A Representative Image
In addition to truckloads of food vendors, we're super thrilled about the Experience Zone that'll have fun activities like a life-sized Jenga setup, Angry Birds Velcro Patch, BMX Rides, bull riding and loads more adventurous stuff. Our suggestion - head to the Rocket Ejection Ride and make those crazy Boomerangs. Swing by here at this zone and click a thousand pictures and let your Insta followers know how cool AF this fest really is!
3. Sassy & Super Quirky Bags From Notice Me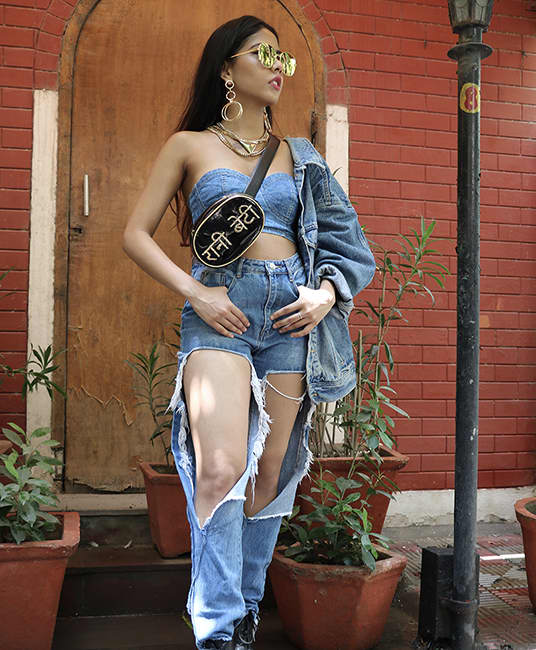 Notice Me is one of our fave vendors that are coming to Horn OK Please. Why, you ask? It's because these lovelies have a huge collection of quirky backpacks, sling bags, fanny packs, laptop sleeves with fun prints and attention-grabbing accessories that will make heads turn, ladies. They also have card and passport holders that'll look great on your Insta handles!
Skim Through Their Insta Feed |  https://www.instagram.com/noticemeofficial/
4. Red & Green Clinton Sliders @ Uncle Jack's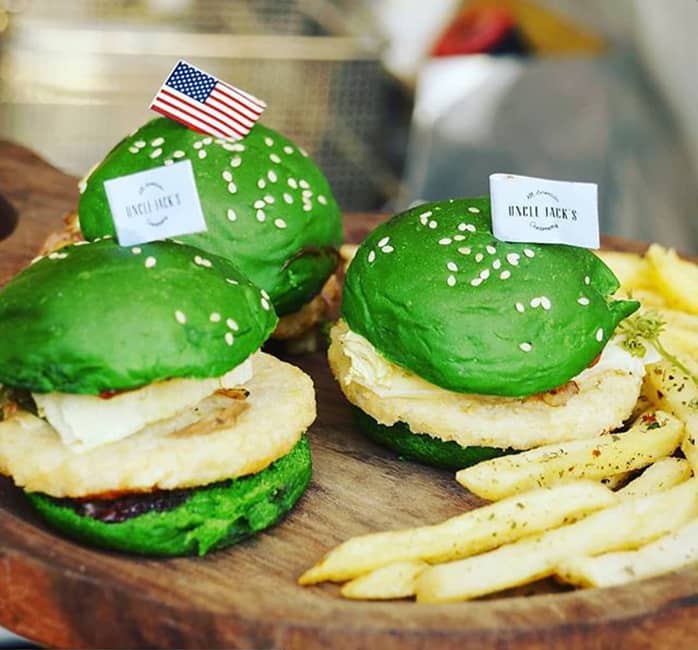 Picture Credits: twostuffedolive
If you like your food colourful, then these super colourful and delish looking Clinton Sliders from Uncle Jack's are must-tries for you. The sliders come loaded with jalapenos and flavours of Chipotle and we're already excited to stuff our faces with these scrummies! And don't forget to get some pictures before you dig into these colourful delicacies because we're sure they'll add loads of colour to your Insta feed!
Check Out Their FB Page | https://www.facebook.com/Uncle-Jacks
5. Charcoal Activated Waffles @ Waffle O'Clock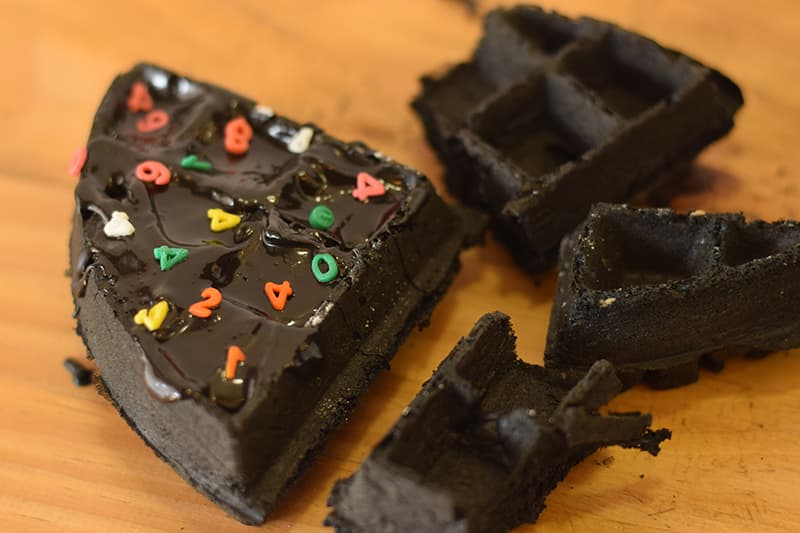 And just when we thought that the colour black was only limited to ice creams and burgers, Waffle O'Clock proved us wrong with their oh-so-cool Black Waffles. Yes, they'll be dishing up these delish looking Charcoal Activated Waffles that come topped with oodles of chocolate sauce and sprinkles, NAICE! Already planning a caption when you post this one on your Insta account?
Check Out Their FB Page | https://www.facebook.com/waffleoclock/
6. Red Velvet Brownie Fries @ Icekraft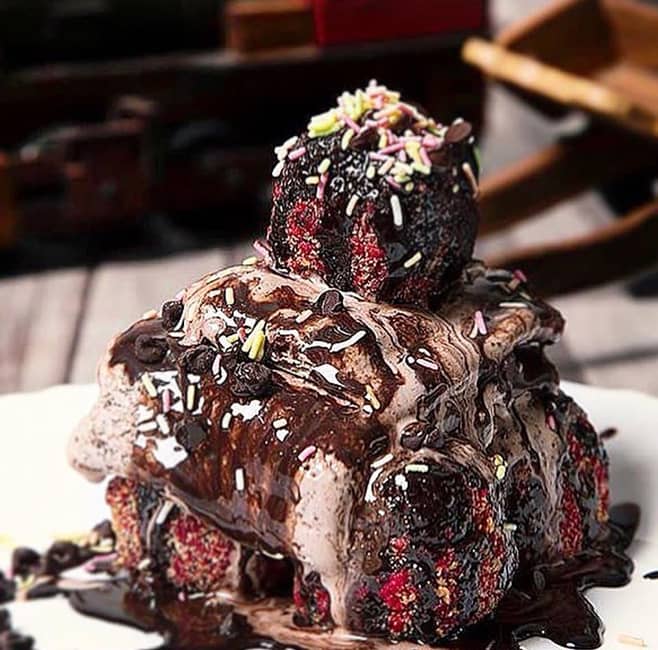 And if you, like us, are fans of freak waffles 'cause there is nothing better than heaps of waffles covered with ice cream and chocolate sauce, then the Red Velvet Brownie Fries by Icekraft are exactly what you NEED RN. This dish looks absolutely delish and we're already drooling and thinking about the number of likes it'll get us on Insta - how 'bout you?
Check Out Their FB Page | https://www.facebook.com/icekraftRajouriGarden/
7. Candy Floss Bubble Tea @ Dr. Bubbles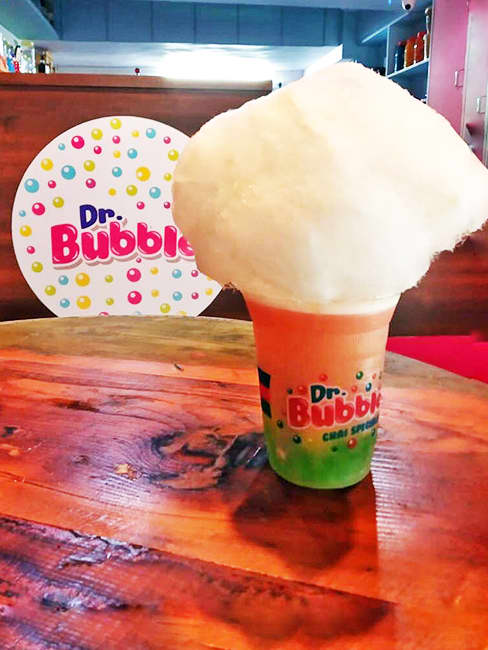 If you haven't tried Dr. Bubbles' ever famous bubble teas yet, then here's your chance to try these super yum and gorgeous looking iced teas that come topped with cutesy coloured bubbles. But the one thing that we're totes excited about is their Candy Floss Bubble Tea! Yes, it's a thing and it comes garnished with our fave candy floss and will get you a thousand comments (hopefully) on your social media handles, yay!
Check Out Their FB Page | https://www.facebook.com/drbubblesindia/
8. E- Chillum @ Vape Wali Shop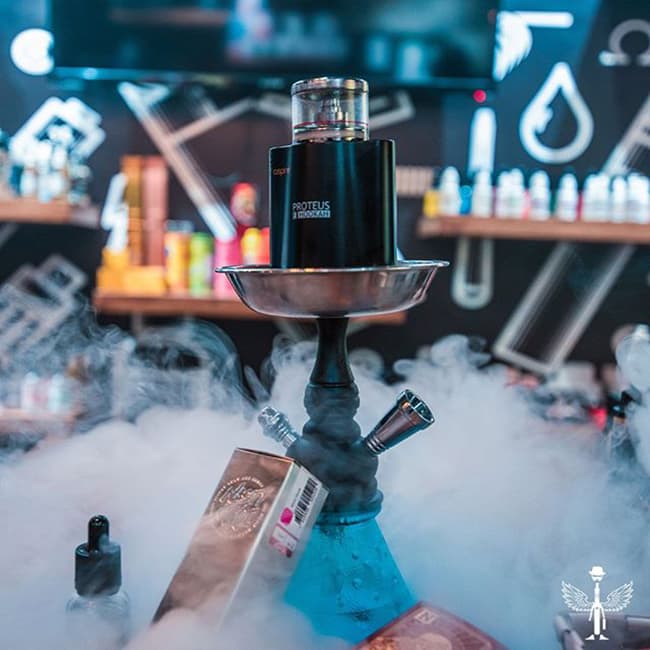 We know that smoking is harmful and so we've got you an alternative which is relatively safer and offers WAY better flavours. These guys at Vape Wali shop have come up with a cool E-chillum - all we'll say is, you gotta see it to believe it! Plus, their amazing e-juice flavours will defo make you happy! And make sure you hold those smoke rings so that your pal captures the perfect shot for your next Insta story.
Check Out Their FB Page | https://www.facebook.com/Vapewalishop/
9. Wonton Burgers @ Rood Dude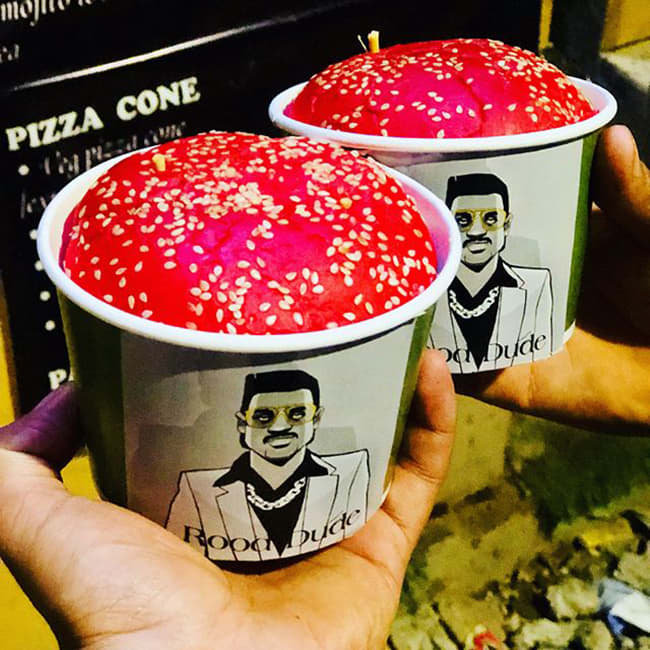 These bright red burgers look pretty interesting to us and the fact that they are layered with lettuce, tomatoes, crunchy veggies, loads of mayonnaise, yummy tangy sauces and those crispy wontons is making us drool already. Plus, since they look so lovely, they'll definitely look tempting enough on your Insta Feed for your friends to hit the like button. Care to drop by and try 'em with us?
Check Out Their FB Page | https://www.facebook.com/MaakanMridul/
10. Bubble Taco Waffles @ Waffle King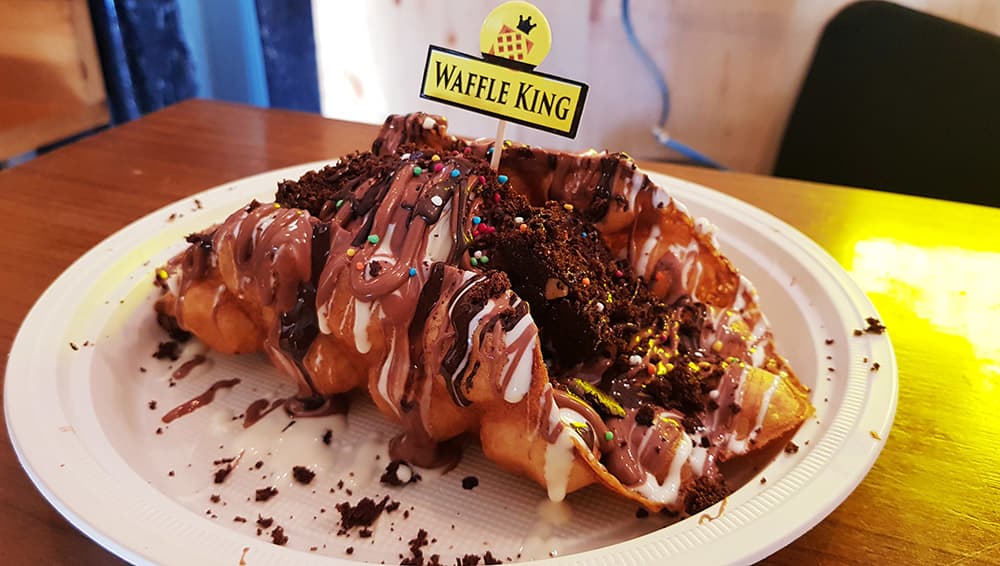 Yes, Bubble Taco Waffle it is guys! These peeps at Waffle King are all set to take you for a waffle-loaded ride with their amazing Bubble Taco Waffle, which is basically a bubble waffle shaped like a taco and loaded with brownies (OMG!), chocolate sauce, scoops of chilled ice cream and loads more. Grab a plateful and keep your cameras at the ready!
Check Out Their FB Page | https://www.facebook.com/Thewafking/
And once you're done filling up your gallery with those viral-worthy Insta stories, check out other awesome stalls at the Dessert Lane, which offers delicious desserts like waffles, ice cream, freakshakes and more, the awesome Experience Zone that'll have trampolines, bull riding and skateboarding, our fave Grub Campus where each and every dish will be for under 200 bucks and loads more. See you there!
When | Friday - Sunday, 16th - 18th November
Where | Gate No 14, Jawaharlal Nehru Stadium
Timings |12 Noon - 10 PM
Book Your Tickets Online Here | https://goo.gl/XjJ86Y
RSVP On FB Here | https://www.facebook.com/events/245810259611541/