Delhi
10 Fantastic Stalls You Definitely Gotta Hit Up @ The Legendary Blind School Diwali Mela 2019
'Tis that time of the year again when the city is suffused in all things colourful with joy all around  for Diwali is in the offing, folks. And with this festival comes our fave melas that we oh-so-love to frequent each year without fail. And when it comes to Diwali melas, we'll be sorely remiss if we don't mention perhaps one of the most awaited and popular carnivals in the city - The Blind School Diwali Mela - where, apart from the not-even-dare-to-miss food stalls, one can find itself amidst stalls and kiosks of handmade diyas, decor items, apparel, stationary, ethnic clothes & accessories, and a lot more.
To save some of your walking, we took a few rounds of the mela and have conglomerated our most loved stalls for you!
1. Aakriti Art Creations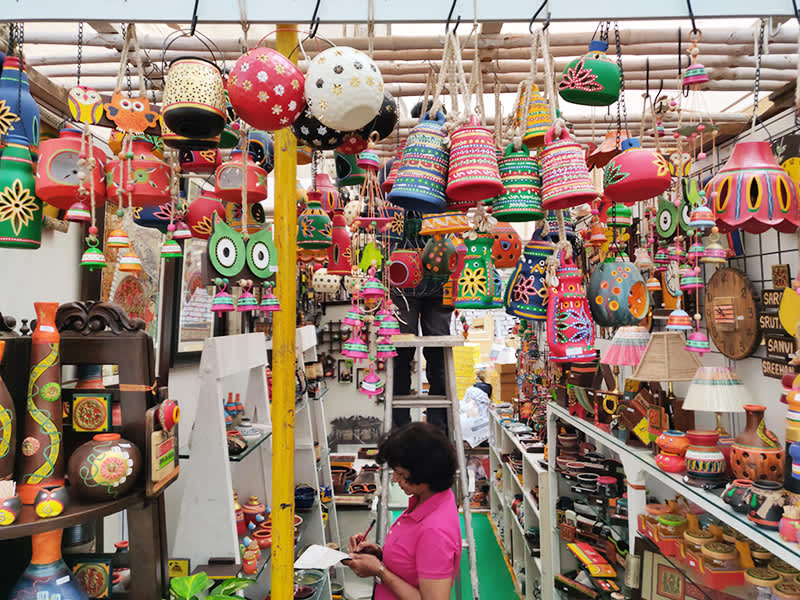 From the kitty of President's National Award winner for Master craftsperson, this stall showcased exquisite handcrafted furniture and home décor products that were intelligent, studied, imaginative, completely innovative yet relevant and awe-inspiring. With utmost attention to details and usage of environment friendly material like paints from vegetable dyes, handmade paper, repurposed wood, jute, terracotta clay, ceramic clay, the product range comprised of Dhokra-Warli painting, kitchen utility items, lights and hanging lamps and an entire range of home and ethnic art furniture, wall decor and clocks, wind chimes, jewellery and other fetching gift Items!
Check Out Their FB Page | https://www.facebook.com/AakritiArtCreations/
2. Jewellery by Avni Gujral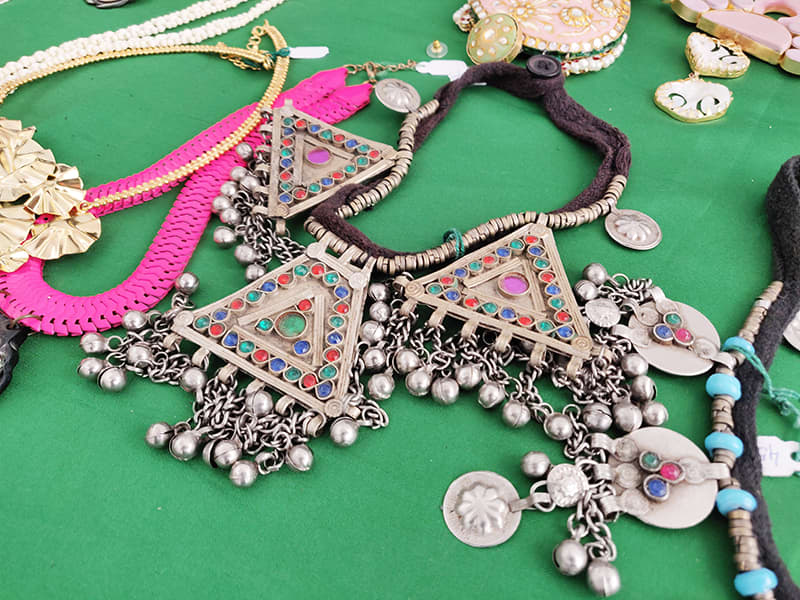 This kiosk displayed some of the finest high-end fashion and semi-precious jewellery which were specializations in imitation, classic and contemporary pieces with a quirky sense of style, attention to detail and high quality craftsmanship for women of all ages. Having worked with Yash Raj Films, the products out for display had bangles, necklaces, rings, earrings and a wide variety of bracelets. They definitely were worth of their numerous accolades!
Check Out Their FB Page | https://www.facebook.com/jewellerybyavnigujral/
3. EarthlyCreations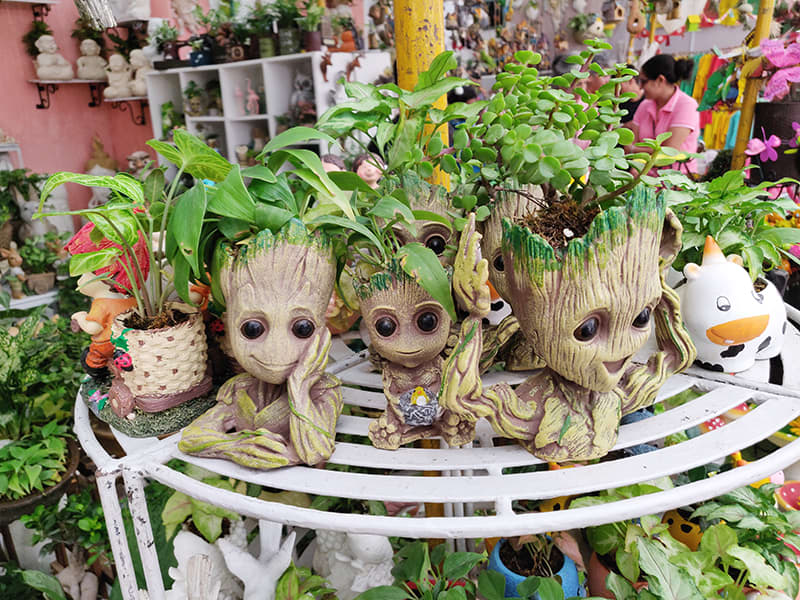 The most vibrant and alluring corner of the mela was inhabited by Earthly Creations which had a wide selection of home decor as well as garden decor items demonstrating an assortment of ideas to personalize the gardens or lawns and create a mystical space that wouldn't just enhance the splendour of the place, instead add a mesmerizing definition and sophistication to it. They had clay manifested into exciting shapes of animals, birds, aqua solutions, water bodies, bird feeders in multiple shapes and sizes, each creation being a piece of art, where aesthetics and functionality were the central themes. The Groot planter we found here still has our heart in a chokehold!
Check Out Their FB Page | https://www.facebook.com/earthlycreations.in/
4. GOONJ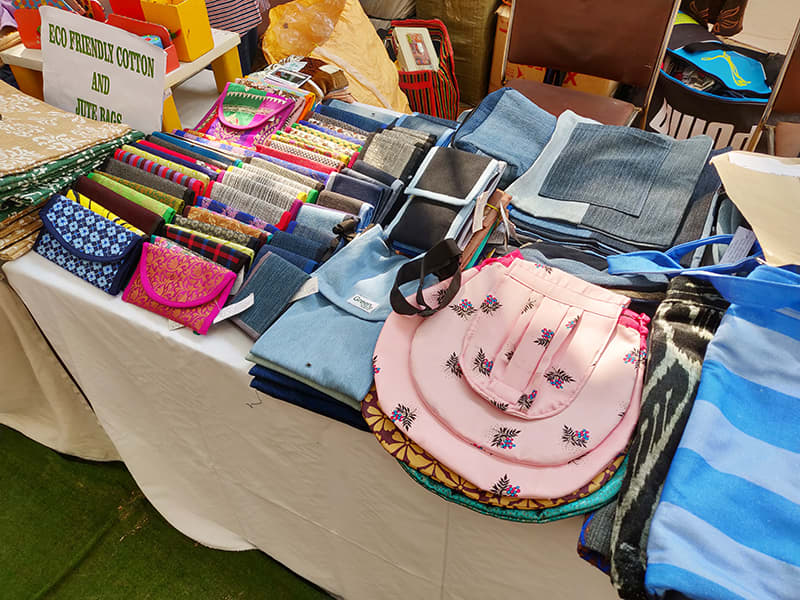 Addressing basic but neglected issues of the poor by involving them in evolving their own solutions with dignity and urban material as reward, this NGO showcased eco-friendly cotton and jute bags for multiple use promoting the Swachh Bharat Abhiyan initiative. They also offered handmade soaps and bars for daily use with different aromas. Never underestimate the potential of a local resource and definitely get yours from here!
Check Out Their FB Page | https://www.facebook.com/goonj.org/
5. Kavi The Poetry - Art Project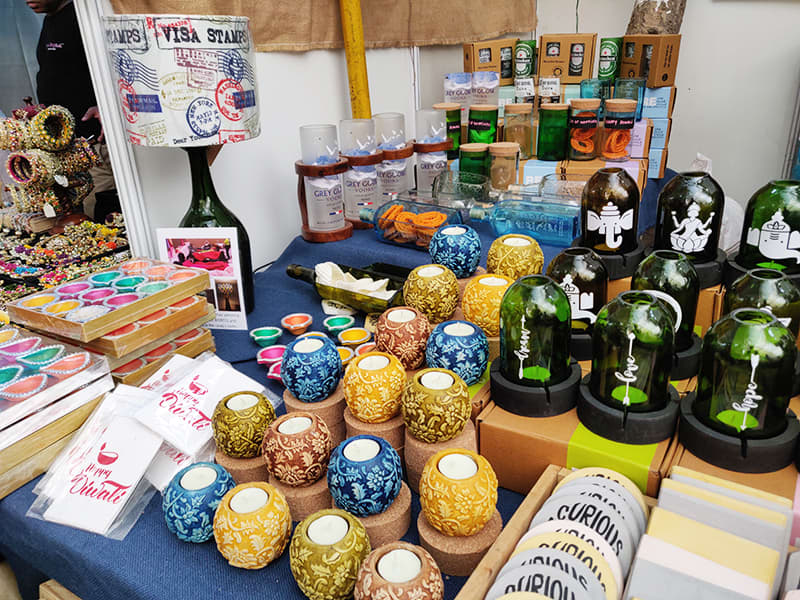 The most quirky stall of the mela which should not be given a miss was this one where the artisans showcased their creativity with recycled pop art powered by poetry and personalization. Their products comprised wine-cork earrings, cork and cement coasters, cola and Maggi wrapper clocks, upcycled bottle lamps, planters, beer mugs, key-hangers and much more interesting stuff that would certainly add a zing to your personal space!
Check Out Their FB Page | https://www.facebook.com/KaviThePoetryArtProject/
6. Kidoz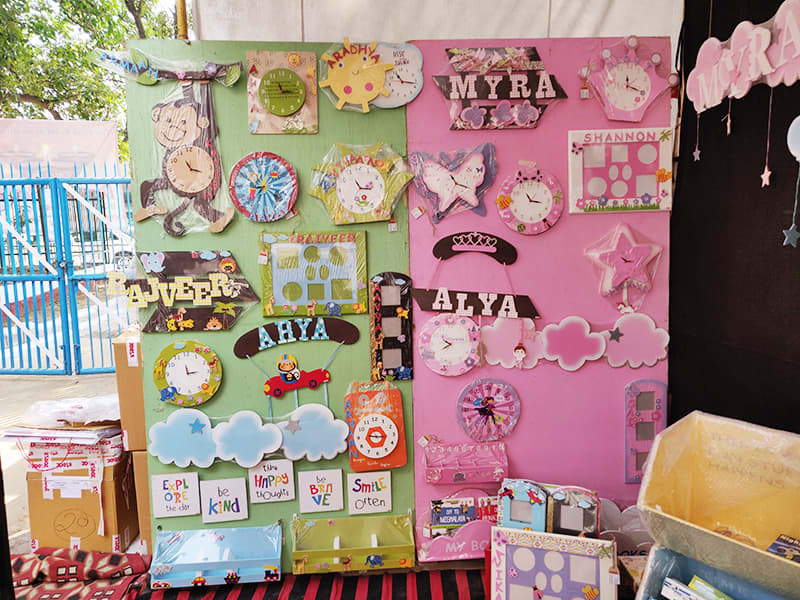 The mela had something for everyone, even the kids. Ranging from tables and wall calendars to personalized name plates and hangings, from cartoon-themed wall clocks to personalized wallpapers and posters, the liveliness and flamboyance this stall emitted was worth it all. The kids couldn't help but hover all over this place, we also found certain parents browsing through their products for their lil munchkins!
Check Out Their FB Page | https://www.facebook.com/thekidoz/
7. STONE AGE INDIA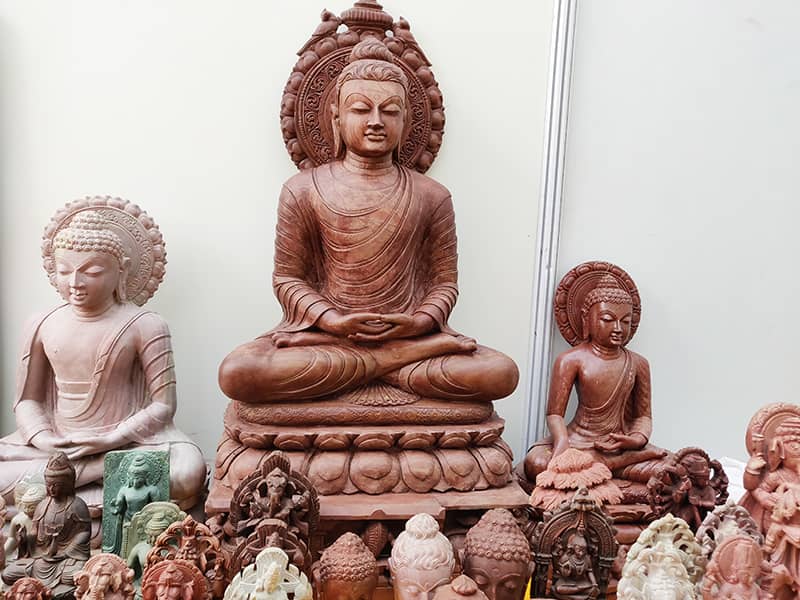 Being one of the leading producers of hand carved stone statues, jewellery and fancy decorations, we were quite mesmerized by the stone carvings of various idols such as Lord Buddha, Lord Ganesha, Maa Saraswati, Lord Ram and Sita and various others, with such expertise and finesse. Needless to say, with Diwali being round the corner, this place turned out to be the perfect one to buy idols, both for gifting as well as for personal purposes!
Check Out Their FB Page | https://www.facebook.com/stoneagebanglore/
8. The Pink Dori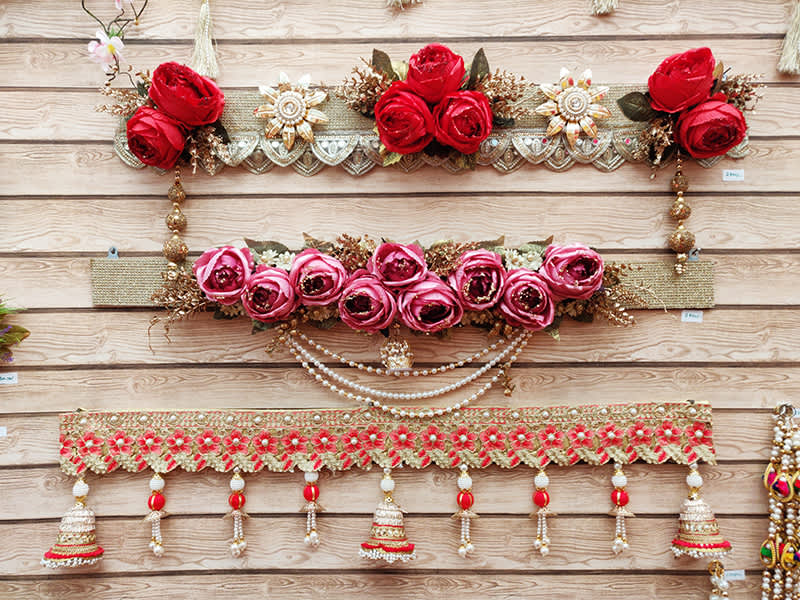 Come festivals and everyone is looking for decorative items to enhance the beauty of their humble abode and this kiosk emerged out to be a one stop shop for everything. Ranging from wall hangings to decorative doris using artificial flowers and quality being the top most priority, The Pink Dori had some exquisite pieces that were easy on pockets and definitely worth every penny!
9. Xtuti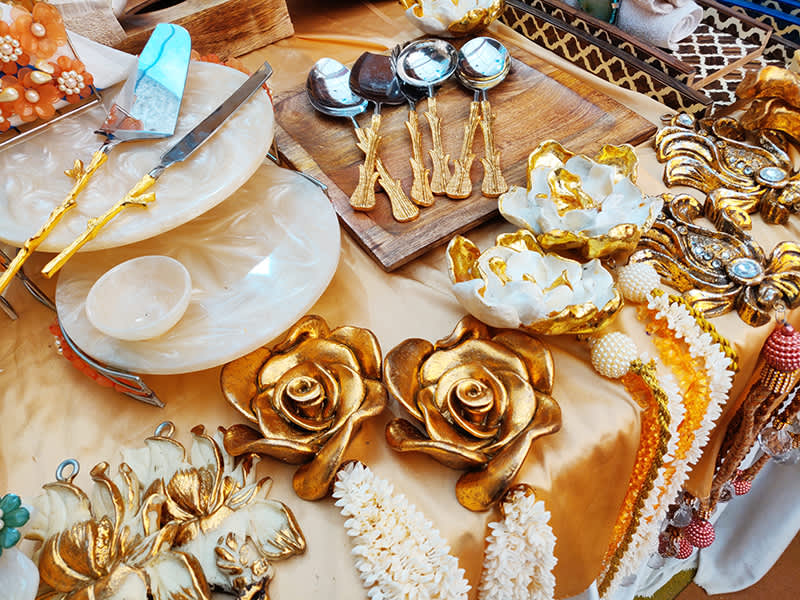 Boasting of home decor products, bathroom sets, dining table accessories, artefacts, office accessories, wedding gifts, cards and much more, these items held a special importance as they were curated from wood, mother of pearl, aluminum, iron, brass, silver plating, poly-raisin, leather, leatherite, paper, pearls, semi-precious stones and crystals. The prima facie look had us in awe which was accelerated by the quality of its series of products that included tissue boxes, tablemats, coasters, remote holders, pen holders, cutlery holders, napkin stands, bathroom sets, candle-stands, decorative pieces, diyas, magazine racks, platters, bowls, trays and keychains. Phew!
Check Out Their FB Page | https://www.facebook.com/xtutipoonam/ 
10. Soap Square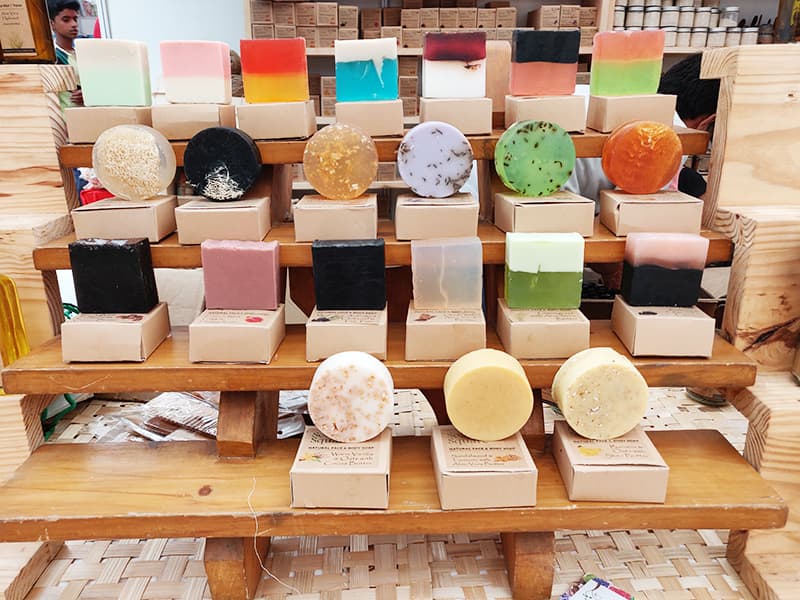 The aroma of various essential oils guided us to this amazing kiosk set up by Soap Square showcasing their natural bath and body products such as facial mist toner with multiple essence, soaps such as body soaps, facial soaps, butter and loofah soaps and body scrubs. They were welcoming everyone with warmth and explained each and every offering based on people's need and want to help them make a wise and correct decision. No wonder, we saw this stall making the maximum sales!
Check Out Their FB Page | https://www.facebook.com/SoapSquareIndia/?ref=br_rs 
Just a heads up for those commuting in their cars without drivers, the parking is to be done at the Zoo, near Purana Quila. Do take the green colored passes from the guards at the entrance to avail free parking. The association has set up shuttles for free pick and drop from the zoo parking to the mela grounds and back, which is a lovely initiative to avoid traffic and road closures. Also do take your own carry bags as plastic bags are banned and only a few stalls have biodegradable carry bags.
Though the mela had various stalls selling diyas and decorative pieces for Diwali but the best ones were those at the stall set up by the Blind Relief Association (Delivery Counter) where the candles, diyas and even the agarbattis and dhoops were made by the visually impaired kids. 
So wait no more, pick up your bags, get some of the finest items for your friends and family, enjoy the delicacies offered and have an amazing Diwali!
On Till | Thursday, 24th October
Where | Blind School Grounds - Near Oberoi Hotel, Lal Bahadur Shastri Marg, Lodhi Road
Timings | 10 AM - 8 PM
Flick Through Some More Images From The Mela That'll Make You Wanna Head Over!