Delhi
10 Droolworthy Dishes We Cannot Wait To Devour At Horn OK Please This February
Wassup, foodies?! The 7th edition of Horn OK Please - Delhi's Happiest Food Festival, presented by MAGGI FUSIAN and co-powered by Fresca Juices & POLO - The Mint With The Hole is coming back to town and our excitement levels are through the roof. With 100s of eateries popping up for this 3-day food fiesta, it's safe to say that our heart is doing backflips already. Moreover, we just got wind of some of the delish dishes that you can try over here and it's got us losing our shizz. Here's presenting you 10 dishes that we can't wait to devour at Delhi's Happiest Food Festival!
1. Black Ice Cream From Charcoal Hub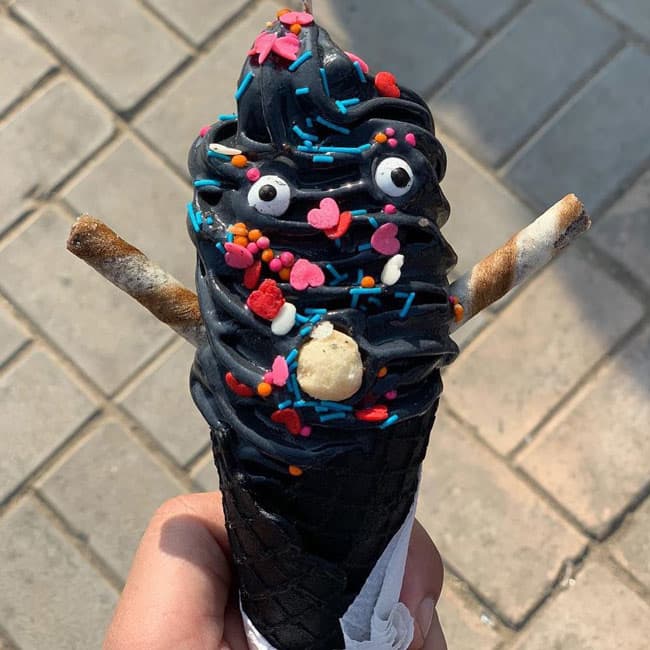 Our undying love for ice cream has no bounds and when we heard that Charcoal Hub is sauntering over to Horn OK Please, we couldn't keep calm. These folks are known for their black ice cream which is made from charcoal and topped with loads of sprinkles and googly eyes, which makes it oh-so-quirky and sweet. Make your way around the carnival as you slurp on this one-of-a-kind ice cream at the 7th edition of Horn OK Please!
2. Momos From Moktoo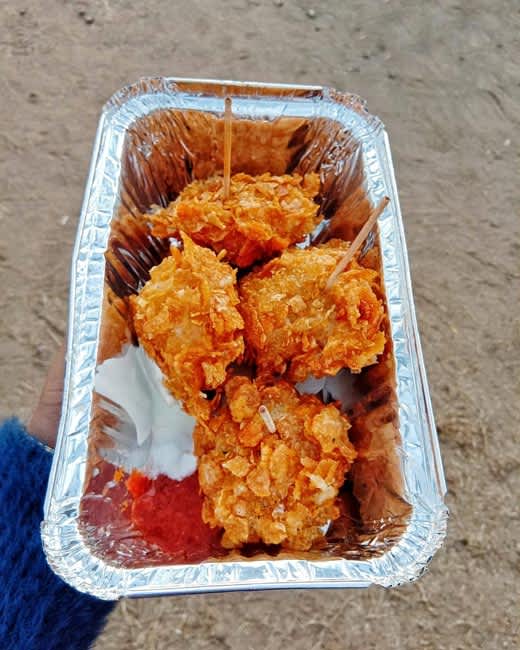 Picture Credits: greedygutsofficial
Moktoo does an amazing range of lip-smacking momos and all you dumpling lovers are gonna love this one for sure. These folks are especially known for their Kothey-style and Kurkure Momos and you can try these and many more only at Delhi's Happiest Food Festival this Valentine's weekend! 
3. Tornado Fries From Twisters India
What's a food festival without some good ol' potato twisters AKA tornado fries?! Well, you'll be glad to know that Twisters India is on its way to Horn OK Please. Their masaledaar potato twisters will come in handy when you're busy hopping around the festival with your special one! 
4. Seekh Kebabs From Lucknowi Tunda Kebab
If you love some meaty kebabs that are so juicy and tender that they just melt in your mouth, then rejoice, people, 'cause Lucknowi Tunda Kebab will be stationed at the 7th edition of Horn OK Please to appease the meat lover in you. These guys are known for their signature Seekh Kebabs, Galouti Kebabs and more and you can stuff your face with them at Delhi's Happiest Food Festival.
5. Sushi From House Of Sushi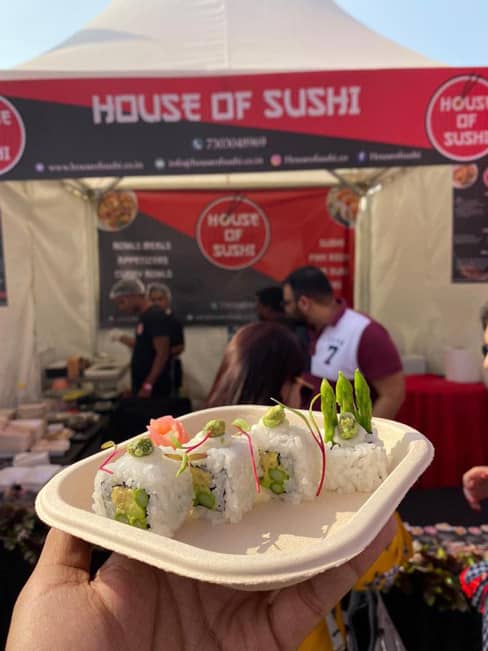 How does a plate of exotic sushi sound? Tempting enough, right? Well, you can get your share of this delectable Japanese delight from House Of Sushi at Horn OK Please as they'll be parked here to bless your taste buds. Don't forget to try their cray variety of sushis and eat to your heart's content!
6. Kadak Roomali Roti From Indus Flavour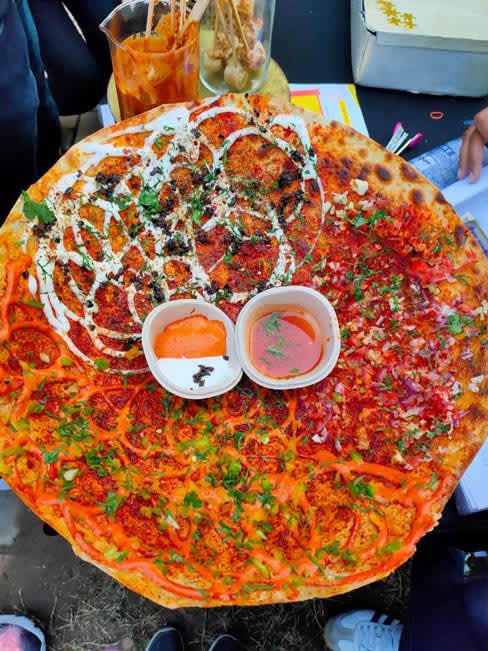 Indus Flavour is a pretty popular eatery located at the student hub of GTB Nagar that's known for dishing out a quirky variety of absolutely zesty yummies such as Cheesy Italian Kadak Rumali Roti which happens to be a crowd-fave and Peri Peri Tandoori Momos to name a choice few. You'll be glad to know that they'll be bringing all these and more to this epic fiesta happening in Feb!
7. Chinese Meal Box From Woodbox Cafe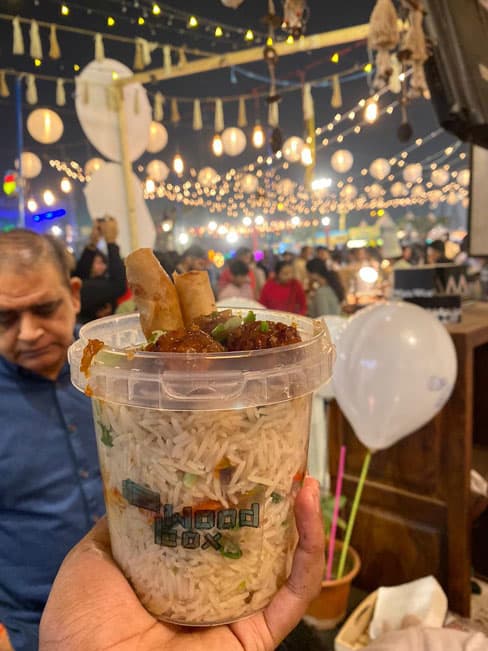 Woodbox Cafe is known for its delish variety of yummies, so rejoice, fellas as you'll find them stationed at Horn OK Please to spoil you rot with their toothsome offerings. These ah-mazing folks are known for their loaded Herbivorous Platter, Meal Boxes and more popular dishes, all of which you can try at the food fest.
8. Double Trouble From For God's Cake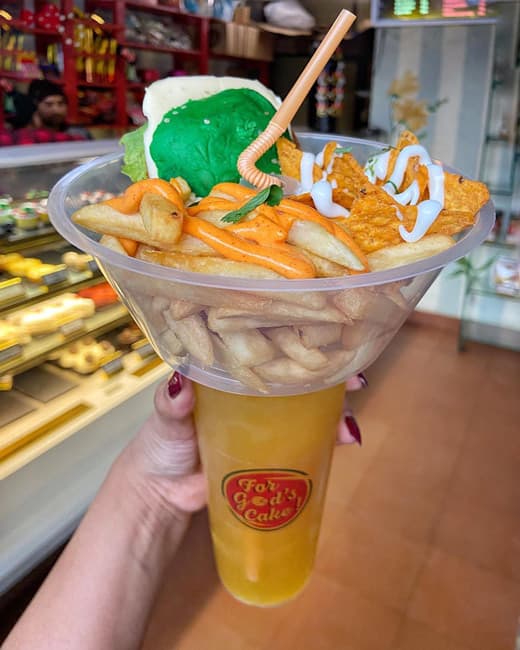 Picture Credits: forgodscakebakery
If you're a sucker for all things sweet just like us, then you'll be delighted to know that For God's Cake is also coming to Delhi's Happiest Food Festival. These guys are known for their Double Trouble tubs, cake jars and more mouth-watering dishes, so get ready for a hogging session at your fave food festival, 'cause you'll be spoilt for choice here!
9. Loaded Platter From Namaste Dilli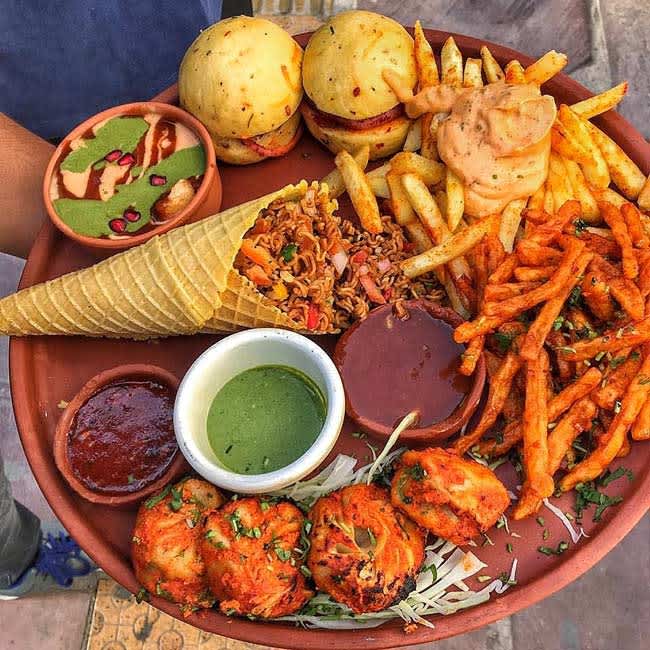 Picture Credits: delhikainsta
Namaste Dilli is a popular eatery from GTB Nagar that's carved a niche for itself owing to their crazy range of platters and insane platter challenges. And guess what?! These folks are coming down to Horn OK Please with their platters and more loco array of dishes and we absolutely cannot wait to pig out on these. Make sure you drop by their stall and get your fill!
10. Chicken Tikka From Nayaab Kitchens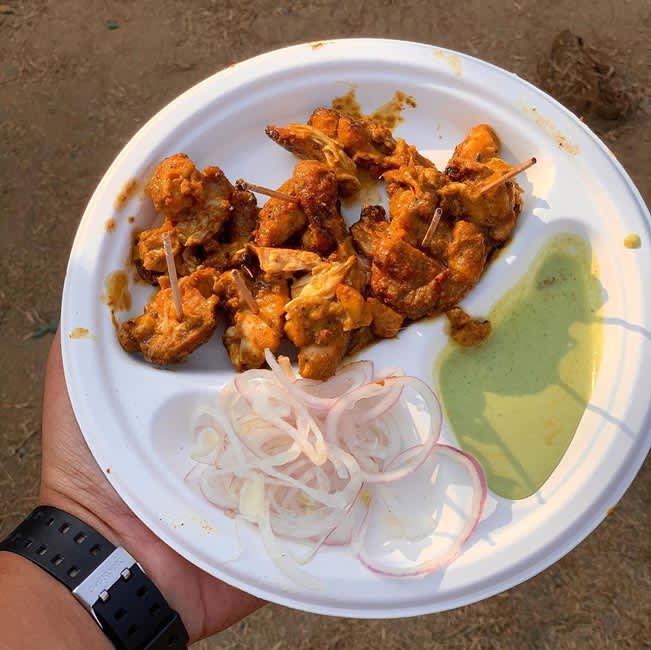 Picture Credits: daal_cheeni
Bringing the original flavours of Old Delhi, Daryaganj's famous Nayaab Kitchens is going to treat you with their mouth-watering Mutton Seekh Kebabs and oodles more at the 7th edition of Horn OK Please and we're already drooling! You can also nosh on their delicious Chicken Afghani, Chicken Changezi, Cheesy Shawarma, Malai Tikka Roll and many such meaty dishes with your loved ones over Valentine's weekend!
Horn OK Please is happening from 14th - 16th February and soon, tickets will be out. So make sure you stay glued to this space and get all the latest scoop on Delhi's Happiest Food Festival.
When | Friday - Sunday, 14th - 16th February
Where | Gate No.2, JLN Stadium
Entry | Rs 149 Onwards
Timings | 12 Noon - 10 PM
Book Your Tickets Online Here | https://www.nearbuy.com/delhi-ncr/horn-ok-please-food-truck-festival-pragati-vihar
RSVP On FB Here | https://www.facebook.com/events/586675582186475/