Delhi
10 Best Places For A Lunch Date With Your Sibling In Delhi
Disclaimer: Bearing in mind the current health crisis befalling the city and the world at large, we're tweaking our content policy and recommendations. Stay positive, keep hygiene levels up and don't fall prey to panic and misinformation.
"Side by side or miles apart, siblings will always be connected by heart". Indeed, the bond we have with our siblings is so pure and unique that it's irreplaceable. The spur of the moment fights, the nonchalant resolutions, twisting their arms and making them work for the leverage we have on them to ultimately get what we want (and vice-versa!). Siblings provide us strong emotional and moral support and are no less than superheroes. The relationship we share with them is truly unsurpassed - parents, brothers, sisters, best friends, they exhibit the role of all! So, how can we miss out on an opportunity to take our AMAZING yet IMPOSSIBLE siblings out on a date? Take notes, y'all! 
1. Nege & Ju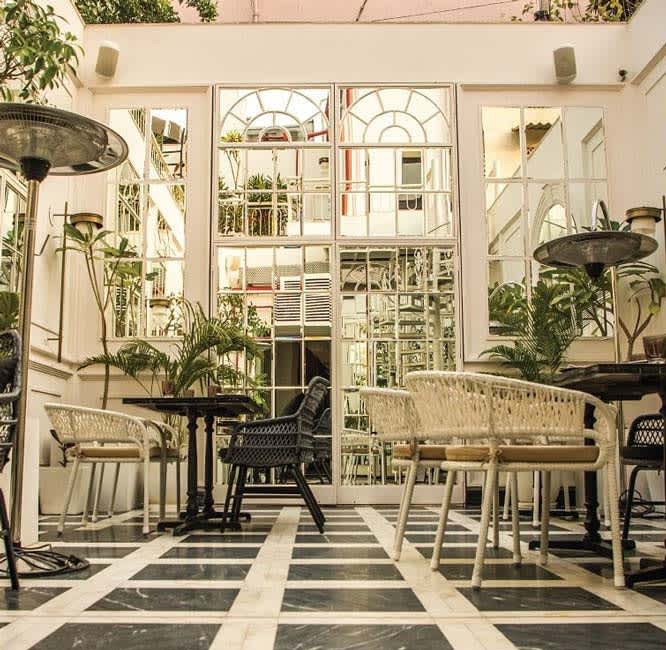 If you and your sibling enjoy eateries with pretty wall decors and vintage chairs then Nege & Ju is the PERFECT place to head to for a heartwarming date, folks! This chic, modern and laid back eatery, is one of the most gram-worthy hotspots in town, where you can capture your cozy time with million poses, boomerangs and snaps. *YAY* Nosh on their Smoked Duck Bistro, Kiwi Prawns, New Zealand Lamb Chops and sip on their Apple Juice Sangria while revealing all the juicy gossip to your sibling! 
Where | Nege & Ju - 9-10, Market, Block 8, Lodhi Colony
Meal For Two | Rs 2,500
Timings | 12 PM - 1 AM
Call Them | +91 9899 111 734
Check Out Their FB Page | https://www.facebook.com/Nege.Ju/
2. Tera Vita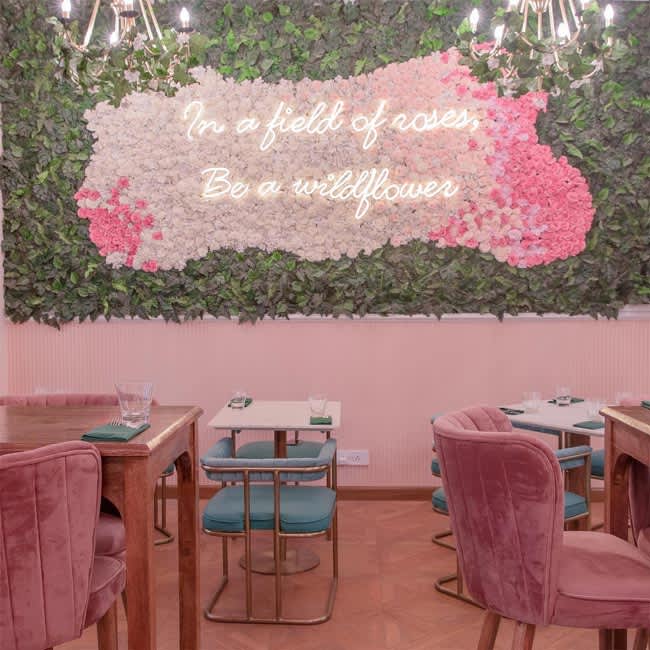 Delhittes, we all know Tera Vita equals the pink side of life, doesn't it? Steeped in glossy pink and salmon hues, this quaint cafe offers a refreshing respite from the regular joe cafes Delhi is crammed with. This joint should be on your bucket list if you and your sibling love cute and uber-cool ambiences! *Dreamy Eyed* The icing on the cake, y'all is the legit mouth-watering and infamous delicacies, so don't forget to try their Factory Pasta, Boom Pizza, and Grilled Chicken Skewers. Bookmark this joint for a fun filled magical time with your better-half!
Where | Tera Vita - 11, 1st Floor, Khan Market
Meal For Two | Rs 1,200
Timings | 11 AM - 12 AM
Call Them | +91 9873 698 731
Check Out Their FB Page | https://www.facebook.com/TeraVitaDelhi/
3. Romeo Lane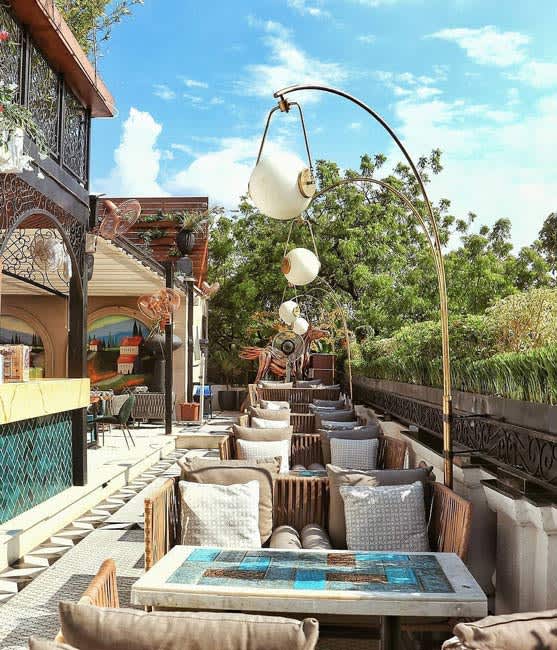 You said Civil Lines and fellas all we heard was Romeo Lane! For the sibling duo who are each other's personal photographers (Yup! We know you!) Romeo Lane is the way to go as it's SUPER aesthetic and GORGEOUS! The moment you waltz in you'll fall in love, we assure ya!! With patio-styled seating booths at the rooftop area, artificial trees, aesthetic art pieces, well-lit interiors, super colourful decor, and delectable grubs, this eatery is a place no Dilli vasi can say no to. *Say whaa* Jam your forks in their enticing Cheese Platter, Paneer Tikka and Tandoori Veggie pizza and Chicken Alfredo Pasta as you pull your sibling's leg and annoy them as usual! 
Where | Romeo Lane - 13, 2nd Floor, Alipur Road, Civil Lines
Meal For Two | Rs 1,900
Timings | 11 AM - 1 AM
Call Them | +91 7065 111 192
Check Out Their FB Page | https://www.facebook.com/romeolanedelhi/
4. Sambookas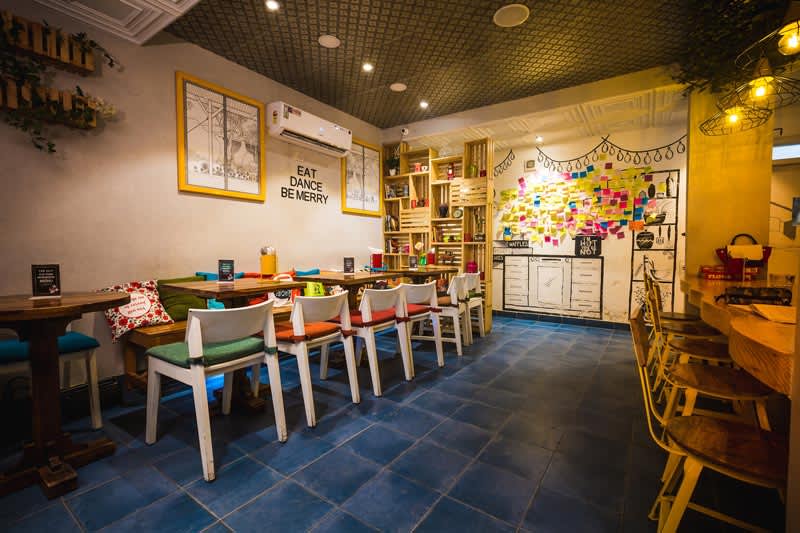 Our lovely homes at times can be super busy places, crowded with relatives, festivities and what not, am I right or am I right, folks? So what's better than a snug and warm place to take your sibling out and dish 'bout your latest crush or take helpful tips for an upcoming date? *Wink Wink* Trust us when we say, Sambookas with its homely ambience, cozy vibes and relaxed atmosphere is your one stop shop to catch up on all such important conversations over the weekend! And missing out on their yummy Pancakes, Mixed Sauce Pasta, Chilli Garlic Noodles, and Lasagna will be a sin fosho! 
Where | Sambookas - Shop 6 & 7, Hudson Lane, Delhi University-GTB Nagar
Meal For Two | Rs 800
Timings | 12 PM - 11 PM
Call Them | +91 8383 092 639
Check Out Their FB Page | https://www.facebook.com/sambookascafe/
5. Out Of The Box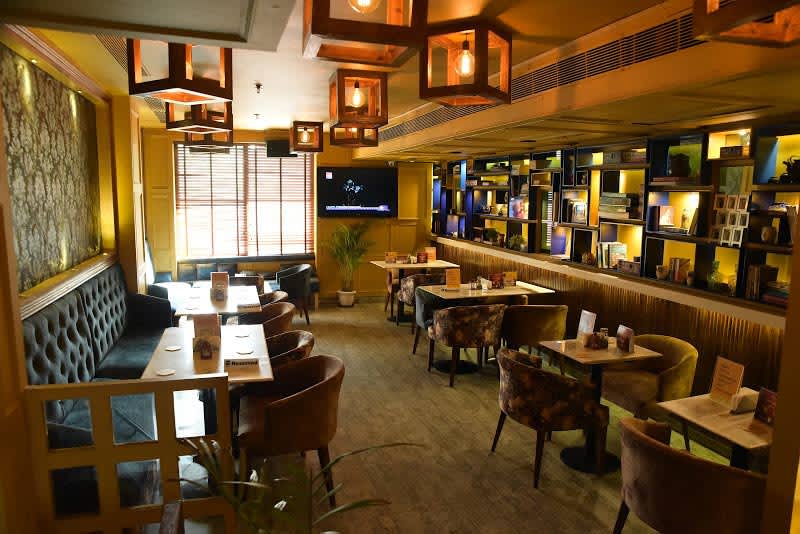 Planning to surprise your sibling? Well then you can not miss out on this fly AF eatery. Stunning indoor sitting, dreamy lights, a tranquil setting to soothe your senses and relish-worthy nibbles, yes, this is what Out Of The Box has to offer, fellas! *LIT* This cute little place is ideal to visit with your sibling as it will set your mood just right! Stuff your face with their amazeball Soya Chops, Thin Crust Chicken Pizza, and Burger Pizza as you play fun board games with your sibling and reminisce about childhood memories! 
Where | Out Of The Box - 5, Khan Market
Meal For Two | Rs 1,500
Timings | 12 PM - 12 AM
Call Them | +91 9899 912 778
Check Out Their FB Page | https://www.facebook.com/outoftheboxkhanmarket/
6. Sistaz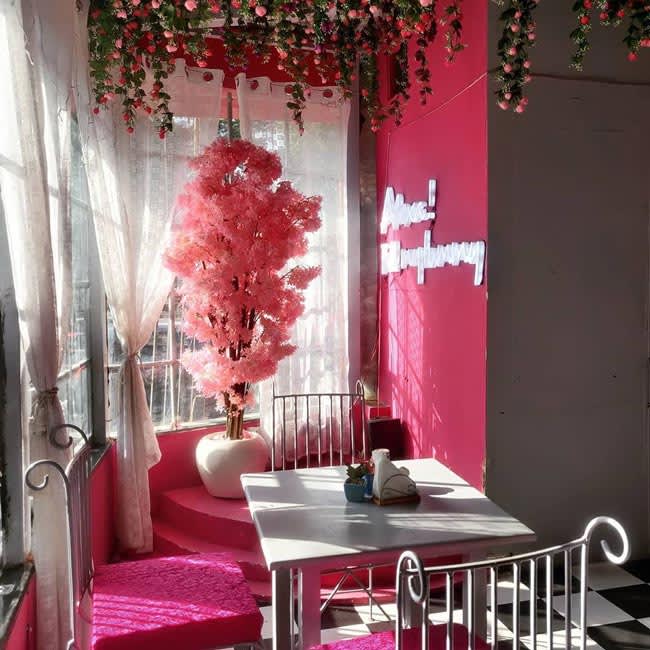 A newly-opened gem, Sista'z is where GLAM decor meets lip-smacking chows! Setting the scene with their flower-laden walls, fairy tales vibes and ambience covered in luxurious deep pink colours, the cafe is all about magical and dreamy feels y'all. *eeepp*  To top it all off, they offer a varied range of cuisines from Italian to Continental and Chinese so you have got to try their best-selling Beer Butter Onion Rings, BBQ Chicken Wings and Mac & Cheese Casserole Pasta with your soul sistaz ASAP, peeps! Drop by to sweep your sibling off their feet and cash in a favour or two! 
Where | Sistaz - Shop 37, Ground Floor, Near Venky College, Satya Niketan, Moti Bagh
Meal For Two | Rs 600
Timings | 12 PM - 10 PM
Call Them | +91 7976 500 383
Check Out Their FB Page | https://www.facebook.com/Sistaz-105000214386638
7. Dear Donna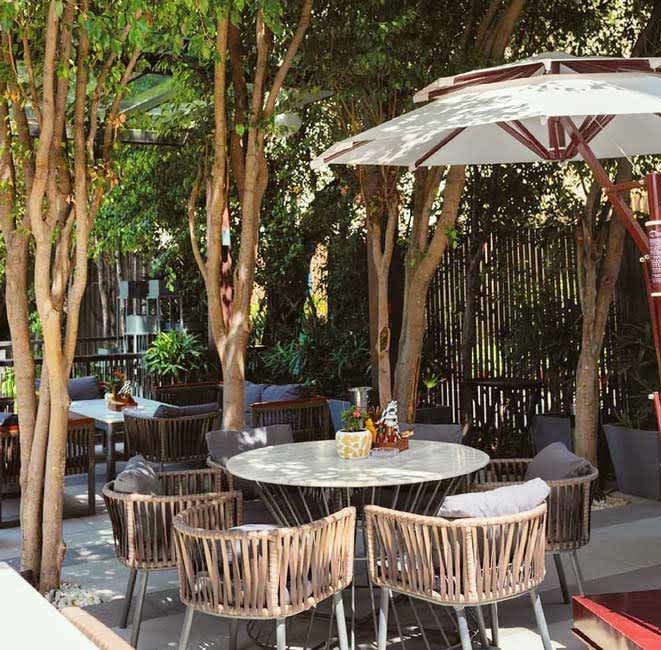 Planning to ask your sibling to back you up on a serious matter and it's truly a HUGE ask? Well what's better than the uber-popular Dear Donna that was ALWAYS jammed packed before the current health crisis making us wait in queues to soak in the laid back aesthetics of this beautiful restro-bar?! It feels like we are in the movie on 50 shades of PINK since this inarguably FAB place also has a touch of vibrant pink in its theme and the interiors are inspired from iconic NYC, London and Paris gems! (Wait what?) Do try their top-notch Margarita Pizza, Mixed Sauce Pasta, Sushi and Chilli Chicken. Need to butter up your sibling? Then Dear Donna needs to be on your list, folks!
Where | Dear Donna - Ground Floor, Shaheed Jeet Singh Marg, Block C, Qutab Institutional Area
Meal For Two | Rs 2, 200
Timings | 12 PM - 1 AM
Call Them | +91 9139 636 363
Check Out Their FB Page | https://www.facebook.com/deardonnaqutub
8. Ambra
This newest joint in the myriad of eateries in GK 2 has had our hearts ever since it opened up, peeps!  Ambra is THE place to be if you and your sibling want to engage in light shopping that ends up with wolfing down finger-licking snacks. Yes, you read it right! This quaint cafe also offers retail therapy and we are here for it! They collaborate with indie artists and organise exhibits in the cafe, so you can take home the cutesy pillows, classy silverware and so much more. *WOAH* They serve cheese-oozing Italian delicacies so defo hog on their Mushroom and Truffle pasta, Pizza Ai Funghi, Raspberry and Mint Iced Tea! Time to eat, drink and shop!
Where | Ambra - Shop 1, Narmada Shopping Complex, Alaknanda, Greater Kailash 2
Meal For Two | Rs 1,000
Timings | 12 PM - 11 PM
Call Them | +91 9311 288 282
Check Out Their FB Page | https://www.facebook.com/ambragk2
9. Bark Street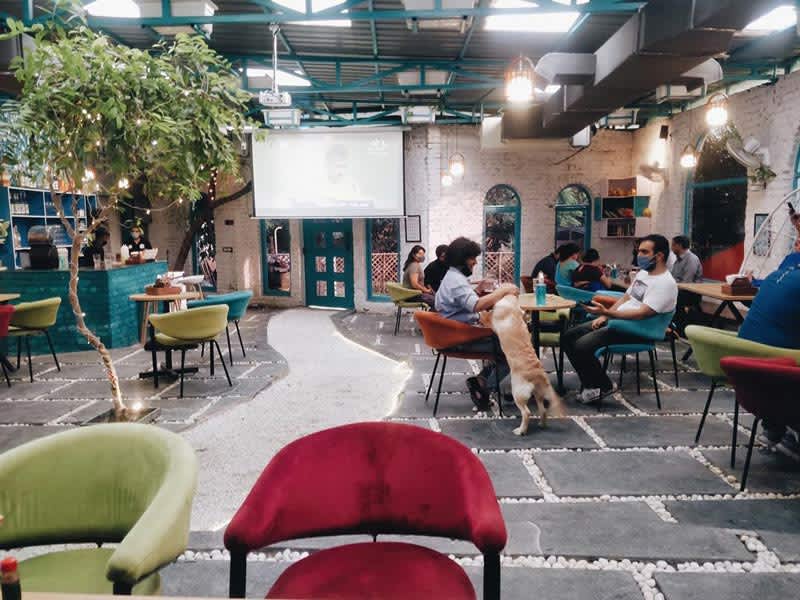 For the sibling duo who love furballs and adorable puppers spreading pawsitvity, Bark Street is where you should head to! This pet friendly cafe has live screenings, open-mic nights with modish and dapper decor where you can bring your four-legged besties as well for some woofs as they offer both hooman as well as Doggo foods! What more could we ask for? The ahh-mazing food menu includes Crispy Chicken Club Burger, Barbeque Chicken Pizza and a thick Berry-Nutella Chocolate Shake to boot. For a #PAWFECT time with your annoyingly adorbs sibling and cute doggos head over to this lovely AF place now, fellas!
Where | Bark Street - Khasra 273M, Rajaswa Gram, Bhangel, Sector 110, Noida
Meal For Two | Rs 600
Timings | 11 AM - 11 PM
Call Them | +91 9899 109 122
Check Out Their FB Page | https://www.facebook.com/barkstreetnoida
10. Cafe Inside Stories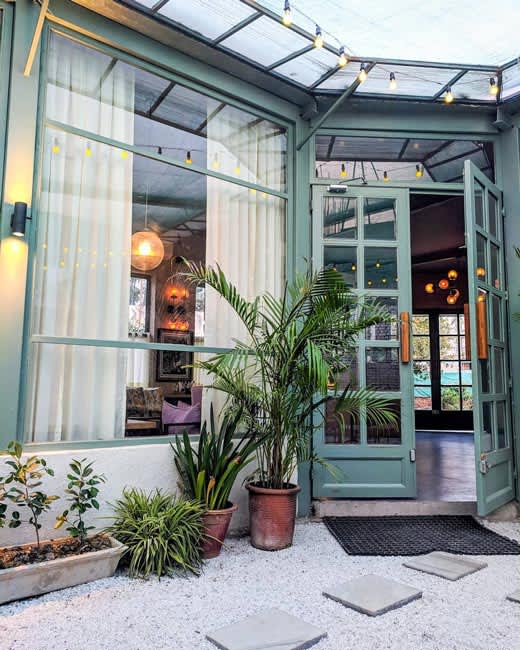 Picture Credits: thefoodosaurus
For all 'em Parisian feels make a beeline here, y'all! Cafe Inside Stories is our latest obsession and for a good reason too! Covered in deep blue hues, floral-themed murals on and french windows and doors, this place is modelled along the lines of RADS Parisian cafe and truly takes us to those ICONIC streets! *Starry eyed* They also have an outdoor sitting where you can soak in the lush greenery and aesthetics of the place and their top-of-the-line aromatic cup of joes! Ask your sibling out for a date at this mesmerising eatery and have some heart to heart convo over their heavenly croissants, Florentines, and flavoured hot chocolates with all them out of this world vibes! Don't forget to gram it!
Where | Cafe Inside Stories- 2, Westend Marg, Saidulajab, Saket
Meal For Two | Rs 1,400
Timings | 11:30 AM - 10 PM
Call Them | +91 9810 328 118
Check Out Their FB Page | https://www.facebook.com/Cafe-Inside-Stories-2148207768751866
There you have it, y'all! Bucket-worthy restaurants to have the perfect lunch date with your sibling (just like it ought to be). So stuff your face with delish grubs, gossip away or have a meaningful convo with your best friend in the whole wide world and thank us later!