Delhi
10 Active Fitness Boot Camps That Will Help You Achieve Your Dream Body This Summer
Disclaimer: Bearing in mind the current health crisis befalling the city and the world at large, we're tweaking our content policy and recommendations. Stay positive, keep hygiene levels up and don't fall prey to panic and misinformation.
Summer is here which means just one thing - you won't be able to hide your bulging stomach with your classy red trench coats or your love handles with that dapper bomber jacket, nor will your snug leather jackets give your a sharp, edgy look. You gotta, from now on, rely solely on crop tops, tank tops, kurtas, shorts, skirts and dresses, which won't do you any favours in camouflaging those extra pounds you've packed on owing to binging on delicious cups of hot chocolate, doughnuts and extra cheesy fries all winters. So, here are a few fitness camps y'all defo gotta check to get back in shape this summer!
1. CrossFit Himalaya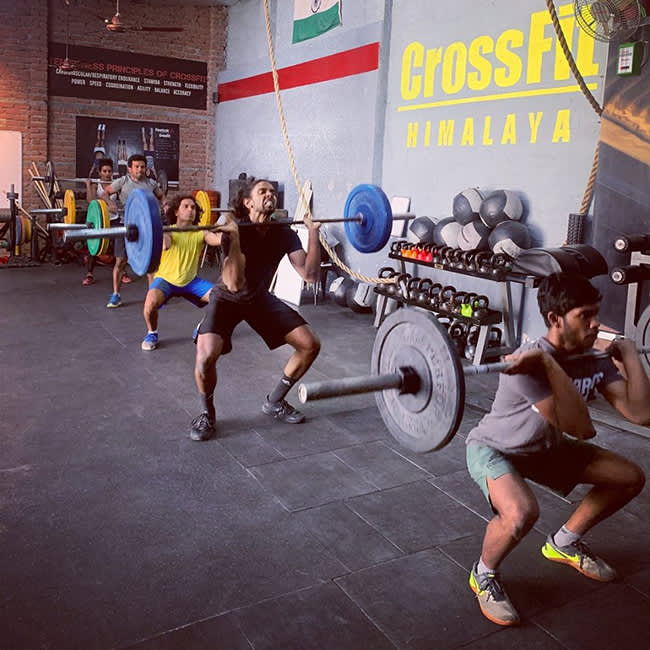 This is a spacious, brightly lit, rugged looking place perfect for practising CrossFit workout for any committed individual, be it an amateur or a full-fledged professional. Their fitness boot camp is broad, general and inclusive. Depending on the experience of a person, they scale load & intensity but don't change the programs. They offer a new workout routine every day as per the comfort level of an individual. With excellent trainers, well-suited equipment and help, one can achieve their fitness goals on a consistent basis here. The best thing about CrossFit is that they don't rely on machines and focus more on natural functional fitness, which is a major bonus. Go ahead, join now!
Where | CrossFit Himalaya - Dhanmill Compound, 100 Foot Road, Chattarpur & Noida
Timings | 6:30 - 8:30 AM And 6 - 9 PM (Monday - Thursday) & 7 - 9 AM And 5 - 8 PM (Saturday)
Fee | Rs 5,500 Onwards
Call Them | +91 9582 575 700
Check Out Their FB Page | https://www.facebook.com/CFHNewDelhi/
Here's Their Website | https://www.crossfithimalaya.com/
2. Reebok CrossFit Robust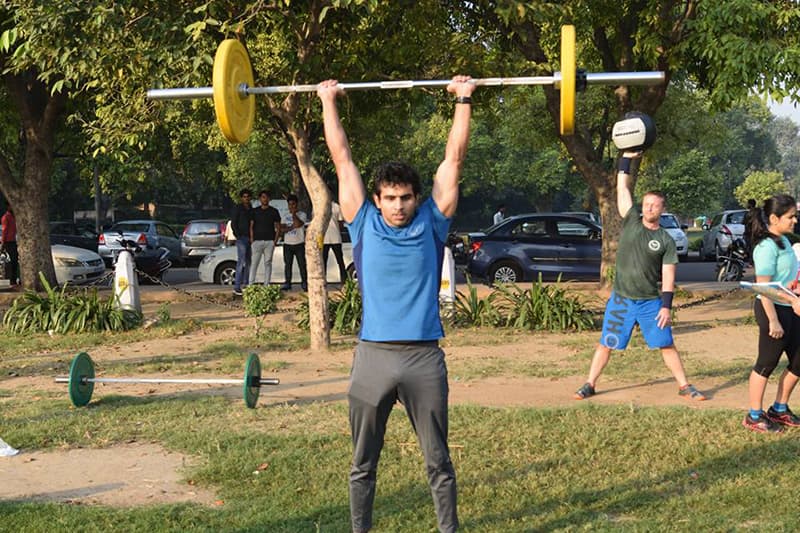 This is the best place to learn about the movement, strength & limitations of your body and ways of overcoming it. The instructors here are highly skilled & simply awesome as they offer guidance at every step of their fitness boot camp. Their workout sessions are short in duration but super effective. The programme maximizes physical ability with a perfect combination of pushing, pulling, squatting, lifting & many more, that'll improve your overall capacity, increase your stamina, strengthen your flexibility & build your resilience. The best part is that this boot camp is not age-bound - anyone, as long as they have the zeal to endure their tough fitness programme, can go for their free trial first, try their kettlebell swing & understand where they stand before any commitments!
Where | Reebok CrossFit Robust - 7, Bhisham Pitamah Marg, Arjun Nagar, Kotla Mubarakpur
Timings | 7 AM - 9 PM
Fee | Rs 15,000 Onwards
Call Them | +91 8800 775 924
Check Out Their FB Page | https://www.facebook.com/reebokcrossfitrobust/
Here's Their Website | https://reebokcrossfitrobust.com/
3. Outdoor Fitness Boot Camp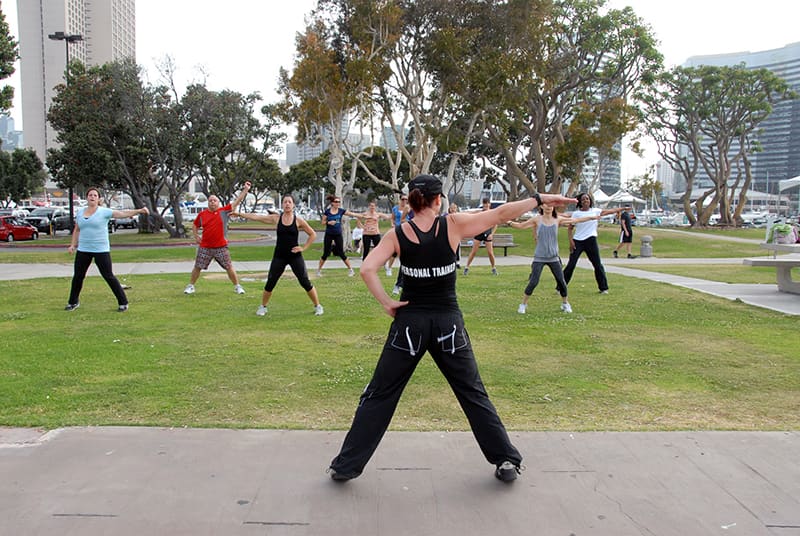 This Is A Representative Image
Hands down one of the best training and sports facilities in the city, the services provided here are highly effective, super dynamic and an interesting level-up to the gym. The activities include sports conditioning, marathon training sessions, boot camps and metabolic conditioning and more. The campus provides boot camps which hold marathon training sessions throughout the year at their in-house Krish Fitness Academy, providing holistic approach via the CrossFit regimen for all ages!  
Where | Outdoor Fitness Boot Camp - Calisthenics Area, Siri Fort Sports Complex
Timings | 6:30 AM - 10 AM & 5:30 PM - 8:30 PM  (Tuesday - Sunday)
Fee | Rs 7,000 Onwards
Call Them | +91 9811 222 747
Check Out Their Website | http://www.ddasports.com/SiriFort/index.html
4. Crosstrain Fight Club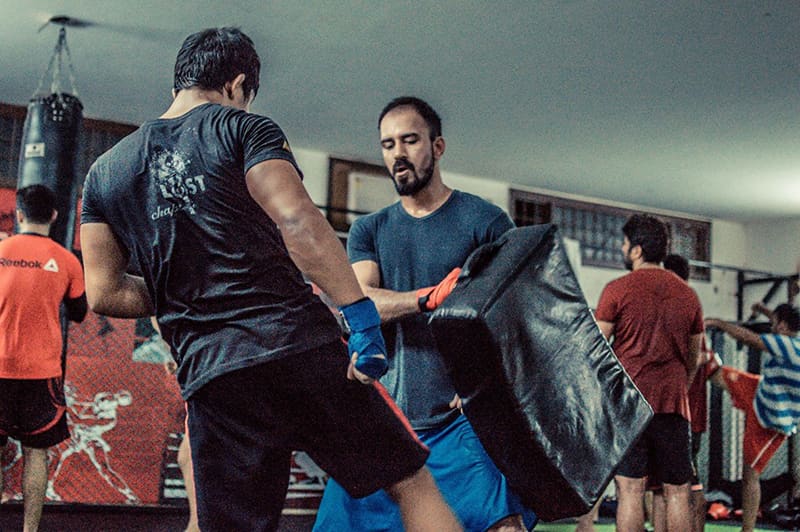 These guys offer one of the most authentic & genuine fitness boot camp, MMA and self-defence services in India. They have the best trainers that will help you lose your weight, tone yourselves and make you resilient. You gotta join their crew, enrol for an intense boot camp program, rich in a lot of running & stamina building. Their training environment is very friendly, instructors are humble and helpful that won't hesitate to explain one thing 10 times. So don't wait anymore and join ASAP!
Where | Crosstrain Fight Club - B-7/120A, Lower Ground Floor, Near Sukhmani Hospital, Safdarjung Enclave
Timings | 7:30 PM - 8:30 PM
Fee | Rs 4,000
Call Them | +91 8826 914 097 & +91 9891 514 589
Check Out Their FB Page | https://www.facebook.com/crosstrainmma/
5. Fitnesolution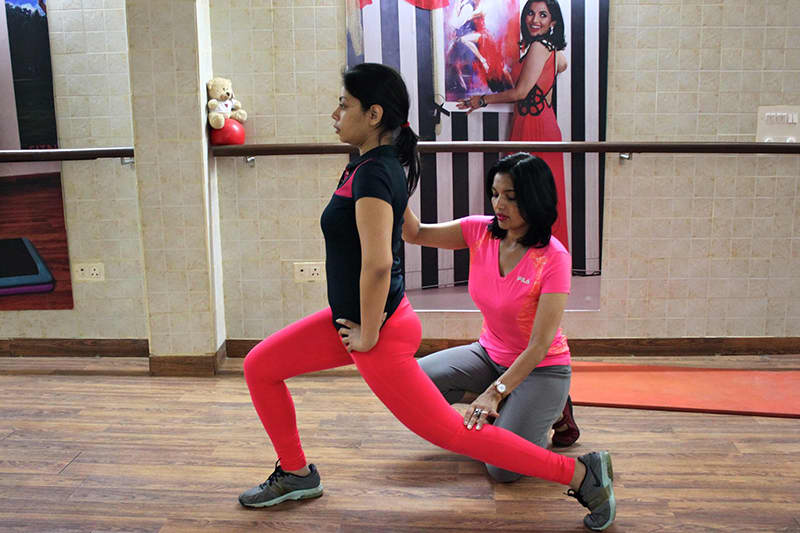 Run by Kiran Sawhney, a celebrity fitness expert, this place offers boot camp classes to individuals in their studio, comprising military drills, a lot of planks, horse gallops, pilates and more. Camel walk, duck walk, caterpillar walk, fitness ladder, battle ropes, climbing are some of the activities that form the routine of the camp. The best part of her classes? She schedules them as per your requirements and each class can hold 20 people. Spend time working out in unique ways than spending 10 mins on a treadmill, as the more diverse the workout the less likely the person ditches!
Where | Fitnesolution - E-193, Block E, Greater Kailash II
Timings | 7 AM - 8 PM
Fee | Rs 45,000 Onwards
Call Them | +91 9810 530 027
Check Out Their FB Page | https://www.facebook.com/fitnesolution/
Here's Their Website | https://www.fitnesolution.com/
6. BootCamp YELLOW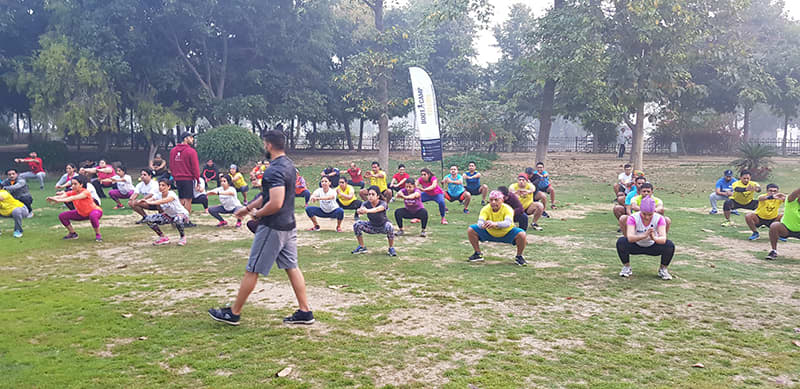 Their outdoor program includes running, strength training, stretching and cardio exercises to sculpt your body and tone your muscles. The instructors are highly skilled, give constant motivation and reinforce positivity. The environment is fun and totally safe for all age groups.
They follow CrossFit methodology with sessions focussing on cardio, strength and functional training. Their best feature is their specially modulated program for newbies, so leave all your worries behind and enrol here right away!
Where | Bootcamp YELLOW - Sector 29, Gurugram
Timings | 5:30 AM - 7:30 AM
Fee | Rs 9,000 Onwards
Call Them | +91 9910 409 992
Check Out Their FB Page | https://www.facebook.com/bootcampyellow/
Here's Their Website | http://www.bootcampyellow.com/
7. The Pilates Studio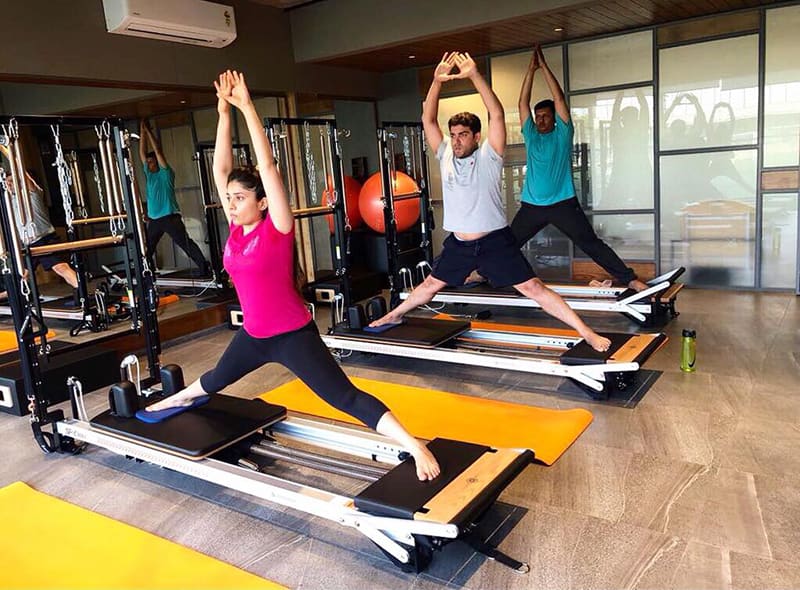 Don't wanna follow the usually trodden path? Then this is the place is just where you should stop your wagons because they offer interesting Pilates classes for you to shed those extra kilos. Their studio is spacious, clean and totally safe for you and your BFF to stretch your body and move around to lose that winter weight in a fun manner. You can book your classes based on your schedule here, so go ahead and start making plans now!
Where | The Pilates Studio - B-77, 3rd Floor, Def Col
Timings | 7 AM - 9 PM
Fee | Rs 12,000 Onwards
Call Them | +91 8350 007 000 & +91 9734 088 088
Check Out Their FB Page | https://www.facebook.com/ThePilatesStudioDelhi/
Here's Their Website | http://www.pilatesaltitude.com/
8. Bootcamp Delhi
Touted to be Delhi's premier outdoor fitness training program, these guys offer high-intensity bodyweight training to achieve weight loss, strength gains and stamina boost. Their qualified trainers make sure that you follow the right technique in all exercises so that you reach your fitness goals in a safe yet enjoyable environment. To ensure constant motivation, boot camp training is organised for groups which is very different from your normal gym where machines are the primary medium of exercise. With these peeps, you can learn to get an awesome workout anywhere without any equipment. So the next time you think of fitness, think of Bootcamp Delhi. Try today!
Where | Bootcamp Delhi - Aruna Asaf Ali Marg, Pocket 4, Sector D, Vasant Kunj
Timings | 6:30 - 8 AM & 6 - 8 PM
Fee | Rs 3,000 Onwards
Call Them | +91 7829 890 909
Check Out Their FB Page | https://www.facebook.com/Bootcamp-Delhi-304739636807931/
Here's Their Website | https://www.bootcampdelhi.com/
9. Studio 60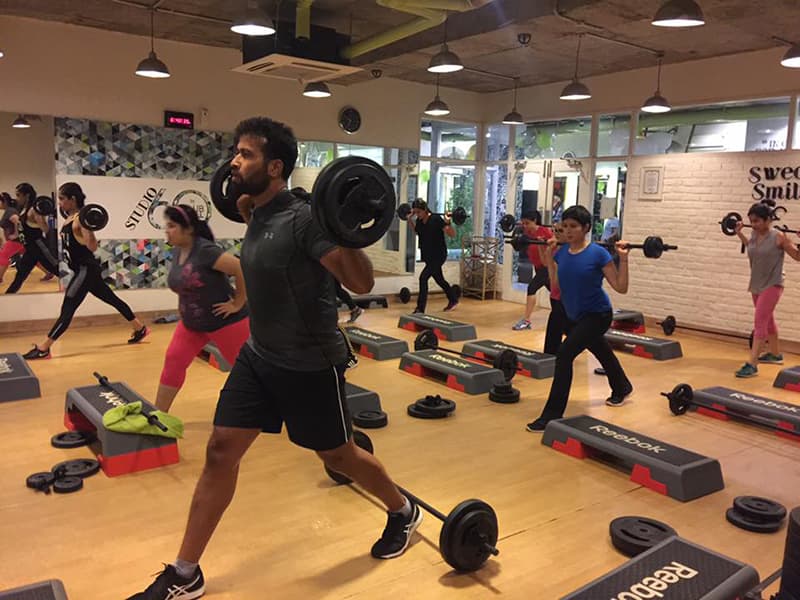 The variety of regimes that this place offers is incredible. Their workout sessions fill you up with innumerable zeal and exuberance & make you happier and ready to take the world by storm. Plyometrics are offered every Tuesday and Friday. Their fab trainers compile extremely refreshing workout routines from basics to gruelling workout like PLY 60, HIIT 60 and more. This place guarantees an intense workout with most committed instructors to guide you. Guys, the fuss is real, so give this place a definite shot and see the difference for yourselves!
Where | Studio 60 - The Manor Hotel, 77, Friends Colony West
Timings | 7:30 AM - 9:30 PM
Fee | Rs 5,428 Onwards
Call Them | +91 8826 430 674
Check Out Their FB Page | https://www.facebook.com/studio60delhi/
Here's Their Website | https://www.studio60.in/
10. Mediplex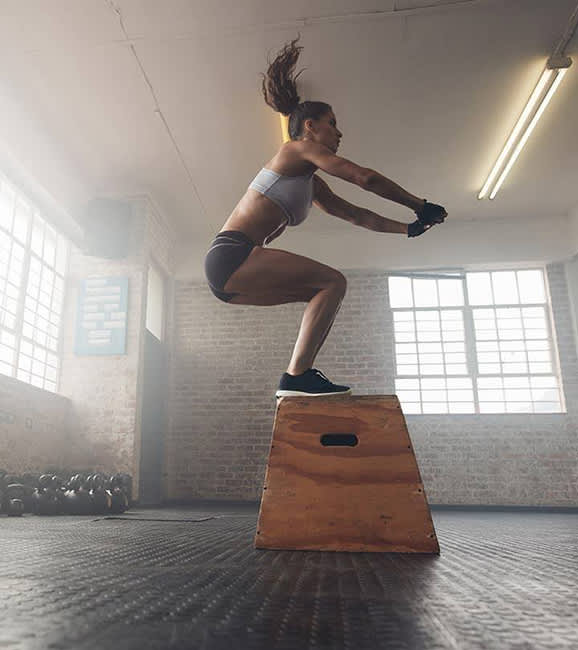 Mediplex is a renowned name in the weight loss genre, providing very versatile workout routines, especially catering to the needs of the people who've freshly recovered from an accident. They have a variety of workout options ranging from Zumba & aerobics to western dance and more. One can enrol at their fitness boot camp to lose excess pounds with rigorous physical exercise coupled with homoeopathic meds!
Where | Mediplex - P-15A, Jangpura Extension
Timings | 6 AM - 9 PM
Fee | Rs 1,500 Onwards
Call Them | +91 9313 520 295
Check Out Their Website | http://www.mediplex.in/
We've helped you with the places, the rest is in your hands, folks. So gear up and enrol yourselves in any of these boot camps for a fitter and finer you!