Delhi
1 Cheat Day? Nah, Have A Guilt-Free Cheat Week With These 5 Dishes @ This New GGN Cafe
The forever tug of war game in our minds - whether to avoid our favourite junk food and turn to healthy food or shut our ears and fill up our tummies with comfort grub and live our lives to the fullest?! Tough question, tough decision! But we have a solution that lets you do both, completely guilt-free - Getafix Cafe! After wooing the people in GK and Noida, these guys finally opened up doors in Gurgaon this month. For those who haven't heard of them before, then listen up now - this cafe is an angel in our lives as they believe in guilt-free indulgence while serving the yummiest food with the healthiest of ingredients 'cause healthy food doesn't always mean salads. With the quirkiest of decor and interiors and some amazing music in the background, this cafe will become your new hangout place in no time! So we picked out 5 dishes that you can try out because your cravings shouldn't be limited to a just day!
1. The Grilled Veggies Burger
 
Burgers are love served in a bun! But this love is full of calories, so we ask, no, beg you to take a bite of the heavenly burgers from Getafix! Freshly made and served with multigrain and whole-wheat buns, these burgers come with a side of Air Fried Potato Wedges and a dip and we can't get enough of 'em. They have Zucchini Burger, Beetroot Feta Burger, our fave - Grilled Veggies Burger and so many more on their menu and trust us, they're yummy AF! Pair it up with their Happiness Fix juice and have a yummy, happy meal! 
Price | Rs 325 Onwards 
2. Dilli Cheese Chicken Sandwich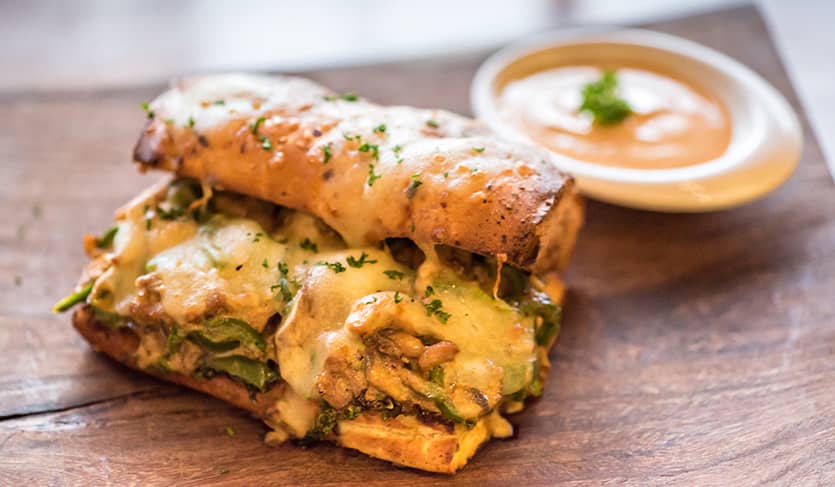 Oh your tastebuds are in for a treat with this! Their yummy, made of whole-wheat shawarmas and Falafel Rolls, the Smoked Chicken Roulade and Chimichanga and the mouth-watering Dilli Cheese Chicken Sandwich *you can't miss this one out* - all these would not only fill up your tummy but also satiate your soul! Team it up with their Mojo Jo Jo smoothie and trust us, you'll thank us later! 
Price | Rs 375 Onwards 
3. Chicken Tikka Pizza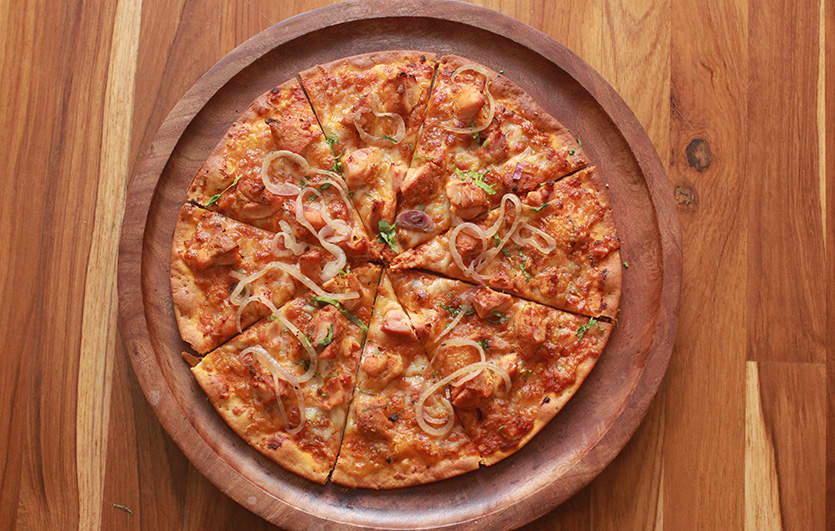 These awesome peeps couldn't possibly ignore our need for pizza now, could they? So rolling out dough made from whole-wheat and dishing out the yummiest thin crust pizzas you'll ever try, Getafix has got our pizza-loving backs! You CANNOT miss out on their Chicken Tikka Pizza - it's paradise for all the non-vegetarians in the house. Then they have the surprisingly yummy, spinach-loaded Popeye Pizza and the Cheeseless Marvel Pizza which is to die for! Complete your meal with their Power Ranger juice and you're good to go! 
Price | Rs 445 Onwards 
4. Asian Rice Bowl 
Heaven in a bowl? How 'bout a complete meal in a bowl?! Their yummy Asian Rice Bowl has peanut-based Thai gravy served with rice and a grilled steak of paneer or chicken, whatever you want with oyster sauce *yum, yum*! From Mexican style spiced rice to gluten free soba noodles and brown rice, this meal bowl comes with all of these and then some yummy curries and gravies that'll unleash your inner foodie from the first bite, so don't forget to order this bowl of healthy goodness! 
Price | Rs 395 
5. The Entire Dessert Platter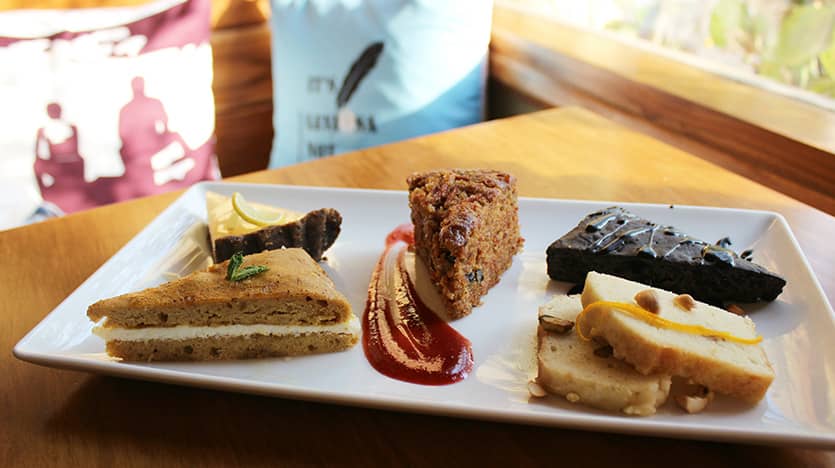 Now don't be surprised with this one, you didn't actually think we'd miss out on our reason for living AKA desserts, did ya? Since these guys believe in guilt-free indulgence, they have put up some really delicious yet healthy dessert options on their menu and we're in awe! They've got Diet Vanilla Pound Cake, Apple Crumble, Sugarless Brownie, Lime Pie and so much more that you'll be spoilt for choice!
Price | Rs 195 Onwards 
So no more waiting around for Sunday to roll around to indulge in all your cravings, eat whatever you want, whenever you want with this ah-mazing cafe! 
Where | Getafix - Cross Point Mall, DLF Phase IV, Gurgaon, M 15, 1st Floor, GK I, Sports & Cultural Club, Sector 15, Noida
Meal For Two | Rs 1,200
Check Out Their FB Page | https://www.facebook.com/getafix.cafe/