Chennai
5 Most Spectacular & Historic Temples In the City That Y'all Need To Visit
Temples are not just the places of worship but also reflect the rich culture and heritage of the city it is located in. A trip to Chennai is incomplete without visiting these stunning temples that reminds us of the colorful culture, don't y'all agree?  Here's a list of the most gorgeous and old temples in town that you must visit, so keep scrollin' peeps!
1. Kapaleeshwarar Temple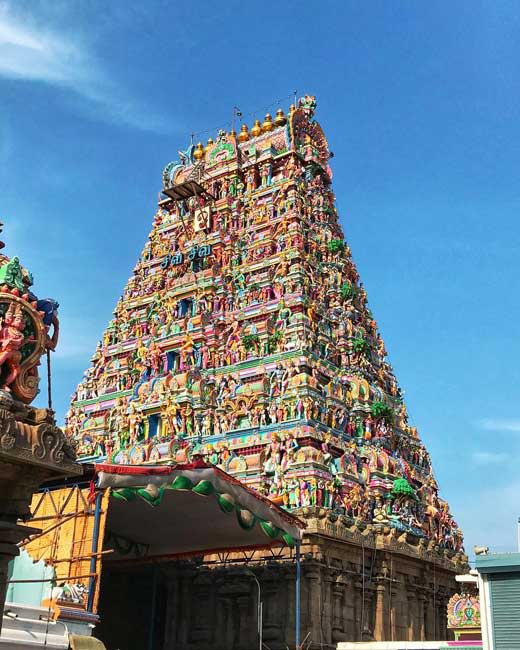 Picture Credits: sarabusundeep111
Dedicated to Arulmigu Kapaleeswarar (a form of Lord Shiva) and Goddess Karpagambal (a form of Parvati), Kapaleeshwarar is one of the most popular Shiva temples in the city. Built by Pallavas in the 7th century, the marvelous architecture is inspired by the Dravidian style, featuring wood carvings, stone carvings, decorated pillars and Gopuram at the doorway. During major festivals like Panguni and Arubathimooval, this temple is swarmed with devotees throughout the day!
Where | Kapaleeshwarar Temple - Kesava Perumal Sannathi St, Vinayaka Nagar Colony, Mylapore 
Timings | 6 AM - 1 PM & 4 - 8 PM 
Call Them | +91 4424 641 670
2. Sri Ashtalakshmi Temple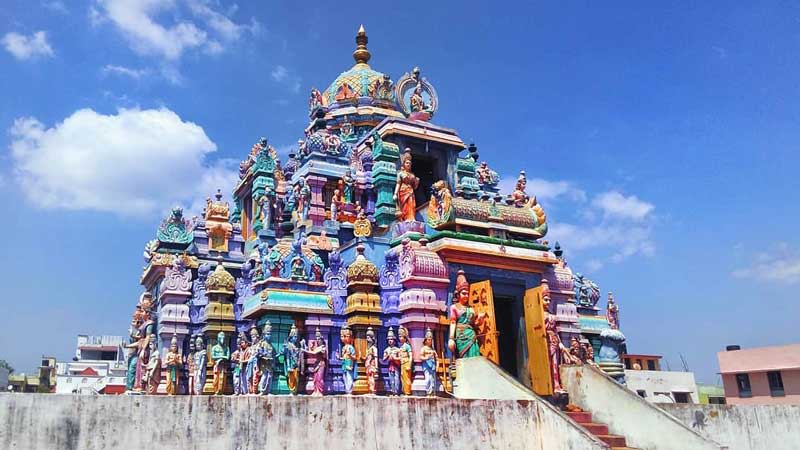 Picture Credits: phospheness
Situated by the Elliot Beach, Ashtalakshmi Temple is one of the most artistically designed temples with four floors, marvelous structures, pillars and intricate roof design. The uniqueness of the temple is that it is dedicated to Goddess Laxmi and her eight forms, each representing success, offspring, prosperity, wealth, courage, bravery, food and knowledge. The shrines of Adilakshmi, Dharyalakshmi and Dhanyalakshmi rests on first floor, while Goddess Mahalakshmi and Maha Vishnu on the second. Third floor houses Santha Lakshmi, Vijaya Lakshmi and Gajalakshmi and Dhanalakshmi is worshipped on the fourth floor.
Where | Sri Ashtalakshmi Temple - Elliots Beach, 6/21 Paindi Amman Kovil, Besant Nagar 
Timings | 6 AM - 12 Noon & 5 PM - 9 PM
Call Them | +91 4024 030 888
3. Parthasarathy Temple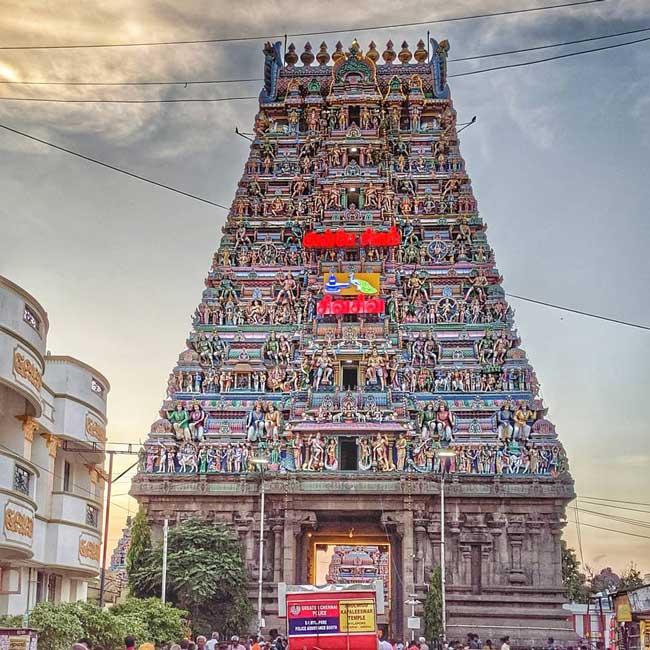 Picture Credits: badpanu
Parthasarathy Temple is dedicated to Lord Krishna and it is the only temple in town, where different avatars of Lord Vishnu, namely, Krishna, Varaha, Rama and Narasimha are worshipped under one roof. The temple has separate entrances for the shrines of Lord Rama and Narsimha. Parthasarathy Temple has spectacular sculptures, inscriptions & murals dedicated to different events of the battle of Kurukshetra and is a sight to behold!
Where | Parthasarathy Temple - Peyalwar Koil St, Opposite Bharati Islam, Narayana Krishnaraja Puram, Triplicane
Timings | 6 AM - 12:30 PM & 4 - 9 PM 
4. Ekambareswarar Temple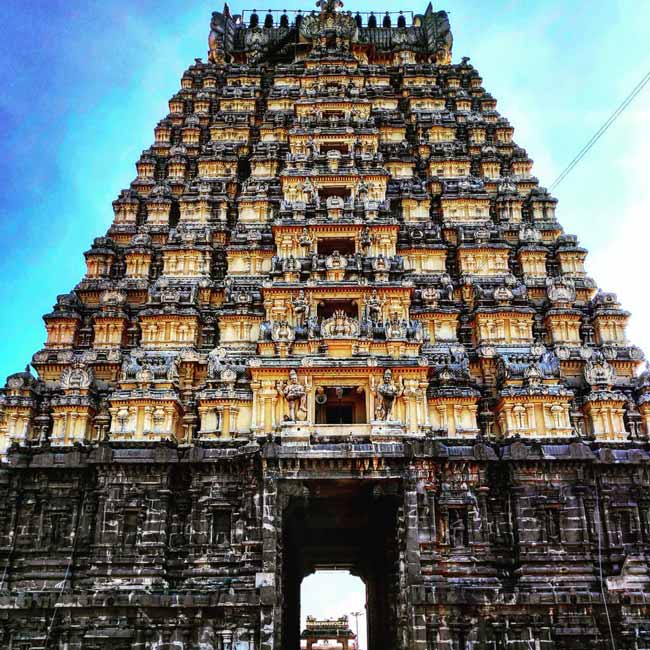 Picture Credits: pleasing_portraits
At Ekambareswarar Temple, Lord Shiva is worshipped with full grandeur and devotion, along with other Gods like Ganesha, Vishnu, Shakthi, Surya and Goddess Kamakshi. There is also a separate temple within the same complex that is dedicated to Navagraha - the nine planets. This temple was built in 1680 by Alanganatha Pillai- a worker under the British Raj and it is one of the most visited temples especially during festivals of Chithirai, Aadi, Margazhi and Panguni.
Where | Ekambareswarar Temple - Mini Street, Edapalaiyam, George Town 
Timings | 6 AM - 12:30 PM & 4 - 8:30 PM
5. Shree Chandraprabhu Jain Naya Jain Mandir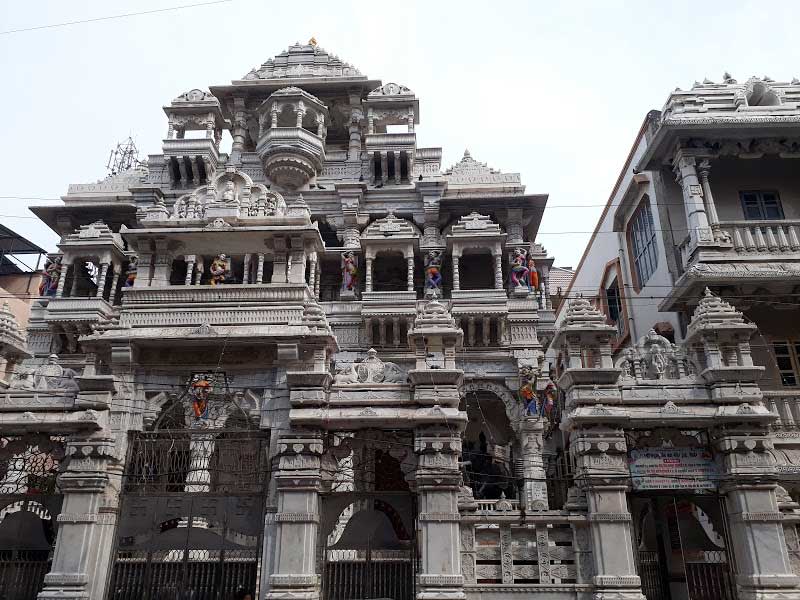 The Jain Temple is fairly new when compared to the other temples with Dravidian structures. The fine exteriors and unique architecture, this temple looks grand and glorious. Dedicated to the 8th Tirthankara, Sri Chandraprabhu Bhagwan, architecture is greatly inspired by Rajasthan's Dilwara temples. Enhance your faith in the almighty and find your inner peace at this stunning temple!
Where | Shree Chandraprabhu Jain Naya Jain Mandir - 142, S Mint Street, George Town, Sowcarpet
Timings | 5:45 - 11:45 AM
Call Them | +91 4423 463 101
Drop by, sit back, take in the calmness and offer your prayers to the deity!