Bangalore
Bangaloreans, Yes Madam Is Bringing A Safe Salon Experience At Home, At Only Rs 6 Per min!
Listen up, tech-wizards! We found a super safe salon for beauty and wellness in town, which provides a range of brilliant services for women right at the comfort of your home while following all the safety guidelines! Yes Madam is finally extending their salon services at home and here's what you need to know!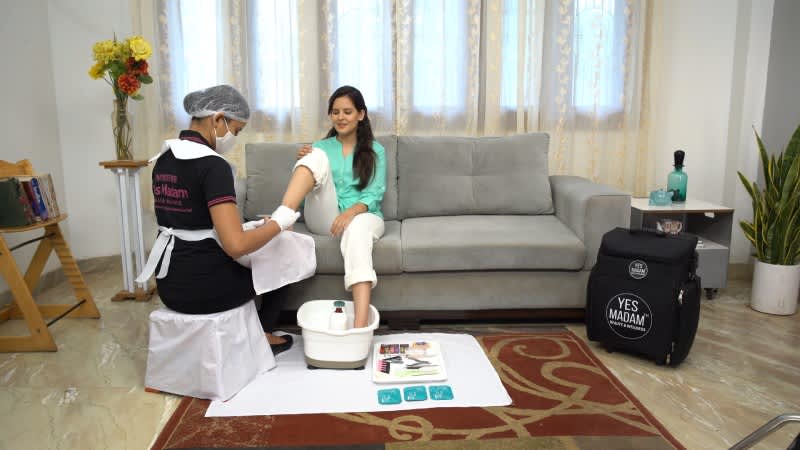 A Relaxing Pampering Sesh At Home | Yes Madam, operates successfully across 23 cities, with over 1,000 beauticians working with them. They offer salon and spa services for women. The products used by them are entirely genuine, and the remaining products are handed over to the customers. You can even provide the beauticians with your own products - in this case, you'll have to pay them a service fee of Rs 6 per minute. A premium beautician can be booked for Rs 8 per minute, you can book the services for as early as 7 AM, and the beauticians use a disposable kit with every service. 
What's more, you even get a free nail paint and a sheet mask with O3 Bridal Facial at JUST Rs 1,199. A hygiene kit is given to you with a bikini wax, which ensures maximum hygiene. And you can choose Rica Roll-On-Wax at JUST Rs 745. 
Yes Madam makes sure that the pricing is transparent and gives you the freedom to rebook your previous beautician. Also, you get a free brightening sheet mask for Rs 151 on your First Booking! 
So, folks, enjoy a pampering sesh at home with Yes Madam and you won't be disappointed!
Here's The Website | https://www.yesmadam.com/
Check Out Their FB Page | https://www.facebook.com/yesmadambeauty
Skim Through Their Insta Feed | https://www.instagram.com/yesmadambeauty/